Saturday marks the six-year anniversary of Fenway Sports Group's ownership of Liverpool Football Club, and it's been a hectic and emotional time so far.
Six years have now passed since FSG, led by John W. Henry and Tom Werner, took ownership of the Reds—and it's been a period mixed with many highs and lows.
Liverpool FC is now a very different club to the one the Americans inherited, with positive strides having been made in various aspects during FSG's time in control.
Here's a look back at how their tenure so far has unfolded…
---
October 15, 2010 – FSG Take Ownership of Liverpool
A historic day as Liverpool's troubled era under Tom Hicks and George Gillett comes to a close as the cowboy duo are forced to sell to New England Sports Ventures.
Upon the takeover completion, Henry announces he's "proud" and "humbled," before outlining his ambition: "We're here to win."
---
November 3, 2010 – Comolli Appointed
FSG begin implementing their proposed vision by installing former Tottenham Hotspur director of football, Damien Comolli, as director of football strategy at Anfield, overseeing the Reds' transfer policy.
---
January 8, 2011 – Hodgson Sacked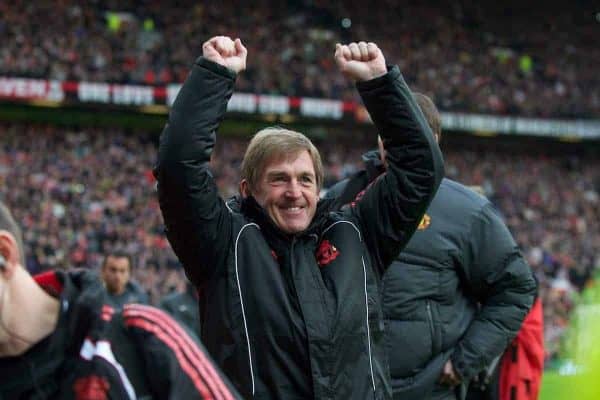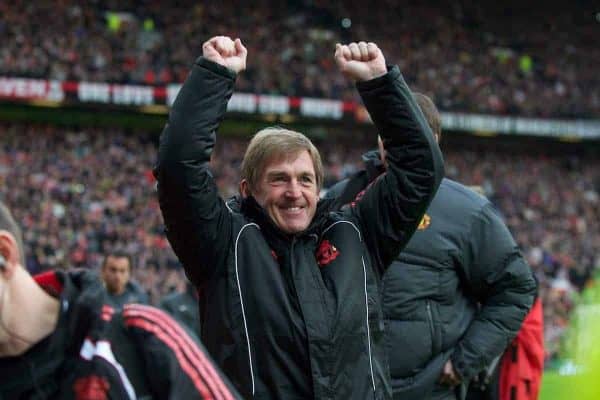 FSG make their first big move by bringing Roy Hodgson's disastrous six-month spell to an end, after 31 games and just 13 wins in the hot seat.
The Americans immediately turn to Reds legend Kenny Dalglish to steady the ship—a move that instantly united the club.
---
January 31, 2011 – Dramatic Deadline Day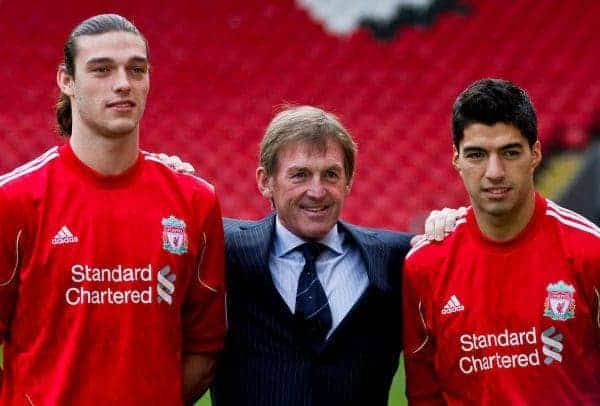 An unforgettable end to FSG's first transfer window as Fernando Torres joined Chelsea for £50 million, and replacements Luis Suarez and Andy Carroll arrive for a combined £57.8 million outlay.
---
May 12, 2011 – FSG Commit to King Kenny
Dalglish is awarded a new three-year contract having inspired an impressive upturn, guiding the Reds out of trouble and to a respectable sixth-place finish.
---
February 26, 2012 – First Silverware

A momentous day as Liverpool win the first trophy of FSG's tenure by beating Cardiff City 3-2 on penalties to claim the League Cup at Wembley Stadium.
---
April 12, 2012 – Comolli Goes
FSG scrap their planned model and part company with Comolli 18 months after appointing him as director of football strategy, following some uninspiring transfer business which saw both Charlie Adam and Stewart Downing arrive at Anfield.
---
May 5, 2012 – FA Cup Heartbreak
Liverpool's quest for a second trophy in three months ends in disappointment as the Reds lose 2-1 to Chelsea in the FA Cup final.
It brings an end to a frustrating campaign in which the Reds finished eighth in the Premier League and with just the League Cup to show, putting big pressure on Dalglish.
---
May 16, 2012 – Dalglish Departs
A sad day at Anfield as FSG sack King Kenny after a poor league campaign and despite League Cup and near FA Cup success, just a year on from signing a three-year deal.
The search for a new boss begins immediately…
---
June 1, 2012 – Rodgers Arrives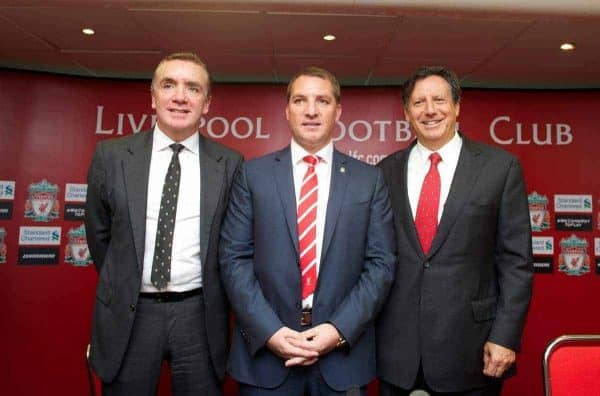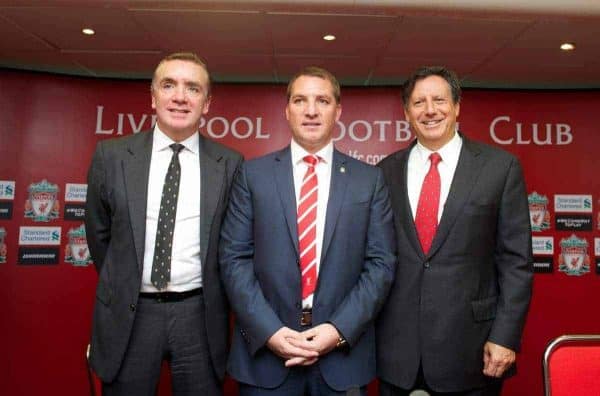 Swansea manager Brendan Rodgers is unveiled as the man to lead Liverpool into an "exciting" new era, as FSG decided against appointing Wigan Athletic's Roberto Martinez.
The 39-year-old becomes Liverpool's 22nd manager and the second-youngest man to lead the club.
---
September 3, 2012 – Henry Pleads for Patience
After a slow start to the campaign leaves Liverpool with just one point from their first three league games under the new manager, Henry pens an open letter to fans appealing for patience.
"It will not be easy, it will not be perfect, but there is a clear vision at work," he writes.
---
September 16, 2012 – 'Being: Liverpool'
A six-part fly-on-the-wall series of the goings-on at Liverpool airs in the United States, showing the end of Dalglish's reign, the opening of Rodgers' tenure and their US pre-season tour.
FSG's decision to agree to such a project splits opinion but the series unquestionably provides interesting viewing.
---
January, 2013 – Key Signings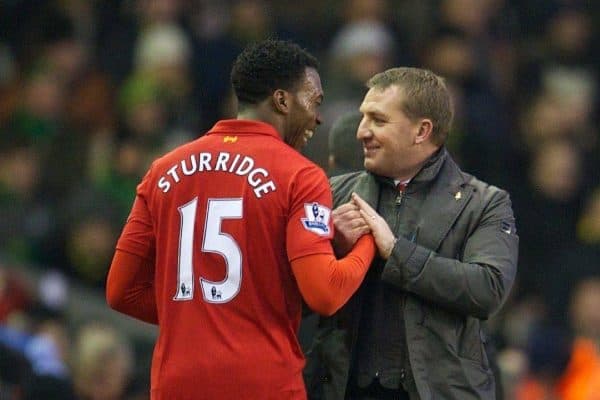 The Reds enjoy one of their best transfer windows in recent times as Philippe Coutinho and Daniel Sturridge arrive from Inter Milan and Chelsea respectively, for a combined £17.5 million.
The duo prove outstanding signings as Rodgers' vision take shape.
---
July 23, 2013 – Arsenal's Suarez Pursuit Mocked
Arsenal's attempts to lure Luis Suarez to the Emirates Stadium prove fruitless when FSG rebuff two offers for the Uruguayan.
The Gunners infamously offered £40,000,001, believing they'd activated a release clause with the extra pound, but instead inspired this, now classic, tweet from Henry:
What do you think they're smoking over there at Emirates?

— John W. Henry (@John_W_Henry) July 24, 2013
---
February 8, 2014 – Reds Reach Pinnacle Under Rodgers
Patience and belief from the Anfield hierarchy pays off as Liverpool smash Arsenal 5-1 at Anfield with the best display of Rodgers' reign, sparking an 11-game unbeaten run which catapults the Reds into the title race.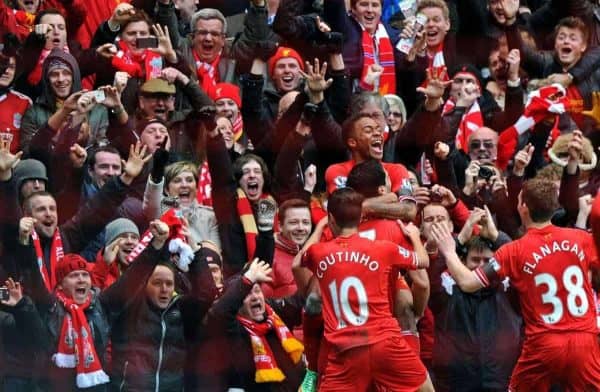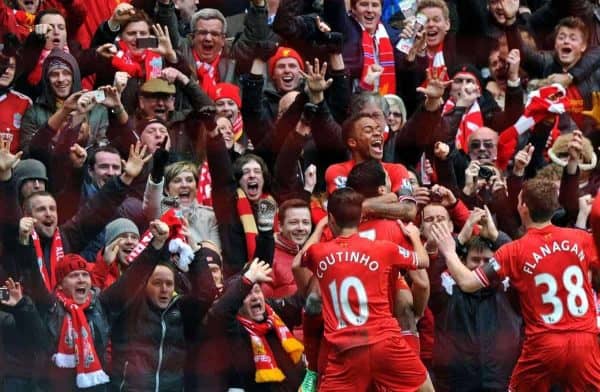 ---
May 26, 2014 – Rodgers Rewarded
A magnificent campaign in which Liverpool come within a whisker of winning the title, prompts FSG to commit to Rodgers by handing the Northern Irishman a new three-year contract.
Henry and Werner's joint-statement says:
"We place our trust in Brendan to deliver the vision we share for Liverpool Football Club. Brendan is at the heart of what we, as an ownership group, are trying to achieve on the pitch."
---
July, 2014 – Suarez Leaves in Summer Upheaval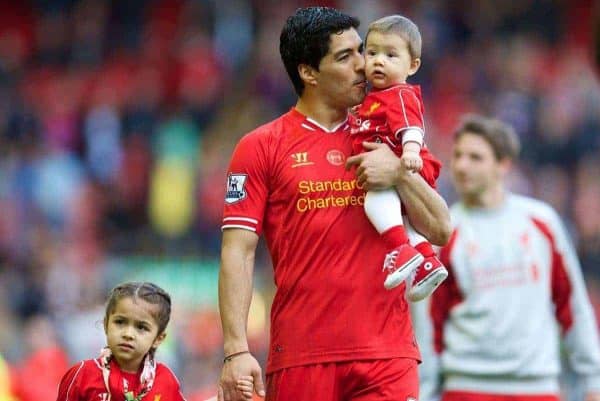 A summer of disruption follows a memorable campaign and Suarez leaves for Spanish giants Barcelona for £65 million—the highest fee Liverpool have ever received for one player.
Nine players, including Mario Balotelli instead of Alexis Sanchez, arrive as Rodgers overhauls, but fails to improve, his squad.
---
December 4, 2014 – Main Stand Redevelopment Confirmed
A historic day as Liverpool confirm the redevelopment of Anfield's Main Stand will commence imminently, with the renovation to the old-school terrace planned to finish in time for 2016/17 season.
---
Feb 5, 2015 – Record Kit Deal
Liverpool strike a club-record kit deal with New Balance, parent company of former manufacturers Warrior, earning the Reds a whopping £300 million over six-years.
---
May 24, 2015 – Gerrard's Farewell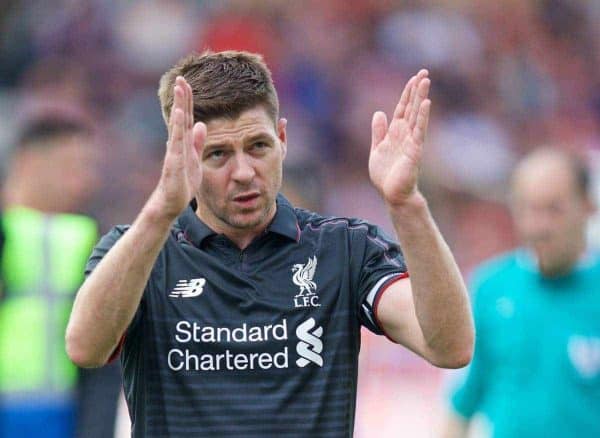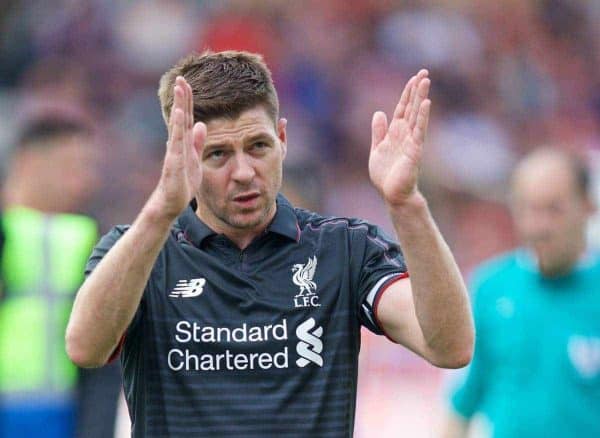 Liverpool say goodbye to the club's greatest-ever player, Steven Gerrard, who departs after 17 years of unrivalled service.
It proves a gutting end for the captain as the Reds sign off the season in woeful form and with a humiliating 6-1 defeat at Stoke City, which cranks up the pressure on Rodgers.
---
June, 2015 – FSG Back Rodgers
Liverpool's shambolic end to a disappointing season seemingly leaves Rodgers on the brink, but FSG decide to back their man to inspire a turnaround following intense end-of-season reviews.
---
October 4, 2015 – Rodgers Sacked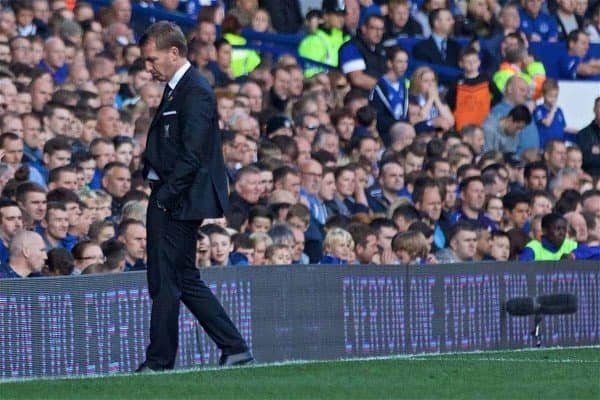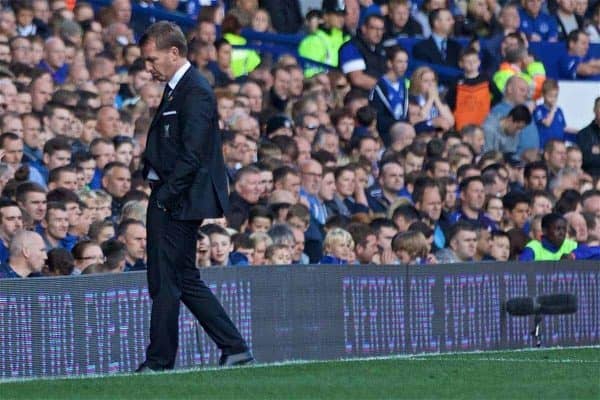 Having proved unable to turn around Liverpool's increasingly dire fortunes, Rodgers is sacked after a 1-1 draw with Everton.
The Ulsterman leaves 18 months after coming agonisingly close to winning the Premier League and having won 85, drawn 39 and lost 42 of 166 games during his three-and-a-half-year stay.
---
October 8, 2015 – Klopp Appointed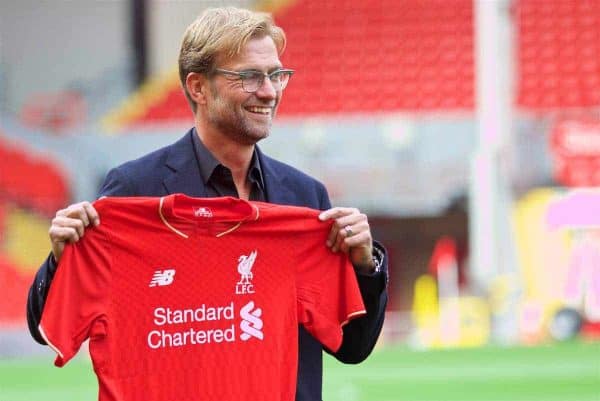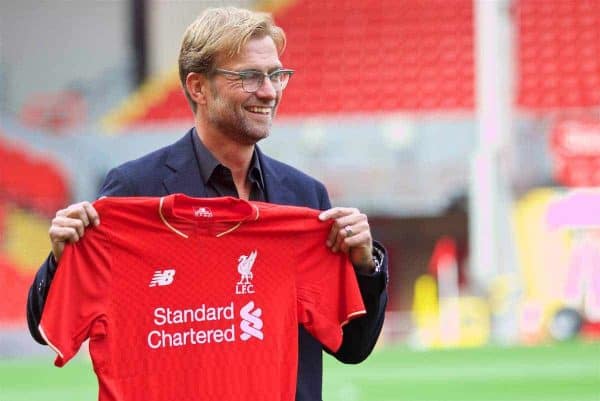 FSG's search for a fourth manager of their tenure sees them make the best move of their five-year ownership by appointing one of European football's most-coveted managers as the Reds' new boss.
Jurgen Klopp signs a three-year deal at Anfield, instantly transforming mood, mindset and revitalising the whole club.
---
February 6, 2016 – Ticket Price Protest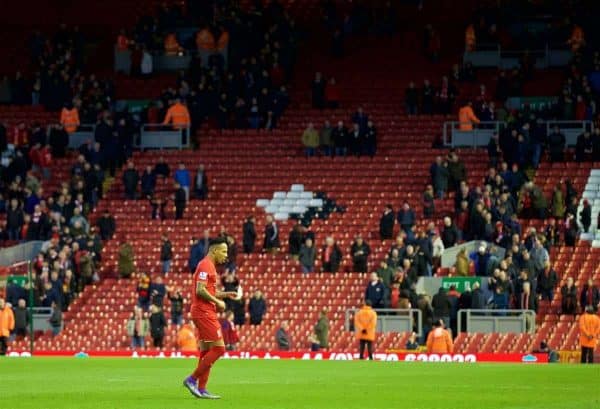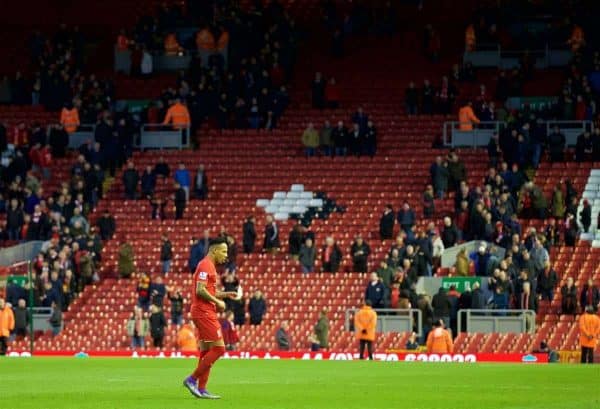 Reds fans vent their anger at the proposed ticket prices for 2016/17, by staging a mass walkout during the game with Sunderland.
Without Klopp in the dugout due to illness, Liverpool surrender a two-goal lead to draw 2-2, ironically showing the importance of the support and prompting FSG to back down on the planned prices.
---
February 28, 2016 – League Cup Final Loss
Klopp's quest for League Cup glory ends in disappointment as Liverpool agonisingly miss out on penalties to Manchester City at Wembley.
The Reds lose 3-1 on spot-kicks after a 1-1 draw, defeated in a final for the second time under FSG's watch.
---
May 18, 2016 – Europa League Heartbreak
A long, emotional season for Liverpool ends in brutal fashion as the Reds collapse to a crushing final loss to Sevilla—missing out on a return to the Champions League as a result.
Klopp rallies his squad on return to their Basel hotel, leading his squad in a rendition of Kop classic 'We Are Liverpool'.
---
July 8, 2016 – Klopp Commits
Blown away by the German's impact at Anfield, FSG tie down Klopp's long-term future, with the manager committing to a new six-year deal along with his assistants, Peter Krawietz and Zeljko Buvac.
Henry, Werner and FSG president Mike Gordon say: "When you have an individual of Jurgen's quality in the building it makes perfect sense to secure that person for the long term. To not do so would be irresponsible."
---
September 9, 2016 – Main Stand Opens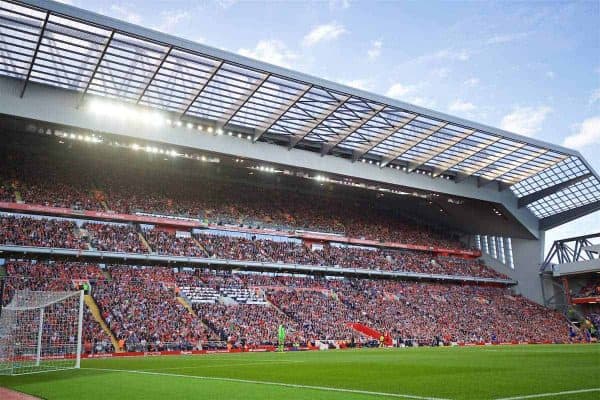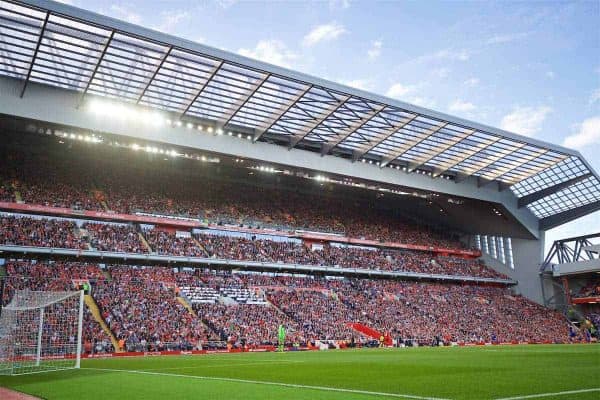 Liverpool officially open the redeveloped Main Stand, with the modern structure providing a spectacular new setting and 8,500 more seats.
The Reds mark the opening of a redeveloped Anfield by thrashing champions Leicester City 4-1 a day later.
---
September 29, 2016 – Anfield Road Redevelopment Doubts
Just 20 days after opening the magnificent new Main Stand, doubts are cast upon the proposed phase-two Anfield Road development, with Henry citing ticket-price issues as a stumbling block.
Chief executive, Ian Ayre, follows this two weeks later, stating redeveloping the stand "is not a wise investment."
---