In the six years Fenway Sports Group have been in charge of Liverpool FC, there have been plenty of ups and downs.
"The people who come to watch us play, who love the team and regard it as part of their lives, would never appreciate Liverpool having a huge balance in the bank.
"They want every asset we possess to be wearing a red shirt and that's what I want, too."
With these words, spoken in 1988, Kenny Dalglish summed up football fans' attitude towards football club owners.
If owners are spending money on the right things—most commonly represented in the shape of good players—then everything's fine.
If they're spending money on the wrong things or, even worse, not spending much at all, then there will be unrest among the fanbase.
Fans now know the massive amounts of money clubs get from the TV companies, and the fans themselves will more than likely contribute to these sums with a monthly payment to BT, Sky or both.
Add to this the cost of travel, ticket prices and all the other outgoings which come with loyally supporting a club, fans look to owners to give something back.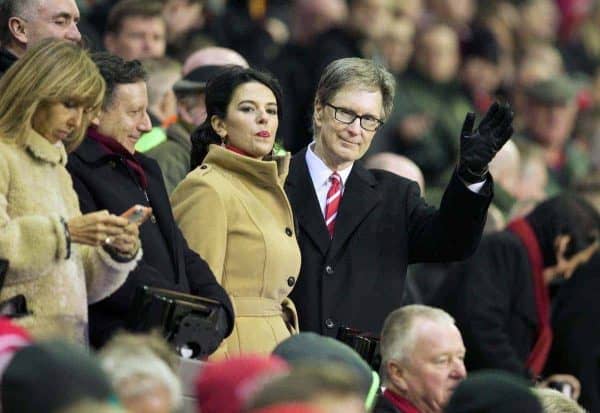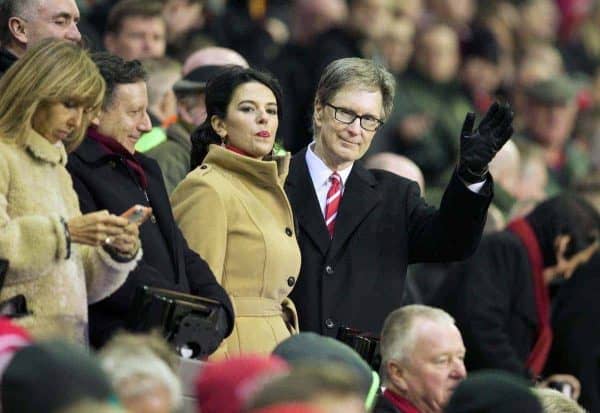 FSG bought Liverpool Football Club when it was on the verge of administration. The previous ownership had slowly chipped away at foundations which had taken the best part of a century to build.
With the club teetering on the brink, FSG came into catch it just in time, but did they really know what they were taking on?
Here's a look at some positives and negatives from their six years at the helm.
FAILURE: Lack of a Coherent, Effective Transfer Strategy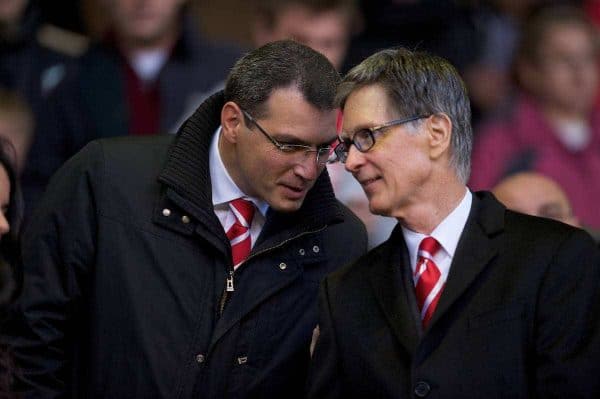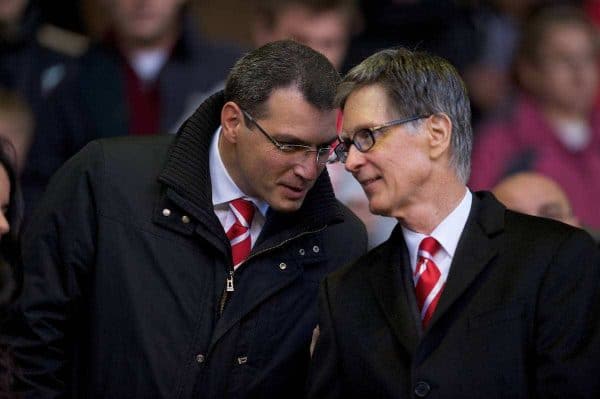 FSG's transfer strategy has always been bafflingly inconsistent.
Football teams will always make poor signings, but for a group of owners whose baseball trades were based on sound reasoning, statistics and a background in Moneyball, FSG's forays into football's transfer market have been confusingly disjointed.
From the use of Damien Comolli as anything more than a scout, to the extra clout given to Brendan Rodgers in the season after the club finished second in the Premier League, plus many more examples, good intentions have always been marred by trust in the wrong people at the wrong time.
There are some gems, of course—Luis Suarez, Daniel Sturridge, Philippe Coutinho and Roberto Firmino, among others—but there have also been plenty of misfits and expensive mistakes.
The much-maligned transfer committee signed plenty of players who looked great at their previous clubs, but during the crunch season of Champions League football in 2014/15, there was a damaging disconnect between manager and recruitment.
When your alternative to Alexis Sanchez is Mario Balotelli then something is wrong somewhere.
Ironically, it's taken a manager bringing in his own team and their version of Moneyball to make the whole thing work, but more on that later…
SUCCESS: Luis Suarez & The Emirates Smoking Ban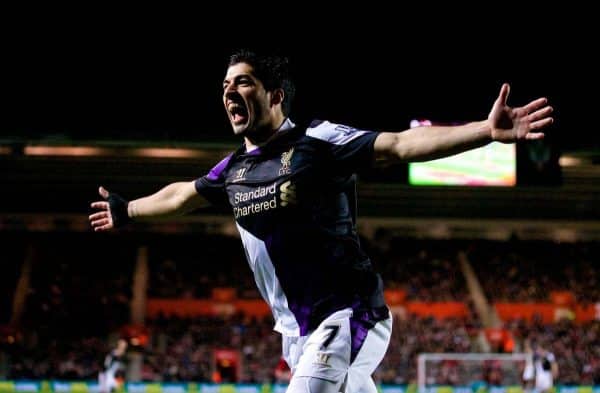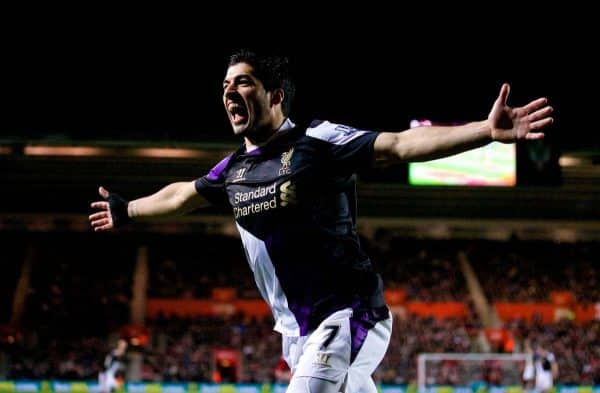 There are more serious things which FSG could be praised for, such as the amount of their own money they pumped into the club to prevent it from going into administration.
Or the fact that they are genuine sports fans and seem to "get" Liverpool (as much as you can expect a group of American capitalists to understand a club built on socialist ideals by men from northern Britain).
But when Arsenal showed interest in Suarez in 2013, John W. Henry's tweet summed up a lot about the club's owners, and somehow managed to say all that needed to be said on the issue:
What do you think they're smoking over there at Emirates?

— John W. Henry (@John_W_Henry) July 24, 2013
In less than 140 characters, Liverpool's owner indicated to Arsenal that they had no chance of signing one of the best players in the world, and also indicated to Suarez himself that if he were to leave the club, he could do better.
The point was reinforced by Steven Gerrard, who told the Uruguayan to wait another season and see where he and the club are at.
Gerrard mentioned to his team-mate that he can do better than Arsenal, and some of the world's top clubs would eventually come in for him.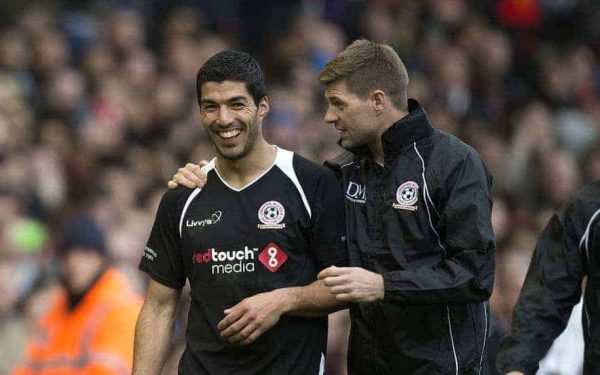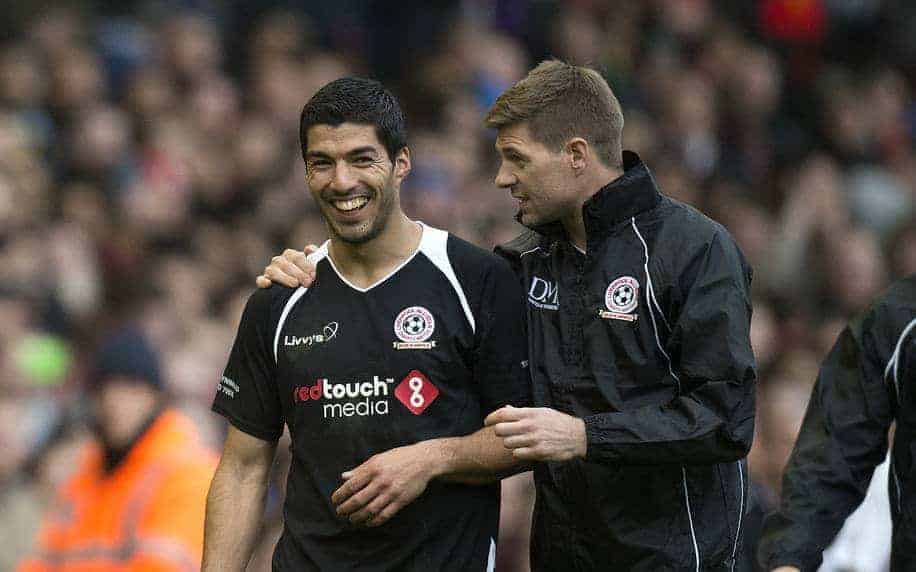 A season later, Suarez was even better. Liverpool had blown their best chance at a Premier League title, but they did have Champions League football.
Barcelona came calling, however, as Gerrard suggested that they might, and Suarez took his place at the top of the game playing alongside the greatest player of all time.
If Suarez had to leave Liverpool, then it was only fitting that he went to Barcelona rather than another Premier League club with a lower standing.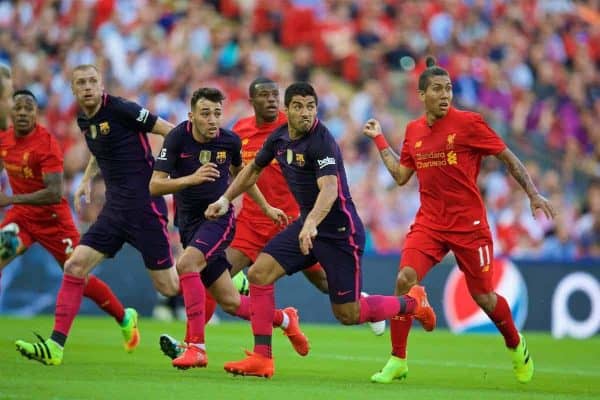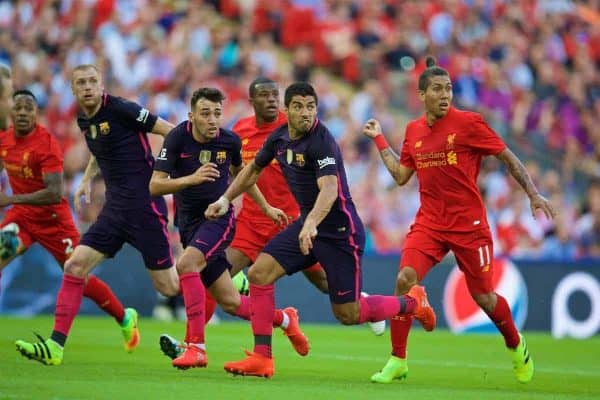 FSG raked in £65 million for the forward, but the destination was more important.
Suarez will go down in Liverpool folklore, just as he will at his previous club Ajax, and at Barcelona he's proved he is up there with the best in the world, if not the best.
The player and fans have Henry to thank that he's not languishing at also-rans Arsenal.
FAILURE: Anfield Road Block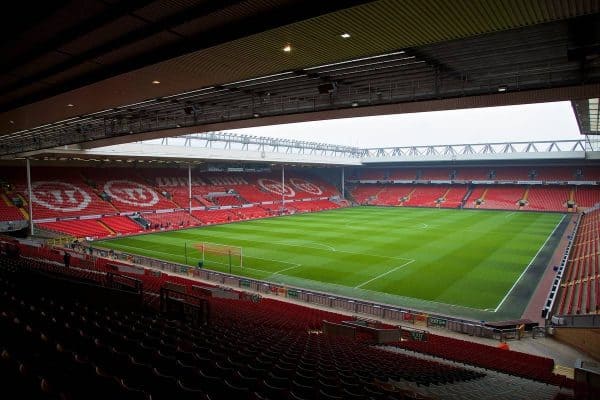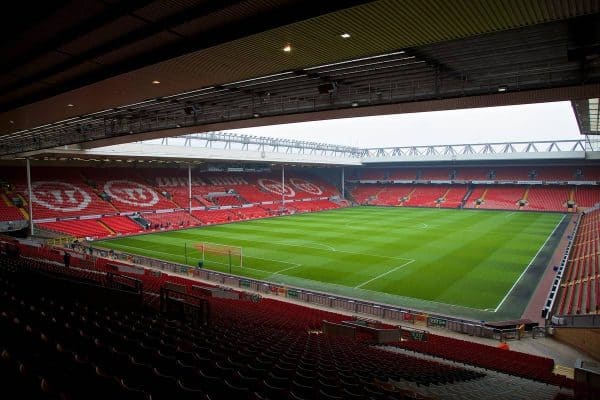 The most recent questionable move from FSG comes in the shape of a hint that the Anfield Road End of Liverpool's home ground may not be expanded.
"I don't know if there is a next step because ticket prices are an issue in England," Henry said in September. "That may foreclose further expansion. We'll have to see."
That he's citing the ticket price issue as the reason for this stumbling block is confusing, especially with matchday income becoming a smaller part of a club's overall revenue as TV money increases exponentially year-on-year.
The most worrying thing is that, reading between the lines, it could be inferred that he's blaming the aforementioned protest at ticket prices for this shift in thinking.
An expanded Anfield Road End may not pay for itself, but the income from the new Main Stand and the other parts of the ground can surely recoup any initial outgoings in the years following completion.
Even if the stand doesn't pay for itself in the immediate future, then the millions raised from player sales this summer, plus massive amounts of new TV money arriving into the coffers of Premier League clubs, should go towards it in the coming years.
It might also suggest that the current owners are looking for an injection of cash from another investor…
SUCCESS: Delivering on the New Main Stand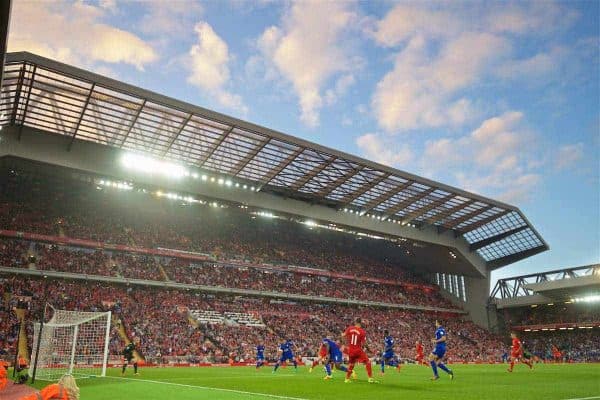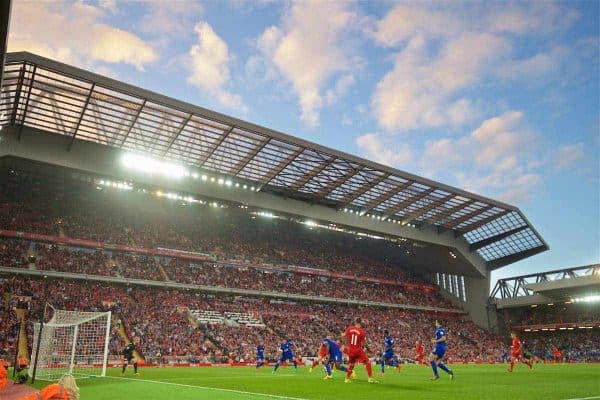 When it comes to renovating stadia, FSG had previous. They'd given a facelift to the Boston Red Sox's iconic Fenway Park Stadium, and there are echoes of this structure around Anfield's impressive new Main Stand.
Liverpool have lagged behind for years when it comes to their stadium and facilities, but FSG have delivered on a promise—unlike their predecessors, who only reversed the progress of the club in this area and many others.
The redevelopment of Anfield feels like a much better way of going about things than moving to a new stadium.
If the owners follow through on their plans to expand the Anfield Road End, then the stadium will be up there with the best in the league and the players will still be stepping out onto the same turf trodden by greats of the past.
But even without this, the new Main Stand is an impressive piece of work. From its vast internal concourses to the attractive looking exterior, it's a far cry from the narrow halls of the old stand.
And whereas Anfield was once hidden in Everton Valley, the new structure can be seen from around north Liverpool as it puts its head above the parapet. Let's hope the team can reach similar heights on the pitch.
FAILURE: The 2016 Ticket Price Hike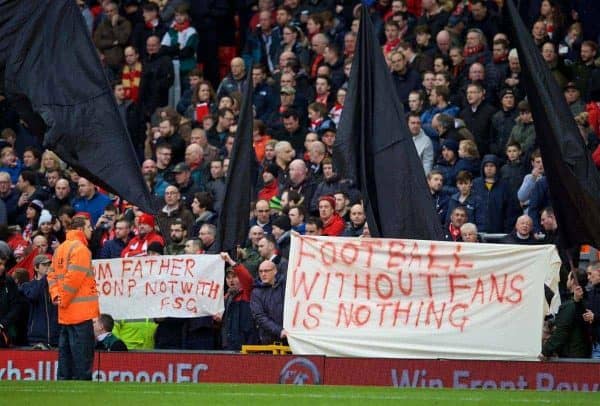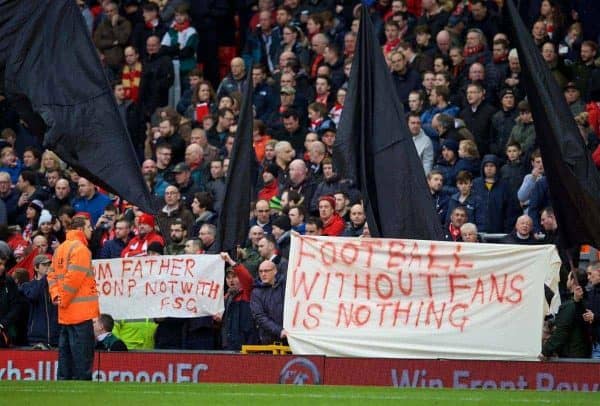 In February 2016, FSG scored one of their most calamitous own goals.
From a business point of view everything looked to be sliding into place; the pricing structure was drawn up and the new Main Stand would start to pay for itself.
But football isn't an ordinary business, especially not in Liverpool.
The support of and belief in a football club is the strongest of faiths. Many fans will pay to watch their team regardless of whether they can afford it or not, or whether they're getting anything in return.
If owners are seen to be taking advantage of this complete devotion then there can be rumblings of unrest, and rightly so.
When the ticket prices were announced as high as £77 for a ticket on matchday, and season tickets over £1000, the fans took action.
Around 10,000 walked out of the ground in protest on the 77th minute of the home game against Sunderland, amid chants of "you greedy bastards, enough is enough."
It was the accusations of greed which hit FSG hard, and they released a statement shortly after which apologised for "the distress caused," also coming to a compromise with the ticket pricing and structure.
SUCCESS: Appointing Jurgen Klopp as Manager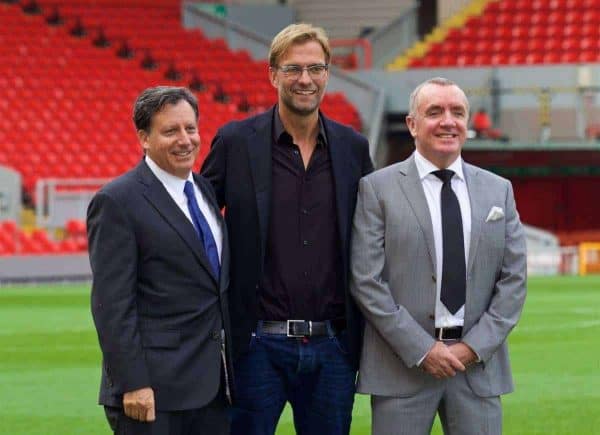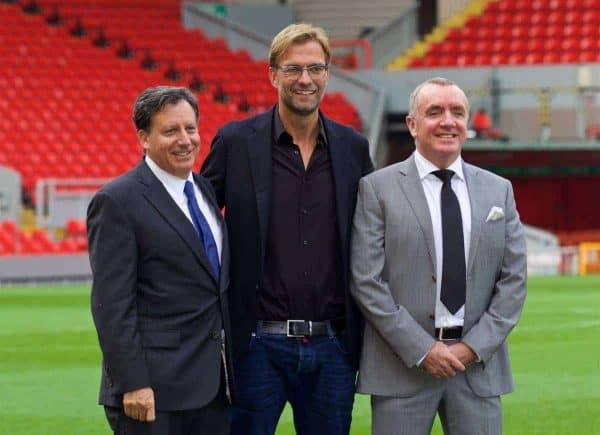 Hiring Jurgen Klopp is one of the best decisions FSG have made, and he's the marquee signing which Liverpool needed, even though many expected this to come on the pitch.
Even if he were to leave Liverpool tomorrow, the aura he's injected into the club, the common sense in the transfer market, and the rekindling of the Liverpool philosophy would linger on.
As mentioned earlier, FSG have been neither here nor there when it comes to their transfer policy, but Klopp has brought clarity in this area.
He relies on his two sidekicks, Peter Krawietz and Zeljko Buvac, as well as his own intuition to decide which profile of player will suit the role he requires on the pitch.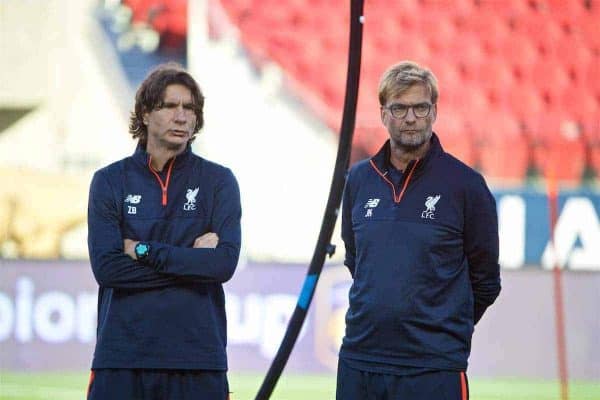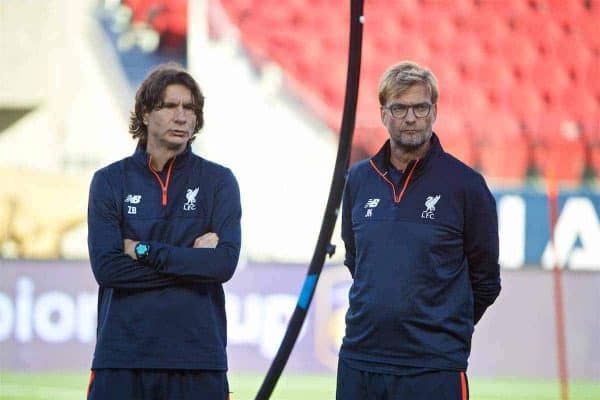 He'll work with the scouts and analysts to get information and statistics on potential signings, but ultimately they'll have to fit his requirements, especially when it comes to mentality.
It's often accepted that around half of a team's transfers will be successful, but under Klopp it will be closer to 75 percent, and rightly so.
How many other professions can get away with being effective just 50 percent of the time?
In Ragnar Klavan and Joel Matip he may have out-Moneyballed FSG, and in Sadio Mane he's found a long-missing piece of the puzzle.
FSG struck gold when they convinced Klopp to begin a new project at Liverpool, but it remains to be seen whether he can build on the impressive looking foundations he and his team have had to rebuild.