Philippe Coutinho is a more complete player than ever, and his performance against Crystal Palace helps to explain why he's hitting top form.
Before Saturday's clash with Palace kicked off, Jurgen Klopp was quoted as saying: "We try to play football, of course, but not because we want to show that we can play football.
"Only because it makes sense when you have the ball that you do something nice with it."
One player who has the ability to do plenty of nice things with the ball is Coutinho, and he showed as much in this game.
The Brazilian international's passing and awareness were on a different level.
Playing in a familiar, consistent system during the past few months will have helped: he knows where his team-mates are and what they're likely to be doing, even if he has his back to them.
Unlocking the Potential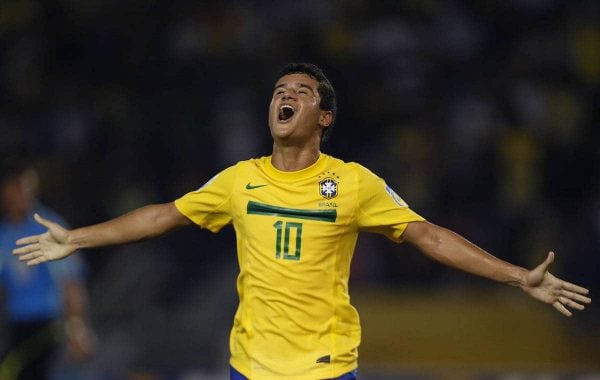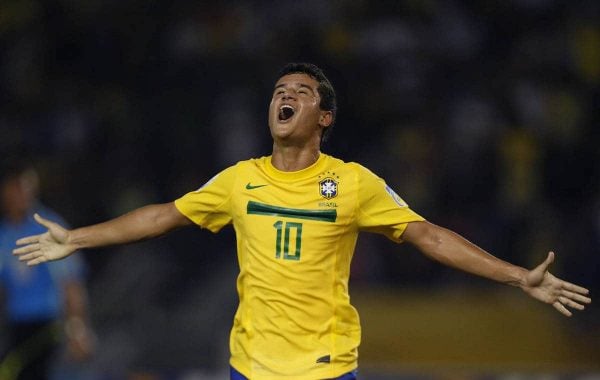 But Coutinho has always had this ability. It was evident at an early age during his time as a youth player with Brazil's U17 and U20 teams, and at Vasco da Gama in his hometown of Rio de Janeiro.
This ability took a while to unlock at the top level of senior football in Europe, but at Liverpool he's been given the keys to his talent.
The No. 10 has built on a natural, instinctive close control learnt in Brazil's futsal arenas, and now has a broader range of passing and better understanding of what's going on all over the pitch.
He's also found a shot in his locker too. Early troubles in this area might also have been a byproduct of an upbringing on futsal's smaller pitches where passing into the net is often enough.
But having worked on and altered his technique he's now one of the most dangerous players in the league when shooting from outside the box.
Passing Party at the Palace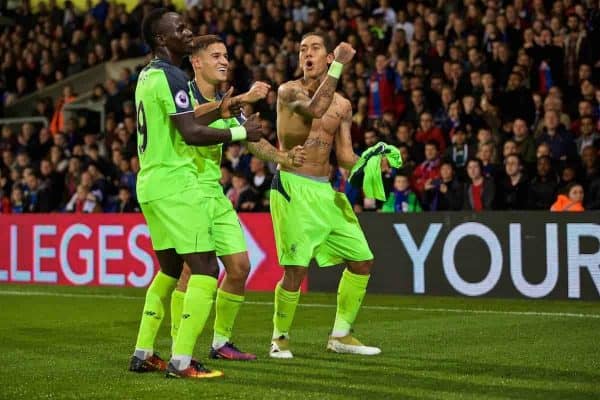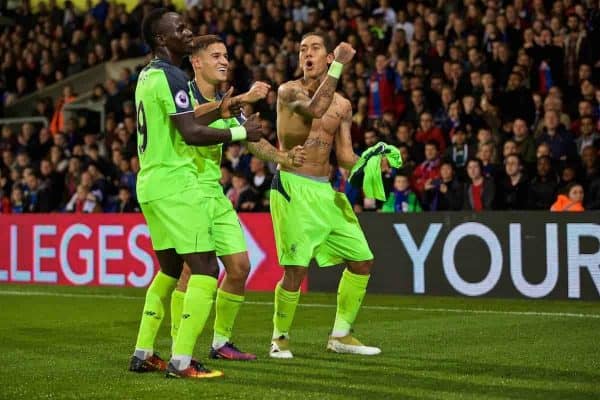 Against Palace he completed 84 percent of his passes, just behind Liverpool's most efficient passer, Jordan Henderson, who had a success rate of 85 percent.
The completion percentages weren't the best for this game, but this can happen when players are regularly looking for incisive forward balls.
The occasional wayward pass is forgotten if players can produce the types of killer plays which were evident in this game.
Henderson's assist for Roberto Firmino's goal, and Coutinho's "hockey assist" pass to Alberto Moreno, which led to Emre Can's opener, were prime examples.
Looking at his other passing stats, Coutinho made four key passes (passes which lead to a shot), and two of the three corners he took in the game led to goals.
Tackling and Tenacity: Jagged Little Phil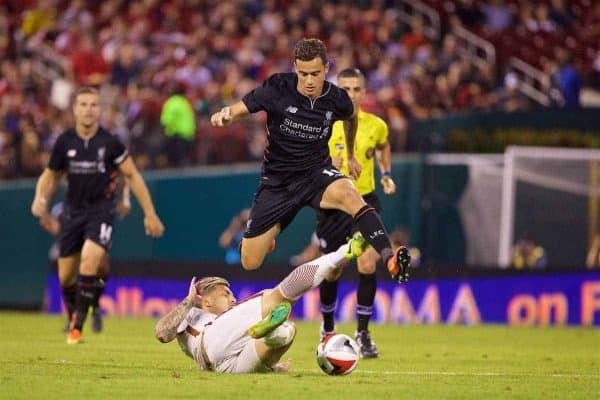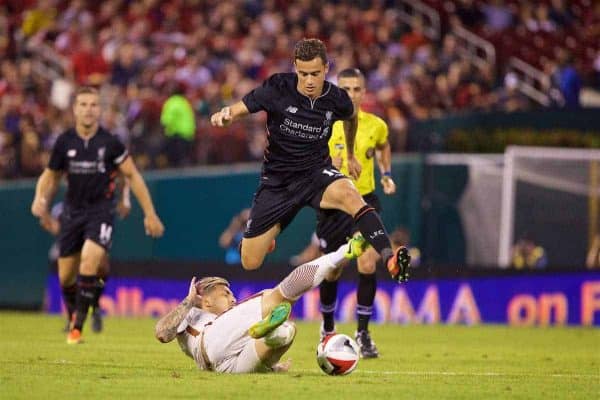 But passing was only part of the story of his performance against Palace.
As was the case against Manchester United at Anfield when he put in an early full-blooded challenge on Antonio Valencia, he was at it again with an early challenge on James McArthur.
Just like tackles themselves, tackling statistics can be hit and miss' the aforementioned tackle on Valencia didn't register in Opta's data, for example—but Coutinho's four successful tackles today aren't too far behind Idrissa Gueye's league leading average of 4.9 tackles per game.
Regardless of the accuracy and worth of this data, it's still unusual to see a player who might be viewed by many as a luxury playmaker to be racking up numbers on this side of the game.
It shows that Coutinho is becoming more of a midfielder as well as an advanced playmaker, and again the system helps with this as Liverpool do a lot of their best defensive work high up the pitch.
Brazilian Pressing Partners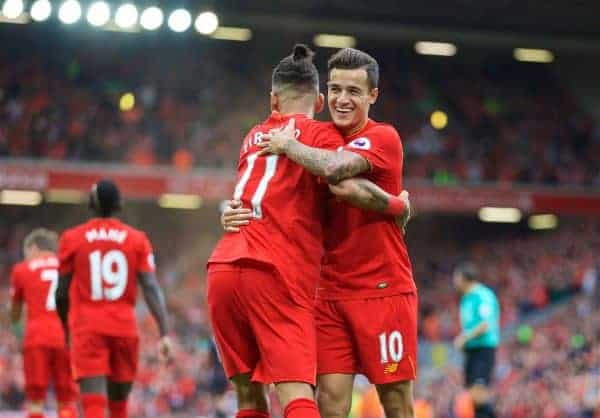 Firmino is one of the best defensive forwards in the game, and Coutinho is fast becoming his wingman in more ways than one.
The two players are cut from the same cloth, and both are now up there with the best in the Premier League. Each would have a case for being the best player in the league at present.
As they play close to each other on the pitch, they can often be seen pressing as a pair before being supported by the central midfielders and left-back.
Along with Adam Lallana they're among the side's most effective pressers of the opposition, and Firmino's prowess in this area helps him to get into the side ahead of the club's other talented forwards.
Anfield Index, who collect Liverpool players' pressing statistics, regularly have Coutinho down as one of the leading players in this area of the game, and he's even more productive when playing in the central-midfield role he's dropped into occasionally this season.
Forward Three and a Header!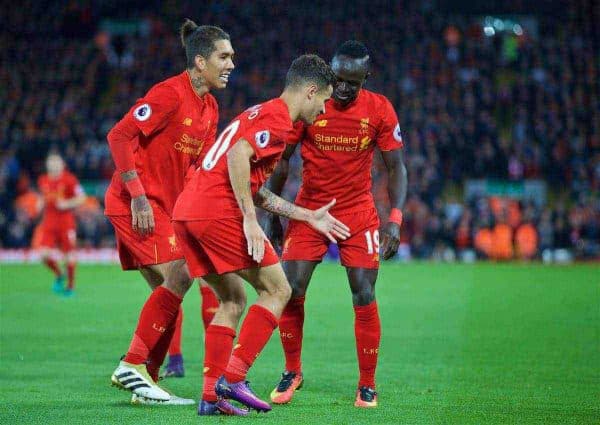 Against Palace, however, Coutinho was very much an attacking playmaker. He will drift inside from the left as is his wont, but the average positions from the game show him playing alongside the most advanced players, Firmino and Sadio Mane in a front three.
He attempted four shots, three of which were on target. Each test of Steve Mandanda in the Palace goal came from a different part of his person.
One with the right foot, one left-footed effort, and the other was a rare header from which he would have scored had it not been for a handball as the effort travelled towards goal.
After yesterday's performance he was named as Liverpool's Man of the Match by most outlets, including This is Anfield.
And though his manager always prefers to emphasise the qualities of the team rather than picking out individuals, when pushed in the post-match press conference to comment on Coutinho's display he described him as a "very good football player."
"He's now 24, his work rate is outstanding," added Klopp. "That's how it is. You can't be a genius every day. He's a proper football player. All good."
Anfield Future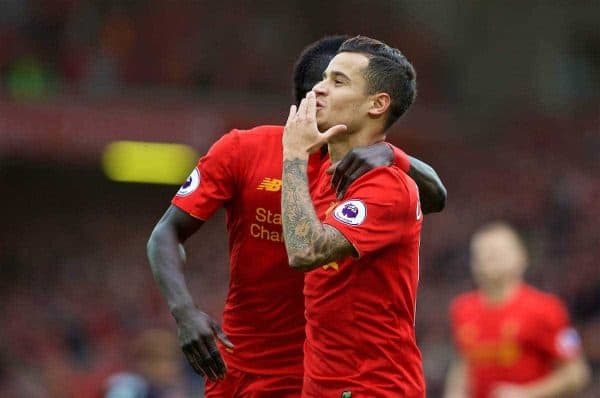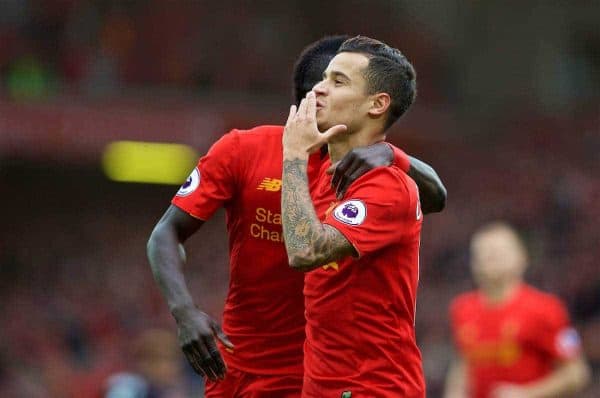 As is inevitable when a player becomes this good in such a tough league, Europe's top clubs begin to circle around them, but any rumours linking him with Real Madrid must be wide of the mark.
If Coutinho is to have a home which isn't Anfield then it must surely be alongside his countryman and friend Neymar at Barcelona.
However, if Liverpool continue on their current trajectory under Klopp and qualify for next season's Champions League, or even challenge for the title, then he'll have no reason to move.
The rapport he has with his current team-mates and manager means he's happy at the club, and his passion for the Reds is evident when he celebrates his goals.
He'll always get to see Neymar on international duty, after all.