As Britain prepared to turn back its clocks one hour, Saturday's clash with Crystal Palace turned them back to 2014.
Remember that season? The Reds were phenomenal going forward, but when it came to defending they were leakier than Hillary Clinton's email servers. That season turned out to be a glorious but ultimately gut-wrenching thrill ride. So when it comes to away-day victories, in which Liverpool need four goals to see off the opposition, it feels like a case of back to the future for some of us.
The life of a Red over the last couple of decades has been all about surviving one false dawn after another. You invest so much emotion and hope in the ascent, that the comedown leaves you on the floor, filled with anguish and wishing you could be more like that weird kid back in school—you know the one who didn't like footy. But then every season you pick yourself back up and you go again. A football team is for life after all, not just for Christmas.
So you come to accept it, a little. Live in the moment as much as possible, because sooner or later the wheels will come off the ride and we'll go hurtling into despair once more. Then along came this German fella called Jurgen.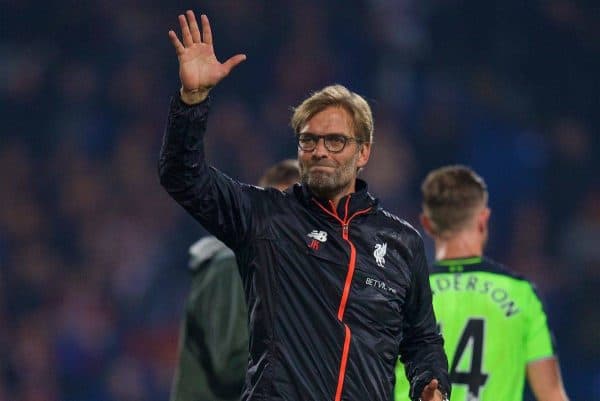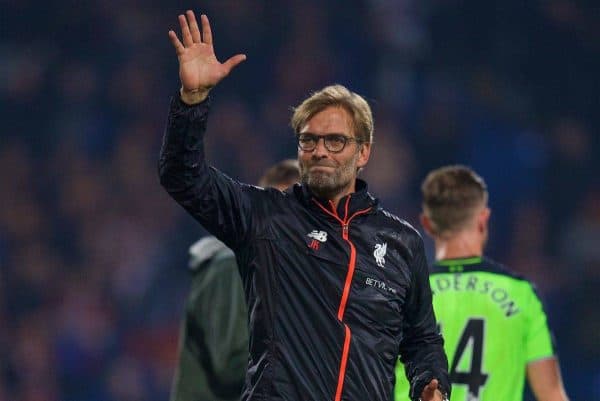 We've been convinced for years that football is this really complex game, based on strategy and intricate tactics. Diamonds and Christmas trees have replaced the 4-4-2s, inside rights and centre-halves. There's flat back fours and fives as well as players who are 10s, but really play like false nines. Whole news channels are now devoted to analysing the game in intricate detail, with the sort of gadgetry that belongs in a James Bond movie.
So we've all become convinced to look at possession statistics, passing accuracy and now kilometres covered in a game. It's all fascinating stuff and I'm not saying it's completely irrelevant. Of course not. But in becoming consumed by this stuff, maybe we ignored one simple fact. While all this was going on, the best teams just bought good players, developed a plan, made everybody believe in that plan and then won titles.
Could it really be that simple? Well it used to be, but that was in the old days before football was invented by Sky TV. When I look at this Liverpool side, assembled by Klopp, I see good players, playing with joyous freedom and utterly committed to their managers blueprint.
This is why they no longer seem to crumble in the face of adversity. Gone a goal down? Not to worry, just stick to the plan and it will all be OK. If you suffer a defensive calamity, don't waste time in the game agonising over the complexities of zonal marking versus a man-to-man system; just go right up the other end and bloody equalise.
So if, like me, you've been going into every game expecting reality to finally bite, stop now. This is not the same Liverpool team you've been watching for the last 20-odd years. It's more like the one from the previous three decades. This is a side who genuinely understand that football is a simple game. It's about the giving and receiving of passes and of making yourself available for a pass, but it's ultimately about winning, even when you probably haven't covered yourself in glory.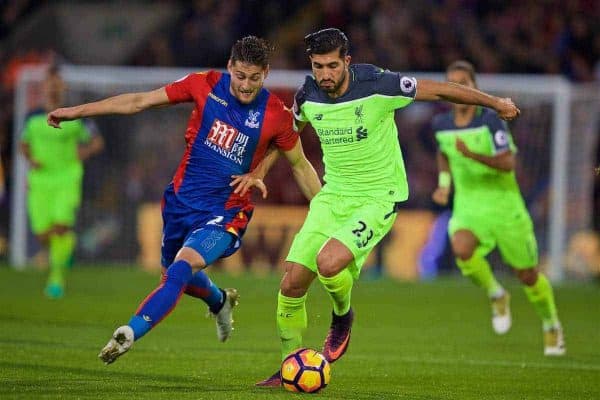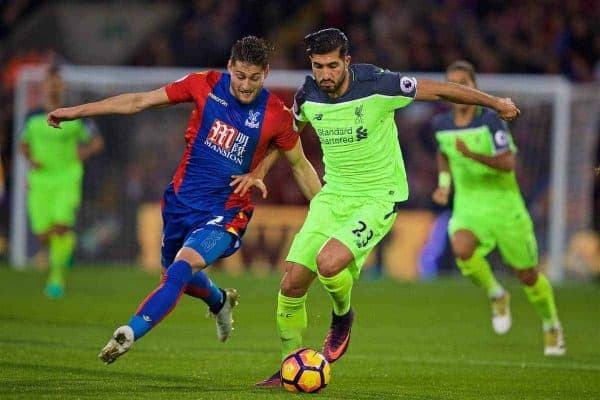 Liverpool got the game underway in an appropriately named toxic kit. It is the sort of high-viz garb that wouldn't look out of place on a motorway maintenance crew. They quickly established control and Philippe Coutinho fashioned the first effort of the game with a sliced shot that went over. It was a sign of things to come as the Brazilian was majestic for the whole game and very unlucky not to get on the scoresheet.
The opening 15 minutes were all Liverpool, with Palace camped in their own half. I'm not sure what the possession stats were, but the Londoners could barely have managed double figures. The Reds were in irresistible form and the inevitable goal materialised on 16 minutes. Coutinho and Alberto Moreno combined brilliantly on the left and the Spaniard whipped the ball into the waiting into Emre Can, who opened the scoring. It was a move that epitomised the fluidity of Liverpool's play this season.
What happened next though was the embodiment of the Reds' obvious Achilles heel, conceding goals through unforced errors. Dejan Lovren has been a player reborn under Klopp and he is undeserving of some of the stick he took after Liverpool conceded the Palace equaliser. It was actually a joy to see him ram that criticism right back down the throats of his critics, but nevertheless it was a poor goal to concede.
This was route-one stuff from Pardew's men. Steve Mandanda lumped the ball up field and the ball found its way to Lovren. All he had to do was launch back in the direction it had came, but he somehow sliced the clearance. Loris Karius rushed from his line and allowed James McArthur a simple header over the keeper. Palace could scarcely believe their luck, but Reds fans could definitely believe ours.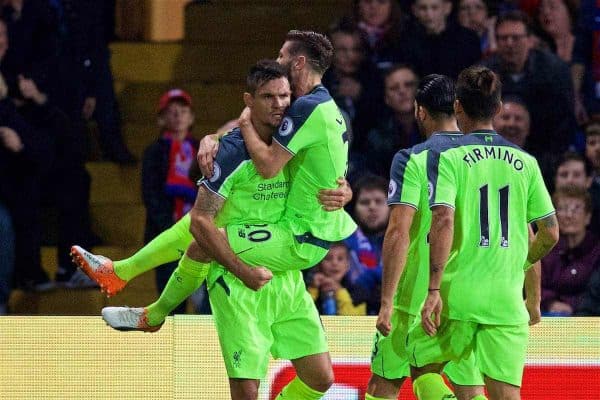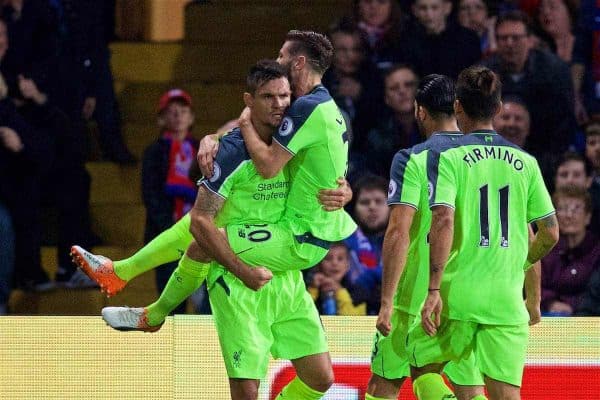 Not to worry though, because if they score one, that just means we have to score two. Right? That's exactly what happened. Liverpool immediately went on the attack and won successive corners. The first was typical fair and failed to clear the first man, but the second did that and more. Coutinho opted to lob the ball into the six-yard box and a decisive Lovren thumped the ball into the net on 21 minutes. Redemption? Well, almost.
The Reds looked eager to put the tie to bed and Roberto Firmino went close before Moreno crashed an effort off the post from a tight angle. Yet once again our back line conspired to make life difficult for themselves. This time Lovren failed to clear with his head in the centre of defence and Moreno was too passive in dealing with the second ball, allowing a cross into the box, which McArthur once again took full advantage of. The sense of deja vu was palpable.
The game was turning into a thriller now and you wouldn't have got good odds on a 5-5 at this point. Liverpool once again poured forward and created chances. Coutinho was somehow denied by the fingertips of Mandanda and shortly after Sadio Mane missed when it would have been far easier to score. Reds teams of old would be starting to grow frustrated by now, perhaps they'd lose concentration and concede again, but not this vintage.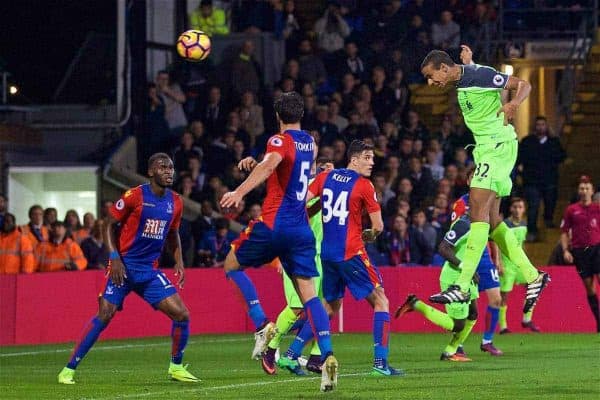 With the half running out Liverpool won another corner on the right. Once again Coutinho shaped to take it. This time his delivery was immaculate and Joel Matip met it sublimely to score his first for the club and Liverpool's third of the game. Such was the frantic nature of the encounter, the sight of the players going into the tunnel 3-2 up was a blessed relief.
We'd all expected Christian Benteke to prove a point in this game and frankly he did. he was a nuisance in the second half and on a number of occasion seemed to have the Reds defence rattled. However, Karius managed what must be the first genuine saves of his Liverpool career when seriously tested by the Belgian.
Benteke is a good player and the move to Anfield may have derailed his career, but he was never suited to our style of play and yesterday there will have been few tears of regret from the travelling Kop.
Liverpool continued to press but you always felt they needed another to stave off a devastating third equaliser. Thankfully we have a forward line capable of wreaking havoc on any defence in Europe. No longer are Liverpool dependent on the brilliance of a Luis Suarez. Instead they have an abundance of riches in Mane, Coutinho, Adam Lallana and the absolutely superb Roberto Firmino.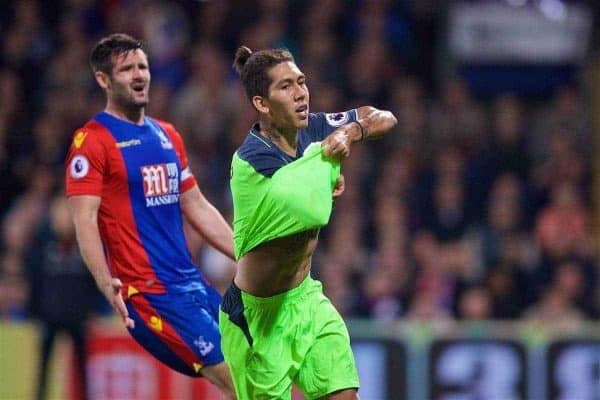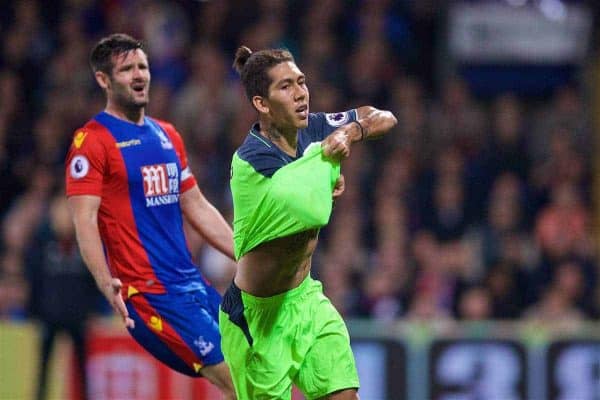 The Brazilian's goal has been rightly lauded, but it must be said that the through ball from Jordan Henderson was of equal brilliance. On 70 minutes the captain found himself with ball about 45 yards from goal in the middle of the Palace half. He delivered a Gerrard-esque slide-rule pass to Firmino who made the deft chip over the keeper look simple. It was anything but and brought back fond memories of Kenny Dalglish's technique in the glory days of the 1980s.
This was now game over and once more Liverpool had seen the banana skin and sidestepped it. Yet another weekend where rivals drop points and the Reds take full advantage. This victory over Palace owed as much to that stubborn belief that no matter what our opponents do, we will ultimately prevail, as it did to the brilliance of our attacking play.
So to paraphrase a certain Bill Shankly, here are Liverpool having problems at the back and sitting at the top of the table. As Jurgen said, in his post-match interview, that's nothing to moan about at all.