As Liverpool prepare for another trip to Selhurst Park to face Crystal Palace, we take a look at the highs and lows the Reds have suffered there in recent times.
Selhurst Park remains one of the most atmospheric, old-school stadiums in the country.
The Palace supporters make it a hostile environment for any side to visit, not least when big teams come to town under the lights.
That is exactly what Liverpool will experience this weekend, and Jurgen Klopp and his side will have to be prepared for a real battle in south London.
You only have to look at the drama that has unfolded in the last five meetings there between the two sides to realise anything is possible.
Crystal Palace 1-2 Liverpool – March 6, 2016



This was an afternoon that threatened to be truly miserable for the travelling Liverpool fans, but ended with the away end in raptures.
The Reds' trip to Selhurst Park was sandwiched in between 3-0 and 2-0 victories over Man City and Man United, in the Premier League and Europa League respectively, but this was almsot as enjoyable come the final whistle.
A low-key first-half drifted by before the game came to life.
Joe Ledley put the hosts ahead after some predictably woeful Liverpool defending from a corner, and when James Milner was sent-off in reckless fashion, the game looked up for Klopp's men.
Thankfully, Palace goalkeeper Alex McCarthy decided to miskick a clearance straight to the feet of Roberto Firmino with 19 minutes left and the Brazilian finished coolly.
A frenetic finale ensued, with both sides going for all three points and a late piece of controversy caused post-match phone-ins to erupt with callers.
Christian Benteke won a penalty in the dying seconds after referee Andre Marriner reversed his original decision, and the Belgian stroked home the spot-kick.
Alan Pardew and his players were incensed, but replays showed it was a foul. Pardew accused Benteke of being a cheat, then signed him a few months later.
To win in such a manner, at a ground that has caused plenty of misery previously, was enough to leave you buzzing for the rest of the weekend.
Crystal Palace 1-2 Liverpool – February 14, 2015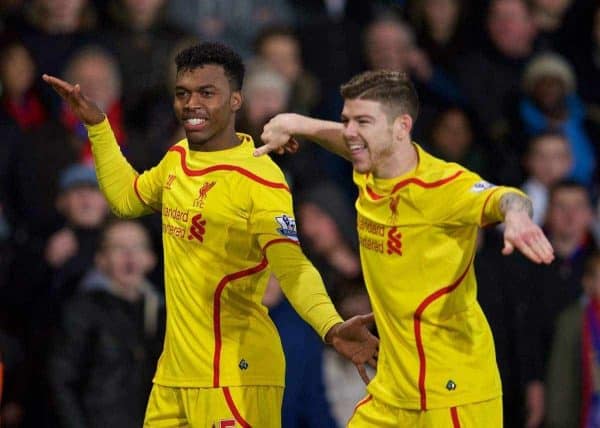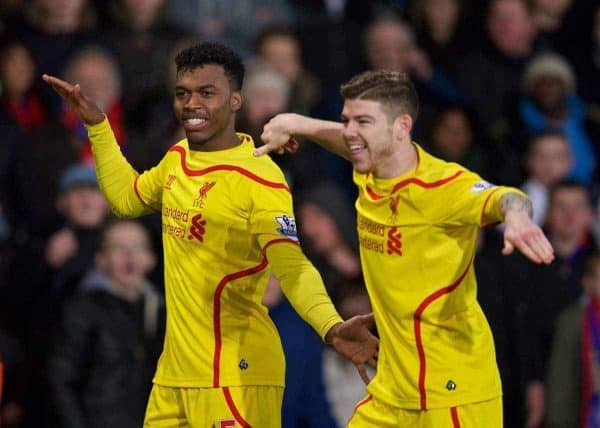 What better way to spend Valentine's Day than watching Liverpool take on Palace in an FA Cup fifth round clash at Selhurst Park.
The two sides met last year in the world-famous competition, and served up a very entertaining contest in the capital.
I was often bizarrely accused of having some kind of agenda against Martin Skrtel when he was a Reds player, but his defending in this game was proof that he just wasn't good enough.
A terrible piece of communication between the Slovakian and Simon Mignolet caused mayhem inside the area, and Fraizer Campbell duly pounced with 15 minutes on the clock.
It looked set to be more disappointment against Palace for Liverpool – more on that to come – but Brendan Rodgers' side produced a spirited fightback.
Four minutes into the second-half, Jordan Henderson's inch-perfect cross was met ruthlessly on the volley by Daniel Sturridge, and parity was restored.
Soon after, Adam Lallana poached the winner from close-range, after Julian Speroni had spilled a Mario Balotelli free-kick. That's right, Balotelli actually did something of note in a Liverpool shirt.
The Reds were through to the quarter-finals, where they knocked out Blackburn Rovers, before deciding to resemble a pub team in the semis against Aston Villa.
Crystal Palace 3-1 Liverpool – November 23, 2014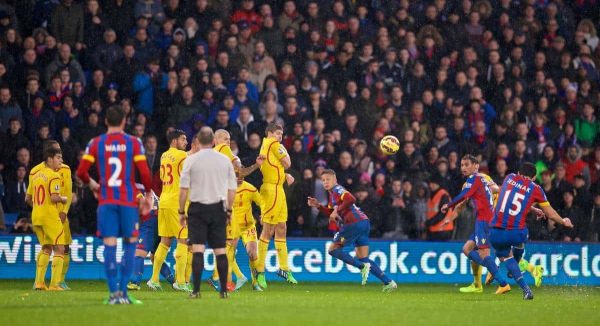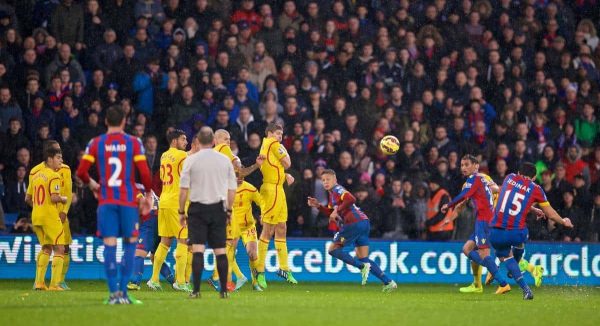 Revenge was in the air after a nightmare-inducing night in south London earlier in the year – again, more on that in a bit – but Liverpool flopped in alarming fashion in a Premier League clash in November 2014.
The Reds were a shadow of the team that had come agonisingly close to winning the title in 2013/14, and Palace were more than deserving of their win on the day.
Liverpool actually took the lead after just two minutes – a wonderful moment for boyhood Reds fanatic Rickie Lambert, who scored his first goal since a surprise summer move from Southampton.
That really was the only thing the Merseysiders could shout about on a wretched afternoon, however.
Dwight Gayle, a player who has often looked like an all-time great against Liverpool, equalised not too long after, and the game ebbed up flowed until its final stages.
Ledley nutmegged Mignolet in almost comical fashion with 12 minutes left to make it 2-1, and Mile Jedinak's stunning free-kick was the final nail in Liverpool's coffin.
It was a sign of things to come, as Rodgers' previously unplayable Reds imploded in 2014/15.
Crystal Palace 3-3 Liverpool – May 5, 2014

It's ok, we can reminisce about this game together, as some sort of group therapy.
This is up there with the most bonkers Liverpool games in living memory, in a 90 minutes that left you feeling proud, flat, heartbroken and confused all at once.
The Reds' stunning march to a first ever Premier League title had been cruelly halted by Jose Mourinho's bus-parking Chelsea side, and all of a sudden it was Man City's trophy to lose.
With City winning at Everton two days earlier – you remember, the game when Everton's manager, players and fans basically wanted their own team to lose – Liverpool had to pick up three points at Selhurst Park.
It all looked so good for so long, with Joe Allen's header, Damien Delaney's own goal and Luis Suarez's strike putting the visitors 3-0 up after 55 minutes.
That image of Suarez racing back to the halfway line, genuinely believing Liverpool could win 8-0 and narrow the goal difference deficit on City, just epitomised the fearless, attack-minded nature of that 2013/14 team.
Sadly, the final 11 minutes were among the most depressing in the history of Liverpool Football Club.
Delaney pulled a goal back, Yannick Bolasie turned into Pele, Gayle scored twice, the Reds caved in and the eventual 3-3 draw was utterly deflating.
In truth, the Chelsea game will always be the one that blew it for Liverpool, but this game had a damaging mental effect on both Rodgers and his players the following season.
Crystal Palace 2-1 Liverpool – October 25, 2005

This is a game that seems to have been forgotten about, but it was yet more frustration for Liverpool at the home of those pesky Eagles, this time in the League Cup.
Rafa Benitez's side strutted into Selhurst Park as the reigning European champions, having overcome AC Milan in unrivalled fashion exactly five months earlier.
Liverpool had lost to Chelsea in the 2004/2005 League Cup final, so they were out to go one better in 2005/06. It didn't pan out that way.
Dougie Freedman, the kind of journeyman striker that always seems to score against the Reds, headed Palace in front, but an in-his-prime Steven Gerrard equalised almost straight away.
Midway through the second-half, Palace dealt the fatal blow, however, with Marco Reich – yep, me neither – firing past Scott Carson to send the home fans wild.
Although it was disappointing to bow out to inferior opposition, Benitez and his players made up for it by winning the FA Cup that season instead.
Who knows what awaits Liverpool in their latest trip to Selhurst Park – whatever happens, you can almost guarantee there will be drama or controversy of some kind.