Great teams don't rely too heavily on one or two players, and Jurgen Klopp's high-flying Liverpool now have match-winners left, right and centre.
One of the Reds' biggest Achilles heels of the 1990s and beyond has been an inability to be rescued by various members of the team.
Liverpool have assembled some top-class sides over the last 20 years—admittedly not as many as we would have hoped for—with some excellent players, but there have never been enough match-winners in them.
In the mid-90s, Robbie Fowler was often the man Roy Evans looked to for inspiration, but if it wasn't "God" or Steve McManaman weaving their magic, his side could look bereft of ideas.
Michael Owen was often the saviour by the time the Millennium arrived, while for a number of years after, the importance of Steven Gerrard almost felt embarrassing at times.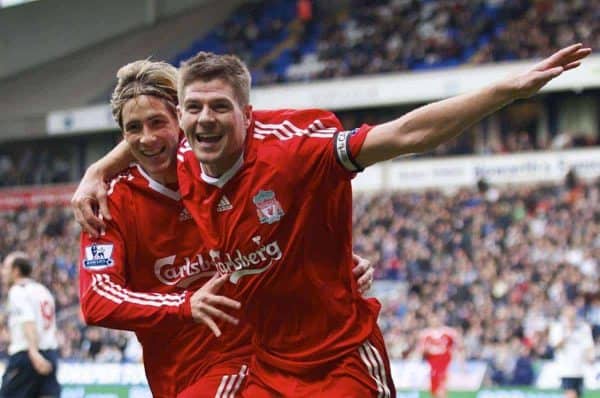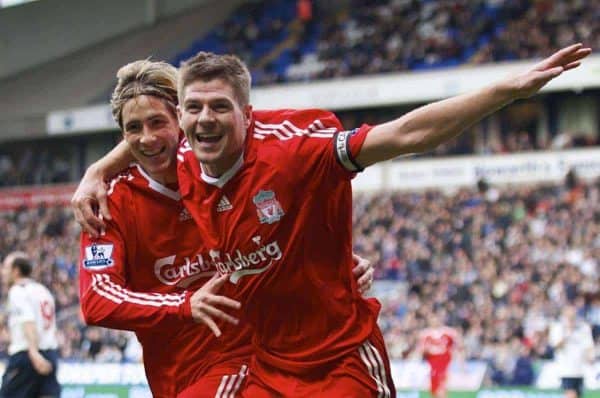 Fernando Torres helped ease the pressure on Gerrard, but again, there was a lack of a supporting cast. Dirk Kuyt certainly deserves a mention, though.
The 2013/14 season was glorious right up until the cruel final act, and that Liverpool team is probably the closest the Reds have come to having genuine match-winners all over the pitch.
Gerrard, Luis Suarez, Daniel Sturridge, Raheem Sterling and Philippe Coutinho all enjoyed key moments, and Martin Skrtel also came up trumps in front of goal a number of times.
Klopp's class of 2016/17 still look on another level in that respect, however.
Inspiration Everywhere You Look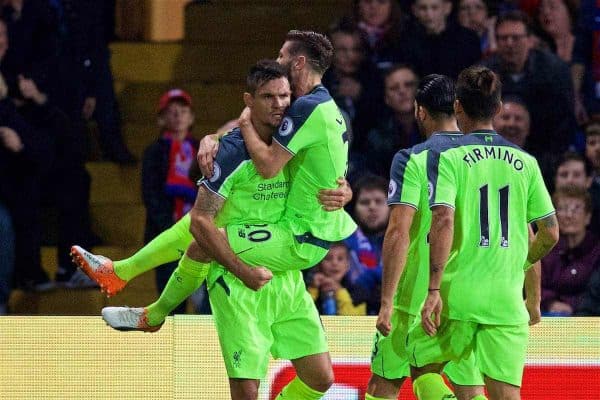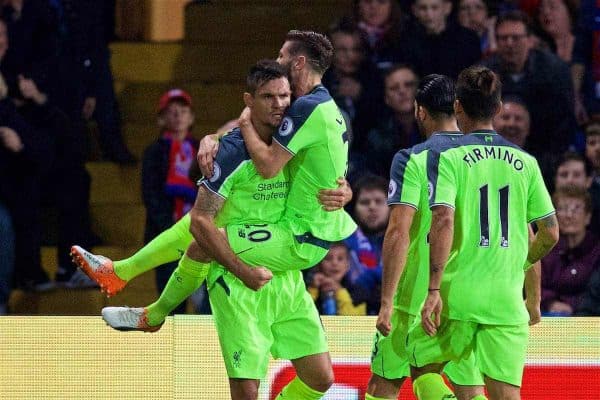 Saturday's thrilling 4-2 win at Crystal Palace was another huge result for Klopp's men, and further proof that they are the most entertaining, in-form team in the country right now.
Some shaky defending aside, it was another excellent performance, with stunning football, relentless pressing and a winning mentality all on display.
What was most telling, however, is that three of the four Liverpool goalscorers were not regular sources of goals.
Emre Can, Dejan Lovren and Joel Matip all came to the fore when their side really needed them, and it was refreshing not to see the usual suspects finding the back of the net.
Twelve different players have scored for Liverpool already this season, which perfectly illustrates their new-found ability to get goals from all over the pitch.
There is an increasing feeling that even if several players have an off-day, Klopp will always have at least one player who takes the bull by the horns.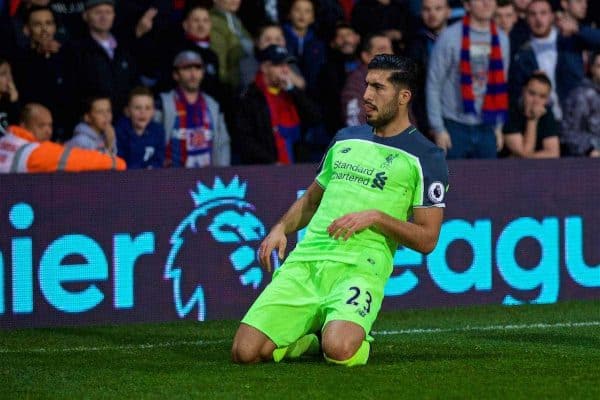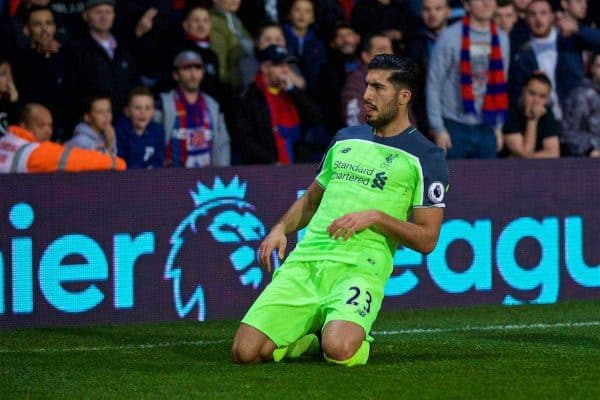 Liverpool's 12 Goalscorers In 2016/17 So Far
---
Against Palace, that was Coutinho. The likes of Roberto Firmino and Adam Lallana were not at their best, without playing badly, but it didn't matter.
In years gone by, it would have done.
Lallana and Sadio Mane have delivered at key times; James Milner has scored some crucial penalties; Jordan Henderson curled in a beauty at Chelsea; Can and the centre-backs did the business at Palace.
With Sturridge, Divock Origi and potentially Georginio Wijnaldum to come off the substitutes' bench, too, Liverpool's potency is frightening.
Sturridge was recalled for the League Cup clash against Tottenham Hotspur on Tuesday and scored two goals, but still can't get it the team. That can only be a good thing.
Liverpool's opponents have arguably not had this much to worry about when facing the Reds since John Barnes, Peter Beardsley, John Aldridge and others were strutting their stuff in the late 1980s.
It's On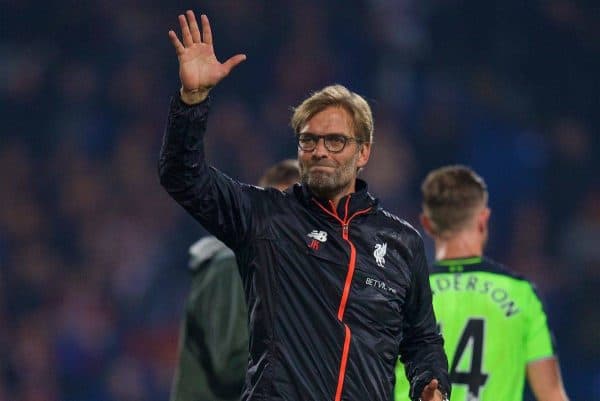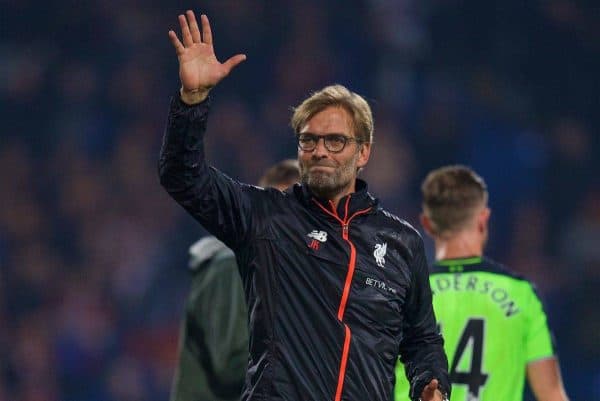 There seems to be a certain trepidation among some supporters when it comes to discussing Liverpool's title chances in 2016/17.
Maybe this is because the Reds have suffered so many false dawns down the years, but either way, this team has a wonderful chance of lifting the trophy in May.
They are the most devastating attacking team in the league on current form, and they have a manager who has instilled steel and belief in his players in abundance.
The defensive issues are still a cause for concern—at the time of James McArthur's second goal for Palace, it was the 13th time Liverpool have conceded from 26 shots on target this season—but they will improve in that area as the campaign progresses.
What is most exciting is that Klopp clearly feels his team are still not at the level he wants them to reach.
"We need to get better. Nothing we've done is close to 100 percent. I know we're not on halfway, so there's a lot of things to improve. In most games it's been almost enough to win," he said last Monday.
"Nobody feels in the dressing room it's not possible to do better. We can defend better, attack better, create better."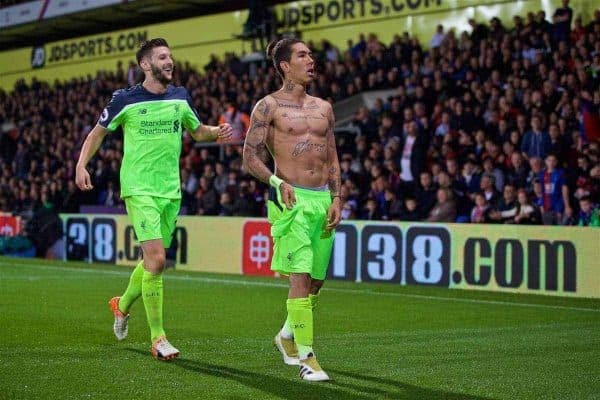 Klopp means this. He has never been a manager who plays mind games with the press—he knows his side are genuinely just getting started.
If we can't get excited about winning the league with things the way they currently are, when can we?
This is not an arrogant proclamation that Liverpool have the title in the bag—far from it.
Man City remain the team to stop, Arsenal are invariably in the mix and Tottenham and Chelsea should not be discounted either. Even Man United, for all their struggles, are not out of the reckoning just yet.
As things stand, though, Liverpool have an immense opportunity to end that long wait for a league crown.
They are not remotely reliant on a couple of players inspiring them to glory, and they have strong characters and individual brilliance in several areas.
In the Premier League years, the eventual champions have always had match-winners everywhere you look.
This Liverpool outfit fall into this category, and although it is still early days in the season, all things point towards the Reds' most convincing title challenge yet.