Liverpool defender Dejan Lovren has heaped praise on team-mate Philippe Coutinho, saying the Brazilian is currently the Premier League's best.
Coutinho produced a star turn in Saturday evening's 4-2 victory away to Crystal Palace, setting up goals for both Lovren and Joel Matip in a frenetic attacking display.
The Brazilian has been in fine form of late, and looks to be reaching the top level in his creative role in Jurgen Klopp's 4-3-3.
While he is far from the only star in Klopp's setup, Lovren believes his current performances make him the best in the English top flight at present, as he explained after the game.
"In my opinion he's the best player in the league at the moment," he said.
"I have the pleasure and the honour to play with this guy. He is playing for Brazil as well.
"He wasn't just outstanding against Palace, he's been like that all year.
"His crosses were perfect. We scored from his set-pieces."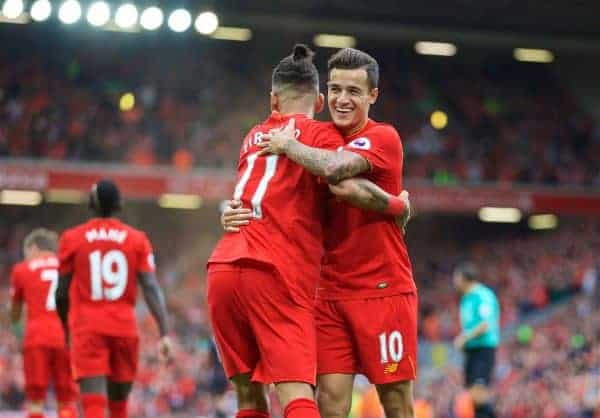 Coutinho had at least 16 more touches than any of his attacking colleagues at Selhurst Park, making four key passes and four successful tackles, highlighting the variety in his game.
He has also scored five goals and laid on five assists in 11 games in all competitions so far this season, with this combined tally of 10 more than any other Liverpool player.
He is second only to Diego Costa and Alexis Sanchez in terms of Premier League output, and this is particularly impressive given both are playing as No. 9s.
However, while Lovren lavished praise on the 24-year-old, he insisted that Liverpool's success was a team effort.
"He is a main part of the team, but it's not an individual thing that wins us points, it's the team work. It was the team that beat Palace, not just one player," he continued.
"But of course when a team works really good then individual qualities comes out.
"I think that man against Palace was Philippe Coutinho."
Coutinho is undoubtedly one of Liverpool's best players, and one of the shining lights of the Premier League, and it will be the No. 10s displays that help push the Reds to glory.