How important is home form for successful teams? And how important has it been for Liverpool?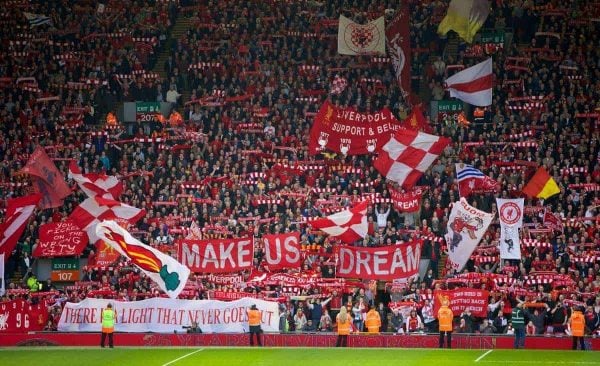 In top-tier football perhaps more than anywhere else, the idea of home advantage is given a credence not applied to more tangible, obvious metrics in sport; indeed even one of the fundamental rules of cup football is based upon it: the away goals rule, where it's still perceived to be more difficult to net and win on the road than in a team's own backyard.
For a team with as much tradition of the crowd playing a part—on a big European night, in a social show of unity, in an uprising against owners—as Liverpool are, home form should surely count for more than most; yet results at Anfield must also take a hit when the atmosphere, for so long on a downard curve over the last two decades, fails to lift the side, intimidate the opposition or bring togetherness with the players.
Manager Jurgen Klopp has repeatedly made mention of the team needing the crowd just as much as vice-versa, but it has always been the case that home form can be a virtuous circle: good football yields good results, which stirs the crowd's passion, which cheers on the team, which leads to more togetherness, which invariably produces results.
Anfield should be a fortress, and Liverpool need it to be—but does it make that much of a difference in a title fight?
We (were) the champions
▼ Article continues below ▼
During the 1980s, Liverpool won the title six years of the 10, and finished runner-up on another three occasions. The best team around without a doubt, the Reds won three-in-a-row between '82 and '84, back in the days when the top flight still had 22 sides.
Naturally that in turn meant more home games for each side, 21 as opposed to the 19 the current Liverpool team plays, so home points could be obtained more readily by the best teams. If the balance for most clubs was tipped toward points at home rather than points away, it made it even more important that they did well in their own stadium—and Liverpool certainly did.
The chart below details each of the 10 seasons, with the average points per game obtained (PPG column) converted to the equivalent of the modern day three points for a win, for consistency.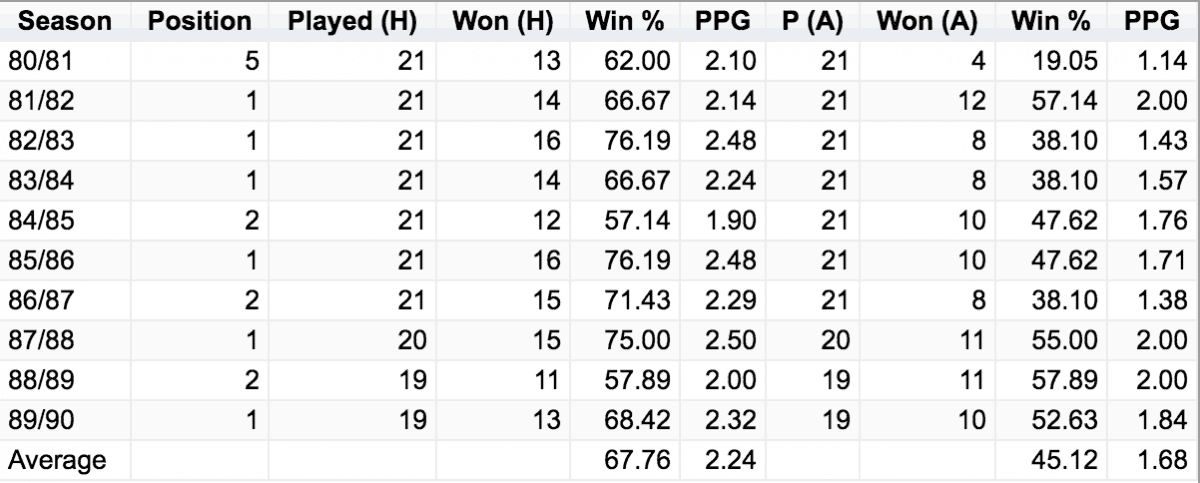 A decade-long average of winning two-thirds of the team's home game clearly contributed enormously to the team's success, with the Reds triumphing on the road in less than half of their games by contrast.
It's not groundbreaking—after all, home-field advantage is a long-held belief—but that the Reds at times won only eight or 10 games on the road and still lifted the title is a point worth noting…because that tally remains roughly the same in the modern day. When the Reds came second in 2014, they won 10 away from home. So did Manchester City, the title-winners. Last season Leicester won 11 on the road, the only team in double figures, and in 2015 it was Chelsea who reached that number.
▼ Article continues below ▼
The percentage is higher, because the Premier League houses only 20 teams as opposed to 22 in the old First Division, but 10 wins on the road is still the aim. (For what it's worth, Liverpool have four away wins this term.)
Anfield was the stronghold though, and there they were the best. But, as we know, it didn't last, and the landscape of winning looks very different now.
Compare and contrast: United they stood
Liverpool's dominance gave way to an altogether different sort of red, and much to the chagrin of those who wore the Liver Bird, it was Manchester United who emerged as the Premier League's first superpower.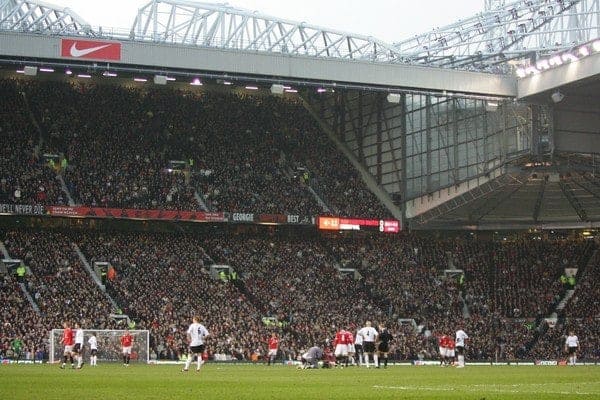 ▼ Article continues below ▼
They won it five times in the 90s, but that era of Efan Ekoku, Noel Whelan and David Platt bears little resemblance or relevance to the modern-day monster of the Premier League, other than the first flashes of outside talent such as Jurgen Klinsmann and Georgi Kinkladze. So it's United's dominace of the 2000s which is much more relatable, much more important.
Over the 10-year span of 2000/01 to 2009/10, United took home five league titles and never finished lower than third. In that timeframe, their average home win rate was a whopping 75.3%, clearly superior to Liverpool's in the 80s. Of course 19 home games instead of 21 means each home victory is worth a little more percentage in the modern day, but not enough to account for such a discrepancy.
Instead, the truth is that home form got better for the top teams.
Liverpool weren't among them.
It's often opined that Liverpool were "left behind" by the move to Premier League football, usually with regard to commercial growth rather than on-pitch ability, but that's what applies here: they didn't regress with home form, they simply didn't improve while others did.
Compare United's home record over the decade with Liverpool's: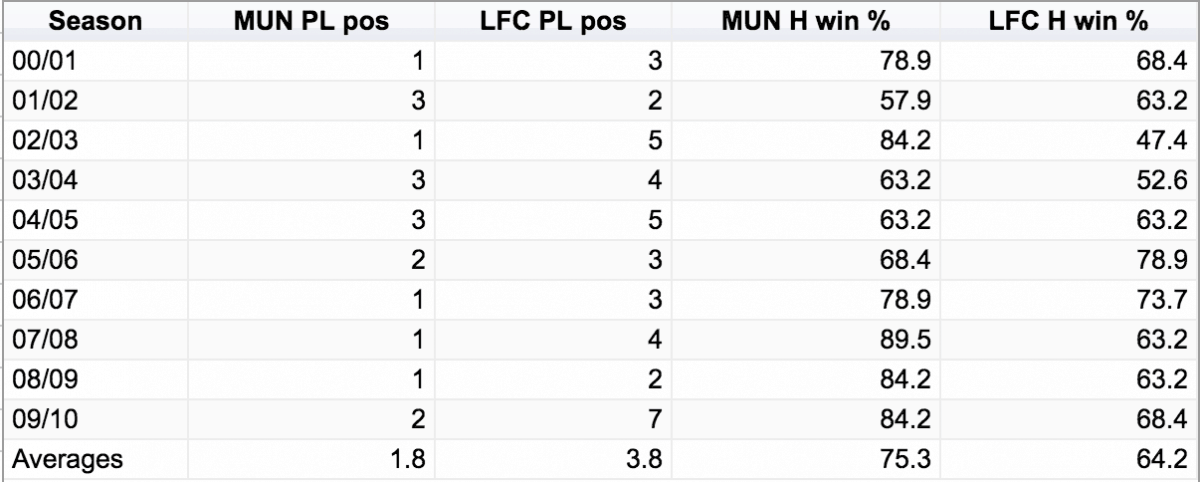 ▼ Article continues below ▼
The Reds maintained a near-identical win percentage of home games to the decade of the 80s (down from 67% to 64%), but while that first period brought silverware galore, the 2000s brought Liverpool only a brace of runners-up spots.
Meanwhile, United won three out of every four at home to take title after title. What was previously the best was no longer good enough, and so it has remained.
How much of United's trophy success was down to home form? Well, from the decade above, Liverpool managed a better home win percentage just twice (01/02 and 05/06) and the first of those led to the Reds' one and only league position finish above the Red Devils.
Draw your own conclusions, but consider also that in each of the years United finished third, the team with the most home wins in the Premier League, won the Premier League.
Onward and upward
▼ Article continues below ▼
Is it revival time at Anfield? The last half-a-dozen seasons have been maddeningly poor for the most part, interspersed with that one ludicrous, exciting, amazing title challenge under Brendan Rodgers which has served to both whet the appetite for fast, offensive football and horrendously skew all statistical overviews of the recent past.
Without that 13/14 campaign, the rest of the Reds' last six years yields an average home win rate of just 47%, a scandalously low tally. With it, it's at least upped to 54%, still nowhere near it needs to be, but that campaign saw Liverpool win 84% of home matches, 16 from 19.
Out of the 2000s and into the 2010s, home form continues to be a guide not just for success or failure, but for overall league placing. The following graph shows how closely mirrored Liverpool's season has been when comparing final league placing each year to the table by home form only.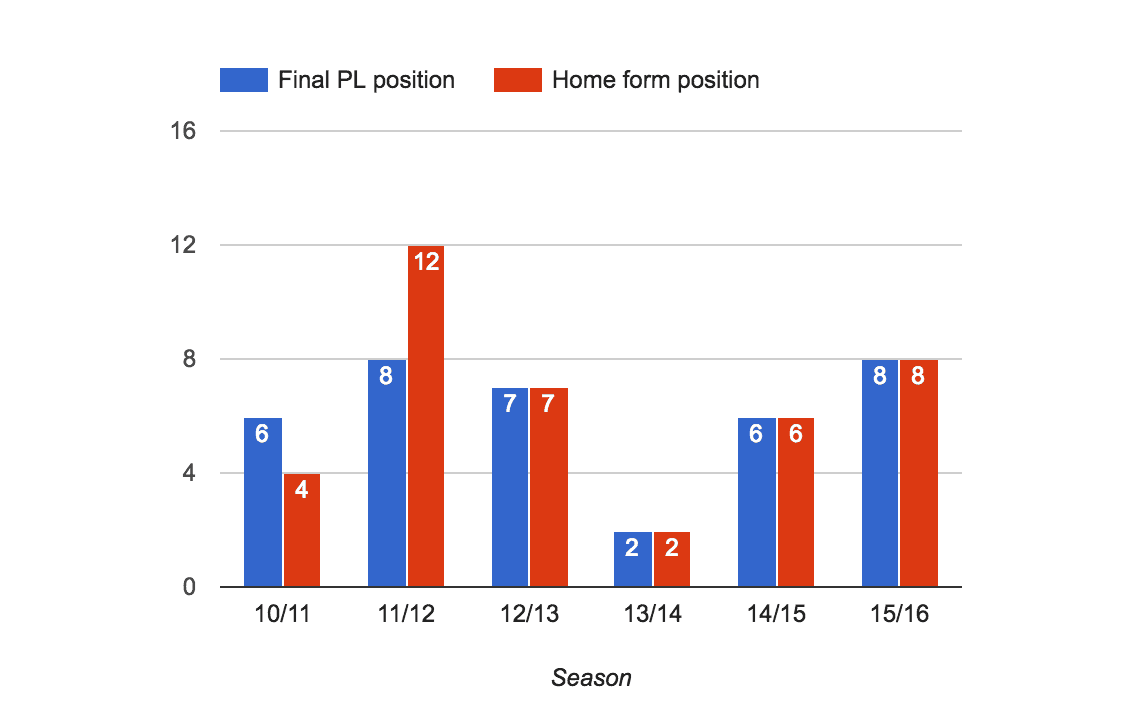 Of course, the same graph showing this season in its infancy under Klopp would have the blue bar with a lovely No. 1 inside it—and if the home form continues as it has been, there's every possibility it could happen.
The Reds have won 12 of their 19 home league games since the German boss took over, a 63% win rate in line with the teams of yesteryear, but this season it's four wins from five, 80%. Only Chelsea—five from six—can better it in the early months, even though Liverpool played most of their first fixtures on the road this term.
▼ Article continues below ▼
They'll need to keep it up.
To put the above graph into context, refer back to the very first table: Liverpool's dominance in the 80s yielded a return of 2.24 points per game at Anfield across the decade—within a whisker of Leicester City's exceedingly low haul in a strange Premier League season last term.
Bottom line: You need to be exceptional at home to win the title nowadays.
In 10/11 and 11/12, the two Manchester clubs won the league with a home record of played 19, won 18, drawn 1. City still only won 10 on the road in 11/12—the same as Liverpool in 85/86 and 89/90—but their home form did the trick.
United's 10/11 triumph came courtesy of just five away wins, a tally Liverpool will already match for this season if they beat Southampton upon club football's return after the international break.
But, home form.
Sort that out, and you have a shot at winning the title.
Make Anfield a fortress again, and Jurgen's Reds could be going one better than any of Brendan's, Rafa's or Gerard's.
More from This Is Anfield
Sponsored Links
Fan Comments
Comments are retrospectively moderated. Some could be subject to delays before publication. They must obey the
comment policy
. Comments load below.
Please only discuss the article above. General chat can be made on our forums at forums.thisisanfield.com