Raheem Sterling says he "always loved Liverpool" during his six years on Merseyside, but felt the summer of 2015 was the right time to leave.
Sterling joined the Reds at the age of 15, with Rafa Benitez signing him for an initial £500,000 from Queens Park Rangers in February 2010.
He matured into one of the best young players in the country and was a key part of Liverpool's 2013/14 side that so nearly won the Premier League title.
Despite this, Sterling became a figure of hate with a large section of the Reds fanbase when he opted to join Man City last year, in a deal worth £49 million.
The way in which the youngster went about forcing through a move, along with agent Aidy Ward, rubbed many up the wrong way, and he was booed mercilessly on his return to Anfield last season.
Stering has defended his decision to leave, however, saying he always loved playing for Liverpool, but admitting he was already planning his future way back when he signed for the club.
"I've never mentioned this to anyone but I'll never forget when me and my agent were on our way to Liverpool on the train," Sterling told Gary Lineker, on BBC's Premier League show.
"At that time I was 15 years old and we were already talking about what we'd like to do after Liverpool if things didn't turn out like we wanted.
"I just said well this is a massive club and a massive opportunity for me now but I remember saying to him by the time I'm 22, if I haven't won anything or playing in the biggest competitions then I need to assess my options."
Sterling didn't wait until he was 22 though, leaving when aged 20 last summer.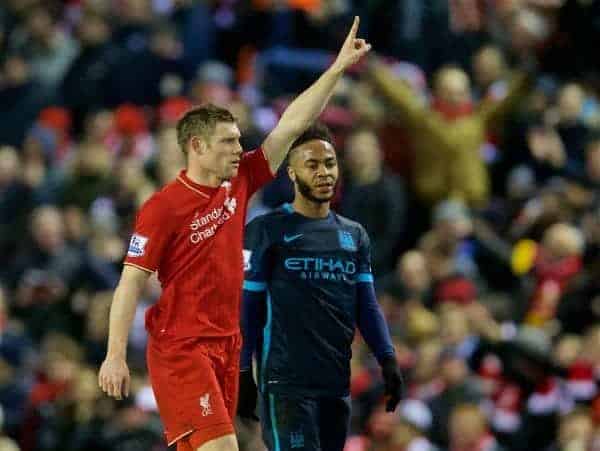 "You want to make sure you're playing at the highest level," he said.
"Liverpool are a great team, I never said that wasn't the case. But at the time it was a great opportunity to come here and work with some of the best players in the world.
"I'm not saying there aren't some great players at Liverpool because there are but it was for me, my development and where I wanted to be.
"It was about playing in the Champions League and against the biggest teams like Barcelona.
"I've always loved Liverpool, it was a great team which helped my development. I never had any big issues there at all with the fans or anything like that. It didn't go the way I would have liked but it happened and you have to move on."
While Sterling was wrong in the way he went about things in his final days at Liverpool, it is perhaps understandable why he chose to leave.
The Reds had already sold Luis Suarez to Barcelona, Steven Gerrard had also left for LA Galaxy and the team looked to have peaked under Brendan Rodgers.
City were a more appealing option at that time, in truth, with stronger players and a better chance of winning silverware.
It would, though, be interesting to see what Sterling would had done if Jurgen Klopp had been appointed manager in the summer of 2015, rather than the following October.