Liverpool midfielder Emre Can recently reached 100 games for the club in all competitions, and Jordan Henderson admitted that 'blew him away'.
The Germany international reached his first century in November's 0-0 draw with Southampton, serving as a remarkable achievement given he arrived as a 20-year-old in 2014.
Can has emerged as a key player under Jurgen Klopp, with the manager moving him into his natural role in midfield.
He played there alongside Henderson and Georginio Wijnaldum at St Mary's, and following that at home to Sunderland on Saturday, and the captain paid tribute to Can after his milestone in Liverpool colours.
"Someone told me after the game at St Mary's that it was Emre Can's 100th appearance for Liverpool," he said.
"That blew me away—it's incredible how quickly that 100 games has come around and it shows what an important player he is for us.
"Emre's a cracking lad with a brilliant attitude. What a talent as well.
"I think we forget sometimes just how young he is, because he acts and plays with such maturity.
"He's still only 22 years old and I have to pinch myself to believe he was only 20 when he first joined us.
"I'm looking forward to his next 100 games for us and the next 100 after that hopefully as well."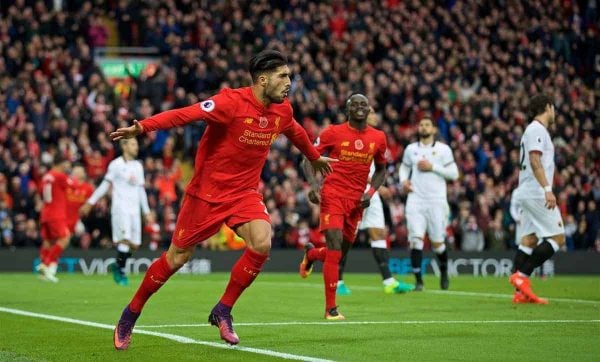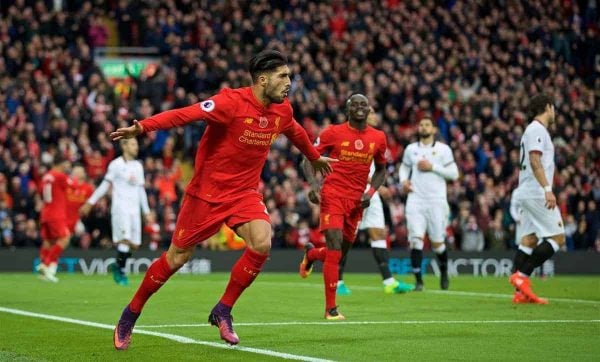 That Henderson is envisaging such a long future for Can on Merseyside is a testament to his impact since joining from Bayer Leverkusen ahead of 2014/15.
He is now established as one of Klopp's key players, and has two goals and one assist in 12 games so far this season.
Can looks set to form Klopp's first-choice midfield alongside Henderson and Adam Lallana when the latter recovers from a groin injury, with the 49-year-old having fielded the trio before his absence.
Regardless, the competition within Liverpool's ranks in the middle of the park is invaluable, with one of Lallana, Can or Wijnaldum likely to be on the bench for most games this season.
Furthermore, Klopp is able to call upon the likes of Marko Grujic, Kevin Stewart and Lucas Leiva if required.
Can is arguably has the most potential of any of Klopp's midfielders, and having already accrued considerable experience both in the Premier League and abroad—with 39 appearances for Leverkusen and seven for Bayern Munich—he is in a great position to fulfil this at Liverpool.
With the first 100 down, Can will now set his sights on his next milestone, with Henderson hoping he stays for the long term.