Liverpool captain Jordan Henderson believes in-form forwards Sadio Mane, Philippe Coutinho and Roberto Firmino are "world-class players."
The trio were all on target in the Reds' 6-1 victory at home to Watford on Sunday afternoon, tallying four goals and three assists between them.
Each of Mane, Coutinho and Firmino have now scored six goals for the Reds in all competitions this season, in an exceptional start to their first full campaign under Jurgen Klopp.
But while their cutting edge is helping to win games for Liverpool, Henderson has also praised their relentless energy, with Klopp's attacking system requiring dedication to pressing the opposition from the front.
"They are world-class players," he enthused after the thrashing of Watford.
"Their understanding of the game, not only going forward, but also the work rate they all give for the team in terms of pressing and winning the ball back high up the pitch.
"They all help the team defensively. The three of them are fantastic at that and going forward they are unstoppable when they are on it.
"I see them every day and, for me, they are world-class players. It's a pleasure to be playing with them.
"It's our job to ensure we offer protection for them when they are going forward and expressing themselves.
"As a team I feel as though we have a lot of quality and in the final third they've been brilliant over the past few weeks.
"It was very good from them against Watford but then I thought we were very good throughout the whole team."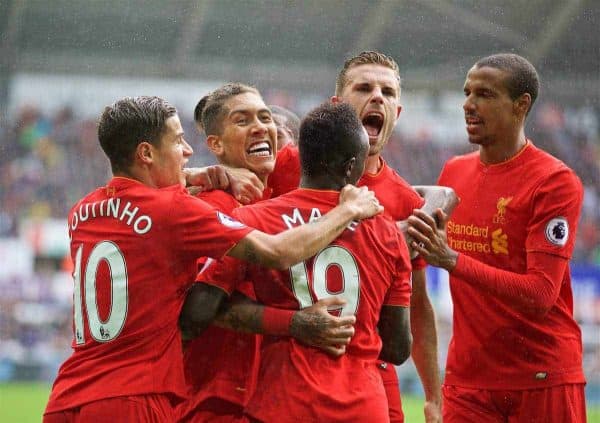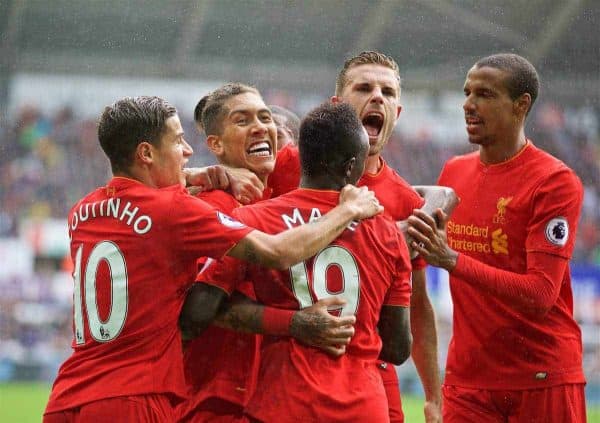 Henderson is one of few players, along with Coutinho, to have kept his key role for Liverpool for both of their recent title-challenging seasons, in 2013/14 and now.
But while Mane, Coutinho and Firmino are showing signs of replicating the dazzling attacking form of Raheem Sterling, Daniel Sturridge and Luis Suarez, the 26-year-old has refused to compare them.
"They are all fantastic players, every single one of them is top class," he continued.
"I don't really like comparing this team to a couple of seasons ago.
"I prefer to concentrate on this team and what we're good at and what we're doing.
"That's the most important thing. The team of 2013/14 is in the past."
Henderson's final point is crucial, as if Liverpool are to challenge at the top end of the Premier League this season they will need to erase memories of their near miss three years ago.
But if Mane, Coutinho and Firmino keep up their excellent form, this shouldn't prove too difficult.