Jurgen Klopp says Liverpool have to get used to coming up against sides who aim to frustrate them, following Saturday's stalemate at Southampton.
Liverpool bossed proceedings at St Mary's over the weekend, but their dominance failed to turn one point into three, frustratingly.
Southampton barely threatened Loris Karius' goal at any point, but their well-drilled defence, as well as some big misses by the visitors, saw them earn a share of the spoils.
Coming up against teams of this ilk is now a recurring theme for the Reds, with opponents wise to not allow such a dangerous attacking team space in the final third.
Klopp says his team must adjust to these situations better as the season progresses, and ensure they stay focused in matches.
"Manchester United was different, we were not that good against United," Klopp said.
"If we would have played like we did today against United, it's not that we would have won but we would have had more chances in the game. That's not a problem.
"A lot of teams play like this against us, we cannot change what they do. I don't know what they think, you have to ask them.
"We are [a team] to stop, unfortunately. The only thing what we have to make sure is that it's not because of us, that's what I'm so happy about today.
"We said before, that was a concentration battle. Stay in the game, even when it doesn't work like this, stay in the game, don't let them attack or counter attack."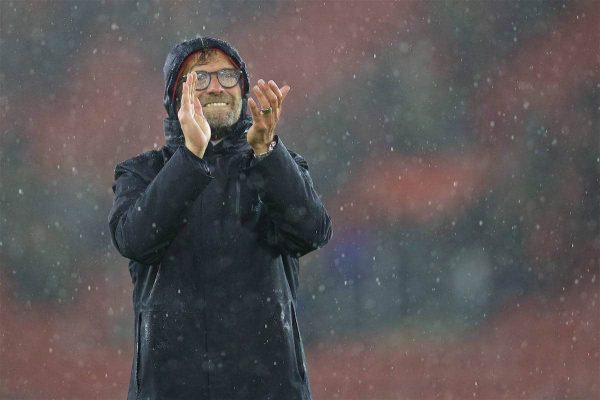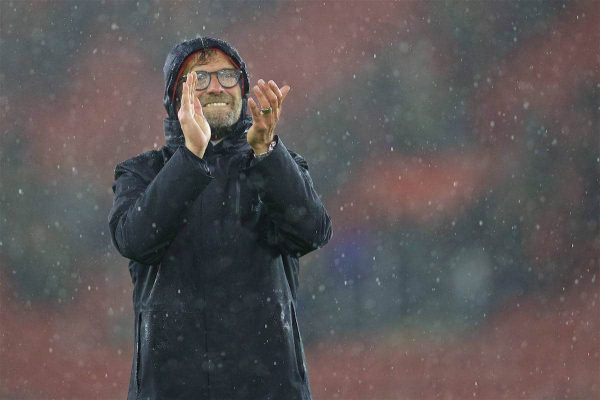 Despite dropping two points on the south coast, Klopp was far from disappointed with the result, and says he doesn't begrudge opposing sides taking a more negative approach against Liverpool.
"It's absolutely no problem, we created enough chances," he added.
"It's not my job to talk about the other team, you have probably seen them more often than I did.
"But the games we watched, even against Chelsea, they were much more offensive in different moments than today.
"We made a lot of pressure, it was only about counter attacks, a few moments that made it difficult, but in 94 minutes, we were always ready to press them as high as necessary.
"Both full-backs always pushed back and run in the right spaces, so I don't think they had a lot of fun today, but that's one job you have to do in a football game.
"Of course we should have scored but I'm really fine with the result, that's how it is, and more with the performance.
"It's not about that [the opposition] have respect or something, everybody wants to win.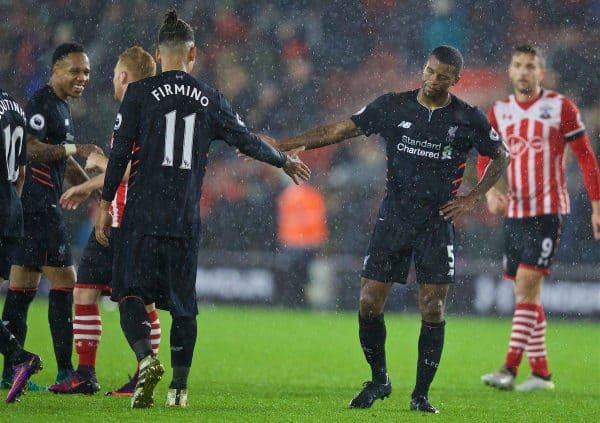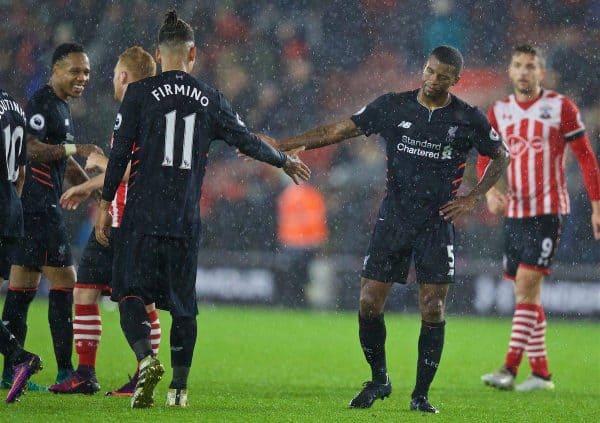 "If we play this kind of football, it would be crazy to give us space, so why should they do that? We have to work on this, it's our job to do, the players and all the staff, it's never easy.
"We cannot only play counter attack, we cannot only play high press, we have to be prepared for everything.
"In the end, we had really big opportunities after set-pieces. Dejan [Lovren], I don't know how he could miss the ball, maybe because of the rain, I thought it was already in the goal.
"You have to prepare for everything and what the other team is doing against us is important of course but only for the preparation.
"There's nothing to moan about, we can't say 'give us a little bit more space' or something, we knew before this season we had to work on this.
"That's what I meant when I said I was happy with the performance, because again we did well, we came through.
"It was not a game where you have 20 chances, you have four or five, more than enough—especially how big these chances may have been. I'm really OK."
Next up for Liverpool is the visit of Sunderland on Saturday afternoon, as they look to make it 14 matches unbeaten, in all competitions.
Klopp has the luxury of having all week to prepare for the game with his squad, while rivals toil away in Europe in midweek. A return to winning ways is paramount.