After handing Ben Woodburn his Liverpool debut against Sunderland, Jurgen Klopp believes the youngster is ready for more exposure and hinted at a start against Leeds United.
Klopp brought the 17-year-old on for the closing stages of Saturday's 2-0 victory over the Black Cats, with Woodburn becoming the Reds' second-youngest player in Premier League history.
This marks the latest milestone in a remarkable progression for the Wales youth international, who was playing for the Liverpool U18s last season.
Speaking at Melwood ahead of Tuesday night's League Cup quarter-final clash with Leeds, Klopp underlined his faith in Woodburn.
"Yes, I think so," he told reporters when asked if it was the correct decision to showcase his talents.
"Like I said after the game, I thought 'in this moment, it's a good idea, he deserves it, let him go'.
"It was only a few minutes, and of course I only gave him the opportunity because I think he's ready for it.
"Afterwards I remembered it's quite difficult to keep him back now—not for him, not for me, but for the public.
"So now we've showed him for the first time in the Premier League, but the best news for him is there's so much time for him to improve and develop."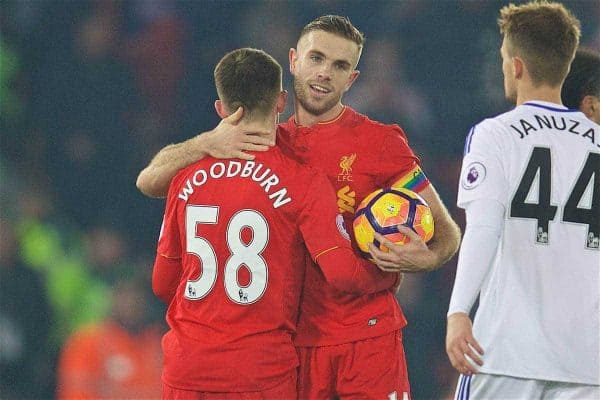 ---
While it seems likely Woodburn will feature against Garry Monk's side at Anfield, Klopp stressed that he was yet to make the final decision over his starting lineup.
"He's a very, very promising guy, so we want to help him and we want to use him as early as possible," he continued.
"But for this there's no decision made on when that will be. Maybe tomorrow [Tuesday], maybe not.
"It's not because I'm not happy with his development, only because we decide on another lineup.
"But he and a lot of other guys are on a really good way, and we have to show it sometimes that it's not only good a way, but that we know it.
"We have to show that when they earn something we give something back, and Ben was the man who got it.
"It's really good. The work in the academy in this moment, how we work together, all that stuff, a lot of promising guys there, and we like this and see all of this development.
"Then sometimes you have the opportunity to show that we've seen it."
Woodburn is among a trio of academy talents to make his debut for Liverpool this season, along with Trent Alexander-Arnold and Ovie Ejaria, with Klopp clearly identifying them as future stars.
Their next opportunity to shine could come against Leeds, and they are primed to do so after being given a staunch backing by their manager.