We take a look at the vital role Pepijn Lijnders – the Reds' first-team development coach – plays, as the club aim to promote talent from their academy to the first team.
From Kirkby to Anfield
Because Liverpool's academy and first team training bases are currently based on separate sites – something the club are currently looking to change by creating a new facility – a solution is needed when it comes to connecting the club's future to its present.
The club are unable to expand their senior training facilities at Melwood to include their youth players, who are currently based at the Academy in Kirkby. Given the situation, it would be easy for there to be a disconnect between the two parts of the club – something which has been problematic under former managers.
Lijnders is the man tasked with bridging the gap between the two training camps, making sure that Liverpool's youth players can have a clear path to the first-team – if they're good enough.
The highly regarded Dutch coach joined the club when Brendan Rodgers was at the helm, and after a year working with the academy he was promoted to a first team position. There have been some claims that Rodgers' 3-4-2-1 system in 2014/15 was inspired by Lijnders.
When Rodgers was sacked, incoming manager Klopp had no hesitation in keeping the 34-year-old at Liverpool after discussions with the owners.
If anything, Lijnders' involvement has increased and he now plays a prominent role throughout the club.
Teamwork

He's one of a first-team coaching staff of six, joining Klopp, assistant coaches Zeljko Buvac and Peter Krawietz, fitness coach Andreas Kornmayer, and goalkeeping coach John Achterberg.
The important thing is "to take all these experiences into one group," Lijnders said in a recent interview.
"That only works if you start with the end in mind, we always say, so we need to know how the end picture should look and then everything we do is based on that reference," he added.
"You always have to start every single day by planning and preparing with the end in mind – our idea, our vision and our future."
And the future is what the former PSV and Porto coach is all about. He looks after a group of players they call the "Futures Group", who are a set of highly regarded players taken from the U15 – U23 age groups.
Klopp has acknowledged his colleague's importance, especially as it's sometimes impossible for the manager to regularly attend youth matches or training sessions.
"At the moment we have found a good solution with Pep, who takes the talent training at Melwood," he explained. "We are still in contact. We are pretty close with the staff at the Academy."
Future Signs

The manager also spoke of his eagerness to promote from within, and commented on joining the club that the academy didn't need much of an overhaul as it was already operating to a high level:
"We have changed a few things but not too much because I think the work at the Academy is really good. We work pretty close together because we want to help these boys so they can help us from a specific point on.
"I can promise that before we sign a player who isn't a lot better than what we already have we will always use our own boys."
Lijnders runs the pre-match warm-up drills before each game, while Klopp and Buvac look on, and here you can begin to see his importance.
This familiar face no doubt helps teenagers such as Ovie Ejaria and Trent Alexander-Arnold, who were both handed their full debut against Tottenham last month, settle into the first team and makes them feel at home on the main stage that is Anfield.
A Shared Philosophy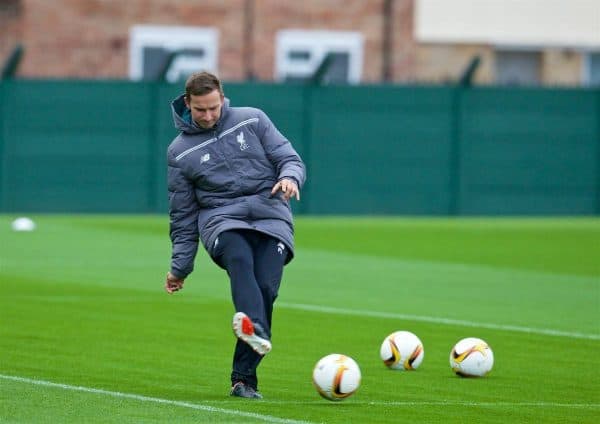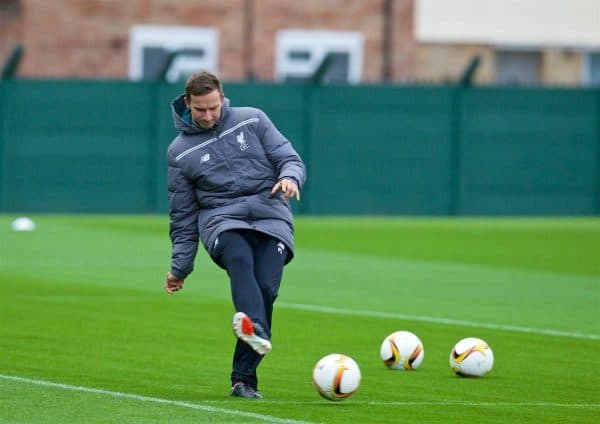 Klopp must have realised early on that Lijnders' philosophy would dovetail with his own, and he probably knew this before he joined Liverpool such is his colleague's reputation in Europe.
You don't have to look too far to find echoes of Klopp's philosophy in the Dutchman's words.
"It doesn't matter who we play against, we will press them high and aggressively and we will attack and attack them again," Lijnders said, when explaining his philosophy in March 2015 – six months prior to the arrival of Klopp.
"Our style is to attack, with and without the ball," he added. "We realise that the game is played with one ball, our ball, and we steal it back wherever on the pitch and we use it to attack the opponent."
He's also regularly quoted in Jed Davies' book, Revolucion: The Philosophy of Football in the Shadows of Marcelo Bielsa. Bielsa is a famous advocate of the pressing game, and there are plenty or pearls of wisdom from Lijnders in this book which further reinforce the similarities between him and Klopp.
The following quote could quite easily have come from the Liverpool manager:
"Football is a collective sport. The common behaviour between the fans, the manager, the staff, and the players…[it is important] that everybody is attacking the game in the same way."
And when he says things like "passion doesn't make sense if there isn't any structure," you begin to see the line of thinking which now resonates throughout the club.
Everything Lijnders says is geared towards the success of the whole thing: an end goal, a destination, and the small things which make a big difference when it comes to reaching it.
Liverpool now have an identity again, and while it has echoes of the attitudes and philosophies from the 70s and 80s, there are a group of people at the club pushing it forward into new territory, and Pep Lijnders is a key member of this group.