Philippe Coutinho has been in fine form this season, sparking the debate as to his long-term future—with links to Barcelona continuing.
The 24-year-old continued his excellent run with a sensational strike for Brazil in their 3-0 victory over Argentina at the beginning of the November international break.
Predictably, Spanish papers claimed interest from La Liga just hours later, and while this is mere speculation at this stage, Coutinho's rise to prominence for both club and country presents a quandary for Liverpool.
He now has six goals and six assists in 11 games for the Reds this season, as well as two goals and an assist in five outings for Brazil, averaging a goal contribution every 62.3 minutes.
Discussing Coutinho's form, his current situation at Liverpool and the possibility of a move to Barcelona, This is Anfield's Matt Ladson, Jack Lusby, Ben Twelves and Henry Jackson all gave their view.
He's been in great form this season, but is Coutinho now Liverpool's best player? And is he as important as some of the key players in recent past—Suarez, Gerrard, Alonso, Torres…?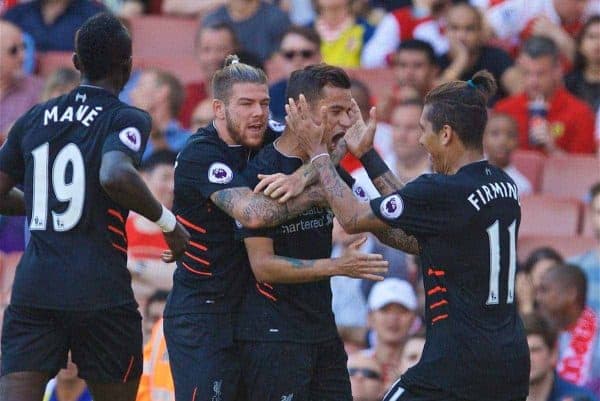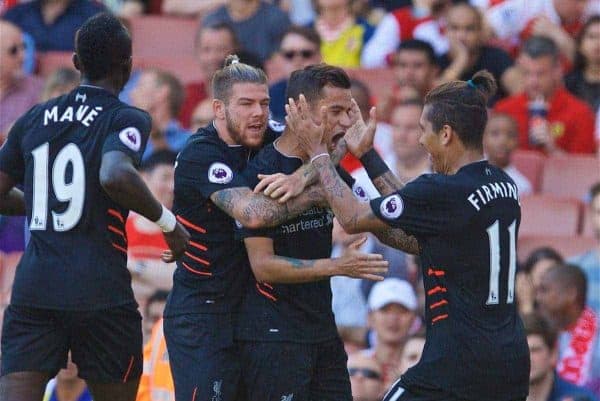 JACK: I think there is certainly a case to argue that Coutinho is Liverpool's best player, though that Jurgen Klopp's side are benefiting from a heavier emphasis on the team effort than in previous seasons is working to the Brazilian's advantage.
Roberto Firmino, Sadio Mane, Jordan Henderson, Adam Lallana and Joel Matip all have viable claims in terms of importance—such is the spread of responsibility throughout Klopp's squad—but Coutinho is a match-winner, who can turn the tide of a game in a moment.
Perhaps the best way to put it is he's not burdened like Suarez, Gerrard and, to an extent, Torres were, and he's arguably flourishing as a result of this.
For me, this is the season where Coutinho reaches the elite bracket, and steps up among the best in the Premier League, and just below that upper echelon in Europe; where the likes of Suarez, Lionel Messi, Cristiano Ronaldo and Neymar reside.
Forget Dimitri Payet and Riyad Mahrez—on current form, Coutinho is as influential as Kevin de Bruyne, Mesut Ozil, Alexis Sanchez and Paul Pogba.
Crucially, he looks capable of sustaining that over a lengthy period—unlike in previous campaigns.
MATT: I'll be very honest here and admit I didn't think Coutinho was capable of hitting the level he looks like he is, or will in the near future.
He's really come along this season, less speculative shots from distance and more accuracy when he does shoot, also having added more power. He probably feels he has less pressure than in the previous two seasons when it was often 'give it to Coutinho' and not a lot else in the final third.
Is he as important as Suarez or Gerrard? I don't think so. The cliche of 'the team is the star' is very true in this side and therefore I don't think there's an over-reliance on any one player now.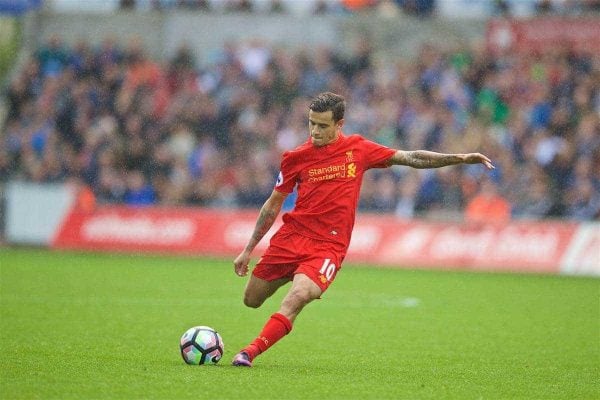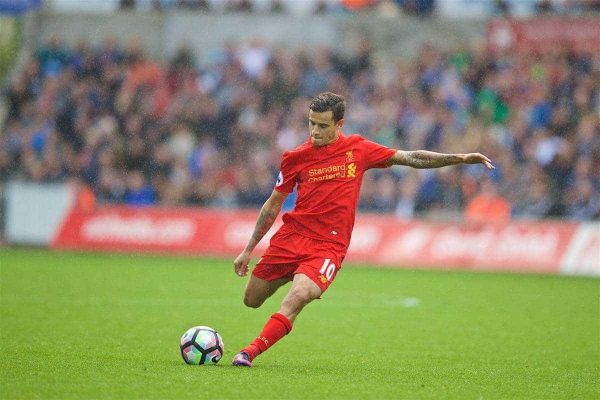 BEN: Coutinho has reached new heights under Klopp, but the elite level he has performed at consistently this season does now make him Liverpool's best player in my eyes.
The Brazilian's importance to this team is unquestionably on par with the influence of those mentioned above, but the key thing here is that Liverpool aren't solely reliant on him the way they were with the likes of Gerrard and Torres at times.
For example, we still hammered the champions 4-1 at Anfield without Coutinho in the starting XI, showing the quality throughout at Anfield currently, which perhaps illustrates this best.
HENRY: There is certainly a strong argument to say he's our best player, especially on current form, but I'd still personally go for Firmino. He is perfect for Klopp's style of play, and while he may not produce the match-winning moments of brilliance that Coutinho does, he is often just as influential.
I wouldn't put Coutinho in that Gerrard/Suarez bracket yet, but at 24, he has a great chance of reaching that level in the coming years. He is clearly a very key player, but we've done OK without him in the past. The 4-1 win over Leicester is a prime example of that.
As much as I love him as a player, him leaving wouldn't feel as fatal as losing Suarez.
His current contract runs out in 2020, but do Liverpool need to offer him a new deal this season?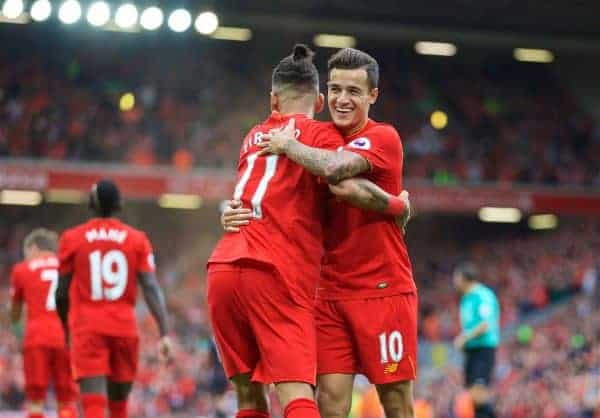 JACK: He's reportedly earning £75,000 a week and compared to some of his team-mates this is a paltry wage.
Suarez was on £200,000 a week in his final six months with the club, and while Coutinho isn't at that level yet, a new contract worth double his current salary seems sensible, given his quality.
MATT: Yes, in this modern age players (or their agents) need to feel 'rewarded' when they/their client hit form or a new level. Liverpool should do whatever they can to keep him happy.
BEN: Absolutely, and it should be an immediate priority too! While Coutinho has considerable time to run on his current deal, he needs to be recognised as the elite talent he now is for various reasons, including to keep him happy on Merseyside.
It's also important for Liverpool, as the club need to make a statement that not only are things changing on the pitch, but off it as well, with key men no longer easy pickings as has been the case with previous star players in recent years.
HENRY: It probably isn't essential, but it would definitely be a statement of intent if Liverpool could tie him down for even longer. There is obviously going to be interest from one of Europe's powerhouses, but ultimately, it's up to Coutinho himself to decide where his future lies.
How worried are you about links to Barcelona?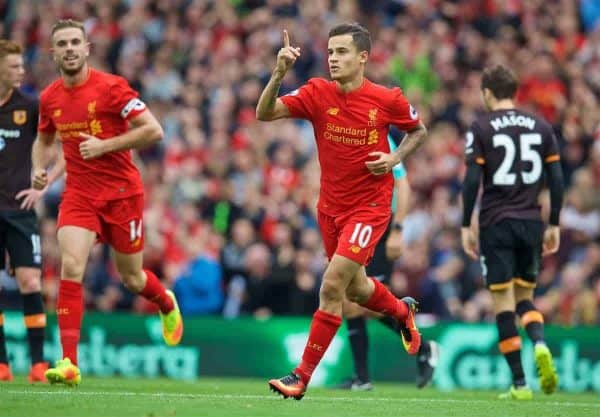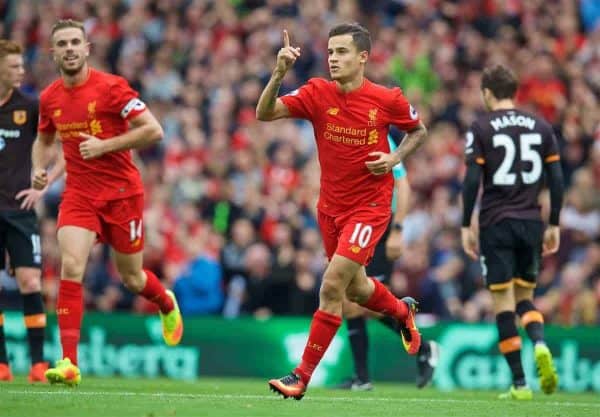 JACK: It seems inevitable that Coutinho will end up at Barcelona at some point in his career—he's heir apparent to Andres Iniesta, and Neymar's influence will no doubt help—but Liverpool need to ensure he's tied down into his peak years, so he definitely needs a new contract this season.
MATT: Unfortunately, like Jack says, it does seem inevitable that he will end up at Barcelona one day. The South American players desire that move to a club like Barca or Real and with Neymar a boyhood friend it just seems nailed on.
It would be good to keep him for another season or two past this one though. He's 25 next summer so he can hang around until he's 26 or 27, hopefully.
We should get more for him though than what we sold Suarez for.
BEN: In a word, extremely! With the sheer quality and consistency of his game now I'm already of the mindset that it's a question of 'when' rather than 'if' the Nou Camp giants come in for him.
We could certainly have done without him crashing in another wonder goal for Brazil against Argentina, which will only have increased attention. Prepare for battle, Reds!
HENRY: As I said above, I wouldn't necessarily say I'm worried about Coutinho leaving, compared to great players of the past. Anyone with his ability will always be a big loss, but I have faith in Klopp bringing in an excellent replacement.
There is a slight feel of inevitability about him leaving one day soon, if we're honest.