From Brazil to Merseyside via Germany, Roberto Firmino's football journey has helped to create a unique player. Here's a look at why he's now indispensable to Jurgen Klopp's Liverpool.
Even when the goals and assists aren't plentiful, Firmino is an integral part of the style of play under Klopp, with and without the ball.
On joining Liverpool the German manager commented that part of the reason he came to the club was the potential he saw in the team.
He spoke of the "four and a half/five strikers" on the club's books, and his use of the word half, which referred to Firmino, was a sign of where he would be going with his squad, system and, more significantly, his first XI.
The 25-year-old now keeps the considerable talents of Daniel Sturridge and Divock Origi out of the Liverpool team, but the Brazil international began his football life in a much more defensive role.
Background in Brazil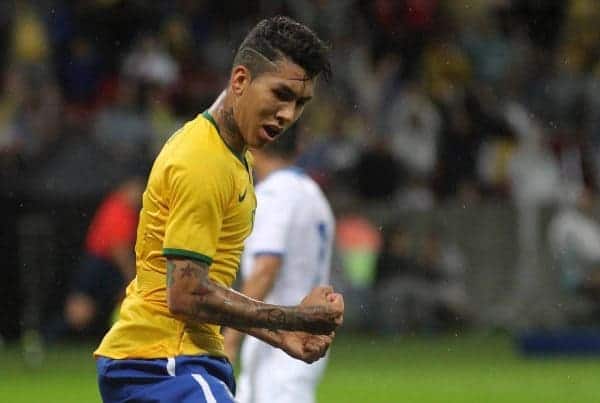 As a youth player at Clube de Regatas Brasil, in his hometown of Maceo in the north-eastern part of the country, Firmino would play as a deep lying midfielder.
Known as a volante in his homeland, this position has many defensive responsibilities and could go some way to explaining his hunger to defend from the front even now he's a fully fledged attacker.
His coach at this time, Guilherme Farias, commented that "he tackles as well as he strikes the ball."
It was at Figueirense, his second club in Brazil, and the one at which he made his senior debut, that he would move into a more attacking role.
Having made the journey down south from Maceo to join the Florianopolis based club in 2008, the then 17-year-old went on to be one of the stand-out players in the 2009 Sao Paulo Juniors Cup — a competition graced by many prodigious talents including Neymar and Marquinhos.
Promotion to the senior side swiftly followed, where he would operate in attacking midfield or as one of two or three forwards.
His eight goals for Figueirense in 2010 saw them promoted from the second division and Firmino was named "Revelação da Série B" (revelation of Serie B) at the end of the season.
Best of The Bundesliga at Hoffenheim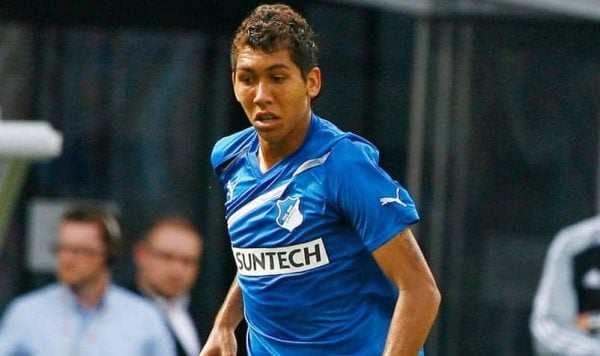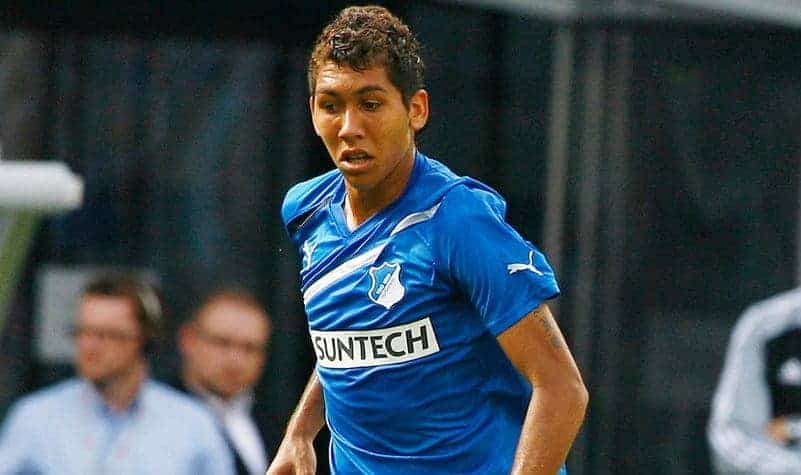 This eye catching season attracted clubs from Europe, and Hoffenheim described his £3.5 million signing as a "stroke of luck" on their official website, so pleased they were with their new addition.
Firmino would play a variety of positions for the German side, but despite playing a handful of games as the striker, he was rarely the main focal point in attack.
He would operate in any of the three attacking midfield positions, and in the 2013/14 season he was one of the best players in the Bundesliga working in tandem with Kevin Volland behind striker Anthony Modeste.
While Liverpool were experiencing one of their most exciting seasons in recent memory with a title challenge led by the goalscoring exploits of Luis Suarez and Daniel Sturridge, Firmino was racking up some impressive numbers of his own.
He contributed to 27 of Hoffenheim's goals that season, finding the net 16 times and adding 11 assists.
Only Marco Reus, with 29 goal contributions for Klopp's Dortmund (16 goals, 13 assists) was ahead of him that season, and in October 2014 Firmino's form was recognised when he received his first call up for the Brazil national side.
Roberto Raumdeuter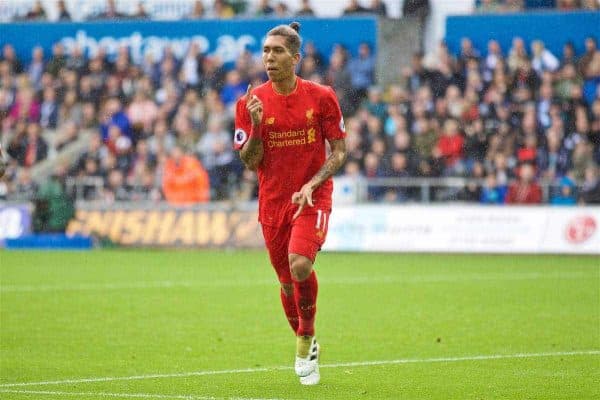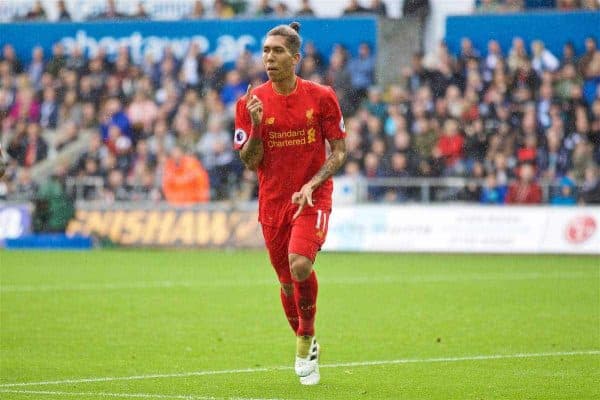 The following summer he was signing for Liverpool, and while at that time it appeared that the club didn't quite know what type of player they had on their hands, the arrival of Klopp in October 2015 soon remedied this. The new manager's arrival was a godsend for Firmino.
Klopp recognised the player's strengths, and having seen him play in the Bundesliga he knew that the Brazilian would be ideal for the relentless pressing and free flowing attacking style he would look to implement.
At Liverpool Firmino has become the complete forward. He can be seen holding up the ball against the toughest of defenders one minute, before taking the ball around them with a typically Brazilian flick the next.
He could be described as a target man, false nine, poacher, or play-maker, but there's another element to his game which has fittingly German roots.
---
The intelligence in Firmino's movement makes him stand out above many other forwards in the league. When this is combined with the defensive awareness he learnt as a youth in Brazil and the attacking incisiveness which has become part of his game since, it makes him a very unique player.
He has the ability to go under a defender's radar to find space on the pitch with apparent ease.
The way in which he pops up in acres of space can make defenders and even spectators wonder how he got there. It's as if he's invented some kind of teleportation device for use on the football pitch.
It's not the typical off the ball movement you get from a striker, and it's not even akin to the likes of Philippe Coutinho and David Silva who drop into pockets of space to receive the ball.
The only other player with the abilities Firmino displays is football's first raumdeuter, Thomas Muller.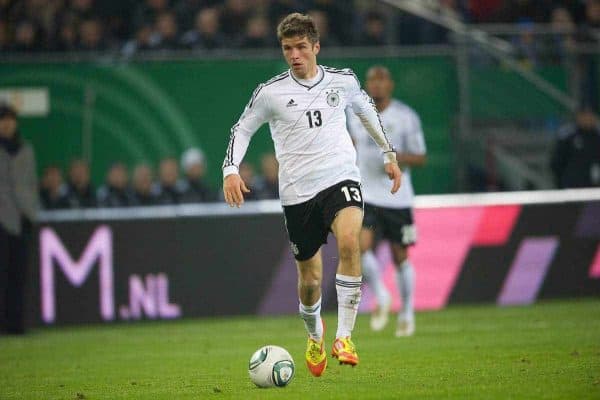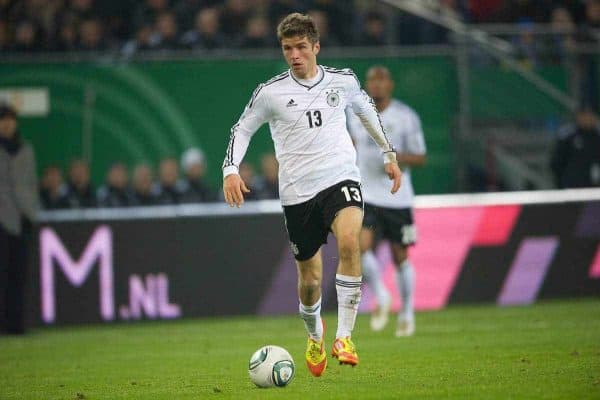 Muller plays mainly from the right and Firmino is nominally the striker, but though the starting position for this role can vary, it's the end position which matters.
Defensively the pair display similar traits too, as they press intelligently rather than closing down players on whim, making this role more of a mindset than a position.
Both have benefited from the German football culture and while this is inherent in Muller, he learnt a lot about the pressing side of the game from Pep Guardiola, just as Firmino learns from Klopp.
Is Roberto Firmino football's second raumdeuter? Maybe, but regardless of the label he's given, his importance to this Liverpool side can't be underestimated.