On the night Ben Woodburn became Liverpool's youngest ever goalscorer, James Milner—Leeds United's youngest ever scorer—celebrated on the sidelines as he prepared to face his old club.
Liverpool's League Cup quarter-final victory against Leeds United stirred special memories for the Reds vice-captain, who burst onto the scene at Elland Road at the start of the decade.
A 16-year-old Milner made his debut under Terry Venables on November 10, 2002 as a winger, and helped his side record a dramatic 4-3 victory against West Ham in the Premier League.
Leeds were one of the biggest clubs in England at the time, but a disappointing campaign in 2003/04 would see them relegated from the top flight—and they are yet to return.
It took Milner just five games to score his first goal for the club and it was a record-breaking feat as, at just 16 years and 356 days, he became the Premier League's youngest ever goalscorer.
Fourteen years later, Milner witnessed team-mate Woodburn sprint away in elation after scoring Liverpool's second goal of the night to become the latest player to etch his name into the record books.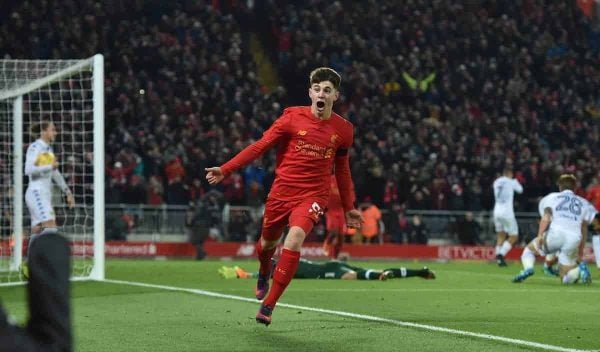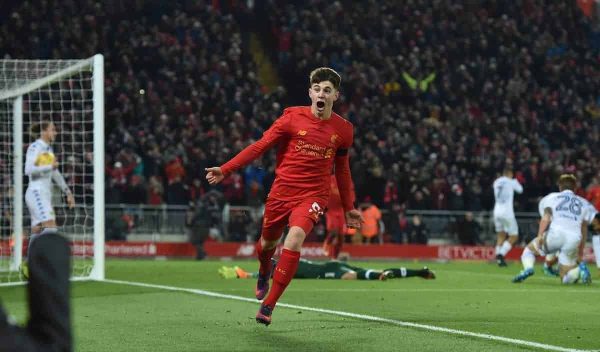 After scoring his first goal in the 2-1 victory against Sunderland on Boxing Day, it took just 48 hours for Milner to net another.
The young winger showed composure and tenacity as he skipped over a challenge from Marcel Desailly and curled a wonderful strike into Chelsea's net, securing a 2-0 victory at Elland Road.
Milner had just humiliated a World Cup winner in only his sixth senior appearance, but he remained as humble as he has done throughout his career.
"He was a little spotty-faced kid who had a lot of energy," said former Leeds team-mate Michael Duberry.
"He was a good crosser of the ball, he was fast and he kept his head down. You noticed him on the pitch but you didn't really notice him off it.
"He wasn't a flash kid. He just wanted to play football."
The Leeds star went on to make 22 appearances throughout the 2002/03 season and would go on to become one of the club's best players during a brief two-year career with the first team.
Milner had come through the Leeds academy and made a rapid rise to the senior squad, but his quality was evident so early on that it was difficult to pry away interest from other clubs when they were relegated.
Newcastle came hunting and they eventually signed the winger for £3.6 million, which was a considerable amount at that time for a teenager.
Early signs would suggest Milner would go on to enjoy a fruitful career and when he was named in the Liverpool squad to face Leeds on Tuesday evening, the extent of his achievements were clearly evident.
The 30-year-old is now the Reds' vice-captain and is in line to challenge for his third league title after hanging up his boots on the international stage.
Milner came on as a late substitute during Tuesday's 2-0 victory against Leeds as Liverpool secured their place in the semi-finals of the League Cup.
Unlike his debut for Leeds, where the winger came on with a licence to attack and create, Milner's task was to retain Liverpool's lead.
He has become accustomed to such roles during his lengthy career and his versatility and reliability have made him one of the most trusted players in England.
This season Milner has been thrust into the left-back role in a shrewd move by Jurgen Klopp and he has developed into one of Liverpool's most important players.
At full-back, he adds consistency and leadership to a back four growing in pedigree with each game but he has still managed to score goals, netting five penalties already this season.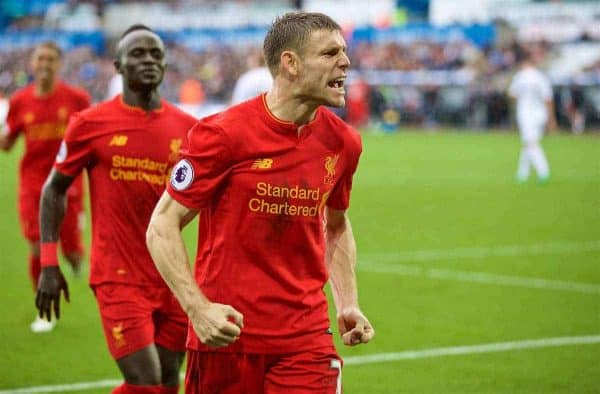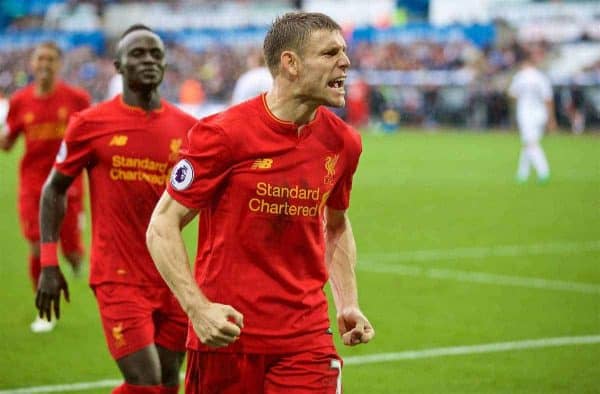 The Premier League champion joined Liverpool in the summer of 2015 on a free transfer, and has gone on to make 58 appearances in all competitions.
Milner's career has developed in a direction most would not have foreseen because he has been utilised in so many positions.
However, his revitalised position at left-back suggests there are still more chapters yet to be written in his hugely successful career.
When Milner came on to the pitch to face his boyhood club on Tuesday evening, it was clear to see the impressive steps he has made over the years.
It was also fitting Milner announced his presence in the game just moments after Woodburn created history in the same way he had done himself 14 years ago.