Barcelona legend Xavi has advised Philippe Coutinho to ignore interest from his former club and focus his attentions on Liverpool.
Coutinho has been linked with a move to Catalonia in the Spanish press in recent weeks, with his form continuing to improve as 2016/17 goes on.
The 24-year-old has scored eight goals and laid on seven assists in 17 games for club and country so far this season, and is primed to spearhead Liverpool's unexpected title charge.
There is a feeling of inevitability about Coutinho joining Barcelona in the future, but for now, Xavi believes he is best placed working under Jurgen Klopp.
"Coutinho is a player I have always thought is special—but under Klopp he has gone up another level," he told Goal.
"On form there are not any better midfield players in Europe.
"He has always shown quality but now he is consistently playing well and that is good news for Liverpool if they want to really challenge for the title.
"He is playing under one of the most intelligent coaches in Europe.
"Klopp has a lot of experience at developing world-class players, so it is a good club for him to be at."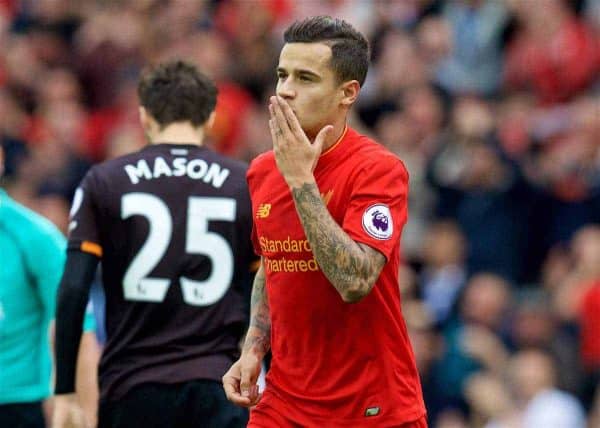 Continuing to discuss Coutinho's future, Xavi admitted that his form did warrant interest from Barcelona.
But the 36-year-old stressed that Coutinho should maintain his focus on Liverpool, who he believes have a "real chance" of sealing the Premier League title.
"There are not many players that can improve Barcelona, but if you are asking me if he is one of them, on this form, I think he is," he continued.
"Technically he is very good. He would suit Barcelona's philosophy well.
"When you play at the level he is there is always going to be talk.
"But for now he needs to ignore all that and stay focused, because I think Liverpool have a real chance this season."
Coutinho's former youth coach, Rodney Goncalves, has already revealed that the playmaker is content with life at Liverpool, targeting Premier League and Champions League success under Klopp.
With further encouragement from Xavi, a player whose relationship with Barcelona span decades, this stance should only be strengthened.