Adam Lallana believes Liverpool's performance away to Middlesbrough on Wednesday was almost perfect at times, particularly after the break.
It was a great night for Jurgen Klopp's Reds, who outplayed Boro from start to finish and eased to a 3-0 win in the north east.
Lallana continued his superb season with two goals on the night—he now has six goals and six assists in 2016/17—and Divock Origi found the net for the fifth time in as many matches.
Liverpool weren't wholly convincing in the opening 45 minutes, despite leading 1-0 at half-time, but they were magnificent throughout the second half.
Origi's goal, in particular, was Klopp football at its very best, and the Reds could easily have scored more than three in the end.
Lallana was delighted with both the performance and the win, but he says that Klopp still sees plenty that they need to improve on.
"It was not too far off [the complete away performance]," Lallana told LiverpoolFC.com.
"But the manager has already quickly said to us there are things we can improve on. We trust what the manager says.
"So I'm sure over the next few days we'll have a look at the performance, recover well and get ready for Everton on Monday night.
"We needed to move the ball quicker [in the second half] and take less touches, myself included.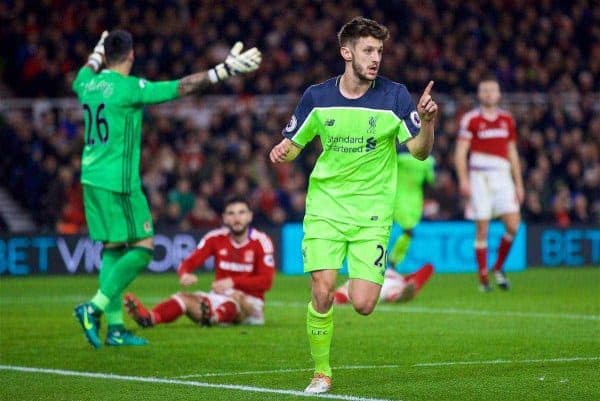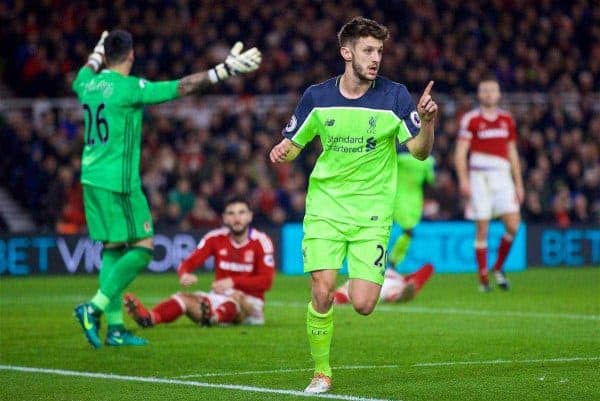 "At times, we can maybe get a little bit carried away and all of us maybe want to attack at times when we need to protect a bit more.
"Of course, that's a good sign. But at times, if you get too carried away, they can counter you and at times they did in the first half.
"But in the second half, I thought it was a lot better and we started very well.
"We could have got the goals earlier but we were patient and didn't let that faze us. In the end, I think 3-0 was a fair result."
The England international also spoke about the fluidity within the team, saying he and his attacking team-mates are doing their best to thrive without the influential Philippe Coutinho.
"Any team is going to miss Philippe—he is one of the best players in the world," he added.
"He is working hard at Melwood to get back as soon as he can to help the team.
"But [Roberto] Firmino, one of my favourite players, was brilliant, putting the team first and sacrificing things that he likes to do when he plays in another position.
"The team comes first all the time. I thought he was brilliant again.
"The manager wants fluidity throughout the team. When you've got [Sadio] Mane and [Georginio] Wijnaldum making selfless runs…Firmino, Divock, [Jordan] Henderson and myself—it is very fluid.
"We're still learning and we're learning to play without Philippe. But the sooner we can have him back, the better."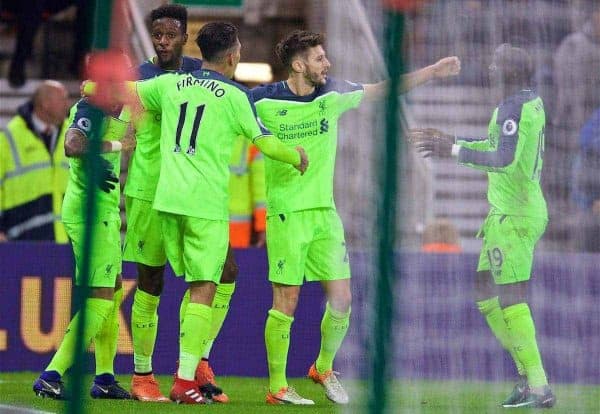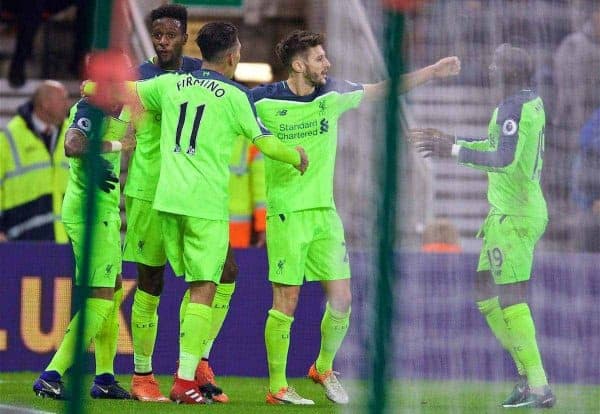 Finally, Lallana singled out Origi for praise, with the Belgian taking his opportunity superbly of late, in the absence of Coutinho and Daniel Sturridge.
"He is someone who hasn't featured as much as I'm sure he would have liked at the beginning of the season," he added.
"But he has kept working hard in the background—not moaning, a great attitude.
"He has got his chance and has taken it. He is someone who works hard off the ball as well, puts himself about and must be a nightmare for any centre-half to defend."
Lallana's form has been sensational for much of this season, and he is a strong contender for Liverpool's Player of the Year currently.
His game has come on leaps and bounds under Klopp, with so much more substance and influence in the final third. There are few better players in the Premier League right now.