Gut-wrenching, nauseating, head-wrecking, humiliating and totally infuriating! Does that about sum it up? Somehow I don't think I've found the words to describe how I'm feeling right now, never mind the poor Reds facing a long journey home.
This how I felt after the Burnley game and every other defeat I've experienced as a Liverpool supporter, but this one has bells on it. It's probably more akin to the 3-3 against Palace the year Brendan Rogers ruined my summer.
Actually that's an exaggeration, but it's too soon for me to make sense right now – it's just too raw.
There's simply no way to rationalise a defeat like that. It's like getting lucky on a night out and waking up next to someone really attractive. You smile to yourself, feeling smug, then you realise you've wet the bed. There's just nothing you can do to make that look cool. The resultant walk of shame haunts you to your dying day.
That's about the best metaphor I can come up with right now. Oh and in case you're wondering, no I haven't!
It is inexplicable how a team, as in control as Liverpool were in that first half, could surrender the way they did in the second. The Reds were on the front foot from the beginning. Their passing and movement was a joy to watch, just as it has been all season. They were closing down space and had the Cherries penned in.
After ten minutes Divock Origi squandered a golden opportunity to open the scoring for Liverpool. Henderson, who was a colossus in that first half, found Clyne on the right. The right-back delivered a perfect ball for the Belgian waiting in the middle. All that was required was a decent contact and the ball would have been in the net. Somehow though he managed to fluff his lines, when it seemed easier to score.
He might have missed, but at least he was getting into decent scoring positions and, with Liverpool crawling all over Bournemouth, an eventual breakthrough seemed inevitable. The Reds won one corner after another and the Cherries' defence was beginning to creaking under the relentless pressure.
They eventually succumbed on twenty minutes, when Can's great cross found Mane through on goal. He shrugged off the defender, Nathan Ake and slipped it past the on rushing Artur Boruc. It was no more than Liverpool deserved and you could only see all three points returning to Anfield at this point.
As if to rub Bournemouth's noses in it the Reds went two up just a couple of minutes later. The Reds won the ball in the middle of the park and Henderson's pass was inch perfect. Artur Boruc again gambled and lost, as Origi's pace left him red-faced. Divock clipped the ball around him, but seemed to take himself too wide to capitalise.

Defenders were rushing back and the angle looked way too acute, but the lad shrugged off his earlier miss and slammed the ball into the net. This was all too easy and I'm already writing a eulogy in my head, about how Liverpool had once again risen to the challenge set them by their rivals. I even had a great quote by Shankly about pressure to use. I'll have to mothball that one for later.
Liverpool had been brilliant up to this point and saw out the rest of the half, despite a let off as Firmino appeared to foul a Bournemouth player in the box. This was a warning sign. Liverpool could and should have put the game beyond Bournemouth.
Instead, as they walked off the pitch two goals to the good and with nearly all the possession, you couldn't help but agree with Alan Smith in commentary. 2-0 is a dangerous scoreline.
So it proved to be. Eddie Howe's men were always going to improve. They were after all the home side and their support was never going to let them roll over. They'd also given Arsenal a game last week, so the Liverpool should have been switched on to the dangers.
The Cherries' manager made a change, bringing on former Red Jordan Ibe and I must admit to feeling a pang of nerves. Ibe had huge potential at Liverpool and, while I can understand us cashing in, I have always felt that decision will come back to bite us one day. As it happened it wasn't the former Red that did the damage, it was Howe's other substitution, Ryan Fraser.
He was only on the pitch two minutes and he won a penalty. Having been solid for the last three games, Liverpool's defence just crumbled. Milner's lunge upended Fraser and he could have no complaints as the referee pointed to the spot. Up stepped Callum Wilson to send Loris Karius the wrong way. 1-2, game on.
The Reds have been pegged back before this season. We have rightly praised them for not capitulating, taking this as a sign of a new found resilience. When, on 64 minutes, the Reds restored their two goal advantage it looked like normal service had resumed.

Sadio Mane, who simply refused to give up the fight, made his way into the home side's penalty area. Facing a wall of defenders he passed it to Emre Can who was 20 yards from goal. He unleashed a right footed shot that sent the away support into fits of ecstasy. That should have been it.
Since they lost to Burnley in the league, Liverpool have been relentless. They haven't always been without flaws, but they have never been outfought. Klopp has instilled a mental strength in his charges this season. It has helped them, on occasion, get through games where they were perhaps a little sub-par. Today it deserted them at a time when they were in complete control.
Pundits have latched onto Liverpool's "defensive woes" almost from day one this season. It's become a cliche and an easy go to line for many. In reality, if you take out the five conceded in the first two games against Arsenal and Burnley, the Reds were averaging less than a goal a game prior to today.
However, they were easy prey to a Bournemouth side who refused to lie down. Liverpool almost added a fourth when a Milner corner looked to have been carried over the line by Boruc. The computer said no!
The the Reds defence seemed to go missing for the rest of the game. The injury to Matip appears to be a costly one and underlines his importance to the side. We can only hope it's not serious. In the 74th minute Bournemouth once more halved the deficit and it was the substitute Fraser again, finishing brilliantly from the edge of the box on 76 minutes. Karius should have done better though.
With fifteen minutes to go, the game could have gone either way. Liverpool should have got hold of it as they have so many times this season and saw it out. Instead the home side seemed to smell blood and continued to press. The Reds' back-line has been solid in recent weeks, against Bournemouth it appeared to be made of straw and a leveller seemed depressingly inevitable.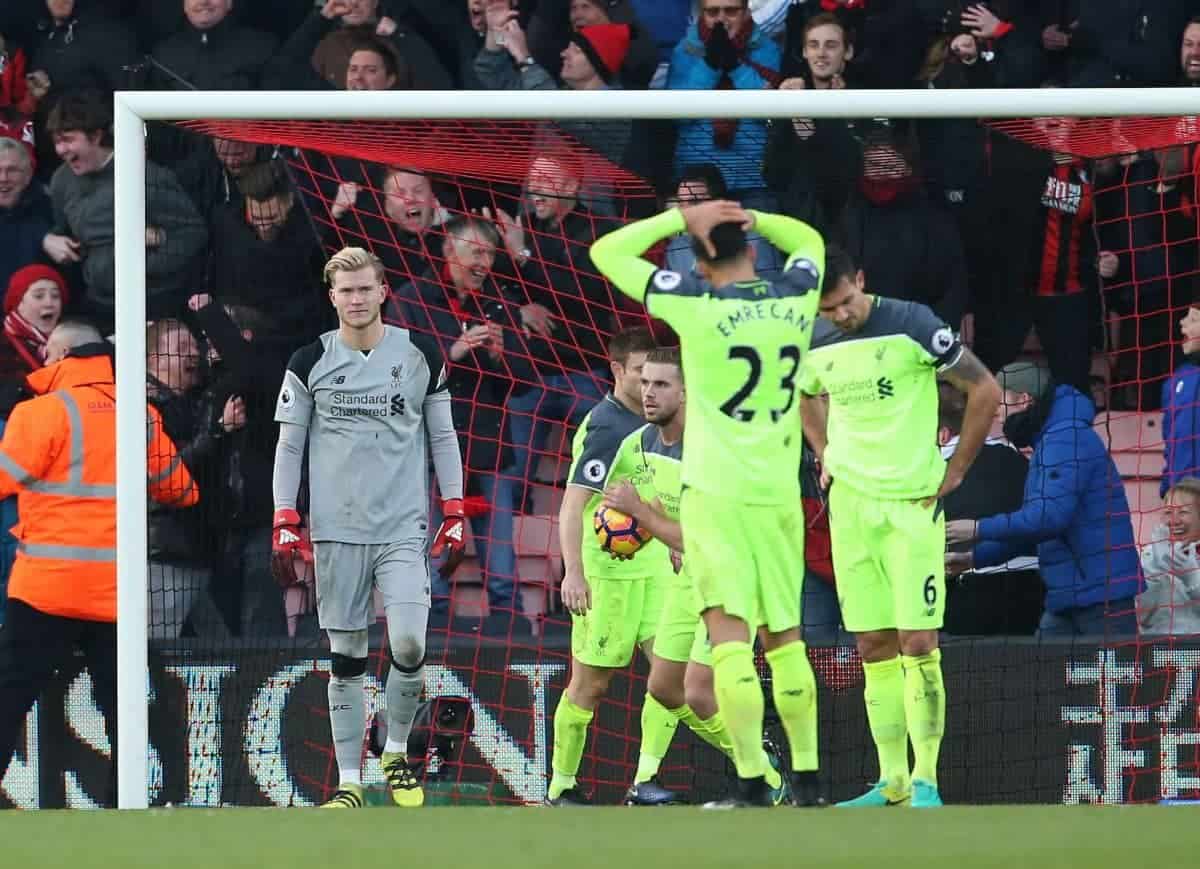 It took barely a minute to arrive. Liverpool failed to deal with a free kick and Wilshere, anonymous in the first half, whipped the ball into the box. Steve Cook, a centre back, controlled it with all the guile of a seasoned forward and volleyed it into the back of the net. Disaster. Liverpool almost went back in front through first Origi and then Lallana, but both squandered their chances.
Dropping two points from a winning position is always hard to bear. To drop three is unforgivable and that's exactly what Liverpool did.
With the game seemingly over, the fourth official somehow found five minutes of additional time. Klopp looked flummoxed, but not as perplexed as he would do three minutes later.
Cook, now re-born after his mistake against the Gunners last week, unleashed a fierce drive straight at the keeper. Karius spilled the ball and Nathan Ake couldn't believe his luck as he tapped home the winner.
Liverpool, having made a mess of their clean sheets, were facing an almighty walk of shame back to the dressing room. The travelling Kop were looking at a miserable journey back to Liverpool and all of us face an awful wait for the next game. The Reds once again have been presented with another challenge to their title credentials.
The last time they tasted such a humiliating defeat, against Burnley, they went on a 15 game unbeaten run. That's what genuine contenders do. All great teams suffer set-backs. The great Reds' sides of old did and the likes of Chelsea and City have this season. What marks a team out as genuine contenders, is their ability to shrug it off and make up for any slip ups, by punishing the next side they meet.
That's what Klopp's Liverpool must do now. My advice to all of you is to do what I'm going to do; get drunk, forget it happened and move on to the next game. Win that, the one after, then the next one and this will just be another hiccup on the road to glory.