Chelsea's 3-1 win over Manchester City was one of the most eventful games in the Premier League so far this season, but how can Liverpool learn from it?
Goals from Diego Costa, Willian and Eden Hazard gave Chelsea an important win at the Etihad on Saturday, cancelling out an own goal from Gary Cahill.
The game revealed a lot about both sides as it reached its peak with a touchline scuffle in injury time.
Chelsea's defence wasn't as impenetrable as it has been in recent weeks, while City's was full of holes.
Jurgen Klopp and his team should be able to learn a lot about the two sides on show in this game, and also take lessons from their weaknesses—which could also apply to Liverpool.
Over The Counter Culture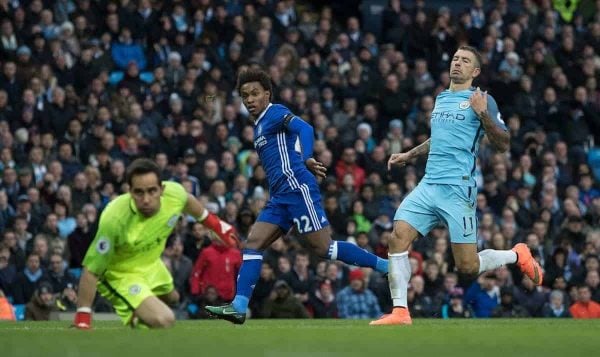 Lesson: Don't get caught on the counter-attack against Chelsea (or anyone)
City's defence were shambolic, but were made to look so by a Chelsea side who were ruthless on the break.
When defending in their own half Antonio Conte's side bring nine men back to help out, forming something of a 5-4-1 formation which leaves Costa up front on his own.
Pedro and Hazard are two of the players who retreat into this defensive set-up, but the pair of wide men also have an eye on Costa.
They look to their centre-forward to see if he's dragged the defenders around, and where he's positioned if they need to use him as a springboard.
They sense lost balls, and when they receive it following a turnover in possession they pounce—City's wide defenders, Nicolas Otamendi and Aleksandar Kolarov, couldn't cope.
Otamendi was brushed aside by Costa for the first goal following a Cesc Fabregas ball over the top, Kolarov was outpaced by Willian for the second and, finally, both were spectators as they watched Hazard latch on to Marcos Alonso's lofted pass.
Following Liverpool's inability to handle Callum Wilson, Ryan Fraser et al at Bournemouth on Sunday, they need to be more disciplined in defensive midfield areas and more savvy in defence if they're to mount a serious title challenge.
If the defenders pull wide in attack, Jordan Henderson needs to plug the middle and another midfielder needs to have an eye on stopping the counter too.
Keep Your Head When All About You Are Losing Theirs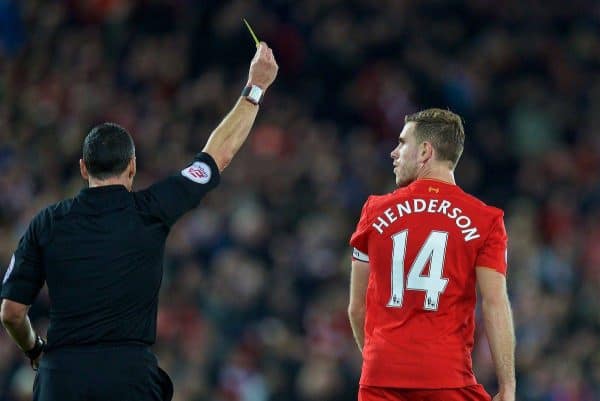 Lesson: Don't lose your head
City went from passive to petulant over the course of one long, 90-minute wind-up by Chelsea.
David Luiz chipped away at Sergio Aguero, and an early clash between the two led to calls for the Brazilian to be sent off, but it was simply a coming together.
Worse than this, though, was Cahill's foul on Aguero, which went unpunished and may have been in the striker's head when he mockingly congratulated the Chelsea centre-back on his own goal.
Chelsea were in Aguero's head, and they had the last laugh when the Argentina striker rounded off a poor performance with a reckless lunge on Luiz, for which he was sent off in the final minute of the game.
In the melee which ensued, Fernandinho tried to move Fabregas away from the crowd. The Spaniard is always involved if there is any narky behaviour, and he added to it by slapping Fernandinho in the face.
The Brazilian responded by putting his hand to Fabregas' throat before the Chelsea midfielder decided to take a dive over some advertising hoardings to get his opponent sent off.
Liverpool have one of the best disciplinary records in the league with just 22 yellow cards and no reds, but their game against Chelsea at the end of January could be a test of this.
The London side aren't as intentionally irritating as some of their previous incarnations but they still have personalities capable of winding people up—particularly Costa, who has no qualms about taking it to the next level.
Hold The Back Line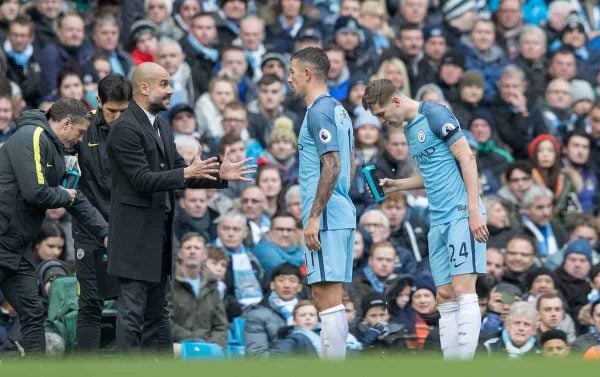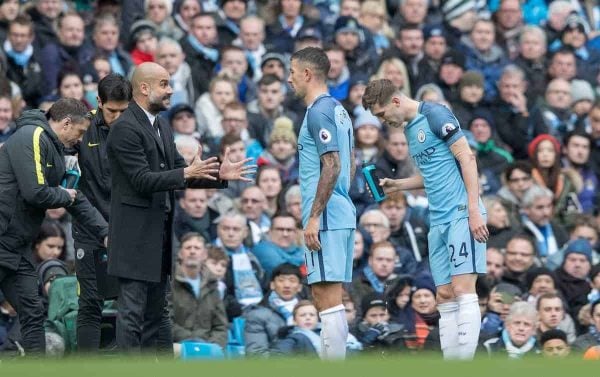 Lesson for centre-backs: Watch Cahill and Stones and do the opposite
John Stones was signed by the Manchester club because of his ability on the ball, and while he's had a better start at City than he had an end at Everton he still lacks some of the basic tools required for the position.
Early in the first half of this game Stones wrested the ball excellently from Costa, but then proceeded to dally in possession and Costa was able to win it back.
Stones appears calm, but at times he's just plain reckless and can take an age to make a decision. He's at his best when making quick passes to midfield players or forwards, but he was unable to do so in this game because of his own hesitation, and a lack of options ahead of him.
Despite Chelsea's excellent defensive record since switching to a back three (three goals conceded in eight games), they also showed some defensive weaknesses in the game at the Etihad.
Cahill has been found out in a more exposed wide centre-back position on the left, while Luiz can still be pulled out of position by a striker who drops deep.
All of this plays into Liverpool's hands. When they play City then can press their centre-backs high up the pitch as they attempt to play out from the back, while against Chelsea, Roberto Firmino can draw Luiz out of the back line and Sadio Mane can use his pace against Cahill.
In Joel Matip, Liverpool have a centre-back who takes the good points from both Cahill and Stones.
While at Schalke, the Cameroonian defender looked to have a few errors in his game, but since he's been working under Klopp these appear to have been ironed out.
He's now exactly what is required from a centre-back in the modern game: tall, calm, quick enough, able to pass, positionally sound, and able to boot the ball clear when required.
Bits And Pieces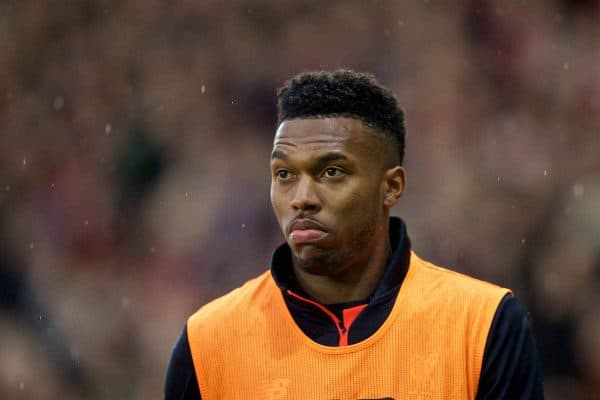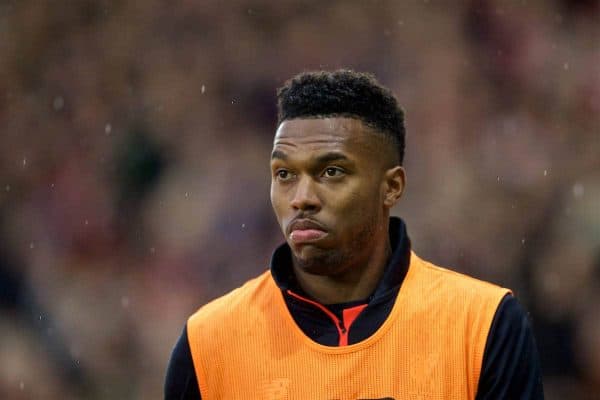 Goalkeepers
Liverpool aren't the only team with goalkeeping worries. If a good goalkeeper is needed to win the title, then Sunderland should win it…
City's Claudio Bravo is regularly criticised for making mistakes, and even Thibaut Courtois of Chelsea came under fire earlier in the season before his side made their switch to a back three.
Strikers
Neither City or Chelsea currently have the striking depth Liverpool have, and that's thanks to Daniel Sturridge.
Divock Origi has proved to be a very useful forward, but when Sturridge is fit you'd expect him to challenge for a place up front.
These two rivals are each relying on star strikers in Costa and Aguero, and only have one other option if these players are out of the side; Liverpool have two.
Although if Gabriel Jesus hits the ground running for City then he could be the difference in this department.
Back-Three Weaknesses
Conte is one of the finest exponents of a back three in the game, but every formation has its flaws.
Liverpool fans know this all too well having seen the system under Brendan Rodgers in seasons gone by, and the longer Chelsea use it, the more sides will be able to break it down.
By the time the teams meet on January 31, Klopp and his squad will have had plenty of time to do their homework, and other teams will be doing the same.
They might also be hoping that Guardiola plays a back three in the game at Anfield on New Year's Eve.