Though defeats dampen spirits and victories boost morale, Jurgen Klopp's emphasis is on a constant level of positive support for Liverpool.
"A draw doesn't feel too good, but it doesn't feel too bad either." The words spoken by Jurgen Klopp, notoriously emotional and on-the-edge during any football match, immediately after the final whistle as Liverpool drew 2-2 at home to West Ham United on December 11.
Hardly the first time Klopp has taken a measured approach to a less-than-positive result; but why can't fans think the same way? Why is every non-victory a proclamation of mediocrity, each win a supposition of where the title will be won?
Football, English football, is not associated with linear progression.
There is no consistent upward curve, no established set of steps to tread to move from seventh, to fourth, to second, to continually first. Teams are made of players, and players' form goes up and down, their fitness changes and the opposition is equally dynamic. Even playing the same team twice in a week brings different conditions, mentalities, priorities. Results can be good, with a bad result thrown in—and it's not the end of the world. Or they can be bad, with a surprise victory in the middle, which doesn't signify the corner has been turned.

In the longer term, finishing sixth, third and second each season doesn't mean first will follow—or even second again. Eighth is possible. First to 16th is possible, according to Leicester City.
Klopp understands this. Klopp refuses to get sidetracked by the games which deviate from the overall plan, and his comments reflect that. He can be irritated or angry with players or performances, absolutely, and has been before. But those occasions are in context to specific incidents: positioning, decision-making or mentality and preparation rather than whether the result suddenly means Liverpool are headed for the Champions League/in need of six winter signings.
Liverpool should have beaten West Ham. They're a better team, played better, had lots of chances. But this clash of attitudes to dropped points isn't specific to the game against the Hammers. The draw with Southampton, the late loss to Bournemouth and even the draw with Manchester United all yielded similar frustrations from the terraces and vitriol from much of the support base.
Why? Because it seals the doom of a title bid in December? From a team who many didn't have full confidence in to finish inside the top four only four months ago?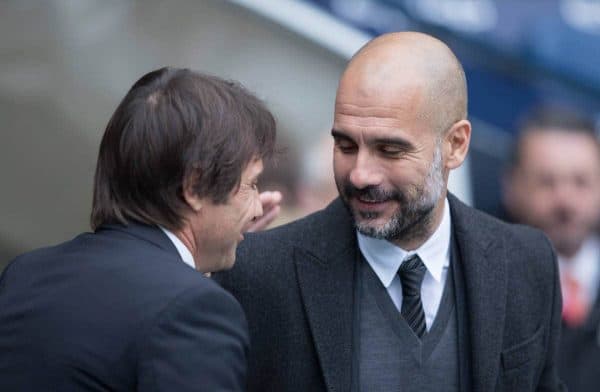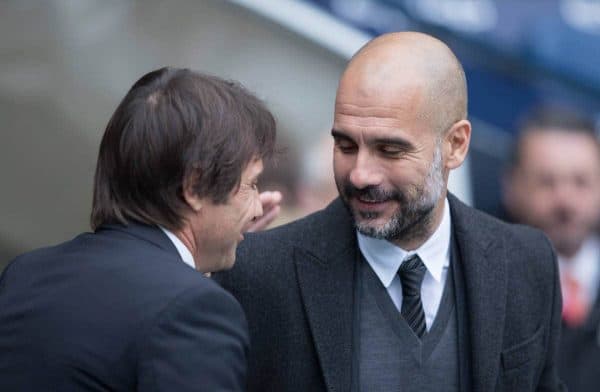 Context, please. Chelsea are on a phenomenal run at present, but have already had a shocking spell of their own. The reason it's not spoken about as proof of their own oncoming demise is blindingly, stupidly straight-forward: it's not right now. But after losses to Liverpool and Arsenal, there were already—just two months in—question marks about Antonio Conte's suitability to the job, his ability to manage in England, his tactics. From fans, as well as media.
This isn't a Liverpool-specific supporter trait, but Kopites are terribly guilty of it at times.
Pep Guardiola's getting it now at Manchester City, and Klopp could be deemed lucky to avoid it after wins over Middlesbrough and Everton. It's not irrelevant, but it's a terribly narrow-minded sideshow to the wide-lens approach which is the entire league season. Liverpool won't win or lose the title—or second, or fourth—because of any game in isolation, it will be due to progress and coaching, fortune and concentration during the campaign as an entirety.
The live broadcasts don't help matters, admittedly, especially given that fans are force-fed the same opinion regardless of context: "This is a game they have to win if they're to be considered title contenders! You have to grind out a win in these fixtures! This is the type of game that champions FIND A WAY TO WIN!"…regardless of whether it's 0-0 at home to a rival, 1-1 with 20 minutes to play at a mid-table side or a goal down at the break against a side near the bottom.
Guess what? Almost everybody who wins the league drops stupid points along the way. That's why they're called setbacks, not routine. They are overcome, learned from, filed away. Infrequently indeed will they have such a profound impact on the club that systems change and players are bought specifically because of a bad result.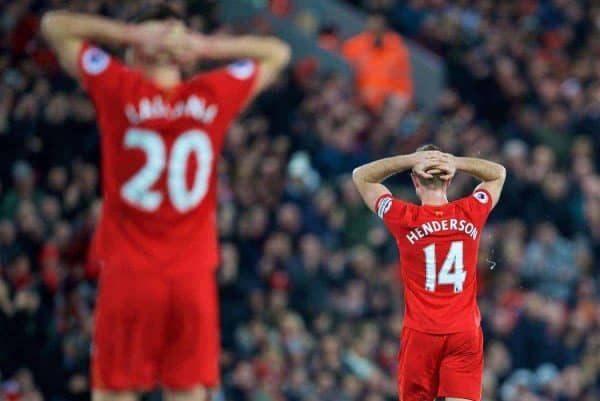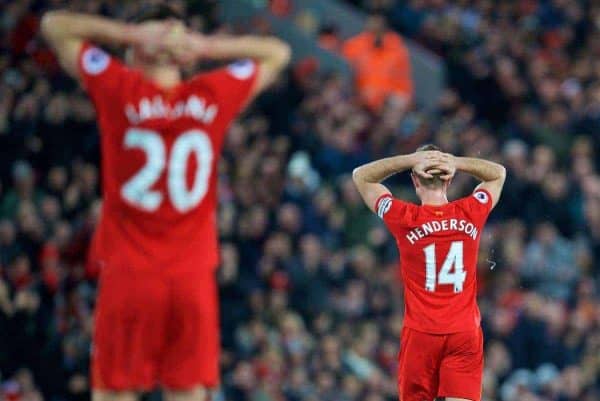 Consider, in literal terms, the farcical nature of some arguments here: because Liverpool didn't beat the Hammers, January recruits were needed. So, if Darren Randolph, usually a sub 'keeper enjoying a sudden spell in the team, hadn't pulled off an incredible fingertip save from Jordan Henderson's curling shot, been one inch shorter, moved one half-second later, or gave it up as a lost cause earlier, no signings would be needed? Good strategy, that.
Throughout his spell at Anfield, Klopp has continually attempted to cultivate an atmosphere of togetherness, of oneness. A singular entity of club, comprising himself and his coaches, his players, the fans. All focussed on winning games by way of improving playing style, coaching and mentality, but most of all, all noticing that improving each and every aspect is what leads to winning.
Support the team more in the final few minutes, as he has been vociferous about more than once? Late chances and goals, celebrated with gusto. Improve in decision-making in the final third, be "greedy" and "aggressive"—Klopp's buzzwords toward attacking—when it comes to scoring? More goals, more games won.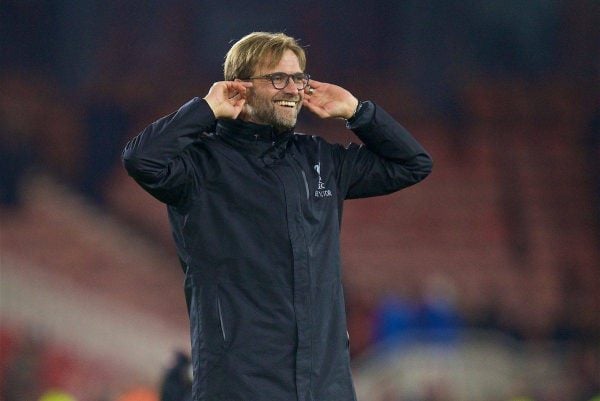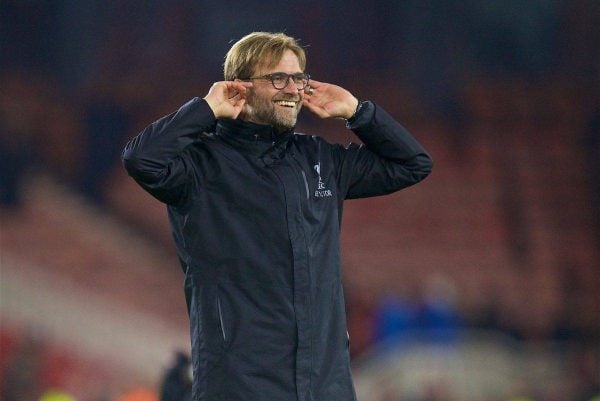 But the emphasis from the manager is on doing it all the time, not just when games are won, points mounting up, title talk being sparked. It means not overreacting when a negative result occurs, because just as the knowledge is built into the players of what to do with the ball in each game situation, so too is the knowledge (supposed to be) built into the fans that with a loss does not come a decimation of objectives and self-belief, but instead an acceptance that the rest of the team won't deviate from the norm.
Continual progression includes bumps along the way, unfortunately.
Where Liverpool—and plenty of other big sides—have fallen by the wayside in the previous years is, at least in part, due as much to a feeling of inferiority as to lesser footballing quality. It always feels that Liverpool have done exceedingly well to get themselves into a title fight, rather than being there because that's how good the team is, pure and simple.
That's a big part of what Klopp has to change. Is trying to change. But he coaches players, not fans, and fans have to play their own part based on mere trust, and it can be tough to do.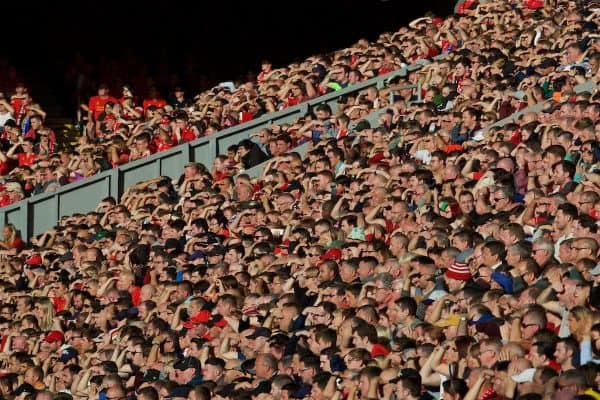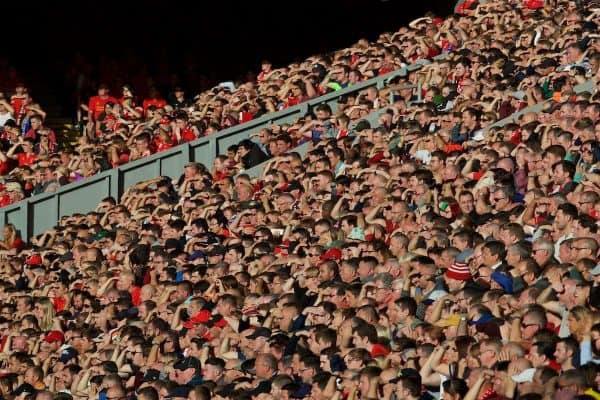 A loss or a draw here and there, and Klopp won't be changing his lineup, his tactics, his transfer plans, because the overall state of the team remains one of improvement—as victory at the Riverside and Goodison Park proved. A negative result doesn't shake that faith or overall vision he has, and perhaps it's time a section of the support base appreciated it.
Nobody has to support blindly. Nobody has to be immune from criticism, from improvement or being dropped, from offering opinion. But the seismic deviance and variation of how much each result in isolation affects confidence of the squad overall, the year overall, has to be tempered.
It's not boom-and-bust, it's ongoing progression and improvement. The Reds are on the up. Enjoy the ride, acknowledge the bumps for what they are, and save the fume for May.