Jurgen Klopp joins an impressive list of highly quotable Liverpool managers. Here are some of his key comments on how he views the game.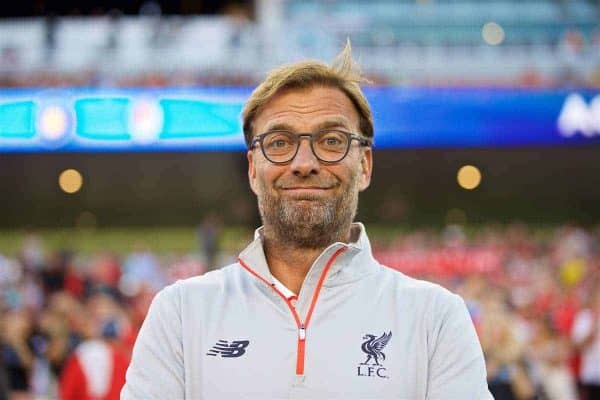 Gegenpressing
Gegenpressing, or counter-pressing, is a key component in Klopp's tactical setup and is an area of the game for which he is renowned.
It's been widely discussed since the German took charge at the club, but what does he have to say about it?
"The best moment to win the ball is immediately after your team just lost it. The opponent is still looking for orientation where to pass the ball. He will have taken his eyes off the game to make his tackle or interception and he will have expended energy. Both make him vulnerable."
This is the essence of gegenpressing in the words of the man who popularised it. It's an attacking ploy more than it is a defensive one, and Klopp believes that it's a creator of goals too:
"If you win the ball back high up the pitch and you are close to the goal, it is only one pass away a really good opportunity most of the time. No playmaker in the world can be as good as a good counter-pressing situation."

ADVERTISING

The Influence of Arrigo Sacchi

While he didn't invent pressing, Sacchi applied ideas related to the closing down of spaces on the pitch when defending, and these methods provided a perfect platform for counter-pressing.

Klopp has spoken of how these ideas have influenced his thinking:

"I've never met Sacchi, but I learned everything I am as a coach from him and my former coach [Wolfgang Frank], who took it from Sacchi.

"Even though we were in the second division we were the first German team to play 4-4-2 without a libero.

"We watched this very boring video, 500 times, of Sacchi doing defensive drills, using sticks and without the ball, with Maldini, Baresi and Albertini.

"We used to think before then that if the other players are better, you have to lose. After that we learned anything is possible—you can beat better teams by using tactics.

"My team is 10 percent of the team of Arrigo Sacchi."

ADVERTISING

Sacchi's coaching involved a lot of work on zones and reference points, which planted the seeds for the pressing triggers and defending from the front seen in Klopp's sides.

Full Backs

Full back has always been one of the most important positions in football.

From the days when these players were the most defensive players (hence their numbers: No. 2 and No. 3), to the modern era when they can be the most attacking, they've always been an integral part of a team's tactics.

Klopp's words during his appearance on Sky Sports' Monday Night Football echo this and indicate that he, like Pep Guardiola, believes that full-backs may now be returning to more central positions when the need arises:

ADVERTISING

"This kind of full-back now is much more of a midfield player. The kind of football they play, in halfspaces, they are the other winger sometimes, the central midfielder sometimes.

"The rule is: be an option, get the pass or be available for other players."

This is epitomised in James Milner, Liverpool's unlikely new left-back. Milner thought he was a midfielder but his best position was always out wide.

Under Klopp he now gets to combine his preferred position with the one he's the best at, while learning new defensive capabilities along the way.

The 30-year-old is regularly at the top of the list in terms of touches on the ball during the game, and is often involved in the team's buildup play all along the left flank.

"You need to have as many good footballing players as you can on the pitch.

"The wing is a nice position. You need speed, and be a good football player.

ADVERTISING

"When I spoke to Milly first time I said 'you will have the ball more often than you can imagine', and that's how it is."

Boring Football


Anyone who's watched a Klopp team in action will know there is rarely a dull moment.

If his team aren't pulling their weight in terms of entertainment, then it's likely that the manager himself will be animated on the touchline as he attempts to get his team (or even the crowd) going:

"I've watched so many matches in my life, it's unbelievable.

"There are some boring games and then I sleep. It's so boring I think 'why they meet each other and make the 20, 40, 50, 60, 70, 80,000 people watch this boring game?'.

"It's not OK. So that's what we want to see, we want to enjoy our own game."

ADVERTISING

Emotion

Tactics are becoming increasingly prominent in football parlance, and the discussion of how games were won and lost can often involve a reference to a tactical aspect.

However, emotion is still very important, especially when it comes to motivation, and Klopp is a big believer in the spiritual side of the game:

"Tactical things are so important, you cannot win without tactical things, but the emotion makes the difference.

"It's the only sport where emotion has this big of an influence."

Possession

Klopp spoke recently about how his team are unfairly viewed as nothing more than a pressing machine, commenting that there is also a focus on possession:

"We do not claim that counter pressing is the only way to play.

"It has proved to be very useful for us and remains an important part of the game. However, we would like to have 90 percent ball possession in every game.

"Our own footballing approach is often underestimated in my opinion. Even at Mainz we didn't get promoted solely because we defended better than the rest of the league, we also played different systems there.

"In the end, however, it has mostly been reduced to this: the pressing only. But whatever. There are worse ways to be viewed, but I have never felt this way and it does not do justice to the truth either."

Importance of Football

"During a game, something happens with the first whistle, I'm not too sure what but everything is different in these moments.

"I'm smart enough to know that nearly everything is more important than football, but not for me in these ninety minutes."

Dealing With the Press

Klopp's press conferences have become an event in their own right.

While some managers manage to talk through them without really saying anything, Klopp has been known to wear his heart on his sleeve.

Here he comments on the style of manager he is when dealing with the media:

"It's important for managers to be ready for press conferences. The best thing is if you are a little bit strange, or you are extremely smart, or always have the perfect answer.

"In my case, it is: 'I don't care'.

"I'm not interested in what everybody's thinking, what they want to hear when they ask a question, because most of the time I think they didn't think a second about the question, so why should I think a second about the answer?"

Management

Describing himself as a player with fifth-division technique, but first-division mentality, Klopp always had an inclination that he would one day be a manager.

Here's what he thinks of the job:

"I love it because I was always a little bit frustrated about my own skills and now I work only with world-class players together, so that's pretty cool.

"All the things I had in my mind they have in their legs and their mind, that's pretty cool.

"They need only a little bit of pushing left, pushing right, giving a few informations, and then it looks pretty good to be honest."

Assistants and Backroom Staff

"I like the whole job but, there's a lot of things as a manager you should know about, but if you are smart enough you have around you a lot of good people who are better where you are not too good.

"I was always smart enough to have the best people around me in my coaching staff. Together with Zeljko Buvac and Peter Krawietz, and now here with Pepijn Lijnders and John Achterberg.

"It's brilliant, I really love working with them and they are all brilliant at what they're doing, and if you do this then I think you only can be better and better and better."




More from This Is Anfield

Fan Comments