The media were full of praise for Liverpool's mental strength and unwavering belief after the Reds battled from behind to romp to a 4-1 win over Stoke City.
Liverpool started the busiest period of the season as they mean to go on as they fought back to blitz Mark Hughes' Potters at Anfield.
Goals from Adam Lallana and Roberto Firmino before half-time were added to by Giannelli Imbula's own goal and Daniel Sturridge's cool finish after the break, reversing the early damage done by Jonathan Walters' 12th-minute header.
The way Liverpool responded to falling behind early on was extremely impressive, and Jurgen Klopp can take great satisfaction from his side's dominant performance after a rocky start as they earned a third successive victory.
Confidence will be high in Liverpool's squad for the looming quick-fire double-header with Man City and Sunderland, and here is how the watching media assessed the convincing victory.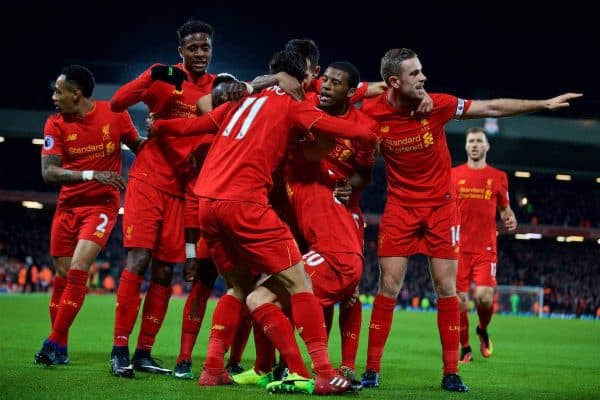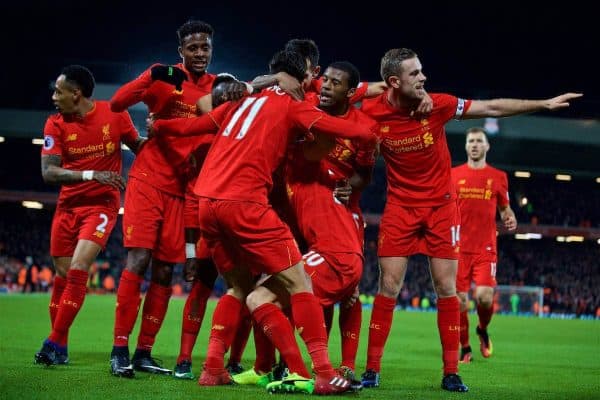 With Liverpool having been forced to prove their mental toughness by battling back after conceding the first goal, reporters praised the Reds' confidence and mindset to stage such an emphatic response.
The Mail's Dominic King assessed Liverpool's turnaround as befitting of a team chasing the title:
"Once Liverpool had been let off the hook, they summoned the kind of riposte that teams with designs on a title challenge often muster. The answer they produced to the question asked of them was as emphatic as it was attractive.

[…]

"There was no panicking, just a simple, unshakable belief they would get back into the contest."
The Guardian's Andy Hunter attributed the comeback to Reds' "absolute faith" in their gameplan:
"But there was more to an ultimately comfortable victory over Stoke City than a further demonstration of the ruthless efficiency that Jurgen Klopp has created at Anfield.

[…]

"It took confidence under pressure and absolute faith in their methods for Liverpool to stage an emphatic recovery."
Writing for Goal, Melissa Reddy noted the improved resilience of Klopp's side, who showed they're up for the title fight:
"To 'strike back'—one of Klopp's fundamental tenets—is now seemingly tattooed to their psyche.

[…]

"Second in the standings, the highest scorers in the division, and constantly showing the appetite to scale new obstacles, the Reds are in no mood to surrender."
The Liverpool Echo's Neil Jones praised Liverpool's professionalism as they keep doing all they can in their chase of the big prize:
"Just keep swimming, just keep winning, just keep doing your job and worry not about what's happening down in west London.

[…]

"In short, they're doing all they can."
Meanwhile, the Independent's Simon Hughes felt the win was the perfect preparation for Man City's imminent Anfield arrival:
"And yet, for Liverpool—in front of a spying Guardiola—it proved to be the ideal warm-up for the most significant league fixture to be held at Anfield this season, largely because Liverpool's evening was relatively comfortable, the last half-hour was played at practice speed and no injuries were suffered."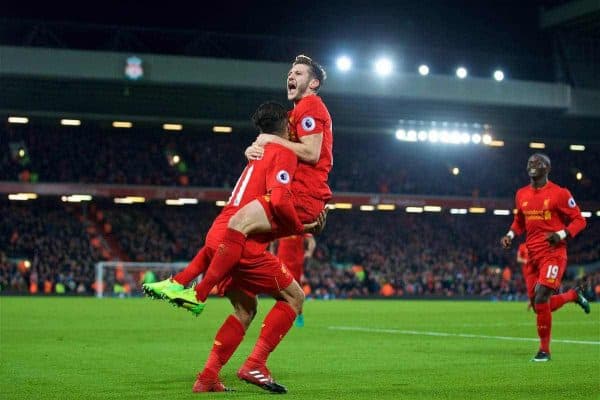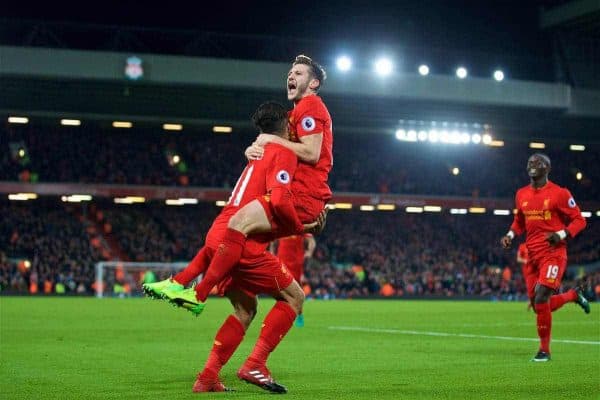 With City boss Pep Guardiola in attendance ahead of New Year's Eve's mouth-watering showdown at Anfield, reporters offered their thoughts on what the Spanish coach would have taken away from his scouting mission.
Hunter was among those who felt Guardiola's sheer presence at Anfield acted as a mark of respect to the challenge the Reds now provide:
"The show of strength and the range of Liverpool's attacking threat would not have been lost on Guardiola, whose presence in the Main Stand Klopp took as a mark of respect from a fellow contender."
Writing for JOE.co.uk, Tony Barrett thinks Guardiola will have picked up on the defensive deficiencies that allowed Stoke to take the lead:
"He had seen also the defensive weakness that Liverpool's critics believe will undermine their attempt to win the Premier League title and he will have noted that Stoke could, and perhaps should, have gone 2-0 up before being consumed by a comeback."
Jones thought Liverpool showed the ex-Barcelona boss they can battle as well as play:
"But he'll have also have departed knowing that his team are in for a battle and a football match on Saturday. The variety to Liverpool's game is pleasing, and they seem able to play through bad spells as good teams must. As impressive as their football is their worth ethic."
The Telegraph's Chris Bascombe believes the City manager will have noted Lallana, 'the English Iniesta', as Liverpool's key player:
"He [Guardiola] would not have been required to scribble any notes to remember who makes Liverpool tick. The highest compliment you can pay Adam Lallana is he is the closest England has to Andres Iniesta."
Ahead of a huge game on home turf, the Liverpool Echo's James Pearce noted the transformed feeling of belief around the Reds when playing at Anfield:
"Where once the pressure and expectation of playing on home turf weighed heavily on the players' shoulders, now they are energised by their surroundings."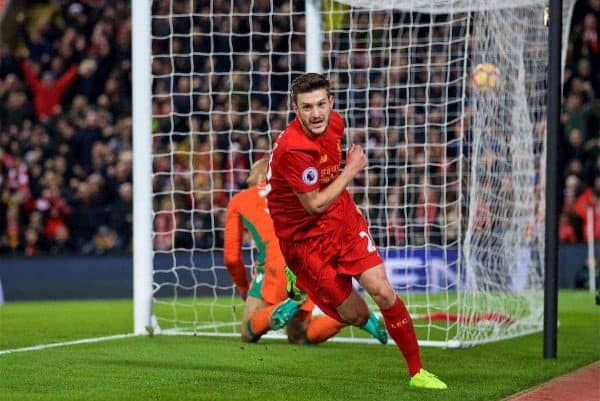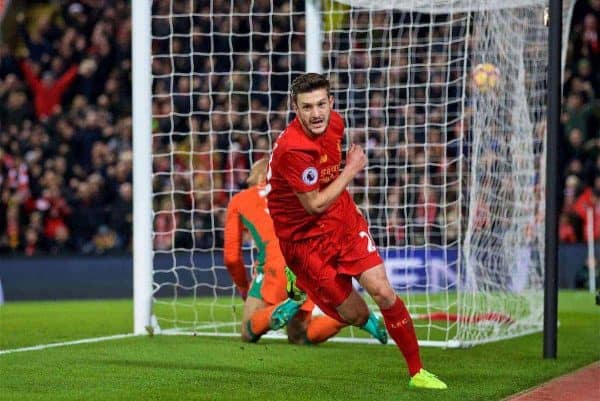 With numerous strong individual performances being produced by Klopp's side, reporters offered their thoughts on who shone, with, as expected, plenty of praise for the excellent Lallana.
Writing for ESPN, Richard Jolly feels Lallana has risen to the challenge of covering the absence of Philippe Coutinho:
"In such circumstances, he wants others to compensate and more than most, Lallana has risen to the challenge of ensuring Coutinho is not missed.

[…]

"A player who used to flit in and out of games is becoming more productive and Lallana's season has now yielded seven goals and six assists."
The Mirror's Andy Dunn labelled Lallana the Premier League's most influential English player on current form:
"Lallana is a driving force in a Liverpool team that can run amok. This season, he has scored seven, assisted six, a crossbreed of workhorse and thoroughbred, it is hard to think of a more influential English player in the Premier League right now."
Meanwhile, Barrett felt Firmino repaid Klopp for sticking by him after his off-pitch transgression:
"Having benefited from a show of faith from his manager, the onus fell upon Firmino to justify his selection by performing in a way that demonstrated that his focus had not been affected by his arrest. This time, he let neither his manager nor his club down."
ESPN's David Usher was pleased to see Sturridge return to form and feels it comes at a crucial time:
"Scored almost immediately after coming on when he latched onto a poor back pass and cooly rounded the keeper before rolling the ball into the empty net.

"The England man looked razor-sharp and his return to fitness could not have come at a better time for Klopp with the games coming thick and fast."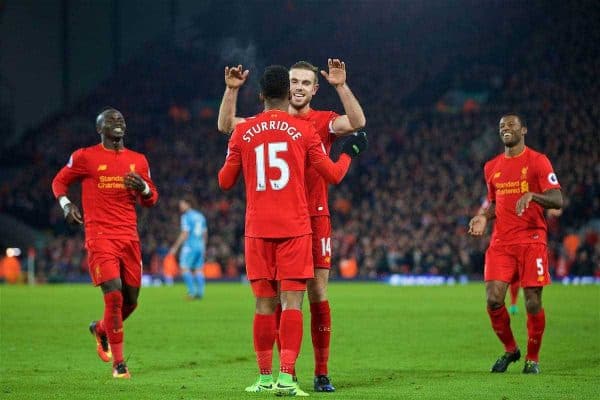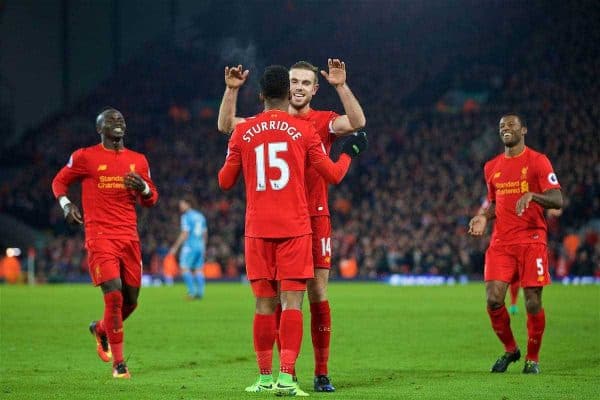 Dunn feels Sturridge's display gives Klopp a big call to make over who starts up front against City:
"Assuming he stays well until Saturday, Klopp will have to decide whether or not to start Sturridge against Manchester City.

"With respect to a man who claimed a decent assist, the watching Pep Guardiola would prefer to see Divock Origi."
Pearce felt Henderson "excelled" with a captain's display:
"Captain Jordan Henderson excelled in the holding midfield role he has made his own. Moving the ball intelligently and at pace he kept Liverpool on the front foot. He led by example. He didn't allow the tempo to drop."
Finally, the BBC's Aimee Lewis reserved special praise for the Man of the Match, James Milner:
"As has been the case for the majority of this season, Sadio Mane and James Milner were key cogs, with the latter's tireless runs down the left flank giving Stoke an extra worry."