Reporters felt Liverpool proved their title credentials as they earned a dramatic last-gasp derby-day win over Everton.
Christmas came early for everyone associated with Liverpool as Jurgen Klopp's side ground out a huge three points on enemy territory.
Sadio Mane proved the match-winning hero, with the Senegalese following up and converting the rebound from Daniel Sturridge's strike that hit the post in the fourth minute of stoppage time.
The Reds were second best for chunks of the first half, but responded excellently after the break with a dominant display, and with only one team looking like winning, they thoroughly deserved the three points.
Klopp will be thrilled with the way his side performed in that second period, and he will know more than anyone how big a moment this could prove to be in his side's pursuit of the title, as they closed the gap on Chelsea to six points.
Here's what the watching journalists made of events on a memorable night at Goodison Park.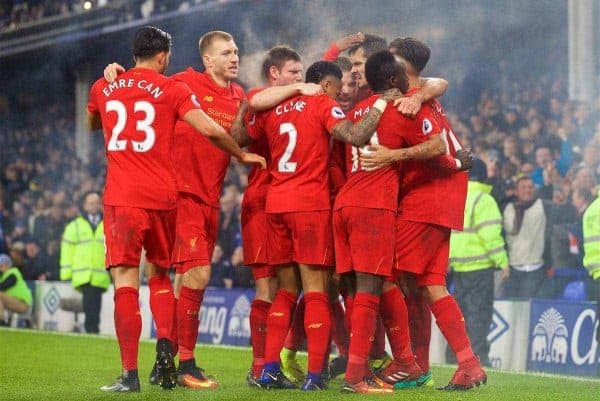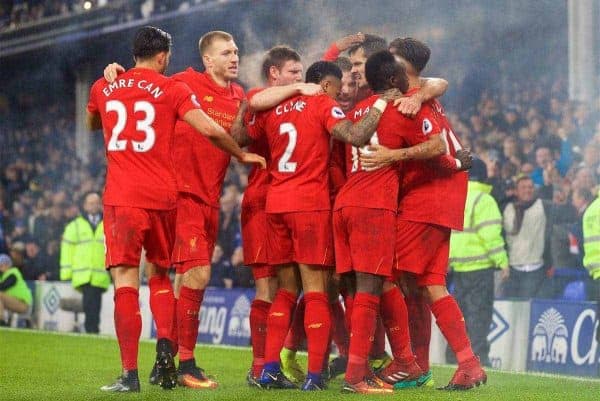 Reporters felt that this was the sort of game genuine title challengers win, and that Liverpool proved their credentials by grinding out victory in the most dramatic fashion.
The Mirror's Andy Dunn felt the Reds proved they are "contenders not pretenders":
"These are the occasions when serious title aspirants find a way to triumph.

[…]

"Courtesy of Sadio Mane's dramatic late winner, they did just that. And that's what marks them down as contenders, not pretenders."
Writing for ESPN, Mark Ogden assessed Liverpool's performance as one of challengers:
"A stoppage-time winner, a clean sheet and the ability to overcome a physical challenge in a hostile environment: If there was ever an identikit performance to hammer out title credentials, Liverpool produced it against Everton at Goodison Park."
The Liverpool Echo's Kristian Walsh believes Klopp's side have sent out a statement in the title race:
"This could have been the game in which their title hopes did not fully disappear, but began to evaporate a little, a pretty hefty margin to make up, even at this stage of the season.

[…]

"Instead, Liverpool have put the league leaders on notice. This is a side who does not give up easily, their fabled weak mentality—which peeked above the parapet at Bournemouth—is no more. This is a team with cast-iron will, and concrete aspirations of challenging at the top end of the table."
Ogden also feels Liverpool remain outsiders in the race, but must be taken seriously:
"Liverpool are still outsiders when compared to Chelsea and the New Year's Eve clash with Manchester City at Anfield will offer a true gauge of the position Klopp's side hold in the chasing pack. However, the manner of their win at Everton means Liverpool must now be taken seriously as potential champions."
The BBC's Phil McNulty praised the way Liverpool have responded in recent games since their shambolic collapse at Bournemouth:
"Liverpool needed to bounce back from the stumbles of a shock 4-3 defeat at Bournemouth and a home draw against West Ham United. They have done so in style with away wins at Middlesbrough and now Everton."

Liverpool earned plaudits for the way they continued to pursue victory despite not being at their best, with praise forthcoming for Klopp's substitutions.
McNulty thinks the Reds will take "great satisfaction" from a "victory based on grit":
"Liverpool are six points behind Antonio Conte's side and will surely take great satisfaction from digging out a vital victory that was based on grit rather than the flowing football that has been their trademark this season."
For ESPN, Steven Kelly praised the way Liverpool didn't settle for a draw:
"Many a team would have been downhearted and sloppy in the fourth minute of injury time, but Sadio Mane's goal was reward for a display low on skill but high on character.

[…]

"These are usually the games in which the Reds have dropped points in the past. They not only recognised that a draw wasn't enough, they did something about it."
The Liverpool Echo's James Pearce was among those to praise Klopp for being brave with his substitutions:
"Many managers would have settled for what they had as the Reds looked set to emerge with a dogged point.

"But Klopp opted to twist rather than stick. He threw on Daniel Sturridge, fit again after missing the previous five matches with a calf injury, and Liverpool launched the late salvo which yielded the winner Kopites so craved."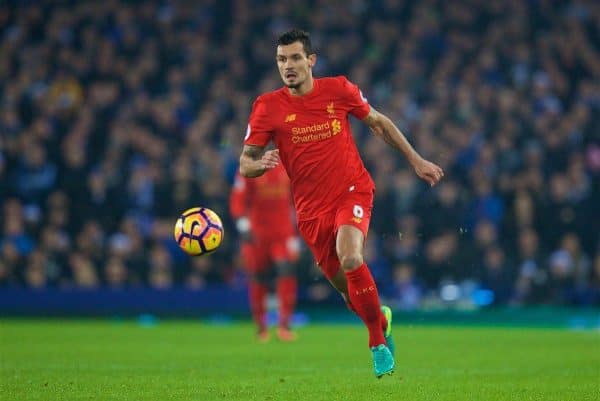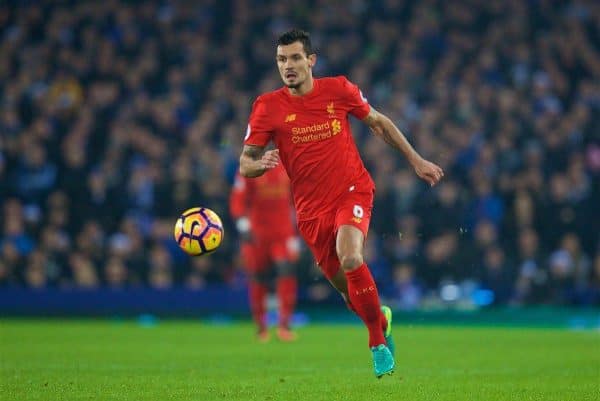 Discussing other aspects of Liverpool's performance, reporters felt the Reds impressed defensively despite not clicking in attack on the night.
First of all, Walsh thought Liverpool "boxed" cleverly and their game plan of letting the Blues do the work paid off:
"It soon emerged that the Reds boss might have picked up a little bit of pertinent information from that boxing bonanza: the art of rope-a-dope. Letting their opponents tire themselves out before targeting the knockout blow.

"A risky strategy in a game in which the currency is so often fine margins, undoubtedly. But then their intentions were laid bare in a superb half."
The Guardian's Paul Wilson commended Liverpool for the way they played the game and not the occasion by sticking to their plan:
"The visitors were concentrating on keeping the ball rather than committing too many men upfield, sometimes passing square or even backwards in the manner that had earned Everton criticism from their manager in the first half against Arsenal.

"Away sides have every right to do that, especially in derby matches, and Jurgen Klopp had indicated beforehand that it was his team's job not only to cope with the Goodison atmosphere but to do their best to dampen the home crowd's fervour."
Pearce felt Liverpool's superior fitness proved crucial:
"It was testament to the resilience and the never-say-die spirit the Reds manager prides himself on.

"It was also testament to the Reds' fitness levels as they grew stronger at a time when Everton ran out of gas."
The Mail's Martin Samuel thought Liverpool's defence impressed as a collective:
"It was Liverpool's defence that impressed—not a sentence that has been written much of late. Dejan Lovren was reliable and Ragnar Klavan intervened with at least one outstanding tackle."
Ogden felt Liverpool did well to cut Everton's route to danger man Romelu Lukaku:
"In any title-chasing campaign, a win at Goodison is valuable currency but it must be earned and Liverpool did that by suffocating Everton's supply line to Romelu Lukaku and fighting fire with fire when the heavy tackles came flying in."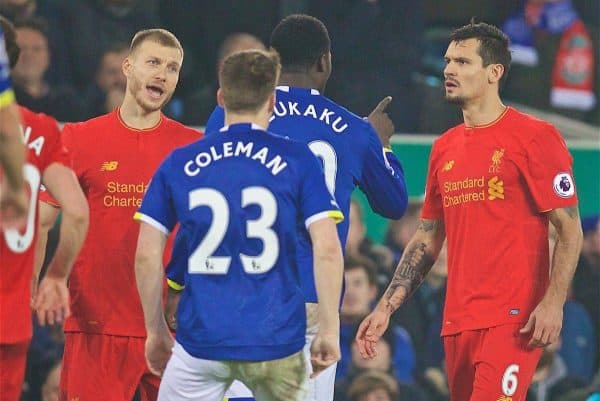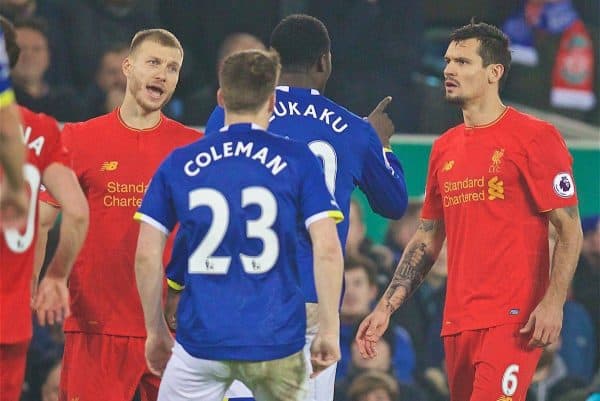 Reporters felt Liverpool edged the individual battles all over the pitch on the night, with praise in particular for the Reds' defence.
The Mirror's Liam Prenderville thought Dejan Lovren came out on top against Lukaku:
"With Matip missing, Dejan Lovren was under big pressure to take the lead at the back for Liverpool. He did just that.

[…]

"Lovren sent the Everton striker sprawling to the deck early on and that seemed to rattle Lukaku."
McNulty assessed the excellent Ragnar Klavan as Man of the Match:
"The Liverpool defence quelled the threat of Everton striker Romelu Lukaku, largely thanks to Ragnar Klavan's stewardship of the forward."
Walsh was impressed by the completeness of the Estonian's display:
"There was a sense of class about his work, a real calmness at times in the most hectic of environments.

"His ball distribution was also smart, often prompting Liverpool to galavant down the pitch with a well-timed ball."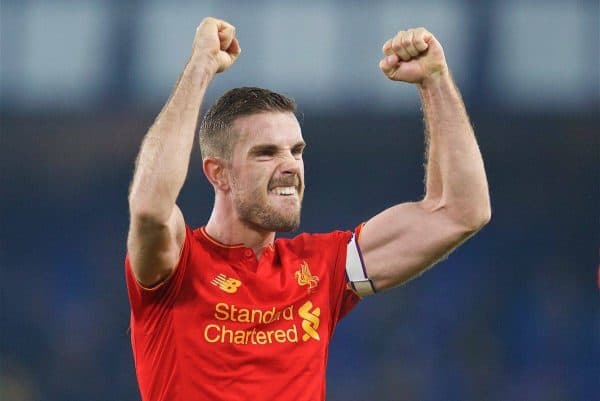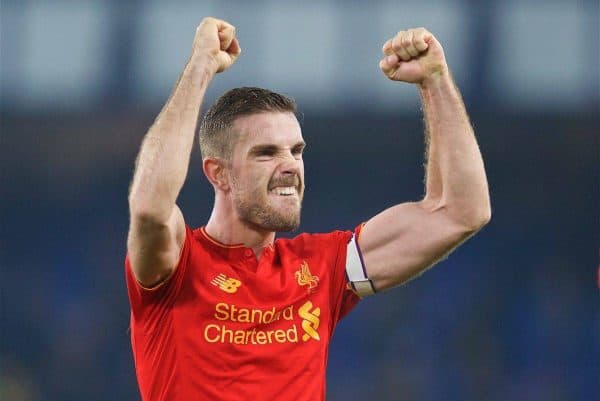 Prenderville assessed that Jordan Henderson won the battle of the England midfielders against Ross Barkley:
"Unfortunately for the Everton man, he was shackled by the excellent Jordan Henderson throughout.

"The Reds skipper won't get the headlines like his predecessor with the Liverpool armband but in his role, it's usually a good thing."
Meanwhile, McNulty felt Daniel Sturridge's impact from the bench proved his importance:
"And once again Sturridge proved how important he can be to Klopp and Liverpool's cause—despite being marginalised or injured for much of the season—with the run and shot that struck the post before Mane swooped to win the 227th Merseyside derby."