Jurgen Klopp wants Anfield at "100 percent" as Liverpool take on Southampton in their League Cup semi-final second leg.
The Reds welcome Southampton to Merseyside having suffered a 1-0 defeat at St. Mary's in the first leg, and more recently, a 3-2 loss at home to Swansea City in the Premier League.
At Anfield on Saturday afternoon, the atmosphere was noticeably flat, due in part to Liverpool's poor form so far in 2017, but also the early kick off on a cold January day and an opponent who again sat deep.
But addressing the media at Melwood ahead of Wednesday night's decisive tie, Klopp called for an improvement from both his side and their supporters, as the Reds look to turn things around.
"I can feel it's not that positive around us any more. It's our job to bring everybody back on track," he said.
"I expect it again, it's a night game at Anfield and the impact would be unbelievable with an outstanding crowd.
"The first half [against] Swansea was not the most exciting game in the world, but that's the job we have to do.
"You can't create chances second by second by second. Even Albert Einstein would have said, not possible.
---
"We have to learn as a team, I even saw it in the body language of our team.
"At half-time it was positive. Then after 2-0 down the crowd was there, everything changed.
"Then we conceded the third goal. It makes no sense but it happened. But should we only think about the third goal against Swansea?
"If we win every game from now, everybody sits here and smiles.
"Life is no guarantee. A football season is exactly the same, everybody wants to, but we have the opportunity to do our best everyday.
"My job is to tell the boys. Let's fight again, this time Southampton at home."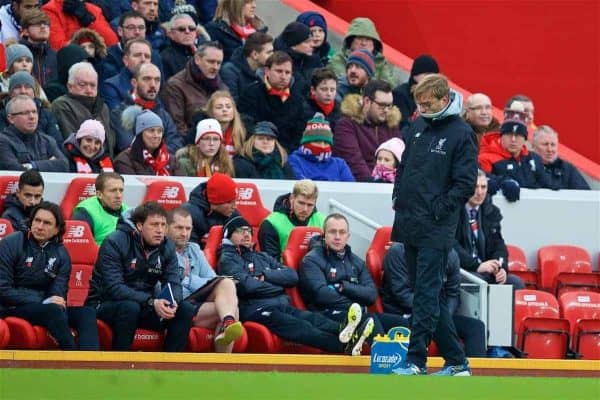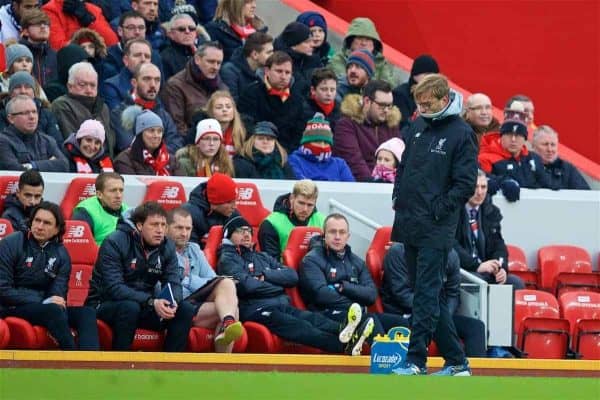 The loss to Swansea was Liverpool's first at Anfield in a year, and this shattered record serves to underline the malaise on Merseyside since the beginning of 2017.
However, Klopp insisted this is not playing on the minds of his squad, and that their approach to every game should remain the same, regardless of the circumstances.
"If we won against Swansea do you think we'd go into the Southampton game with the wrong attitude?" he continued.
"I expect 100 percent from us, I expect 100 percent from our crowd, that's all—in each game.
"The record didn't mean anything for us, it didn't feel like this because a home draw often feels like a defeat.
"I know we could have done better [against Swansea] but I'm not afraid what other teams think."
The German clearly feels the impact of a positive Anfield atmosphere will negate any confidence Claude Puel's side will take into Wednesday night's clash along with their lead.
Klopp is right to acknowledge this, as he has done throughout his tenure, and he is right to acknowledge that it is a two-way street—with Reds in desperate need of improvement on the pitch.