Jurgen Klopp believes Philippe Coutinho is in the "very top bracket" of talents, with the German hailing his new long-term commitment to Liverpool.
After considerable speculation over his future on Merseyside, Coutinho signed a new five-year deal with the Reds, making him the club's highest earner.
The Brazilian's new contract will keep him at Anfield until 2022, and is worth around £150,000 a week.
This underlines Liverpool's faith in their No. 10, and their endeavour to strive for success by retaining their most important players, with Klopp praising him as one of the best.
"This is wonderful news and I know everyone associated with Liverpool FC will be delighted when hearing this today," the manager said on the announcement of Coutinho's extension.
"I think everyone knows what a great footballer Phil is, that is not in question.
"But not everyone sees what an incredibly positive character he is and what a big influence he is on the dressing room.
"I knew of Phil before I came to Liverpool and I was well aware of what a talent he was.
"But since arriving here I have not only witnessed his ability up close, but also his ever-continuing development. He is truly world-class—in that very top bracket."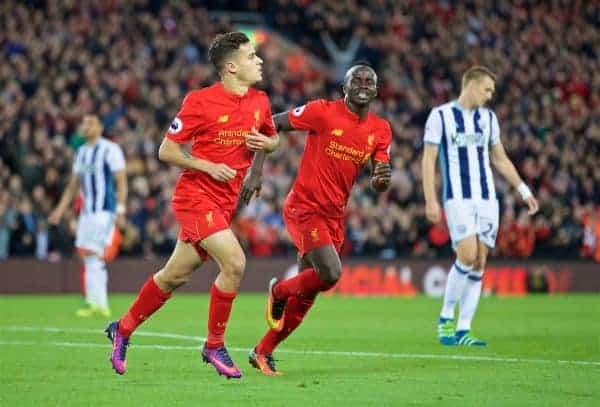 One of the most important parts of Coutinho's deal is the absence of a release clause, striking back at very public interest from Barcelona.
The 24-year-old has already established himself as one of Klopp's key players, but his commitment to the cause on Merseyside is a major boost, as the German continues to build.
"The fact he wants to stay here and be part of what we are looking to build and develop shows his personal commitment is to make himself better and be an integral part of something that is very special," Klopp continued.
"We have total belief in our project, but when a player of Phil's calibre and status commits for this length of time it shows that our faith is shared throughout the game.
"He knows he can fulfil his dreams and ambitions here at Liverpool. This is a big statement.
"I look forward to seeing Phil create many more great memories and moments for this club."
Coutinho already has 34 goals and 35 assists in 163 games for Liverpool, scoring six and assisting seven in 18 appearances this season so far, but Anfield can now look forward to more.
A player Klopp is looking to build around, Coutinho has been rightly rewarded, and can now look to repay this on the pitch.