Liverpool coach Pepijn Lijnders spoke to the Times journalist Jonathan Northcroft, providing invaluable insight into the club's focus on youth.
The following Q&A is republished with permission from Jonathan's official Facebook page. The original article can be found in the Times here.
---
NORTHCROFT: What did you learn at Porto and PSV that you wanted to bring to Liverpool?
LIJNDERS: That to be able to compete on the highest level with your own players it is a big advantage if you can create an academy that produces players for a specific style of play, so that the style becomes the playmaker, instead of that you buy the playmaker in. At Liverpool, that is the counter-pressing style we have in this moment…
That if you bring one or two young players through it opens a pathway for all the rest. This has happened with PSV. Ibrahim Afellay and Ismail Aissati—the moment they arrived all the next generation got their chances. It was the same with Porto, with Ruben Neves getting in. Ruben opened up the door for everyone by accelerating the processes with young players and creating the right projects around young players. Giving them the belief that it's possible.
Were both clubs good models for Liverpool, because they recruit not just local but from around the world?
That's the main target with youth development. Porto is the best, or one of the best, scouting machines in world football, and we created there a five-year project—they called it the "6/11 project", because it was 2006-2011—where the target was that if we buy the best talented players in the world aged 20, 21, 22, we have to also create in the academy players good enough to compete with them.
The manager will always choose the best players. So we wanted to create a style of play that stimulates constantly attacking skills. Because that Brazilian boy from seven years old, before he came to Porto, had to make in each game 20 decisive actions—so he will develop in a decisive way. Able to play quick combinations, through passes. He develops a style where he became very attacking minded.
So you have to match that in your academy. You have to match that style. Because the biggest development comes from the collective approach style of play.
It's a big advantage of bringing your own players up because it creates a father-son relationship with the club and everybody knows that relationship is based on loyalty, that when there has to be decisions for their future the player will decide with everything in mind…including that we were the ones that gave them their opportunity.
This is a really powerful weapon to compete. For Porto it was a powerful weapon to compete with Benfica and Sporting. For PSV it was a real powerful weapon to come back and fight vs. Ajax. And for us of course it is a new project, trying to create a new generation of Liverpool players who can compete with the best signings of the other clubs. And we really believe, with Jurgen as the main motivator and stimulator of these processes, that this is possible.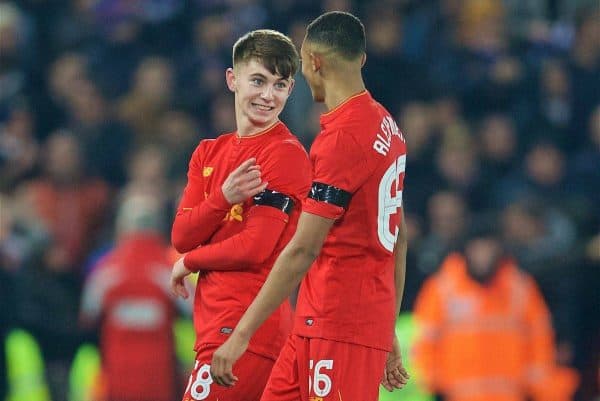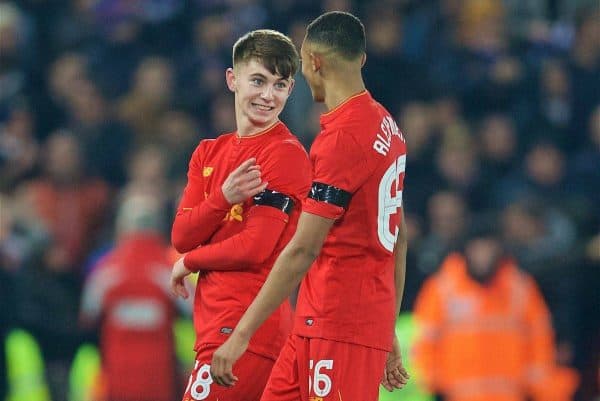 What 'extra' does a team comprising players who grew up together possess? Compared to the team of star signings for instance…
First of all in modern football you don't see any more a group of players who stay together and are from the same culture. What you see in modern football is players who come together from different places for a short period of time.
The most important person to create clarity in terms of style and structure is now the coach. The connections, the sectors, lines, the players working better together—that comes from the coach. A big big task.
In the past every club had a core group of players from the same culture. They decided the way of playing. The coach came in. Whenever they were touched by a top coach, they won everything. This happened in every country. Sacchi and Milan. Cruyff and Van Gaal with Ajax…
What you can create with your own academy is this, what you had in the past. We started the Talent Group so that we have a 15-year-old training with a 19-year-old with the only goal that they know each other. They know the rules of Melwood, they know the staff, the kitchen, all those things…but the most important thing is they know each other. They link with each other.
Because in the end, and this is our main main goal, is that they play together in the first team. And that this is not the first time they have played together. They know each other from 15 years old. And this is only possible if you create a situation where the best 15-year-old is training with the best 19-year-old.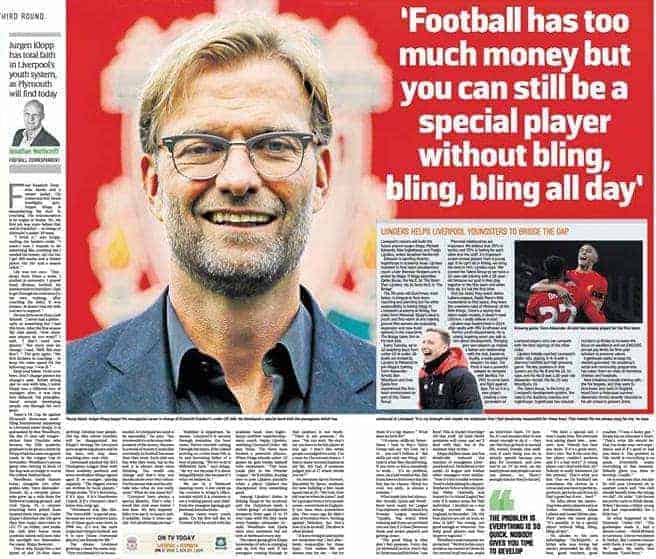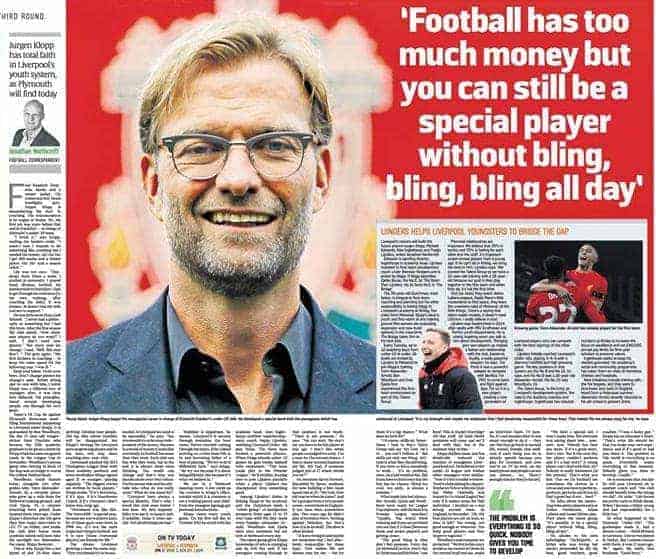 There's a saying that talent needs models, it doesn't need criticism. I really believe in that. So at the moment we bring Trent, Ovie and Ben up and they can watch Adam Lallana, the way he prepares himself in the physio room, the way he prepares himself before the training session, how he puts his shinpads on, how he treats his boots—everything. All these small things, these unwritten things, for young players to learn from their models is so important.
That's before you even speak about the pitch: how Phil controls the ball and turns away, how Hendo is the playmaker from out the back, the motor. And training. They see how Sadio is creating space for himself before he receives the ball—that is one of his biggest strengths, so he play one vs. ones in the areas we want him to.
And Ovie and Trent and Ben, they can learn from that. And now when the new Talent Group is in, Paul Glatzel, Luis Longstaff, Curtis Jones—they learn from Trent, they learn from Kev Stewart, they learn from Pedro Chirivella.
It's a one-club mentality. With our vision. With our future. With our ideal—and the ideal means the playing way: what makes us specific, what makes us recognisable. And that's indirectly we try to represent the fans. We want to represent their passion. That's why we choose this style, because it all has to link together: the manager, the coaches, the players, the staff, the academy boys, the fans. That all has to come together. And over time you can compete.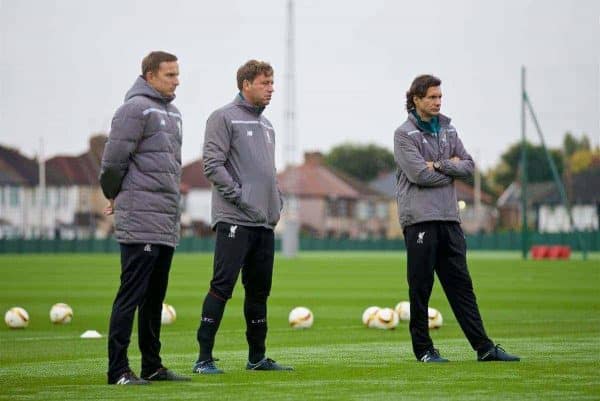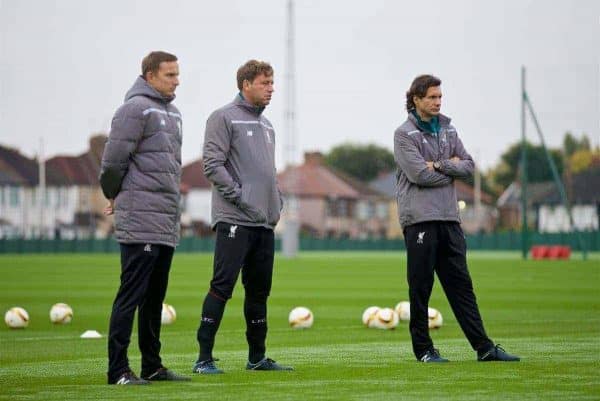 It is your responsibility to look after the Talent Group…
My first responsibility is to assist Jurgen and Zjelko, to try to create a recognisable LFC style—that is not only for now but the future. So it's planning sessions, preparing for the next game and the next game.
Second role is to create a situation where the academy—which is far away in Kirkby—and the manager have a bridge. Once, it was this big and now we make it smaller and smaller. And the Talent Group is something that happened because at a club as big as LFC it is impossible for the manager to watch every youth game, so I thought if the manager can't go there and can't see them…okay, we can bring the best of the academy to him.
Personal relationships are important. We believe that 30 percent is tactics and 70 percent is feeling for each other and the staff; team spirit we call it. If we believe in that, then it's important Jurgen knows these players from a young age.
So, one time a week, Melwood is these young players' home. Monday, Wednesday, Thursday, Friday, Saturday, academy at Kirkby. Tuesday, Melwood is their home. To learn the unwritten rules. And to create a relationship between Jurgen and these players.
Say Curtis, or say Yan Dhanda…if now we have to make a decision about a left winger coming in, Jurgen knows inside out Ben Woodburn. That's really really important. Because in the end these decisions make or break a young player's career.
We want to create something unique. Jurgen always says if it was simple everyone would do it, so it's not that easy.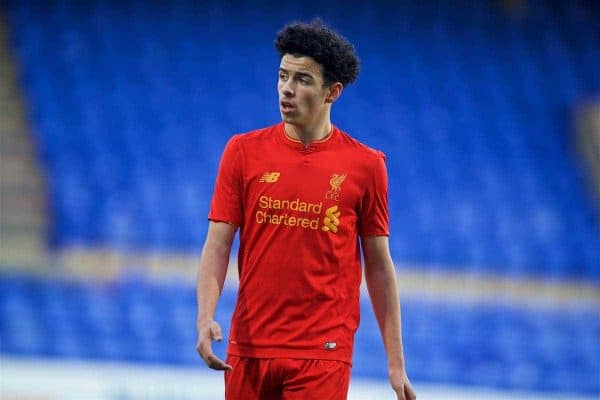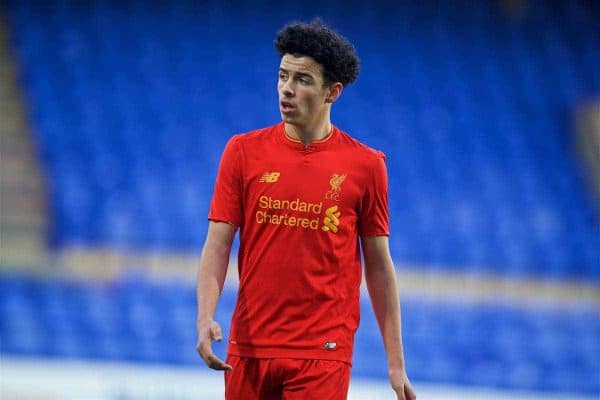 What are you looking for when you select for the Talent Group?
Character No. 1. Talent No. 2.
Talent because the game is complex. Talent can be in many different ways—if you're quick in your mind and not quick in your legs you can still be a talent.
But character, the passion, the ambition…I've said before that love of the game is the most important quality that drives a player. But you can stimulate these things. What can you create in a training session to stimulate the competitive process?
If there are five things you try and put into a young player they are 1) hard work, 2) self control, 3) skill, 4) team spirit and 5) competition. We go through these steps with every young player. But passion and ambition are the first things we look for. Passion and ambition stimulate 99 percent of development.
And what all the boys in the first team have in common are these five characteristics. Putting your heart into every training session. Earning the respect of everyone—and that's what we say, you have to earn the respect of everyone and earn the respect of yourself. By giving everything.
Am I right in thinking the first group you took when you arrived in 2014 were the Under-16s, featuring Ben and Trent?
Yes, Trent was my captain.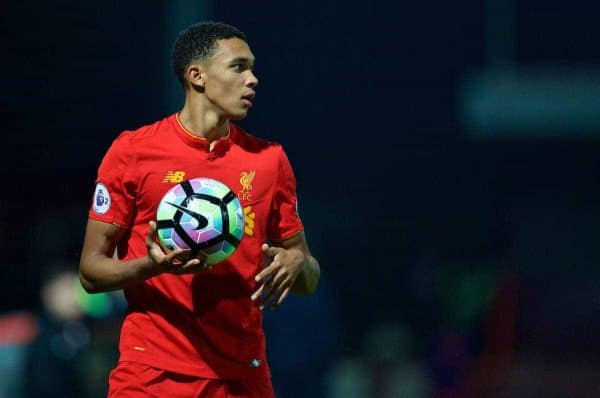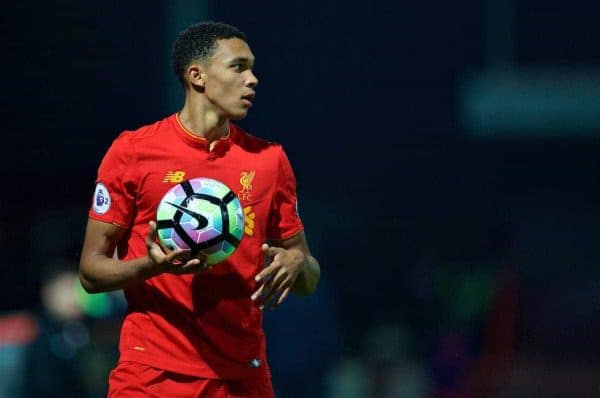 And you are not surprised by where they are now?
No. We played all season almost the same style. We had 3-diamond-3. We started with the ideas of a high pressing game and that we don't defend our goal, we defend the midline. The idea was the attackers were the first defenders, so it was total football.
And there are certain positions in that structure where overload situations, offensively and defensively, develop. These are key positions. Six and 10.
We try and find the best player to construct the game out from the back, to have the right timings, to have the pause and ability to speed it up. And Trent always plays there. No. 6. My Ruben Neves. I always put Trent at 6. Why? Because every attack he is the main guy, the pivot, the lighthouse of the team, guiding the rest.
And the second key position is the No. 10 position. Because this player has to structure the press, to be able to jump to the centre-halves at the right time and he gets stressed offensively and defensively. And my 10 was Ben Woodburn for the whole season.
Trent and Ben went through a big big development since then—and the very biggest development was Jurgen putting them in.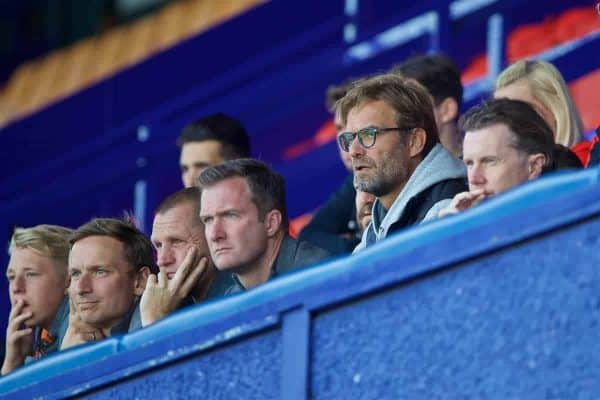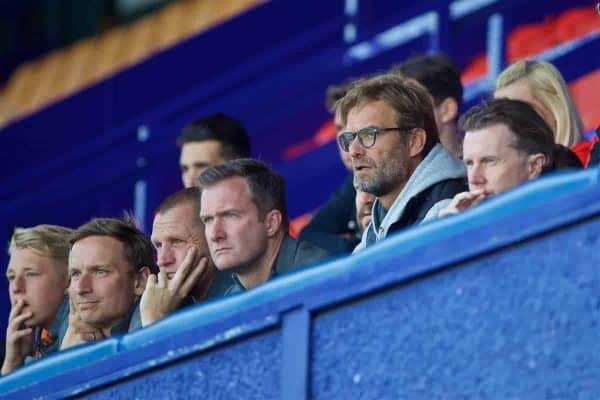 You're right to mention that, because I always think, in youth development, that without the first-team manager giving talents chances at the end of it, the whole process counts for nothing…
Yes, and that is why first-team staff in world football is responsible for youth development. Not the academy. First-team staff is responsible for planning, for starting projects, for accelerating development, for knowing young players from a young age. The moment clubs split academy and first team…you have nothing.
What do the best teams in the world have in common? Generally, it's a one-club mentality. That the same exercises, the same style drops all the way down. That first-team coaching staff feels the responsibility.
We are not in this job to participate. We are in it for silverware. Period point. And we believe it is an advantage to use young players. Because lets say Ben and Ovie…if we lose the ball, for them it's an invitation to counter-press. For many other players who come in it's a moment of 'oh, we lose the ball'. But if there's an immediate reaction to see the positive side of losing balls, then counter-pressing becomes an offensive weapon. Because from 13, 14, 15 years our players are learning this.
And the big advantage of the style is the higher intensity stimulates each individual to have a quicker mind, to know what happens before it happens. And that in itself helps: the player with the quick mind makes development quicker.
But one thing that's important is to say my Talent Group is just the icing on the cake. The cake is the Under-16 coaching. Alex Inglethorpe. Alex Inglethorpe…wow! That's the cake. This is just the icing.
---
Thanks to Jonathan for allowing us to publish this hugely interesting interview. You can follow him on Twitter @JNorthcroft.