Jurgen Klopp previewed Liverpool's weekend clash with Manchester United on Friday afternoon, discussing his side's hopes at Old Trafford.
The Reds take to Manchester on Sunday, in what proves to be a significant fixture in the race for the Premier League title.
Liverpool head into the weekend second in the table, five points behind leaders Chelsea, but also five points ahead of sixth-placed United, underlining the close fight at the top.
Victory over Jose Mourinho's side is vital, and speaking to reporters at Melwood on Friday, Klopp provided a preview of the trip to Old Trafford.
The German discussed the fitness of the returning trio of Joel Matip, Jordan Henderson and Philippe Coutinho, but stressed that he had made no final decision over his starting lineup.
"They were all in training yesterday," he said, "I'll wait to see how they reacted."
Klopp also praised the improvements made by Mourinho at United since October's 0-0 draw at Anfield, with the Reds' rivals currently on a nine-game winning streak, scoring 19 goals and conceding just three in that time.
"They are better than [last time], more used to each other. Henrikh Mkhitaryan is an important example," he explained.
"They can use his outstanding quality. They're more confident—a different side."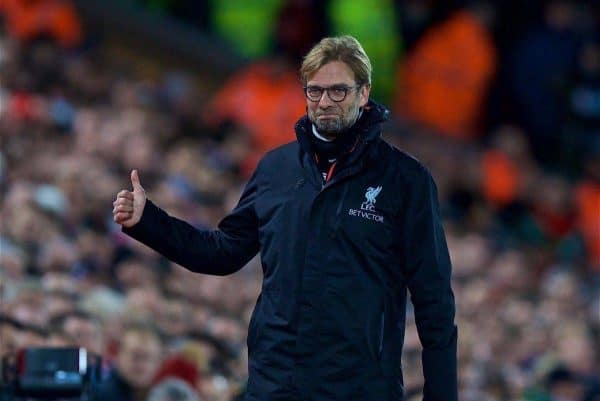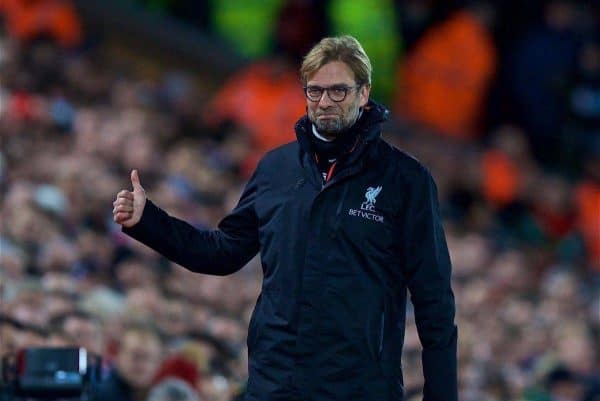 But the 49-year-old is confident his side can rise to the challenge and ensure United's successful run doesn't continue.
"We are excited about the opportunity to go there and show our best. Both teams are in good shape in the long term," he said.
"We can lose against each team, but we can win against each team.
"We will realise earlier, before the game, that we are Liverpool. Let's show this, we can be different to any other team.
"Everyone wants to be a real fight for the result. It'll be 100 percent from our side."
Wednesday night's 1-0 defeat to Southampton in the first leg of their League Cup semi-final served as a blow to Liverpool, but Klopp retains the belief they can succeed this season.
"The last game doesn't make us weaker, it should make us stronger," he attested, and the hope is the Reds can muster the perfect response at Old Trafford.