Liverpool can't let their January malaise go on any longer, with Jurgen Klopp in need of quick solutions to his side's many problems this month.
Draw, draw, defeat; draw, win, defeat, defeat.
Whatever spin anyone tries to put on it, January hasn't been good for Liverpool: the only win came against League Two side Plymouth Argyle, and the only clean sheets in seven also came against them.
There isn't much chance to sit back and reflect either—the Reds still have two more games this month and if things don't pick up, the season could be almost over just as it was getting exciting.
Wolves, in the FA Cup: both sides out of form, but the typical, classic cup scenario of a lesser side scenting blood and raising their game to perform a giant-killing act.
Chelsea, in the Premier League: the Reds were challenging them for top spot only a few weeks back; lose this one and Jurgen Klopp's men will likely be out of the top four.
It's a shocking run to be in, heading into such pivotal games, but the results and performances are all the more excruciating to bear because of the juxtaposition against the run immediately preceding them: one defeat in 21 (23 including the draws at the start of this recent slide).
Lacking Intensity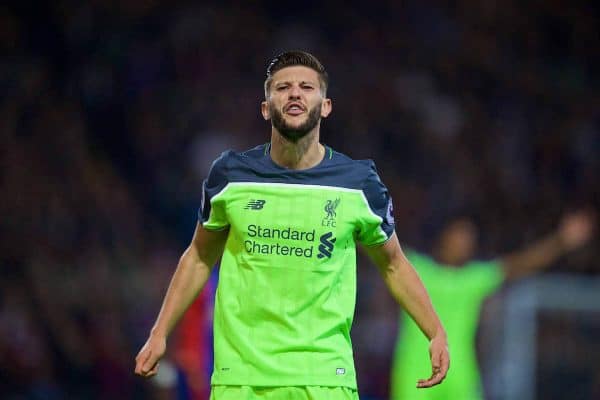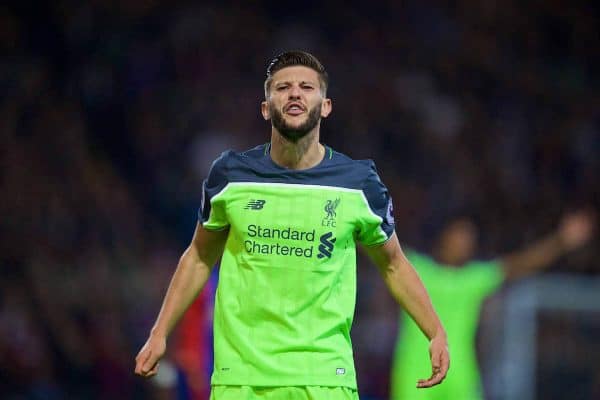 All that was good about Liverpool in September, October and part of November is gone.
The panache and verve in the centre of the park, the flooding of opponents in their own half and the deadly intent from not just the front three, but the next three behind them too, to create and escape and shoot.
All of it is missing at present, replaced by leaden-footed sideways motions, incohesive, positionless scrambles to defend counter-attacks and a worrying lack of clinical finishing.
Two excellent Roberto Firmino strikes against Swansea aside, even the Reds' recent goals have been borderline tough to see: a penalty, a header off a corner…and that's it, in the last six games.
Two key aspects of the team's play has led to this stalemate: a lack of tempo in the build-up and a lack of movement in the attacking half.
Put those aspects together and they make up a large part of the attacking intensity for any team—the speed at which they play the ball and the speed at which they find space off the ball—and considering how reliant Liverpool were on that approach when things were going well, it's not difficult to see why, without that movement and speed, results have been rather less impressive.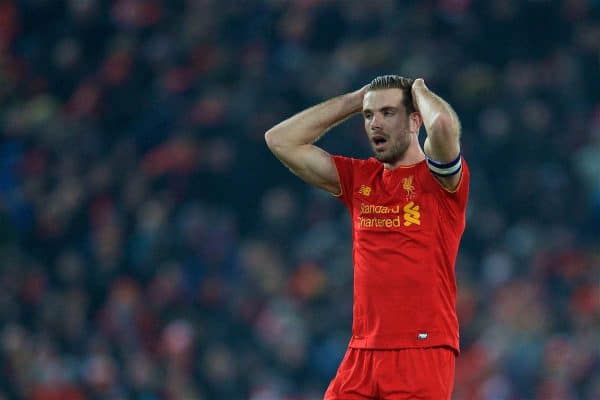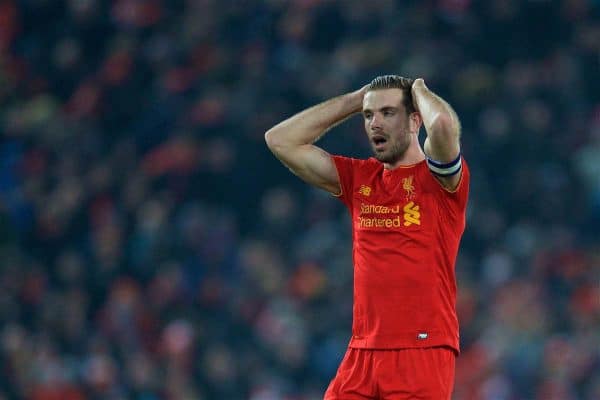 A single moment against Southampton in the League Cup semi-final second leg summed up Liverpool.
With just a few minutes remaining before half-time, Firmino tracked back and won the ball in midfield. Saints had four or five players caught ahead of the ball for the first time in the game, yet there was no surge forward from red shirts.
There was no moment of recognition that this was the trigger, that turning Saints around meant an overload in at least one area of the park. Emre Can combined with Firmino and the ball reached Daniel Sturridge, but eight seconds after the ball was won, the Reds lost possession with just one player in the Southampton penalty box and only Firmino breaking his neck to support.
Pace, pressing, challenging high, immediate overloads after transitions. Intensity. All of it, with one or two individual exceptions, gone.
Individual Efforts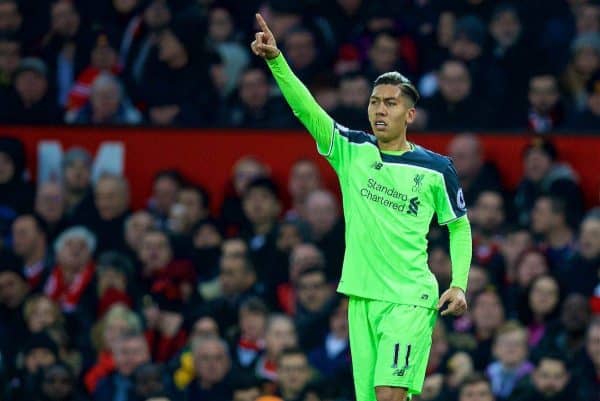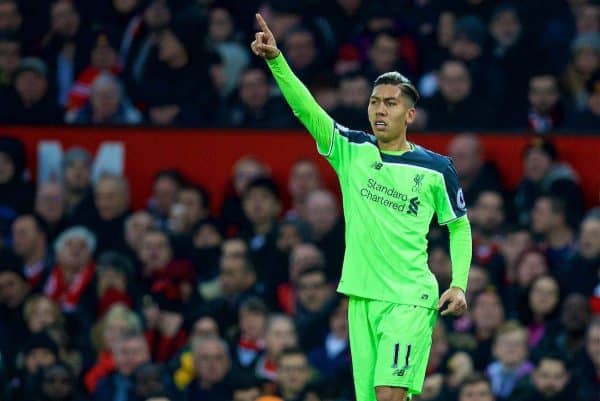 Firmino can largely be classed exempt from criticism over the past few games, but that's an irrelevance, for the entire methodology of Klopp's team demands the team working together.
One player pressing merely means a space opening up; four closing ranks behind him means a second ball is won, a passing lane is shut off, support is in place after a transition.
Criticism has been aimed the way of Sturridge and Can of late, and they may well have had dips in form. But they cannot be solely responsible for that. Firmino himself had a severe and sudden drop-off around Christmas, overlooked as the team was still taking results, but his impact was minimal.
Discussed some months ago, could it be that being involved for the first time from the beginning of the season and right through, without a winter break, affected him?
By New Year's Day in the 2015/16 season, Firmino had featured for 825 minutes in the Premier League. By the same date this term, his game time stood at 1,596 minutes. It's a big jump, and he has been critical to the team's performance.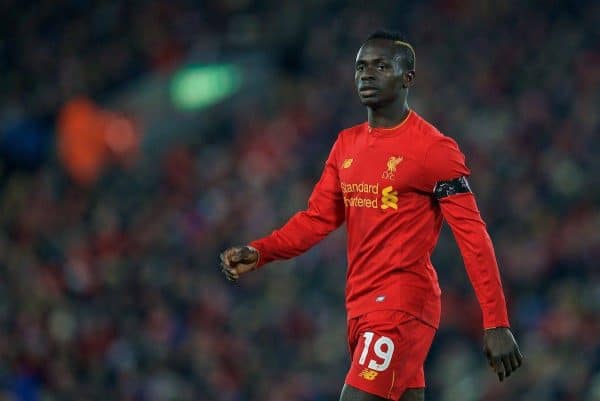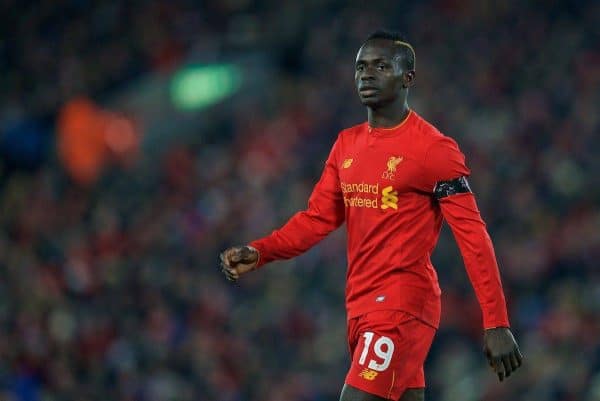 Sadio Mane's absence has been a factor too, but if he is missing, between them Sturridge and Divock Origi should have been able to have an impact.
But it's 10 without a goal for the Belgian, with five of those appearances being for an hour or more, and Sturridge's issues are longer-running: without a few games in succession to find rhythm and balance, timing and finishing, just how many strikers come off the bench to start and score in a run of games?
Especially when the rest of the team is, largely, creating nothing? Yes, he missed two very big chances—he'd be expected to net one in most cases—but he'd also expect to get more than two chances across two legs of a semi-final, and there simply wasn't the service.
Further back in midfield and from full-back, a lack of rotation and clear overuse of some players has undeniably been a factor and one which Klopp has to accept responsibility for.
Collective Malaise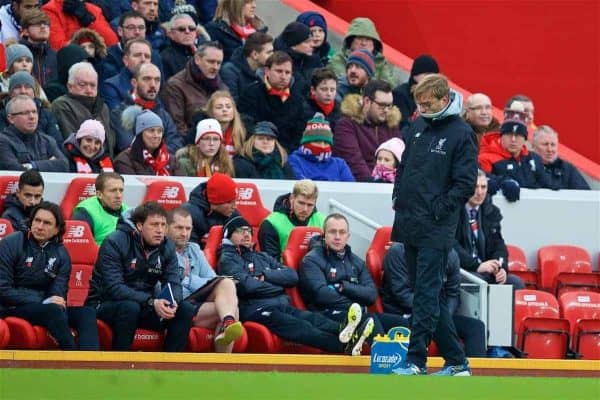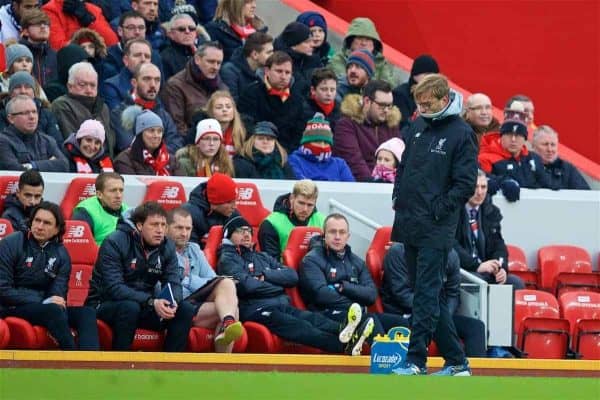 While the squad has been settled for most of the season and changes to the XI haven't been necessary, when the games have come thick and fast, the backup options a) should have been pushing to feature and b) should have been utilised.
From the outside we have no way of knowing if, for example, Alberto Moreno has been stinking up Melwood with a bad attitude, or Kevin Stewart has failed to make a single pass since scoring his worldie in training, but assuming those exaggerated scenarios are not the case, it's increasingly strange how little Klopp changed up his side.
Wholesale changes against Plymouth is one thing—the correct course of action, absolutely—but making Jordan Henderson for Sturridge the only change between games less than two days apart was a worrying start to 2017.
There seems very little reason why Sturridge couldn't have started several of the games and, in rotation, Lallana, Firmino and Can were left out, for example. While five and six changes can unsettle a side, one alteration for a completely fresh player can revitalise a section of a team.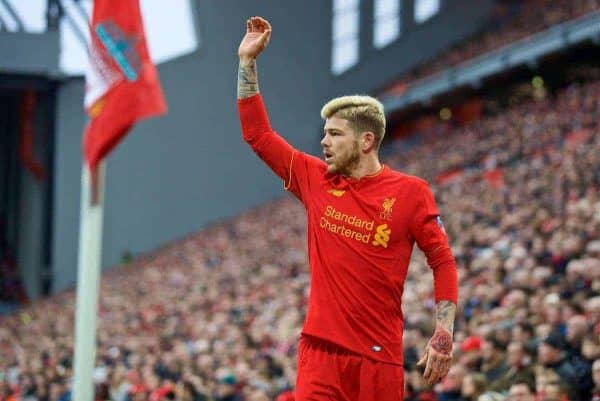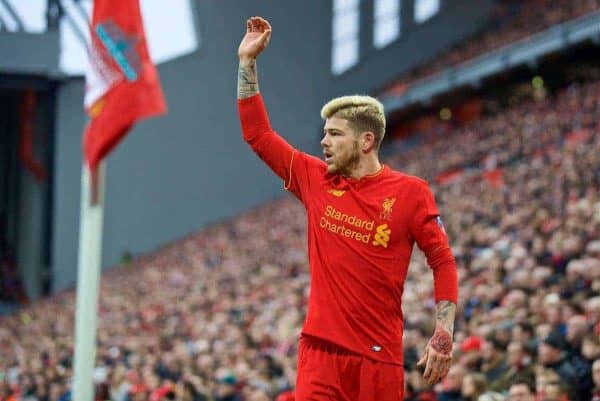 Other than against Plymouth, Moreno has played just 45 minutes in this big run of fixtures.
He has his critics, but his explosive nature of attacking and ability to tackle hard and surge forward could have really shifted the ability of Liverpool to switch play quicker against Sunderland, for example, had he played the whole game and not just a half.
Small decisions, difficult to justify over months, but with games coming two and three days apart, even one or two changes here or there could have both raised the intensity of Liverpool's play and helped keep the usual key players closer to their optimum fitness levels, which right now they are clearly some distance from.
Liverpool's Season in Context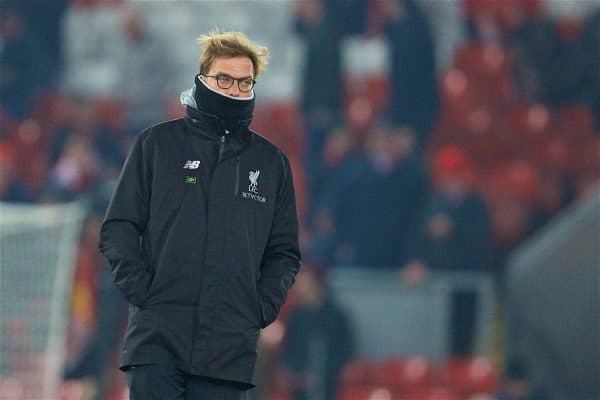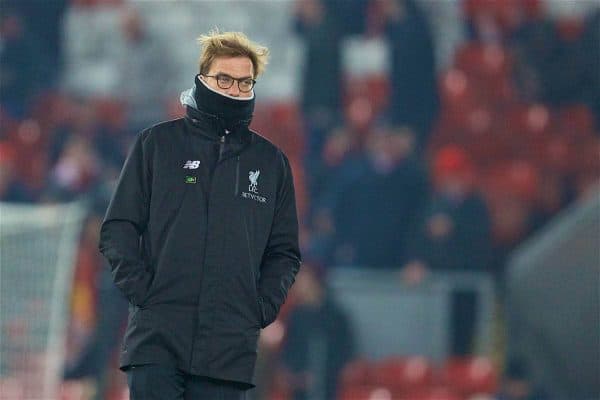 Seven games, one win. But it's not the end of the world. January has been terrible (and can be viewed as even worse since the Reds could have done something about it in the transfer market)…but short-termism cannot be tolerated.
That goes for results as well as form, for fitness as well as commercial strategic approach.
Despite continual setbacks and missing out on a cup final, Liverpool are just two points off second place in the Premier League, with 48 points still to play for.
Given the predictable surge in quality with the addition of genuinely top-drawer managers—including Klopp—to the best league sides, the fight for the top four will go all the way this season.
Chelsea lead the way, but remember the start of the season? Antonio Conte was already under pressure after his side won one in four around September, including losing to Liverpool.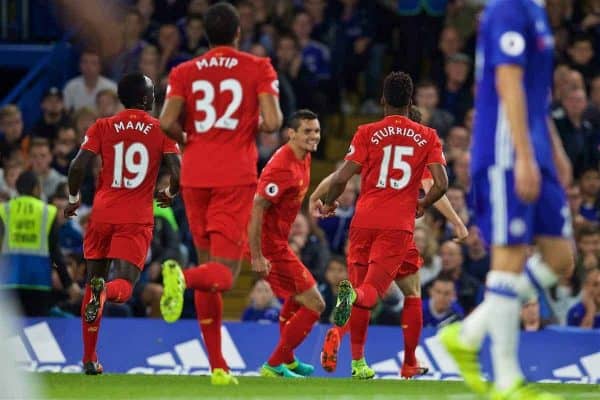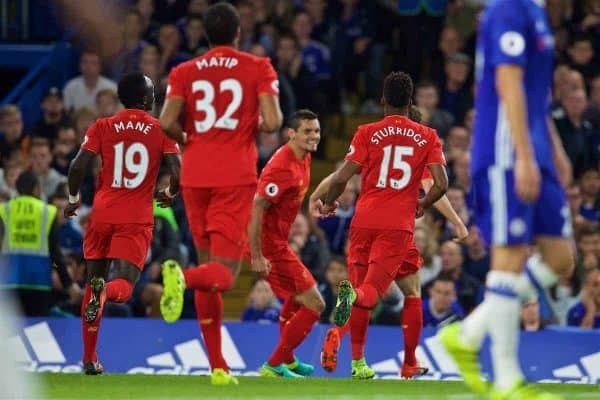 Arsenal won once in five in November, and lost back-to-back games before Christmas while all their rivals picked up six points.
And Jose Mourinho lost three in a row with Manchester United in September, then won two in seven across October and November, before a much-improved recent run.
Short-termism is useless. A season is long. Form varies, and all clubs will have a dreadful spell where the headlines scream out SEASON OVER!! and the manager, bored, fends off repetitive questions about his future, safe in the knowledge that—most times, at least—order will be established once more within a few games.
Now, it's Liverpool's turn.
How Can Klopp Solve This?

It's no good waiting for something to happen and results to miraculously pick up, of course; Liverpool have to get themselves out of their funk and find a solution.
The easiest, yet an unlikely, method is to sit in, work hard and only use the counter-attack to exploit teams on the break, grinding back goals and confidence.
It could work against Chelsea; it's unlikely to please or appease the Kop against Championship side Wolves.
The players as much as the manager have to accept that big games demand big performances, and the Southampton debacle was unacceptable in many ways. This cannot be allowed to become a team which loses on the big stage, a tremendously difficult tag to overthrow, both in reality and reputation.
Change some, not all, the team for Wolves, allow a mix of talent and fitness to overcome the opposition, and move forward with (hopefully) a victory before the Chelsea game.
The ragged racing back to the penalty box when teams counter is something which must be remedied and rectified on the training ground, but the trigger points, the moment of reaction to flood and overwhelm, is already within the players—they simply aren't reacting to it right now.
A spark, a goal, a reason to fight. The season is far from over, but these next two games are big.