We'd all like a signing or two this month, but Jurgen Klopp has repeatedly said it's not a good time to buy. Chris Williams takes a look at why.
January tends to bring the worst out of supporters at all clubs. Many pine for that elusive £40 million signing that will ether guarantee European football, or sustain a credible title challenge.
Liverpool fans seem no different from the rest, yet occasionally their mind-set couldn't be further from the truth. At times fuelled by tin-hat conspiracy theories of foreign owners and buoyed by hours of Football Manager, there is an opinion that football transfers are ever so easy.
The reality couldn't be further from the truth. The January transfer window is a notoriously difficult one to navigate. Managerss don't seem to like it and neither do players – even if there are always exceptions to the rule.
Many Liverpool fans will remember the departure of Fernando Torres to Chelsea in the January of 2011, whilst the record books will show that Torres left for £50m the transfer itself was far from routine.
Torres was in a slump, a genuine decline; he was a shadow of his former 2008 to 2010 self. The offer from Chelsea was one that could not be turned down, especially when the player himself had mentally left the club due to the broken promises of previous regimes. He wanted instant silverware and Chelsea offered him that chance rather than a rebuild with Liverpool.
Daniel Sturridge, Philippe Coutinho and Luis Suarez are three more bucks to the January trend, and become the go-to names for supporters who try to argue that the January window is one for immediate purchase.
Sturridge was surplus to requirement at Chelsea, farmed out on loan and not given a chance to impress with the first team, it was Brendan Rodgers who took the chance to try and revitalise his fortunes.

Many across football will question why Inter Milan let Coutinho leave when they did – leaving for £8.5m in the January transfer window now looks a mistake to all who watch him play.
Luis Suarez, arguably one of the most talented players to ever wear the Liverpool red, was not without his problems. Suarez was ineligible to play for Ajax when Liverpool signed him in 2011. The then Ajax captain was serving a suspension, for biting, which would have seen him out until February of the same year. It wasn't the first time the Uruguayan had found himself in trouble with the Dutch FA and the offer of £22m from Liverpool was one Ajax couldn't turn down.
Had all the aforementioned players been at the very top of their game; devoid of problems on and off the field, there is little doubt their clubs would have been reluctant to sell – or the players be willing to move.
Can you imagine the Daniel Sturridge of 2013, and the form he was in, leaving Chelsea for a pittance had he stayed with them? A sublime Torres full of hunger, in a team challenging for the title, opting to leave for Chelsea in the January of 2012? A composed and happy Suarez, like the one now at Barcelona, leaving perennial Champions of Holland, Ajax, mid title charge?

The cold reality is that players who are in form and happy at their respective clubs are loathed to leave in the mid-winter with the clubs who own them even more less inclined to see their stars leave at the halfway point. If you want true quality, one that will bring players in who make a difference – the January window is rarely the one that sparks movement.
January 2017, although not even 50 per cent of the way through, already has many Liverpool fans crying into a pot of hysteria. Not content with second place in the Premier League and a domestic cup semi-final they crave often impossible additions.
Quincy Promes and Julian Brandt are this year's Marco Reus and Yevhen Konoplyanka. Both the latter were heavily linked to Liverpool in January's gone by.
Reus – linked by parts of the national media who know that LFC "news" drives sales and web clicks; Konoplyanka linked by a genuine interest that saw Ian Ayre travel to the Ukraine.
In short Reus was not interested in any move to Liverpool. Flying high in both the Champions League and in the Bundesliga with Borussia Dortmund, no offer from Liverpool (or any other club) could have made him move that January, or any subsequent window.
Konoplyanka had a buyout clause that was met by Liverpool but the Dnipro owner, Ihor Kolomoyskyi, didn't want to lose the player so simply ignored the clause – deliberately actioning the paperwork too late for Liverpool to sign him.

Unfortunately for Liverpool the self-confessed 'best league in the world', the Premier League, is not the centre of world football, no matter what top class advertising may argue to differ.
If a player isn't interested he won't come, if a team do not want to sell, they will not sell. Liverpool's stubbornness to allow Suarez to join Arsenal should remind even the most reality blind supporters that not for sale means – not for sale.
If recent reports are to be believed, Liverpool have walked away from negotiations to sign Spartak Moscow's Quincy Promes. This has led to many comments across different social-media platforms that Liverpool are unable to negotiate or close deals.
Manuel Veth; editor for Futbolgrad.com with a PhD in 'Football's transition from Communism to Capitalism in the Soviet Union and its Successor States' explains why this is not the case:
"Spartak are currently five points ahead of Zenit Saint Petersburg, and eight points ahead of CSKA Moscow – with only 13 games to go it is therefore safe to say that the league is theirs to lose. Despite enormous investments Spartak have not won a league title since 2001, an eternity for a team that virtually dominated the Russian Top League in the 1990s – winning nine out of the first 10 titles after the fall of the Soviet Union."

Manuel goes on to explain:
"Lukoil's sponsorship deal with Spartak make them exceptionally rich – hence they don't need money from a potential Quincy Promes transfer – at the same time Spartak are a hugely popular club. Russia's largest private oil company tycoon, Leonid Fedun, owns the club – he's reportedly worth $5.4 billion. Even with the current problems in the Russian economy, Lukoil has an annual income of $7.8 billion."
His final comment, though, is potentially the most telling "Spartak will do anything in their power to secure the title."
Add into this that Promes currently only pays 13% tax in Russia, players are considered Artists and therefore pay a reduced rate. With the UK tax system Liverpool would have to offer Promes somewhere in the region of £112k to £115k a week to match his reported close to €5m per year salary after tax. If indeed Liverpool did walk away from a deal the underlying reasons are ones that can be understood.
Julian Brandt is another name that has sunk a number of Liverpool fan's hearts during the past 48 hours. With many calling for the club to simply "throw money at Leverkusen to make them sell". If only real-life was as easy as a computer game – See above!
Brandt said, in an interview this week with German publication Bild, that he was "exceptionally happy at Leverkusen" even commenting he would turn down a move from Bayern Munich should it be forthcoming.
Liverpool are forced to queue and wait, along with Bayern Munich and Borussia Dortmund who will try and tempt the winger away from Bayer Leverkusen in the Summer. No amount of 'throwing money at him' could make him leave midwinter.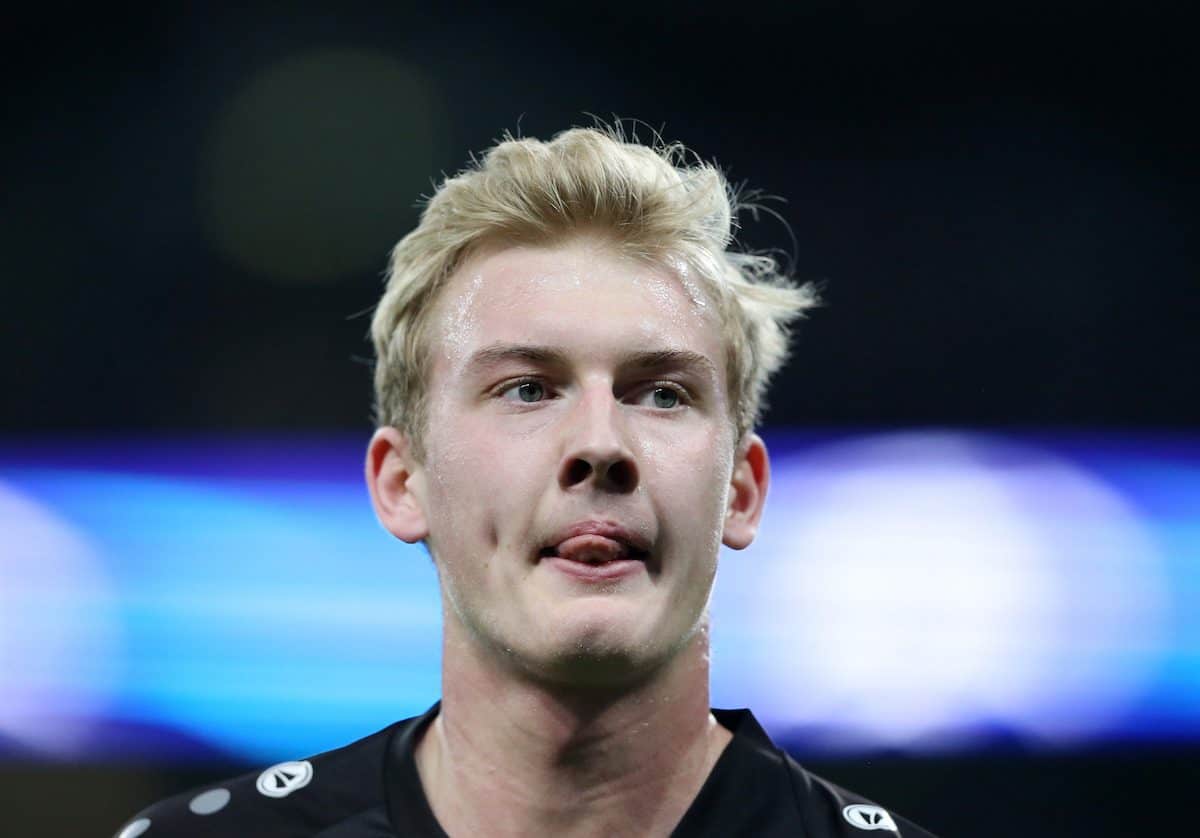 Then we come to, arguably, the most important factor – The manager. Klopp is no fan of the winter window; in fact, he comes from a nation that in general is no fan of the January transfer market.
Manuel Veth – also an expert on the Bundesliga with fussballstadt.com and Bundesliga.com explains why:
"It is to do with planning really. Bundesliga teams only go into the winter transfer market when things have gone horribly wrong in the first half of the season, or when the squad is decimated by injuries – like is the case at Schalke 04 currently".
Occasionally though, like in England, big moves do happen in Germany during the winter break. "Sometimes teams might purchase a guy in the winter, because a dream player becomes available, someone who was on the list for the summer suddenly becomes available – Marco Fabian at Eintracht Frankfurt was a good example of this.
"German managers, on the whole, feel that many players available in the winter window are so for negative reasons – they didn't play consistently at the previous club or had injury problems" a carbon copy of why Daniel Sturridge was made available by Chelsea in January 2012.
"German managers' don't like the risk involved with integrating a player during the short-term winter break of the Bundesliga," explains Manuel, before finishing with maybe the biggest key point in Klopp's current thinking: "This is made worse in England by the fact that there is no winter break."

Liverpool fans across the globe welcomed the managerial appointment of Klopp but now look to question his methods during the January window. It is evident that Klopp works to his particular style – decisions are made by him according to his principles.
There have been instances in the recent past where Liverpool's weakness in the market has been highlighted – Tottenham's capture of Christian Eriksen in the summer of 2013 a fine example of poor negotiation.
However, so far, during January it seems Liverpool is very much on Klopp's path and that fans should embrace the way the manager, they so desperately wanted, approaches his business in rebuilding Liverpool to a powerhouse of English and European football.
It looks likely that January will be a barren month in terms of comings and goings at Anfield. Liverpool will not be alone in that statistic this winter. Eyes cast across the City at neighbours Everton, currently rebuilding in January, should remember that their squad is seriously deficient in quality – hence their aspiration and desire to rebuild now.
Klopp has a plan for Liverpool so it should be the summer, and negotiations leading up to the summer, where conclusions made about the ability of those in the higher echelons of the Club are drawn, not January 2017.