Midfielder Georginio Wijnaldum accepts Liverpool cannot repeat the errors of a month ago by not capitalising on an impressive performance against a top-four rival.
The 1-1 draw against Premier League leaders Chelsea on Tuesday may not have carried the significance of the victory over Manchester City on New Year's Eve but there are lessons to be learned.
Jurgen Klopp's side headed into 2017 in second place, six points behind Antonio Conte's team, but then proceeded to twice concede leads as they drew at struggling Sunderland in their very next match.
Fast forward a month and having put in their best performance since the City game a trip to Hull, bottom of the table and with just one league win since early November, has all the hallmarks of another banana skin.
Liverpool's three league defeats this season have been away to Burnley and Bournemouth and at home to Swansea, who at the time were propping up the table, and so Saturday's game cannot be taken for granted.
"The last time we performed like this was against Manchester City: we played with aggression and passion and that is a good thing to go forward but we must ensure we do it in every game," said the Holland international.
"That's the most important thing. If you do it one game and then not the next it will cost you points.
"We saw in January that if you are not sharp, if you don't play how we used to play, it will cost us points.
"It was a good thing we did it against Chelsea but we've already done it against the big teams and we must now make sure we do it against the small teams.
"We have to continue the performance we showed on Tuesday.
"We showed it against Manchester City and in the next game (Sunderland) we didn't.
"It is important to carry on the way we did today and get a few points otherwise today was for nothing."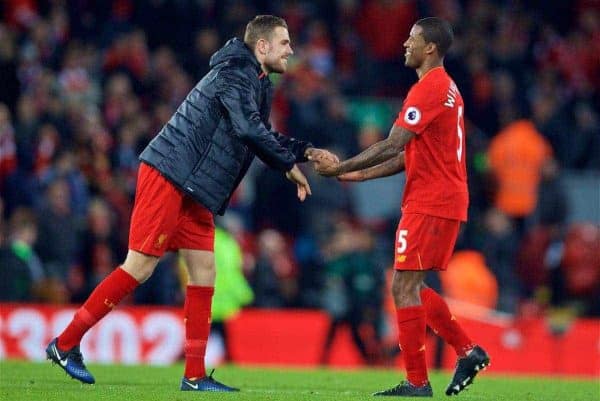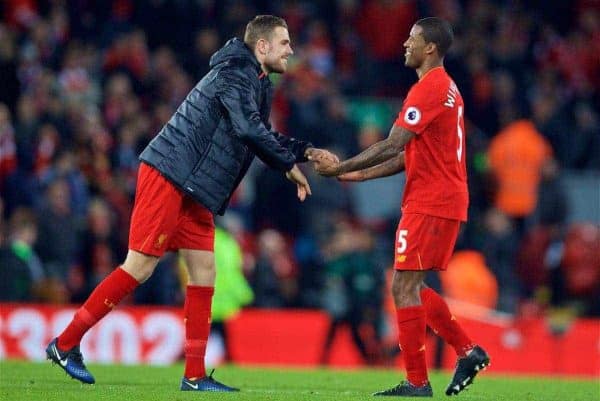 Fourth-placed Liverpool's deficit to Chelsea is 10 points and that appears to be an insurmountable task for a team which for all their brilliant football has been prone to the odd and unexpected slip-up.
Their main concern now is securing Champions League football, which was their primary aim before the season started.
After a confidence-shattering January Wijnaldum admits all they can now do is concentrate on themselves and the games they have ahead of them.
"To be fair I don't look at the table now because we can't control the performance from Chelsea, Arsenal or Tottenham and what they can do," he added.
"We can control our own performance and at the end we will see where we will finish.
"It is not a good thing to look at other teams because I think there is enough to do and it is about keep performing like this."