Javier Mascherano, once dubbed a midfield "monster" by Rafa Benitez, signed for Liverpool 10 years ago on February 20 and the midfielder's impact remains one the club have struggled to replace.
After a long, arduous battle with FIFA and the Premier League regarding his registration, Mascherano was unveiled as a Reds player three weeks after the closure of the January transfer window in 2007.
Initially joining on loan from West Ham, Mascherano made the step that many expecting him to make when he initially left Corinthians in 2006.
The Argentine's switch to Anfield saw Rafa Benitez address a gap within his already impressive squad, as Liverpool pushed to add to their Champions League triumph under the Spaniard.
Though he only spent three-and-a-half years on Merseyside, Mascherano's impact on the club was clear, and it remains in 2017, with the Reds unable to cater for his departure ever since.
Mascherano at Liverpool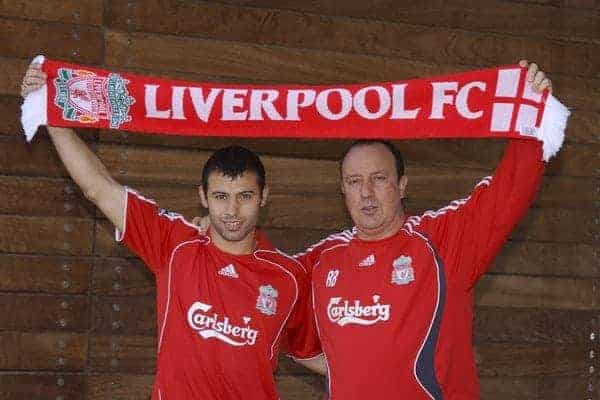 Mascherano's move to Anfield was, unfortunately, shrouded by controversy, with West Ham's dealings regarding third-party ownership landing them a world-record £5.5 million fine.
Therefore, while the deal was approved by FIFA at the end of the January transfer window in 2010, the midfielder was not cleared to join Liverpool until February 20, with Benitez left to await his arrival.
When he eventually made the move, however, it was clear that the Reds had acquired a young talent of significant quality—making his lowly seven appearances for West Ham more of a mystery.
"Of all the youngsters to have come through in recent seasons, the one who's impressed me most is Mascherano," Benitez said shortly after his unveiling.
"He's a monster of a player and is destined for great things. He can keep possession and he's always in the right position. He wanted to show people he was good enough to play in England."
Mascherano did just that, slotting in quickly and carving out a key role in Benitez's shifting squad, making 11 appearances for the Reds in the second half of 2006/07, including four in the Champions League.
That included a starting berth against AC Milan in the final in Athens, returning to the city that saw him win his first Olympic gold with Argentina in 2004, tasked with shackling Kaka.
While Liverpool succumbed to a 2-1 defeat that night at the Olympic Stadium, Mascherano was his side's standout performer, and it was telling that it only came after his withdrawal that Milan's No. 22 made his decisive impact on the game, setting up Filippo Inzaghi for his second.
Mascherano was not as stylish as Xabi Alonso, or as directly influential as Steven Gerrard, but it was his diligent, intelligent shielding presence that allowed them to flourish.
He reached an undeniably world-class level during his spell with the Reds, with his 139 outings marked by a consistency that eludes many.
And he was arguably the only player still hitting those heights in the final months of his tenure on Merseyside.
Life After Leaving Merseyside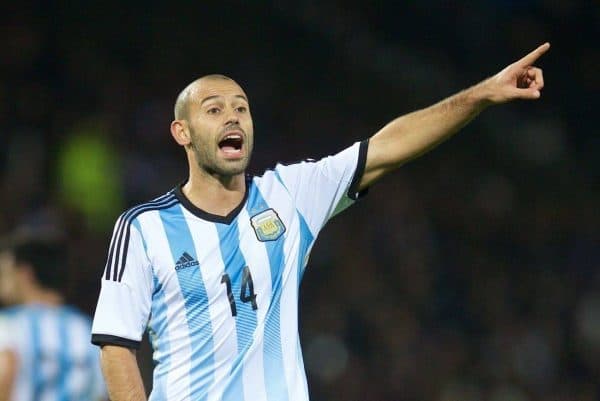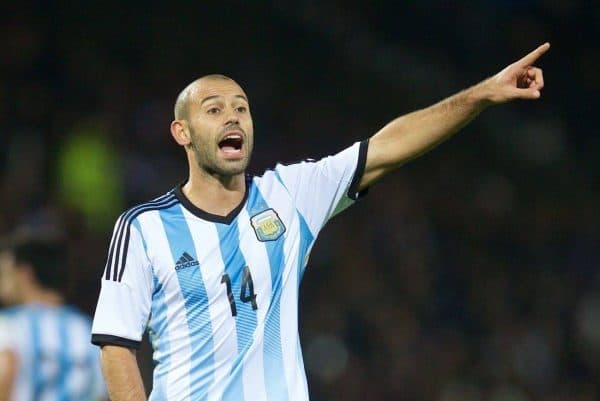 Mascherano's final game with Liverpool came on the opening day of the 2010/11 campaign, with the Reds embarking on a tumultuous period under Roy Hodgson, beginning at home to Arsenal.
That 1-1 draw saw Mascherano play with Joe Cole, Milan Jovanovic and David N'Gog, and encapsulating his desire to leave the club, his first outing for Barcelona less than a month later came alongside Andres Iniesta, Lionel Messi and David Villa.
Hodgson's six months at Liverpool saw him bring in Brad Jones, Danny Wilson, Paul Konchesky, Christian Poulsen, Jonjo Shelvey and Raul Meireles alongside Cole and Benitez acquisition Jovanovic.
While it has never got as bad as that short spell under Hodgson, the fact remains that the Reds have won just one trophy since Mascherano's departure, though they did go close to the Premier League title in 2013/14.
Meanwhile, he has won 16 trophies with Barcelona, including four La Liga titles and two Champions League triumphs, successfully transitioning into the role of centre-back.
He also helped Argentina to the World Cup final in 2014, with his performances in Brazil highlighting just what he brought to Liverpool over those three-and-a-half years: defensive steel, unwavering leadership and a will to win.
Other exits have certainly hurt Liverpool since Mascherano's departure, with Pepe Reina, Jamie Carragher, Daniel Agger, Steven Gerrard and Luis Suarez standing out.
But it can certainly be argued that their exits have been navigated more successfully than the Reds' old No. 20.
Replacing El Jefecito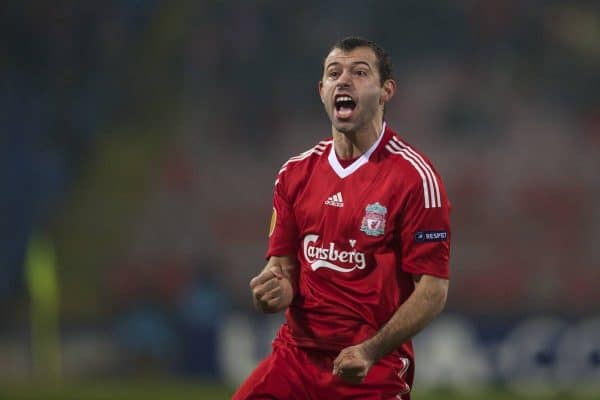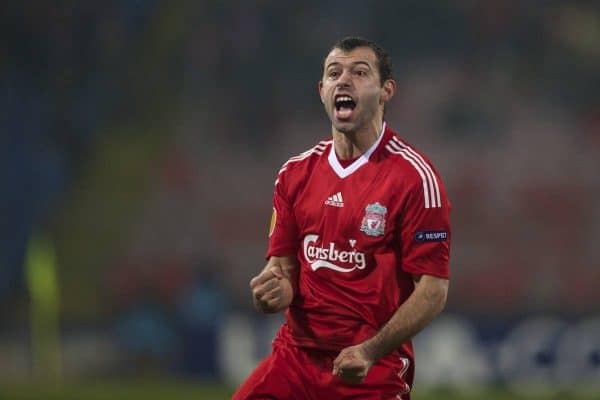 Mascherano's immediate replacement on joining Barcelona was Poulsen, with the Dane's 21 games for Liverpool highlighting an inability to perform to the standard required, despite his impressive CV before and after.
Since then Lucas Leiva, Jay Spearing, Joe Allen, Nuri Sahin, Conor Coady, Gerrard, Emre Can and Kevin Stewart have all been used in the deep-lying role.
But while Lucas has been a loyal servant, Sahin was a misused gem, Allen shone when given a more adventurous duty and both Gerrard and Can were successful at the base of midfield, none have provided the same grit and defensive prowess Mascherano did.
This season has seen Jordan Henderson take up the mantle as Jurgen Klopp's No. 6, with the German adapting the role to a more progressive one—and the captain has certainly shone.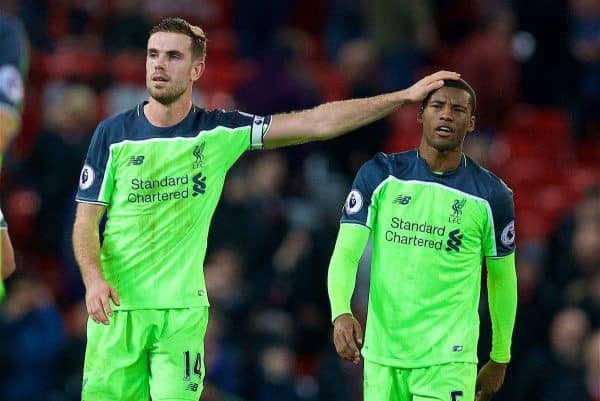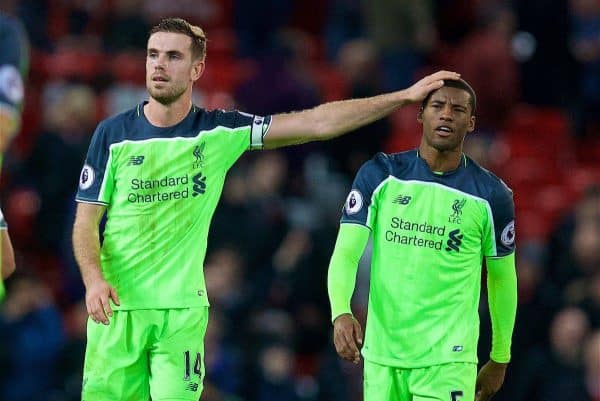 But the Reds could definitely do with a Mascherano type in midfield, with Klopp's squad lacking bite, as they have shown in defeats to Burnley, Bournemouth, Swansea City and Hull City.
It is highly unlikely that Mascherano would make the move back to Merseyside—though at 32 he would still be an excellent target—but there are players capable of adopting that role under Klopp.
Ignacio Camacho, Radja Nainggolan, Oriol Romeu, Naby Keita, Leandro Paredes and Franck Kessie are among those that would suit the job, while Idrissa Gueye and N'Golo Kante show there is value in France.
Nevertheless, it remains a tough task to find the best candidate, and this highlights the impact Mascherano made in his short spell with the Reds—and why he's so revered by supporters to this day.