Jurgen Klopp is hoping Georginio Wijnaldum's equaliser against Chelsea can prompt him to improve his goalscoring efforts for Liverpool.
Wijnaldum's header levelled the score at Anfield on Tuesday night, with the Reds eventually seeing out a 1-1 draw after Simon Mignolet saved Diego Costa's late penalty.
It was only the Dutchman's third for the club since joining for £25 million in the summer, despite setting a target of 10 goals for the season on his move from Newcastle United.
While Wijnaldum has been one of Liverpool's best performers this season, this is an area that requires major improvement.
Speaking at Melwood on Thursday, Klopp acknowledged this, with third-man runs an important aspect of Wijnaldum's role as a box-to-box midfielder.
"OK now he's scored against City and Chelsea, and Watford—that's long ago obviously," he said.
"In another game he had a big chance in the box and we said 'you should improve finishing'.
"He's a good player, that's why he's here. He made two headers, the third one against Watford, and one or two good chances.
"Yes, he needs to be sometimes in and around the interesting situations, when balls come down, where he can be involved.
"Especially [against Chelsea] in the first half he wasn't in the box one time, which makes no sense from his position."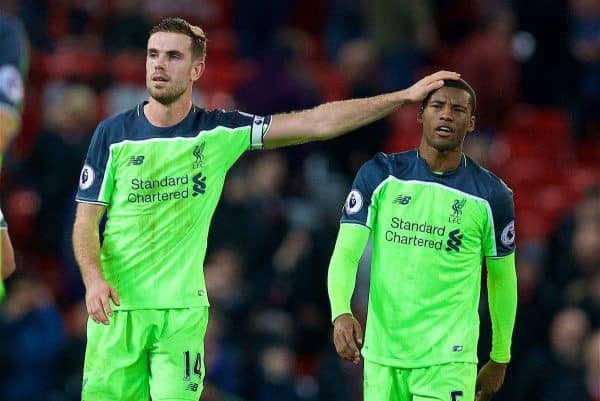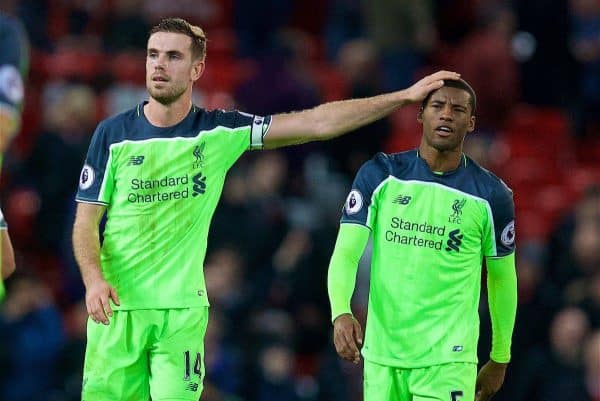 Wijnaldum is not the only player lacking in the goals department, of course, with Emre Can (three) and Jordan Henderson (one) both also scoring fewer than five so far this season.
And as Klopp continued to elaborate, this is a central function within what he described as a "fluid" system.
"We have this fluid style, if Roberto Firmino's on the wing, makes the cross and nobody's in the box, that makes no sense," he explained.
"Gini should be involved in this, and yes he can improve in this.
"But not only in this, because he's young enough to improve a lot."
This is an area that Liverpool have struggled with of late, particularly in breaking down sides that employ a low defensive block—as they found throughout much of their turbulent January.
Another similar challenge could come on Saturday, when they take to the KC Stadium to take on Marco Silva's Hull City.
Having scored the decisive goal against Chelsea in midweek, Wijnaldum will be hoping to add another, with this new element to his game likely proving crucial.