Jurgen Klopp has so far mastered the art of being a player's boss and a mate, but as the Reds' manager turns 50, how will that difficult balance continue?
The landmark falls in the close season, on the eve of the Confederations Cup. June 16, 2017, the day Jurgen Klopp turns 50.
Age can be just a number, but perhaps not in the German's case.
Just as his teams need dynamism and vibrancy, the Liverpool manager's energy is important. He presents a youthful air, whether with his hyperactive presence on the touchline, casual clothing and unshaven look or a winning informality with his players.
It is hard to imagine Klopp as an elder statesman. He projects more enthusiasm than gravitas. That sense of vitality is essential to his management. It contributes to his ability to relate to his charges. It is all the more notable because a communicator has forged bonds in a foreign language.
Klopp was quick to establish a familiarity. A decade ago, Anfield had the strategist Rafa Benitez referring to his skipper, with deliberate coldness, simply as 'Gerrard'.
The German had not been in England long before he was referring to his captain and vice-captain as 'Hendo' and 'Milly'. He soon anglicised his most creative player to 'Phil' Coutinho.
If he has not yet started talking about 'Bobby' Firmino or 'Si' Mignolet, it may only be a matter of time.
Crucially from Klopp, it sounds natural whereas, when Steve McClaren used to talk about 'JT', 'Lamps' and 'Stevie G', they felt like cringeworthy attempts to be one of the lads.

When Sir Alex Ferguson made rare references to 'Wazza', it jarred: 70-year-olds generally do not call anyone young enough to be their grandson 'Wazza'.
It scarcely mattered for Ferguson; he could rule by fear, respect and a tradition of winning. He did not need to buddy up.
But Klopp's brand of management is an extension of his personality. It involves belief, unity and a sense of humour. He indulges in mild mockery in public in a way that suggests a strong attachment to his players.
Consider his December comments about James Milner: "He is a very funny person," he said. "I have no idea where it came from; perhaps it is having the same haircut since Leeds." Or, when told after the 0-0 draw against Plymouth that he had named the youngest side in Liverpool's history, he took a swipe at his oldest starter by replying: "With Lucas in?"
Lucas and Milner are two of Liverpool's wiser souls. Neither was likely to make the mistake Mamadou Sakho did by confusing a relaxed attitude for weakness. Remember the Frenchman's impromptu interview with his manager at Alcatraz and Klopp's pointed comments that he could leave the defender there. Now on loan at Crystal Palace, Sakho has suffered as Liverpool have not picked him since; arguably Liverpool have, too.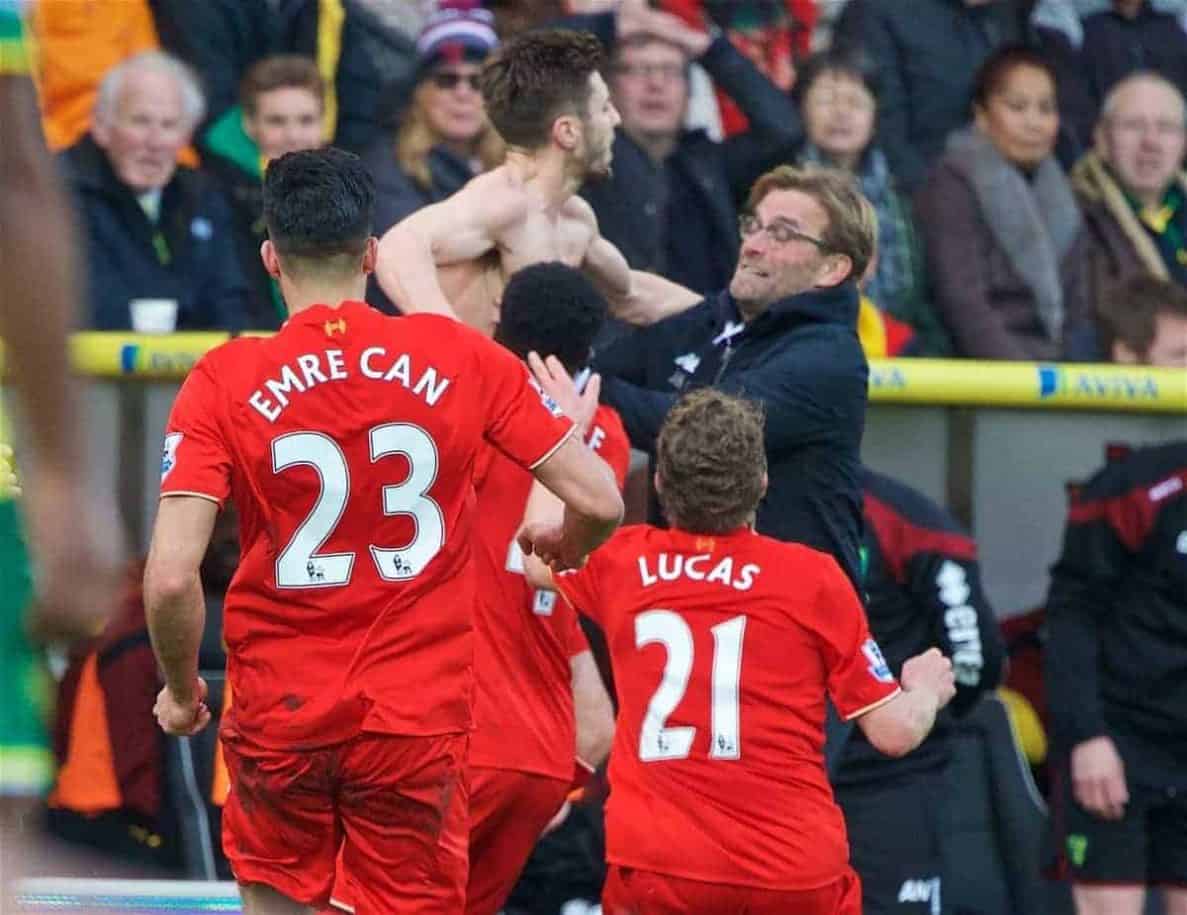 Otherwise, however, Klopp seems to have pulled off the trick David Brent thought he had mastered, of being both boss and mate. He has avoided some of Brendan Rodgers' missteps – there were times the Northern Irishman showed too much of a desperation to be liked – partly because of an air of authenticity.
As he gets older, the guarantee is that Klopp will continue being Klopp. Yet his style of management is harder to sustain as the age difference between him and his players grows. A case in point can be found at the other end of the East Lancs Road.
Only four years separate them, but it feels that Klopp and Jose Mourinho belong to different generations. The Portuguese's early success owed much to his connection with his players. They could relate to him.
If his Porto and Chelsea teams (in his first spell at Stamford Bridge, anyway), were bands of brothers, Mourinho seemed the cool older sibling, blessed with looks, wit, charm and money, his anti-authority posturing marking him out as a charismatic rebel with a cause.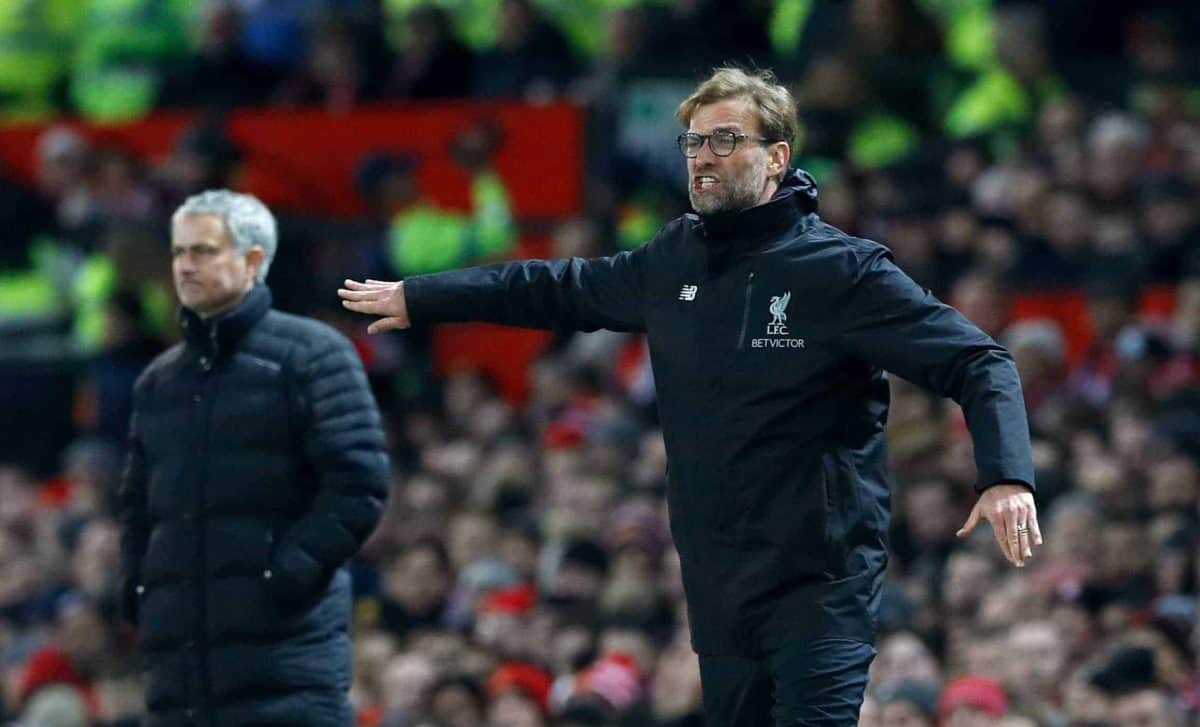 Yet there is a theory that Mourinho related best to those born in the 1970s or the early 1980s. Zlatan Ibrahimovic is the last of his true disciples and he turns 36 this year. Now the man acting as Paul Pogba's cool older brother is Ibrahimovic, not Mourinho. No wonder: the midfielder is 30 years younger than the Manchester United manager.
So Mourinho is in search of a new identity; the sense is he long envied Ferguson's persona as the managerial Godfather. He is trying to graduate from being Sonny to Vito Corleone.
Klopp seems to harbour few such aspirations. Nor is it easy to envisage him becoming a martinet manager, as impersonal as Fabio Capello or Louis van Gaal, a distant, aged authoritarian. If his is a dictatorship, it is a more benevolent one than theirs.
Age may seem irrelevant to Benitez, with his timeless interest in tactics, but he has always kept more distance from most of his players than Klopp. Carlo Ancelotti is eight years the current Liverpool manager's senior and continues to excel as a man-manager in a variety of jobs, but he is more laid-back than Klopp.
Urgency and intensity help account for the success the German has enjoyed so far. Klopp has prospered because of force of personality and psychology, accounting for his ability and capacity to galvanise other, younger personalities.
But as the years go by, it will become a greater challenge. He will be playing the generation game.