Ahead of Liverpool's clash away to Leicester City on Monday night, Jeff Goulding takes us back to a comprehensive 1970s win at Filbert Street.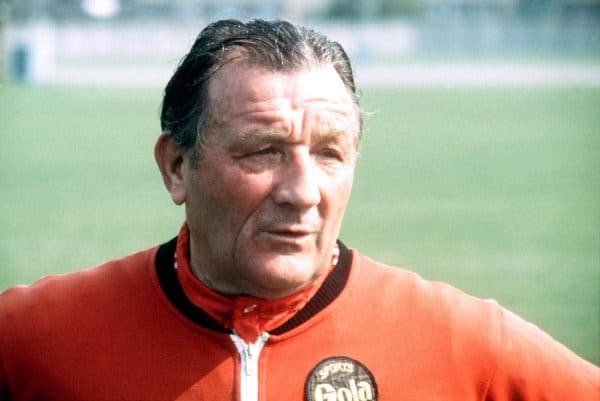 As Jurgen Klopp's Liverpool get set to face champions Leicester at the King Power Stadium, we journey back to 1977 and a triumphant trip by the Reds to Filbert Street. This was the year that Johnny Rotten and Sid Vicious topped the albums charts with Never Mind the Bollocks, Here's the Sex Pistols, Marc Bolan died and Queen released their totemic 'We Are the Champions', a song the red half of Merseyside could easily have written.
Liverpool were champions of England and kings of Europe, after clinching their first ever European Cup in an entertaining encounter with Borussia Monchengladbach on the May 25 of the same year; the two clubs and their supporters have been friends ever since. Emlyn Hughes had been asked how the club could ever top such a momentous achievement, he replied all we can do is win it again. Of course we would do just that a year later at Wembley against Club Brugges.
Kevin Keegan had played a significant part in Paisley's rise to dominance, but in the summer of '77 he would leave Anfield for Hamburg, Germany. It was the year of the Silver Jubilee and street parties broke out across the country. I remember red, white and blue flags and bunting draped from houses and lamp-posts all over the city. The Union Jack hadn't gone out of fashion in Liverpool yet. In any case Scousers have never needed much excuse to party.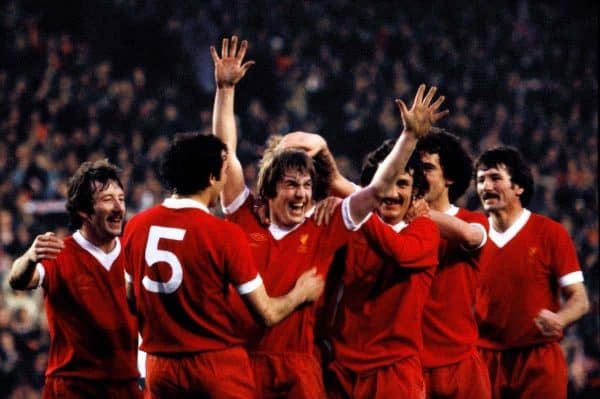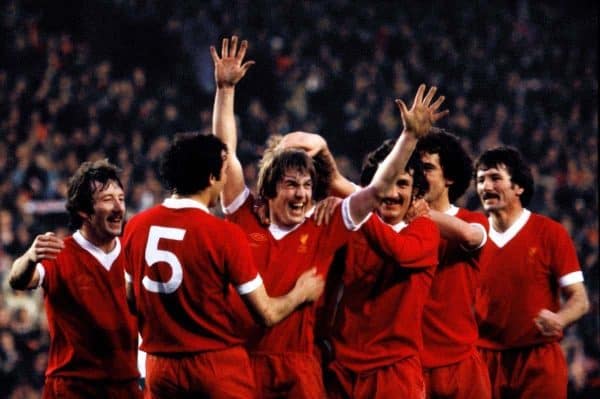 While the nation was paying tribute to Queen Elizabeth, Keegan's successor, the new King Kenny, was being inaugurated on Merseyside. What a glorious reign it would turn out to be. Dalglish would prove a more-than-able replacement for Keegan, scoring 31 in all competitions in the 1977/78 season, including the European Cup final winner, as the Reds became the first British club to retain old big ears.
These were tough times financially and many Reds made their way to and from away games by hitchhiking and some would resort to 'entrepreneurial' techniques to raise funds for their travels. Stories told by the likes of Dave Kirby and Nicky Alt about how Liverpool fans conquered the continent have now passed into folklore, but for many the greatest education you could ever get was following the Reds over land and sea.
Liverpool FC was a way out of the drudgery of everyday life for thousands. The only problem was nobody had a credit card back then and wages were low. I remember tales of people selling domestic appliances and furniture in order to get to games. Sometimes they would actually ask their wives for permission, but I bet many a Red was bin-bagged on his return from a final or a big game.
However, by the time travelling Kopites made their way to the East Midlands on November 26 1977, much of the glitz and sparkle of Rome was beginning to wear off. Liverpool were enduring a tough time in the league and had failed to win in their previous five games; a run that included three defeats and two draws.
Their great rivals of the era were Brian Clough's Nottingham Forest, who topped the table, four points clear of the Reds. Lowly Leicester City, languishing in the relegation zone, presented the perfect opportunity for the champions to reassert their dominance.
Liverpool lined up in white shirts and black shorts. Tommy Smith, Ian Callaghan and Emlyn Hughes featured for the Reds that day; each of them coming to the end of illustrious careers. Smith, known as 'The Anfield Iron', and 'Cally' would both leave in '78 and of course 'Crazy Horse' (Hughes' nickname) would join Wolverhampton Wanderers in 1979. All three had been the bedrock of Shankly's Liverpool.
The official attendance for the game was just over 26,000 and the pressure was firmly on Paisley's Reds. Could they stop the rot and get their season back on track? Anything other than a victory was surely unthinkable.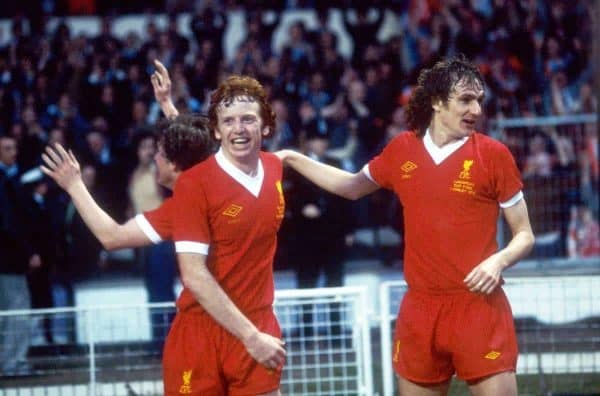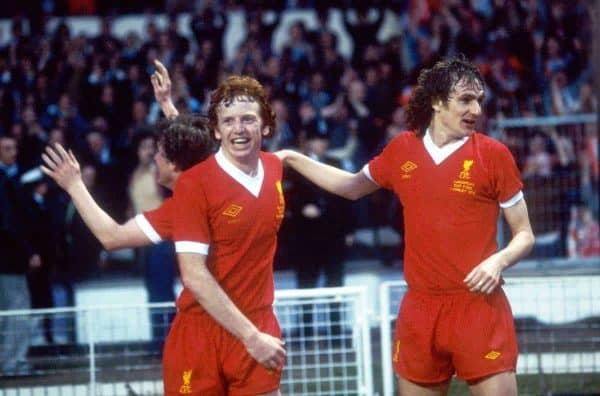 Perhaps sensing an opportunity, the Foxes started the game on the front foot and Liverpool looked nervy. In the second minute Eddie Kelly blazed a shot over the bar, when gifted a gilt-edged chance to open the scoring for the home side. Then a 19-year-old Tommy Williams took the ball round Clemence but fizzed his shot across the box and missing an open goal.
With barely a quarter of an hour gone, Liverpool could have been two goals down. However a bit of luck changed the course of the game and set up what turned out to be a rout.
David Fairclough, playing on the left, broke free in the box and got himself on the end of a through ball from Dalglish, after a goal mouth scramble. He didn't hesitate for a second and smashed the ball home. 1-0. The goal had a touch of luck about it, but Liverpool didn't care.
Still Leicester came forward and former Chelsea forward Keith Weller almost levelled. His shot had Clemence well beaten and only a goal-line clearance by Phil Neal preserved Liverpool's lead. The Reds one-goal advantage would survive until half-time.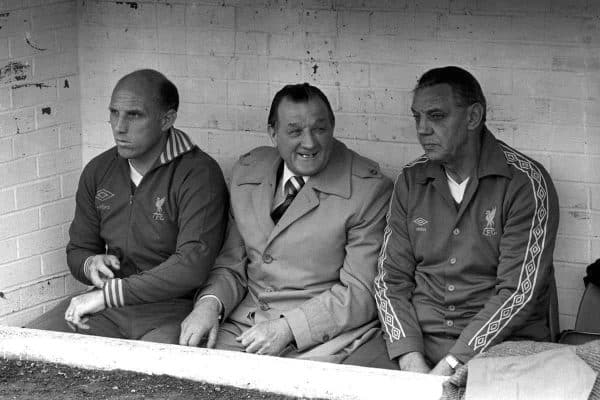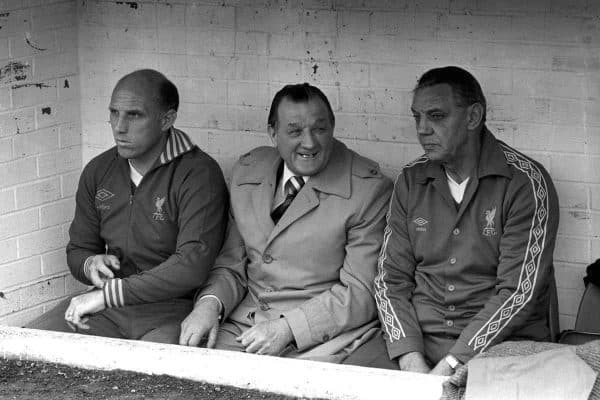 Who knows what Bob said to them in the interval. Although if stories abut Paisley's impenetrable accent are to be believed, some of the players might not have known either, despite being there. Whatever happened Liverpool's belief seemed to be back in the second half.
They dominated possession and Leicester's early attacking verve all but disappeared. In the 69th minute Ray Kennedy and Terry McDermott combined brilliantly to tee up Steve Heighway for a brilliant second goal.
Heighway, a future Liverpool youth coach, who developed the likes of Fowler, Owen, NcManaman, Gerrard and Carragher, was nicknamed 'Big Bamber' by his team-mates, a reference to Bamber Gascoigne who hosted the quiz show University Challenge. This was because he had a degree in economics and politics. His team-mate Brian Hall, also an academic, was named 'Little Bamber'.
Liverpool were dishing out lessons of their own now and beginning to turn on the style. Just over 10 minutes later Kennedy was at it again, this time setting up Dalglish, who was having a quiet game by his standards, to smash home the third.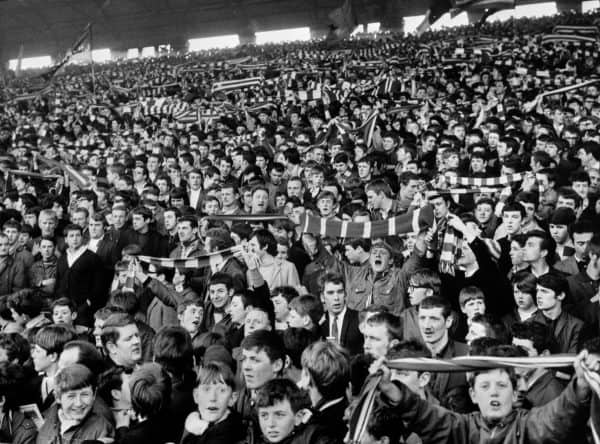 With only nine minutes to go, the points were safely in the bag. However Liverpool weren't finished. In the dying moments of the game McDermott drove in a fourth from the edge of the box and put the seal on a badly needed victory.
Leicester would go on to be relegated that season, while the Reds would continue their quest for another the league title. Sadly their late-November rally would prove too little, too late and they would finish runners up to Forest. Clough's men would also edge out Liverpool in the League Cup final in March.
All that seemed okay though. Liverpool's preoccupation would continue to be Europe. Victory at Wembley and Bob's second European Cup in as many years would prove the perfect 'consolation' to those two setbacks.