Continuing our Liverpool matchday Q&A series, we spoke to a journalist who has travelled from the Philippines to cover the Reds at Anfield.
Rick Olivares is a journalist based in Manila, in the Philippines, who has been a Liverpool supporter since 1979 and has been to Anfield twice to watch the Reds in action, as well as a host of times around the globe.
Here we spoke to Rick about his experiences of matchday at Anfield as a journalist based in the Far East.
Tell us about your typical matchday. What's your pre-match routine? What time do you get to Anfield? How long after the game are you there?
First off, I used to live in New York City and now I live in Manila, the Philippines. I've seen Liverpool play in Anfield twice, as well as in New York City (New Jersey technically as it was in Giants Stadium), Indonesia, Malaysia, and Singapore once. I've seen the Reds play in Thailand twice as well. When they go to Hong Kong in the pre-season, I'll be there too.
Now that's across three continents. But truthfully, I wish I could see them in England more often. Maybe next season I'll be able to go again.
I've seen two matches at Anfield—in 2014 vs. Everton and 2016 against Arsenal. Each time I'd go the Liverpool, I stayed there for four days! I not only spend considerable time in the stadium but go around the city that I truly enjoy.
I made it a point to be at Anfield at least four hours before kick-off. I go early to soak in the unbelievable atmosphere.
I always take the stadium tour, go to the store, drop by the Shankly Gates and the Hillsborough Memorial then hang outside to buy merchandise and fanzines before going in an hour-and-a-half before kick-off. I try to strike up conversations with locals and even other first-timers.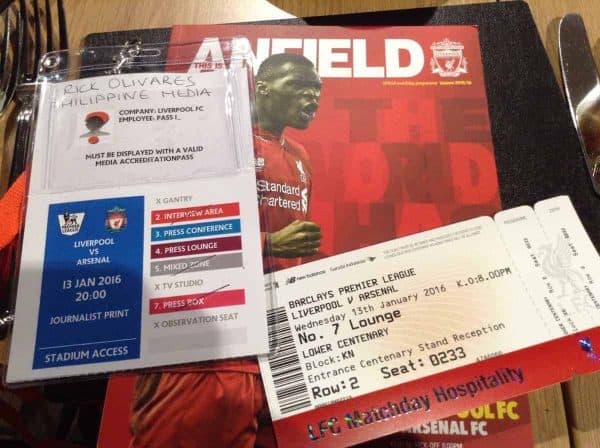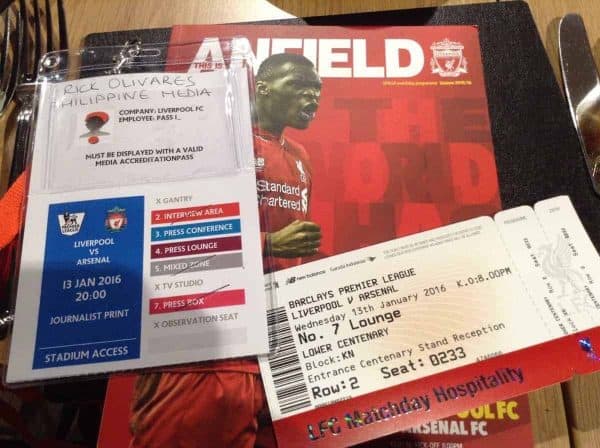 After the match, as I am also a journalist, I stay for the post-match press conference then stay a bit more and try to talk to people before heading back to the hotel.
Yes, I do write about the club's matches or fortunes for my newspaper back home or the online sites; I don't do match recaps but more of analysis or my thoughts about how the club is performing—and I do write about my trips to Liverpool from taking Beatles tours to going to the different sights.
When I am in Manila, I try to get my work done so I can be home to catch the match on TV. I eat during the pre-game show so come kick-off, I am riveted to the television. Sometimes, I go to a sports bar to watch the matches with other supporters.
The time difference between Manila and Liverpool is eight hours so it would be around 11:30pm here. If kick-off is much later then that means I will be sorely lacking in sleep the next day. That affects my next day as I have to be up by 6am to head to work (I work really long hours). So I pray and cheer for a Liverpool win as it will help me get through the day.
Where have you sat when you've visited Anfield? And which area stood out?
As a visiting journalist, I stay in the media section. Although I have also sat at the Centenary Stand with seats close to the touchline and a great view of the Kop.
I love where I am seated as I get a chance to see the game up close to those revered supporters. I sing, chant, ooh and ahh along with everyone else.
The first time, I stayed until I got asked to leave as almost everyone had left the stadium and the other, I waited for the post-match press conferences to end and to file my stories.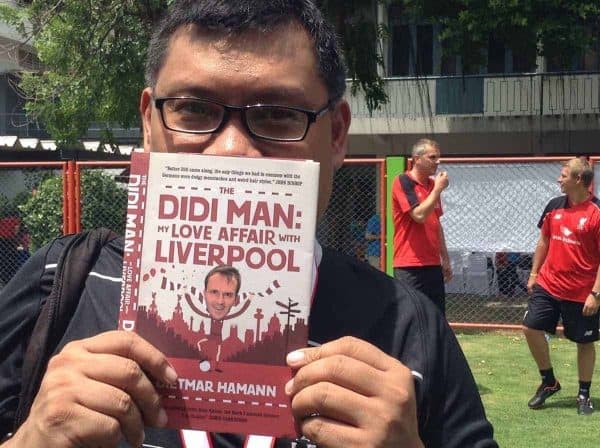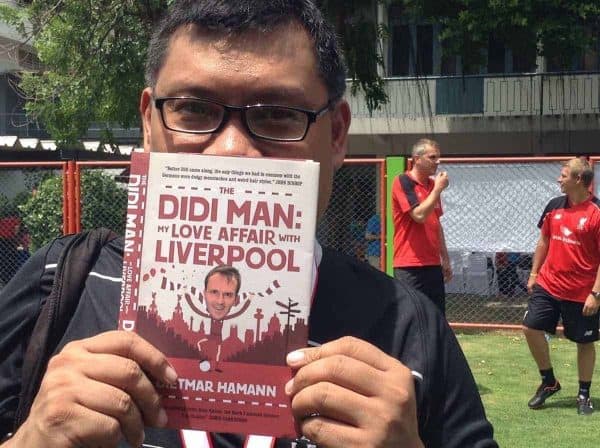 How does your matchday differ from say 10 and 20 years ago?
I think the benefit of cable television has been great because it gives me a chance to follow the games. Before that, I could only get the results off wire reports.
Living in the United States, afternoon kick-offs meant that I was going to miss the matches as I have to work. If there was a big match, I called in sick! But I couldn't do that all the time though.
So moving back to Manila was in some ways better because we're eight hours ahead. Like I said, there are trade-offs (lack of sleep) but it's all worth it cheering for the club we love.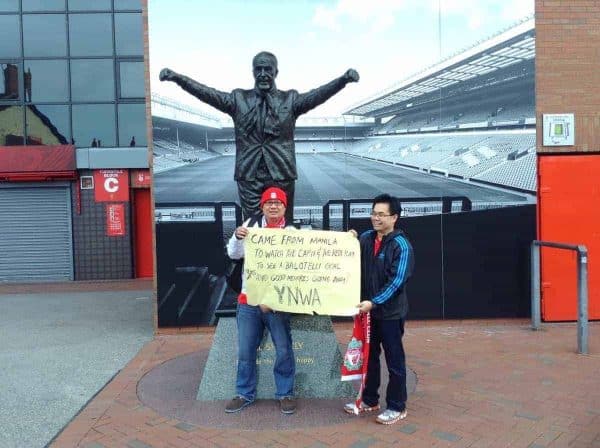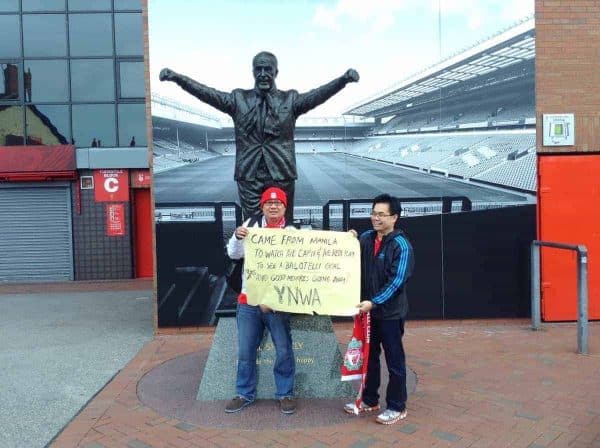 What would be your one piece of advice for somebody visiting Anfield for the first time?
Soak in everything because it is an incredible experience. Be more than just an observer. Watch, sing, cheer, and enjoy. Be a part of the whole experience rather than a bystander.
I know that some people think ill of out-of-town supporters but please do not judge us or generalise us. You cannot fault us for taking pictures because for many, it's a once-in-a-lifetime experience. I am sure if we lived there, we wouldn't be taking selfies or videos.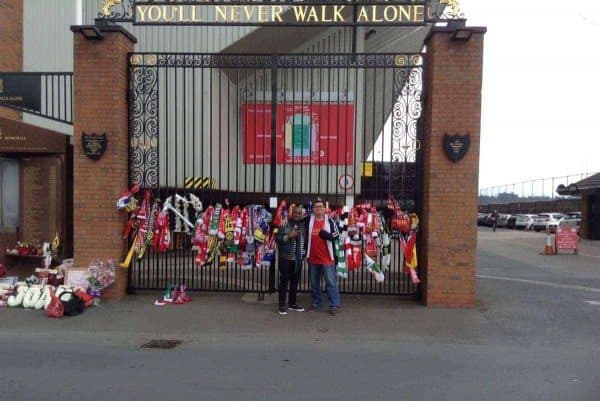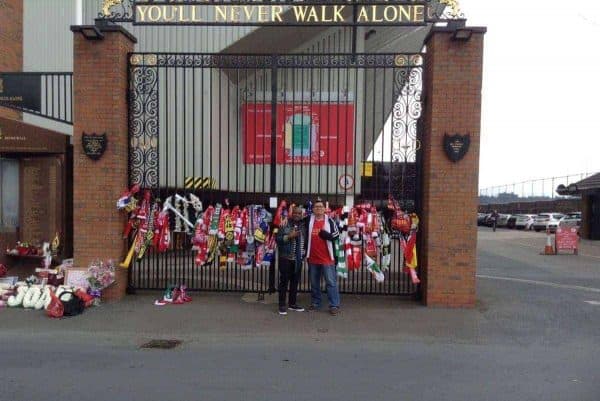 There's been much debate about the Anfield atmosphere of late. What would be your main solution to improving it?
I think the club should identify pockets in the crowd of those who like to sing and cheer. Make sure they are positioned closer to other similar groups so the chanting and singing would be stronger.
I think that the club and key supporters should also try to venture to the Centenary Stand to get the first-timers to sing as well.
I won't think it would hurt to give them a booklet of the songs and cheers with their history and words so that would also help them.
* You can follow Rick on Twitter @rickyolivares.
My LFC Matchday Series