We're profiling the different matchday routines for fans, media and more, with freelance journalist Richard Jolly next up in the hotseat.
So far we've profiled two Liverpool supporters – Fan TV's Paul Machin and fanzine editor John Pearman – we'll also be getting the lowdown from different media.
Richard is a freelance journalist, working in the north-west and writing for the likes of the Guardian, ESPN, the National and Eurosport. He also contributes to This Is Anfield.
We get his insight into the matchday routine for a journalist at Anfield.
Tell us about your typical matchday, for a 3pm kick-off. What's your pre-match routine? What time do you get to Anfield? What deadlines do you have to meet?
For a Saturday 3pm or a Sunday 4pm kick-off, I would normally arrive in time to watch the early game, especially if it is a bigger game, partly because it may help inform me for a future article.
I generally head up to the press box about half an hour before kick-off.
Either the day before the game or immediately before kick-off, I find it helps to make or read notes with a few (hopefully) pertinent facts or observations which could contribute to what I write. They could be stats about Liverpool's run, home or away record, record against certain opponents, specific details about individual players or something said in the week or in the news.
Much of it is obvious stuff I would expect to remember anyway – for example, before the Hull game, I had a note about Mignolet's role in the David Luiz goal and his penalty save from Costa in the Chelsea game, and the former becomes more pertinent when he is at fault for Hull's opener.

While for every away game I have the stat that Wijnaldum has never scored an away PL goal – but the shorter the deadline and the later a goal, the less time there is to look anything up. Plus, it is a habit dating back to when wifi connections were less reliable (an era that still persists at Old Trafford).
My deadlines vary depending on kick-off time and who I am working for, but the shorter the deadline, the more important to have things at my fingertips.
For a Saturday 3pm, I am most likely to be working for the Sunday Express and/or the National. Neither needs copy on the whistle, so I have to get everything in by about 6.30pm.
As well as typing up the presser quotes, I try to see if anything interesting has been said in TV interviews and tend to ring the Express after the press conference to see if they want a separate quotes piece. If so, it won't be long, but it is something else to factor in when allowing time.
How do the media facilities at Anfield differ from those at other Premier League grounds?
They're much better in the new Main Stand than they were. In fairness to Liverpool, the wifi has been among the most reliable for years, but the old press box was cramped.
The new one is bigger and better and you don't spend vast amounts of time stood up to let one person through.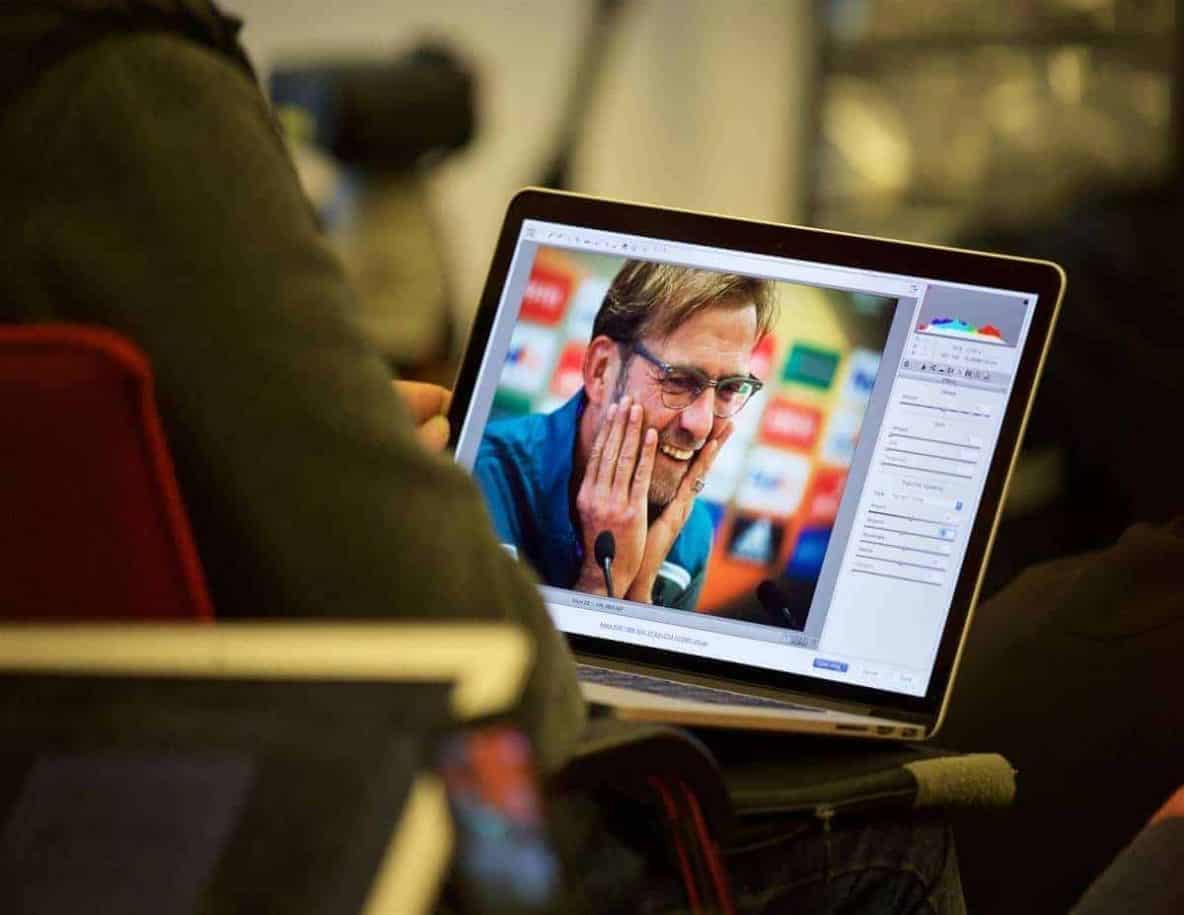 There is also a lot more space downstairs and more of a working area (if only it had more than one heater…).
Overall, I would say Anfield's media facilities are second only to Manchester City in the north.
How does your routine differ for a night match? Are the deadlines more difficult?
Yes, to answer the second question first. I will be filing on the whistle on a 5.30pm kick-off, let alone anything later.
Pretty much all of my match pieces for ESPN are on the whistle, and I have done quite a few evening games at Anfield for them over the years.

The best game I saw in 2016 was Liverpool v Dortmund. It was also the worst to cover on the whistle. The later the kick-off, the harder the deadlines for papers: there is a big difference between 7.45pm and 8.05pm, especially if the rewrite and quotes piece for the later editions are due at the same time, regardless of when it kicks off.
In addition, while it takes me around an hour to get to and from Anfield outside rush hour, midweek evening kick-offs can add to the traffic on the M60 / M62 / East Lancs Road / Queens Drive, so I have to allow more time.
What would be your bit of advice for anyone visiting Anfield for the first time?
I'd advise them to walk around the whole ground. I think the Main Stand is really impressive so, even if your ticket is for somewhere else, have a look. It helps project the size of the club.
* You can follow Richard on Twitter @RichJolly and read his articles on This Is Anfield, here.
My LFC Matchday Series