The media assessed Liverpool as being back to their best, and were full of praise for the electric Sadio Mane as the Reds recorded an impressive 2-0 win over Tottenham.
Jurgen Klopp's side kick-started their fight for Champions League football as they rediscovered their blitzing form to brush past Spurs at Anfield.
Sadio Mane's brace inside the opening 18 minutes ensured Liverpool enjoyed the rewards their electric first-half display deserved, with the Senegalese finishing well twice inside the box.
Mane's strikes proved enough for a first league victory of 2017, but only after the Reds produced a professional second-half display in which they managed the game impressively to keep Spurs at bay.
Klopp will be delighted to have claimed a big three points after a horrible period of form, but he can be especially pleased with his sides performance, with Liverpool polished in every department at Anfield.
Here's how the media assessed an excellent win for the Reds.
Reporters felt Liverpool rediscovered their best form at Anfield and were impressed with various aspects of the overall performance from Klopp's side which was near faultless at both ends.
The Liverpool Echo's James Pearce wrote:
This was the day when Liverpool finally rediscovered their swagger.

During a glorious opening salvo when match-winner Sadio Mane struck twice it was like being transported back to those heady autumn days when the Reds brushed opponents aside with ruthless ease.
Tony Evans, writing for ESPN, praised Liverpool's relentless work-rate proved too much for Spurs:
Liverpool finally showed some of their 2016 form after a dreadful start to the year. Right from the kickoff they approached the game with a pace the visiting side could not live with.

[…]

Klopp's attacking foursome do some of their best work in midfield, though. Liverpool swarmed on any poor control and loose balls. Jordan Henderson was also snapping at Tottenham's heels. Liverpool allowed no time and space for their opponents.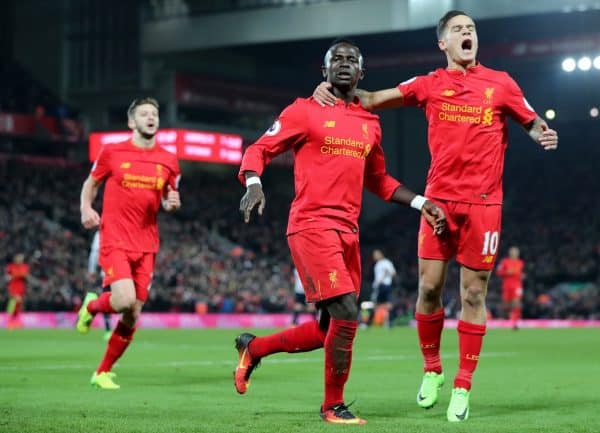 Writing for JOE.co.uk, Tony Barrett noted how Liverpool's pressing ruthlessly exploited Spurs' high defensive line:
Given what we know about the type of strategy that Liverpool struggle against, Tottenham's tactical approach made little sense, especially when they responded to being pushed back by looking to get as high up the pitch as they possibly could.

[…]

For the first time in this calendar year, Liverpool were able to press and counter to their heart's content.
Melissa Reddy, writing for Goal.com, praised the Reds' defensive resilience:
They did not allow a shot on target after the break and picked up a first league clean sheet since the New Year's Eve ousting of Manchester City.

Given the question marks over Liverpool's defence and the debate as to whether Loris Karius should replace Simon Mignolet, their doggedness at the back would've been an especially welcome sight for Klopp.
However, the Guardian's Paul Wilson thought Liverpool should have had more to show for their superiority:
At times the home side were passing for fun inside the area, and though their enterprise was a pleasure to watch, Klopp would almost certainly have preferred a little more directness and a third goal to reflect their overall superiority.
Meanwhile, the Mail's Rob Draper felt the collective power of Anfield overwhelmed Spurs:
That heady mix of an Anfield evening, the roar of a fully-engaged Kop and a Jurgen Klopp team intent on harrying the life out of any dithering defender is a toxic combination for opponents.
And Pearce feels the display has set the benchmark for the rest of the season and such a level of performance must become the norm in more routine fixtures:
But Liverpool can't afford for this to be a false dawn. This has to be the benchmark for the challenges ahead.

Beating the big boys hasn't been the issue this season and now they have to show this kind of hunger, desire and purpose in less mouthwatering assignments. With such a light schedule there are no excuses.
Reporters heaped praise on Sadio Mane for an electric, match-winning display, with numerous journalists also noting the Senegalese's influence on the team collectively.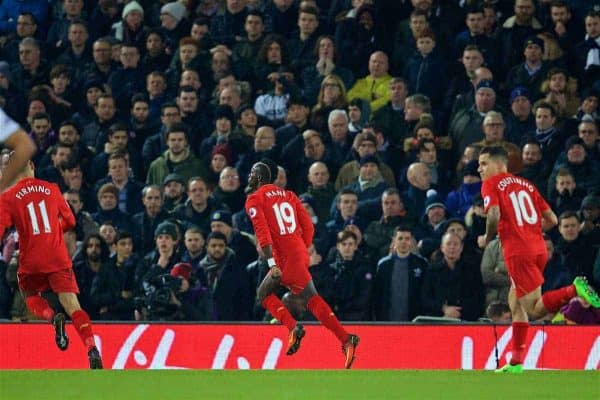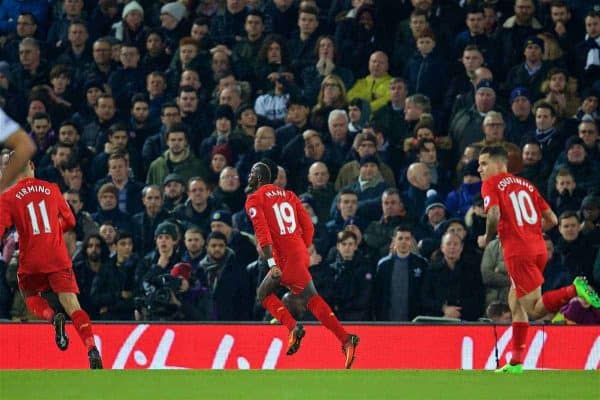 Dishing out some high praise, Draper felt the influence of Mane's performance echoed similarities to a certain former Reds No.7:
It was a performance that put you in mind of Luis Suarez and there is not much higher praise.
The BBC's Jonathan Jurejko thought Spurs couldn't handle Mane's speed or movement:
Without him, they struggled to break down opponents. With him, they tore apart Tottenham in the opening quarter. Spurs could not handle the speed of thought, or the speed of movement, of the home side.
The Independent's Simon Hughes believes Mane's importance cannot be overestimated as his speed gives Liverpool an extra-dimension:
His influence cannot be overestimated because he is the only player with the speed to turn bad passes into good ones or, indeed, convert clearances like the ones Lucas was making into reasonable opportunities.
Elsewhere, Evans noted how Mane's presence brings the best from his teammates, in particular Philippe Coutinho:
It is not just the goals that are important. Mane's pace and movement create space that allows the forward line to play in dangerous areas. Coutinho in particular gets higher up the pitch when Mane is around.
However, the Mirror's David Maddock thought Mane's impact showed why Liverpool need another option with similar attributes to the Senegalese:
When his team works, they can be devastating, as good as any in the Premier League. But what depth does he have?

Pace is a key to this team because their best work is always done pressing and countering, and yet Mane aside, he doesn't have wide players who can run past and beat opponents in that way.
Barrett feels Liverpool are perhaps starting to become over reliant on Mane:
The gap between importance and over-reliance can sometimes be gossamer thin and it seems as though Liverpool have strayed into the latter were Mane is concerned […]
After Liverpool finally put a dire run of form behind them in emphatic style, certain reporters felt the under-fire Reds hit back at recent criticism by proving their quality as a group, and capability for a top four finish.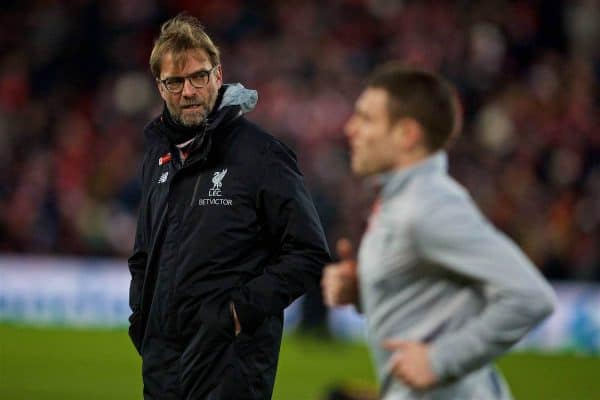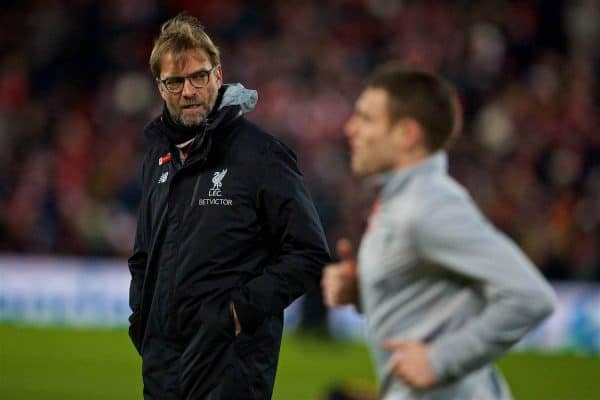 Firstly, Reddy felt it was no surprise Liverpool recaptured their best form given the circumstances around the game:
And, with the fatigue and disruption of nine January games out of the system, Coutinho and Mane having a full week of training to get back to full sharpness following ankle ligament damage and Africa Cup of Nations exertions, plus Tottenham not simply barricaded in front of Lloris, the Merseysiders were back to their scintillating best.
The Goal reporter also felt the victory showed the squad are good enough and praised Klopp for his "unwavering belief" in his team:
But the rush to declare their season over and conclude that the same players, labelled the most exciting in England just three months ago, were no longer any good was premature and flawed.

Klopp's unwavering belief that his team would 'find their flow' again was evidenced in his selection for this fixture.
The Liverpool Echo's Andy Kelly felt the win showed Liverpool boast plenty of talent and that the squad needs "strengthening" rather than overhauling:
A reminder too to supporters that there is plenty of talent in this squad for all it will need strengthening if the next step is to be taken.
Pearce feels the Reds proved they're "more than capable" of securing a top four place:
The nightmare of January may have wrecked talk of a title challenge and derailed their season, but here was proof if any was needed that the Reds are more than capable of securing a Champions League spot.
However, ESPN's Mark Ogden believes the Reds' next game will show whether they've really put a bad patch behind them:
The trip to Leicester will test Liverpool's revival, with their fixtures against struggling clubs proving so frustrating this season, so it is too early to suggest that a corner has been turned.
Meanwhile, after seeing Liverpool breeze past another top-six rival, Barrett felt the win showed the Reds' attitude is behind their frustrating undoing in routine games:
For all the legitimate questioning of their strength in depth, Liverpool may also need to contemplate whether their attitude is always of the standard required.
While Mane's match-winning showing naturally grabbed most of the attention in post-match reports, plenty of Reds earned praise for their displays as Klopp's men turned in an accomplished team performance.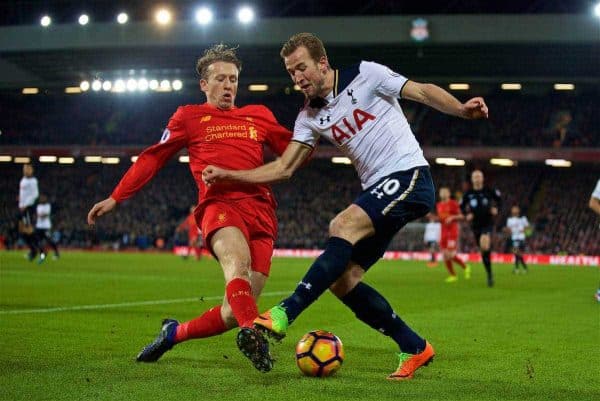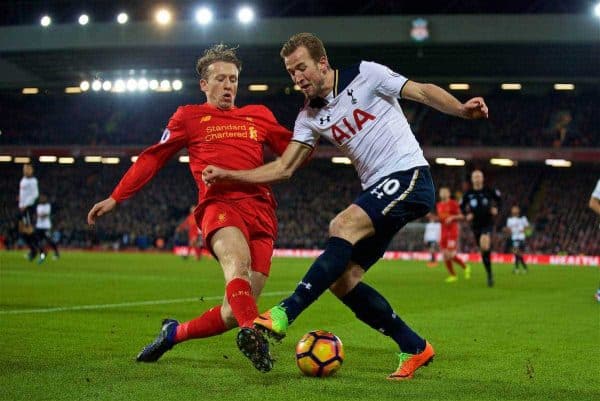 ESPN's Steven Kelly was impressed by a much improved showing from Lucas at centre-back:
Numerous groans before the game on hearing he was playing gave way to cheers as Lucas did everything that was asked of him. One or two early passes were nervy but he anticipated danger all night and conceded few of the reckless fouls that have blighted his career. Went off to a much deserved standing ovation.
Kelly was among those hugely impressed by Wijnaldum, and feels the Dutchman has made himself undroppable:
Outstanding display from the Dutchman and this wasn't just about work rate. Used the ball exceptionally well and even managed to take on and beat his opponents with great runs. A towering performance that must surely convince Klopp he can't be dropped any more.
In his Player Ratings, TIA's Jack Lusby felt Jordan Henderson produced a "statement display":
After calls from ex-Liverpool players to install a new midfield general at the base of Klopp's 4-3-3, Henderson produced a statement display in the No. 6 role, underlining his credentials once more.

He was quick and decisive in possession, and provided his team-mates with a solid defensive shield, outshining the likes of Victor Wanyama, Mousa Dembele and the frustrated Dele Alli.
Finally, Pearce felt Simon Mignolet repaid Klopp's faith by producing a faultless display:
Having ignored the clamour for Loris Karius to be recalled, Klopp got the reaction he wanted from Simon Mignolet as the Belgium international shone throughout.