Liverpool showed welcome signs of improved game management in their win over Tottenham, as the Reds closed out the contest in the second half.
Liverpool's first Premier League win of 2017 was certainly worth the wait as the Reds blitzed Spurs with a spectacular performance boasting endless positives.
Beating top-six rivals yet again, the return of the lethal attack and relentless pressing game, Sadio Mane's stunning showing, the collective display from the reconnected first-choice midfield…the list of plus points goes on.
But another impressive aspect of the victory was the improvement in Liverpool's game management.
Boasting a two-goal cushion at half-time, the Reds needed a well-managed second half to see the game out—and they produced just that.
Professional Second Half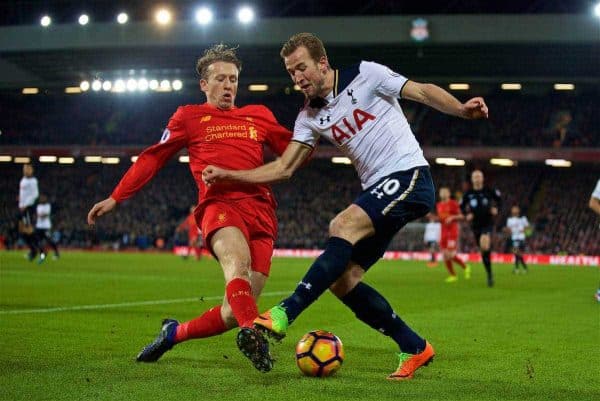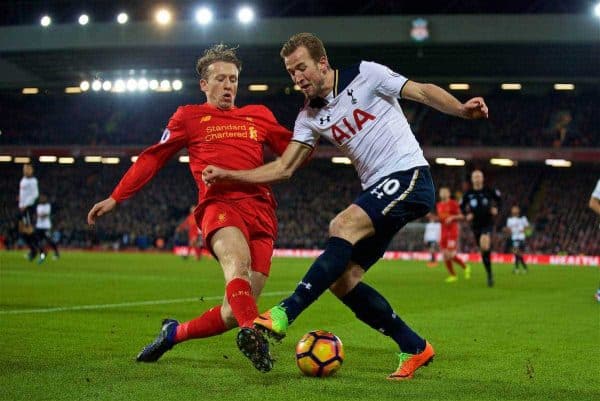 Liverpool's second-half task was one of the most straightforward, if certainly not the easiest, faced this season, with the Reds simply needing to play out time to seal victory.
There's an art to protecting leads and killing games that has evaded Klopp's side at times, but they picked exactly the right moment to show they can produce.
The stunning football of the first half may not have been seen, but Liverpool's application and discipline to shut the game down was as pleasing as that thrilling first 45 minutes.
While the Reds didn't park the bus Mourinho-style in attempt to bore Spurs into submission, a sensibly measured approach was adopted—summed up by Philippe Coutinho willingly placing himself as backup barricade behind Liverpool's defensive wall on a Spurs free-kick.
After a blistering first half, the Reds held shape when required, remaining compact to close space Spurs' chief creators searched for, forcing Mauricio Pochettino's men into unthreatening areas.
Then using their conserved energy, Liverpool hounded in packs, preventing Tottenham finding passing rhythm to deny any buildup of momentum.
On the rare occasions Spurs did probe, the Reds' backline, marshalled by the faultless Lucas Leiva and excellent Joel Matip, defended the box brilliantly, clearing lines decisively throughout.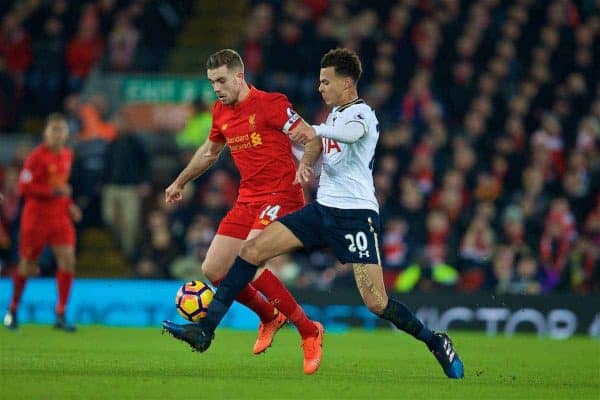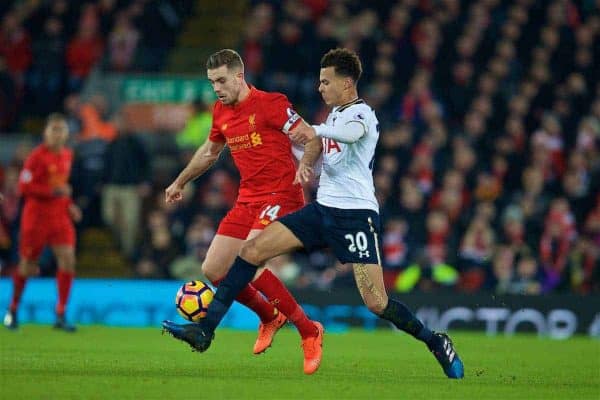 The batting qualities of Klopp's Reds have often been questioned but in a niggly second half they rose to the challenge.
Jordan Henderson, Gini Wijnaldum, Adam Lallana, and later Emre Can, all continually snapped into challenges, ensuring Spurs ended the second half without a single shot on target.
It was a big collective effort, one epitomised by a selfless display from Roberto Firmino who rightly earned glowing praise from Klopp: "I'm not sure I've seen a better performance from a forward without scoring."
It was also a performance detractors have long insisted Liverpool are incapable of producing, but sealing a clean sheet and big three points proved otherwise.
Improving Game Management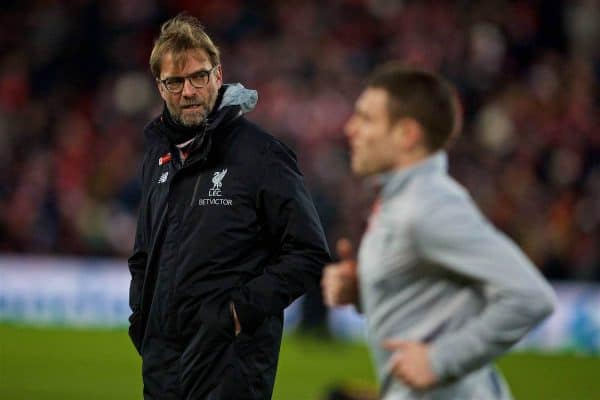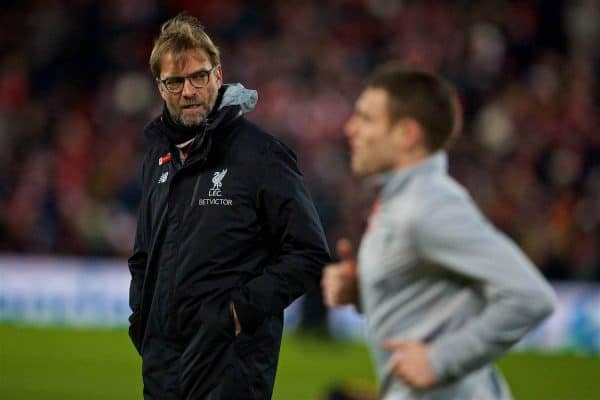 When Chelsea's "street-wise" approach earned them a point at Anfield, Klopp noted how his team needed to improve their own game management:
"We need more game management. Everyone talks about our intensity but sometimes when we run like devils I have to say 'come on, please cool down'.

"Like Chelsea would do at 2-0 up, or when Conte was in Turin—1-0 up, change, put on a defender.

"That is a mentality. It is smart, maybe not always spectacular, but give us the time to create something like this.

"We can not say do this, or do that all the time. But there is a moment when you must think let them come and we will counter-attack."
Here, Klopp acknowledged the roles of players and management to make this happen, and it was a collective effort that paid off against Spurs.
On the pitch, Liverpool adjusted impressively to concentrate on blocking Spurs out by winning one-on-one battles rather than burning energy by constantly chasing the visitors—acting on Klopp's words to "cool down" when necessary.
And off it, Klopp undertook a more conservative approach—typified by Nathaniel Clyne's change from a marauding outlet in the first half to supporting attacks at appropriate moments after half-time.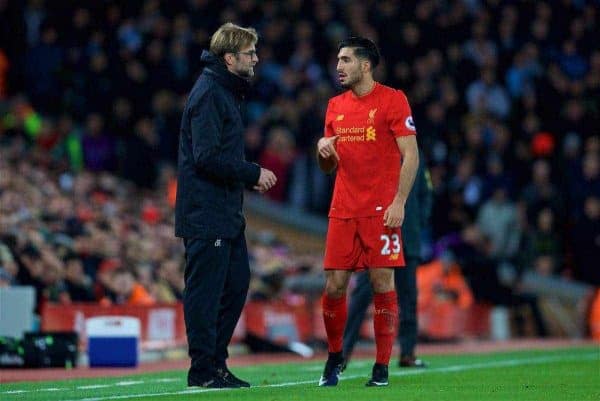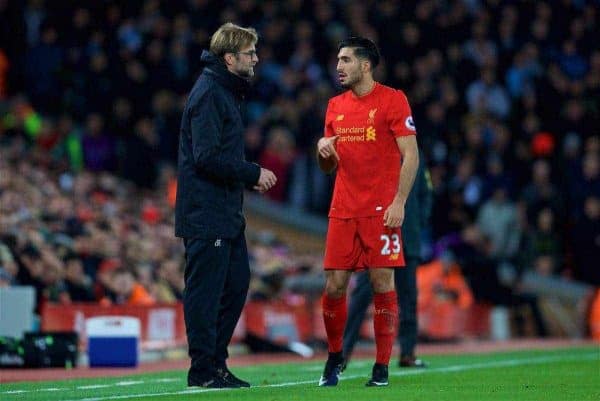 This was also highlighted in the boss' first substitution—Klopp replacing Coutinho with Can rather than Daniel Sturridge or Divock Origi, wisely opting for extra security when an injection was needed.
Klopp stated that implementing such gameplay would take time, and this made the fact his side produced such a mature display so quickly even more impressive.
Had a similar shift in mentality been adopted at certain times throughout the campaign—most notably at Bournemouth and Sunderland—some sloppy results and the derailing slump in form may have been avoided.
Klopp was quick to note how this approach is not "spectacular," but there will be no complaints as the disciplined second half proved critical to sealing a vital win.
Positive Steps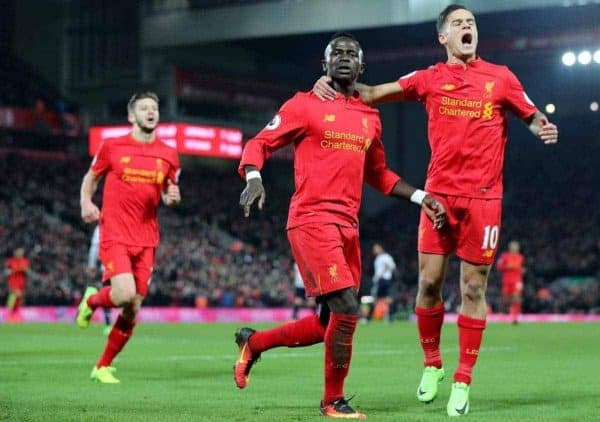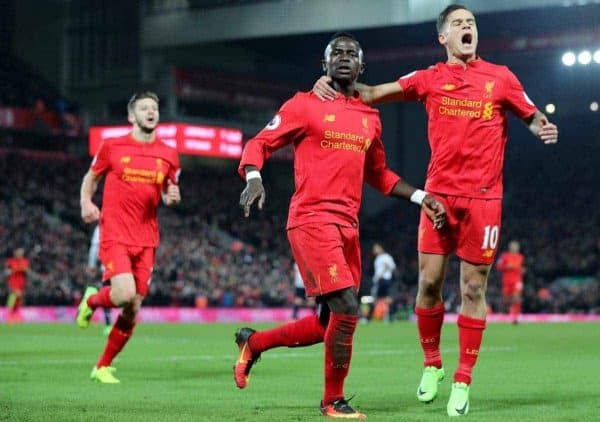 Liverpool have become renowned for blitzing rather than blocking opponents under Klopp.
But that the Reds showed they can adjust to keep opponents out when needed, alongside rediscovering the ability to overwhelm as seen in the electric first half, was fantastic to see.
It's not the first time Liverpool have managed victory this way—similarly disciplined performances were produced in excellent wins over Chelsea and Man City.
But it's another feature that had gone missing as the season unravelled, with Liverpool having let vital leads slip at Man United and Sunderland last month.
That the clinical game management returned, along with numerous other aspects was most welcome, and that it played a key role in overcoming a Tottenham side unbeaten in 11 games will have provided a big confidence boost.
The victory was a deserved reward for a calculated second-half display, and Liverpool must take this approach forward as they fight for a Champions League return.