Chelsea manager Antonio Conte hailed the Anfield crowd following his side's eventful 1-1 draw with Liverpool on Tuesday.
---
A tense encounter saw the two rivals leave with a share of the spoils—a result that seemed very fair on the night.
Georginio Wijnaldum's header levelled up David Luiz's free-kick opener, and Simon Mignolet denied Diego Costa from the penalty spot late in the day.
The draw keeps Jurgen Klopp's side 10 points adrift of the league leaders, but it stopped the rot that has set in of late, and the performance was very encouraging.
Conte couldn't help but praise the Anfield atmosphere after the game, and felt the match as a whole was a very interesting one.
"It is not easy to play against Liverpool after three defeats, and it is not easy to play in this atmosphere at Anfield," he said.
"I was a footballer so I know when you play in this type of atmosphere it is very difficult, so I am proud of the personality my players showed me tonight.
"It is a good point, for sure, but when you have a great chance of scoring a penalty, you think you could win. [Simon] Mignolet made a great save.
"This game was incredible. It was very tough with great intensity, and a lot of pressure and mistakes in both sides."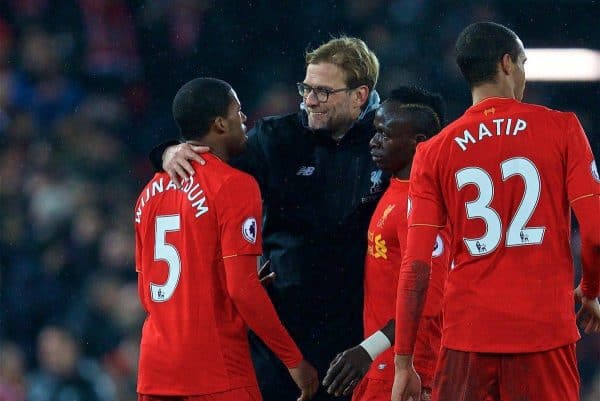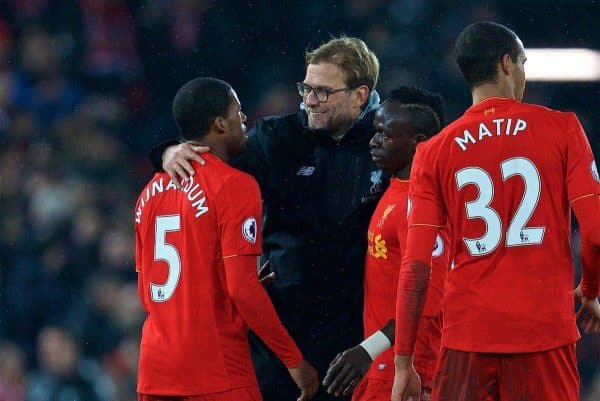 Although failing to win will have no doubt frustrated some Liverpool fans, Chelsea are a fantastic side who have won 18 of their 23 Premier League games this season.
Failing to rule out the Reds winning the title may be seen as desperate by some, but Klopp's men are not completely out of it just yet.
Ten points is undeniably a big gap, but with key players returning to full fitness and Liverpool facing a very kind run-in from the start of April onwards, supporters shouldn't give up hope just yet.
Defeat on Tuesday evening would have ended their slim chances, but let's hope Mignolet's save proves even more crucial come May.
It should also be stressed that Arsenal's defeat to Watford, and Spurs' draw with Sunderland, meant it was a good night for Liverpool's top-four chances.
Finishing in the Champions League places is now the bare minimum.