With Ian Ayre leaving his role as Liverpool CEO at the end of February, Fenway Sports Group may be considering a return for their initial first choice, the current CEO of the Australian Football League.
Ayre was announced as departing the club in March of last year, before the decision to end his contract early was made earlier this month, with the 53-year-old set to join 1860 Munich.
As a result, the Reds have begun reshuffling their off-field hierarchy, with Billy Hogan taking the role of Managing Director and Chief Commercial Officer and Andy Hughes promoted to Chief Operating Officer.
Michael Edwards' repositioning as Liverpool's sporting director was confirmed in November, while Markus Breglec has since been brought in as marketing director.
Ayre's successor as CEO is expected to be more focussed on the business aspect of the club rather than football, due to Edwards' enhanced role working alongside Jurgen Klopp and his staff.
As a result, it may be that FSG turn their focus back to their previous candidate for the role, having approached Gillon McLachlan in 2012, before Ayre was promoted from managing director.
McLachlan, then deputy to Australian Football League head Andrew Demetriou, turned down their big-money offer.
He has since taken over Demetriou's duties, promoted in 2014, now fulfilling what is described as "the most powerful job in Australian sport."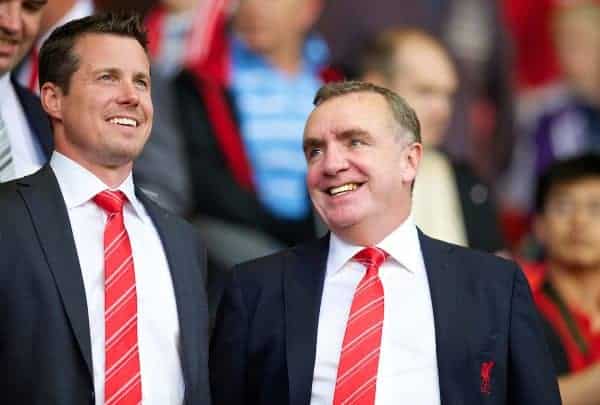 Whether he would give that up to join the Reds as CEO is questionable, though it is likely that any offer from FSG would be more lucrative than his current deal with the AFL.
Back in 2012, McLachlan rejected FSG's advances due to his young family being settled in Melbourne, and this could again play a part.
But FSG will be desperate to ensure that Ayre's replacement is the best candidate possible, as they look to continue to restore Liverpool to the highest level in world football.
On Breglec's appointment on February 8, Hogan explained that his arrival was designed to "bring the club closer to our fans around the world."
"Marketing is a critical element of our commercial success and ultimately grows the club which enables us to support our on pitch ambitions," he said.
"The primary focus for Markus will be to bring the club closer to our hundreds of millions of fans around the world.
"He has proven expertise which makes him a leader in his field and we're delighted that he will be joining us."