Manchester City boss Pep Guardiola hailed his side's 1-1 draw with Liverpool as "one of the happiest days" of his managerial career.
In an enthralling encounter, both sides threw caution to the wind to attack rather than defend and despite gilt-edge chances for Raheem Sterling and David Silva for the hosts, the match remained goalless at the break.
The deadlock was broken six minutes after the restart when James Milner scored from the penalty spot following Gael Clichy's clumsy challenge on Roberto Firmino.
But Sergio Aguero denied Liverpool all three points when he swept in Kevin De Bruyne's inviting cross to level on 69 minutes before Adam Lallana and Aguero missed glorious chances at opposite ends to steal victory.
The Spaniard told Sky Sports: "You cannot imagine. This is one of the happiest days of my career as a manager.
"After our defeat in the Champions League, for two days we were so, so sad and in the training sessions we didn't talk too much.
"We arrive here against Liverpool, who haven't had European football all year and had all week to prepare for that game, and how we fight and how we run and how we showed spirit—today is one of the happiest days of my life as a manager.
"The way we play, we concede chances but we create a lot of chances. Like all matches, we create more chances but this is our problem, our problem is we don't score goals.
"With the conditions we played that game, after being [knocked] out of the Champions League and playing against Liverpool, one of the best teams, and how we played against them means a lot to me—so that is why I am happy with my players.
"We always play to win, we always play to attack, we always play to respect our spectators and of course, we are sad because we didn't win."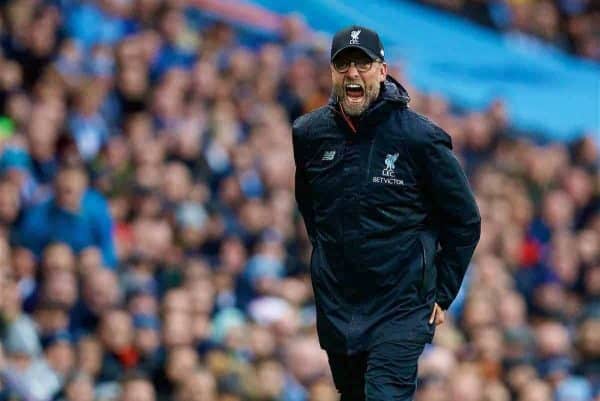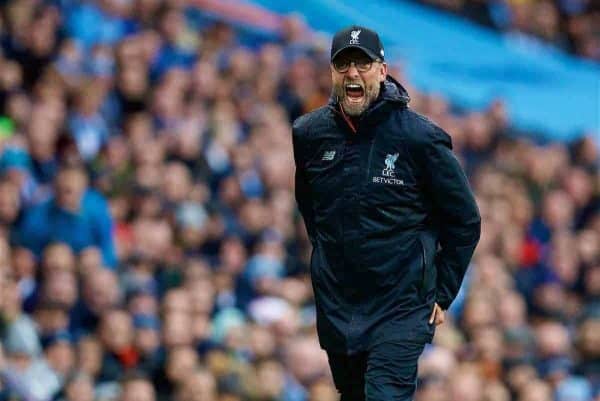 Counterpart Jurgen Klopp was disappointed to see his Liverpool side come away with only a draw and will need time to accept it is a vital point in the fight for a top-four finish.
He told Sky Sports: "If I was to make an assessment then I would say 'if you took a point at Manchester City then that would be okay'.
"I thought we could have won this game because their goalkeeper made a few outstanding saves.
"But we didn't close the game and we let them recover a bit, so they came back and with the quality, they have one strike and they scored—they deserved the goal of course—but I thought we could have scored more.
"It is a point and that's good. Tomorrow I will be happy but in this moment I am a little bit disappointed, not too much but a little bit.
"We take it. It is fair, we could have lost and we could have won. We had three or four chances, open goals in the first half, in the six-yard box. I don't know how they defended this.
"But of course they had their moments too so maybe it is okay. I'm not happy in this moment but give me a few hours and I will be happy."