With Bayer Leverkusen winger Julian Brandt top of Liverpool's list of summer targets, the 20-year-old could consider a summer move abroad.
The Germany international has been in excellent form this season so far, despite Leverkusen struggling for consistency in the Bundesliga, currently sitting eighth in the table.
This has seen him emerge as Jurgen Klopp's priority target ahead of the 2017/18 campaign, with an early bid for the youngster expected.
There is no guarantee that Brandt will leave Leverkusen just yet, though, as he has already stated that he would happily turn down a move to Bayern Munich.
But in an excellent interview with DW Sports' Jonathan Harding this week, Brandt did concede that leaving the Bundesliga could be a possibility.
"I take [speculation] as recognition. To feed my own ego would be the wrong thing to do," he explained.
"You can take the step [abroad], but I don't think you have to. Those that back themselves to do it have nothing in their way.
"I don't think it's a bad thing to try and find your feet abroad.
"Julian [Draxler] and Leroy [Sane] are the best examples of that right now.
"They are both young players and have huge futures ahead of them."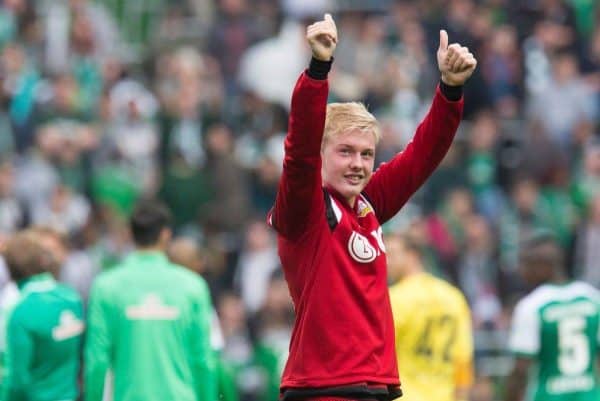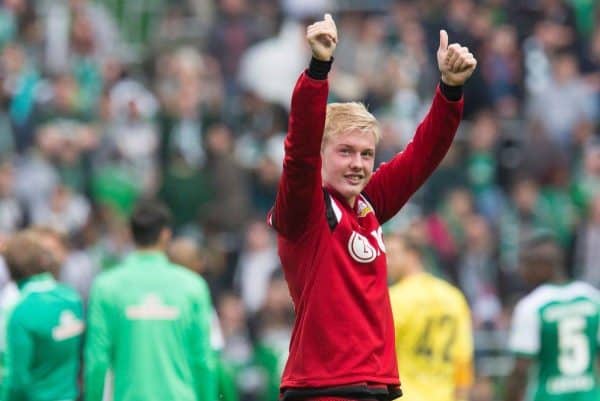 With Leverkusen likely to miss out on European football next season, let alone the Champions League, they may see a mass exodus of their top talent.
This could include Brandt, along with another player regularly linked with a switch to Merseyside, centre-back Jonathan Tah.
However, Liverpool's attempts to lure Brandt to Anfield could hinge on their own prospects for next season, with the winger revealing his ambition to play at the top level.
"I think the allure of being world famous is normal. It would be a lie to say it wasn't alluring, but where and when you never know," he continued.
"Football moves so quickly, and as quickly as things develop positively, they can also go south and see you slip into a place where you're forgotten.
"It's tough to say [if I will leave]. I'm happy here and what happens next, we will see."