Liverpool's 3-1 win at home to Arsenal on Saturday saw Jurgen Klopp's side learn from their mistakes and build from a strong defensive platform.
Returning to Anfield on Saturday evening, the Reds produced the perfect response to their 3-1 defeat away to Leicester City five days earlier, as they kept their top-four challenge alive.
Goals from Roberto Firmino, Sadio Mane and Georginio Wijnaldum secured a priceless three points against another of their Premier League rivals, with Klopp overseeing a devastating attacking display.
But for all of Liverpool's free-flowing excellence moving forward, the backbone to their victory over the Gunners came in defence—and this saw a marked improvement on Merseyside.
After such a shambolic showing at the King Power Stadium, this was the perfect tonic, and a solid, organised Liverpool showed signs of genuine, top-level mettle once again.
Liverpool's Defensive Setup

With injuries to Dejan Lovren, Jordan Henderson and Daniel Sturridge limiting his options in the buildup to Saturday's clash, Klopp made just one change from the side that lost away to Leicester.
This saw Ragnar Klavan come in to replace Lucas Leiva, with the German seemingly acknowledging a major flaw in Liverpool's back line at the King Power Stadium.
Lucas had suffered against the pace of Jamie Vardy on Monday night, and the Brazilian's lack of mobility in Liverpool's high line was exploited throughout.
Klopp had clearly learned his lesson from that chastening loss, and this was a big theme on Saturday, with the Reds' setup taking cues from its failings against Leicester.
Most notably, Klopp's switch to a three-man defensive line midway through the loss to the Foxes served as inspiration, with Liverpool adopting a loosely similar approach at Anfield.
With Klavan joining Joel Matip at the back, Klopp was able to call upon two confident, progressive centre-backs: able to step out of defence, play vertical passes into midfield and provide a crucial balance of left and right.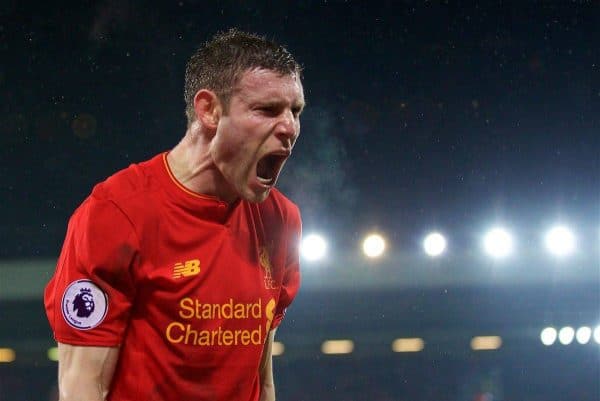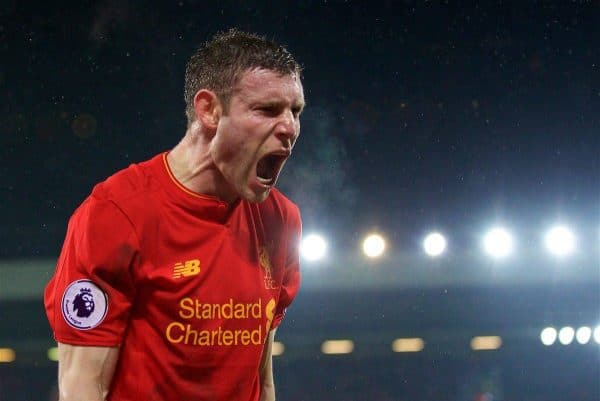 Liverpool's full-backs were also able to push higher, with James Milner particularly adventurous against the Gunners, making the most touches of the ball of any player on the night (81).
And with Wijnaldum and Adam Lallana staying compact in their dynamic midfield roles, leading the press and providing support during turnovers, they found the balance required to implement Klopp's overwhelming system.
This saw Liverpool return to their impressive, expansive attacking play of the first half of the season.
As Mane, Firmino and Philippe Coutinho performed at their effervescent, telepathic best, Arsenal were unable to respond—despite a brief rally in the second half.
But while the forward line deserve credit for Saturday's victory, the linchpin was Klopp's utilising of Emre Can as his No. 6, with the 23-year-old setting the tone in his defensive duty.
Emre Can's Importance

With Henderson sidelined with a troubling foot injury, Klopp has been forced to adapt his system in the engine room in midfield, with Can the beneficiary.
But after an unsuccessful audition against Leicester, where he struggled to find any balance or provide Lucas and Matip with consistent protection, Klopp altered Can's approach slightly on Saturday.
This saw the German drop deep between Liverpool's centre-backs, ostensibly serving as an auxiliary defender—a setup reminiscent of the second half at the King Power.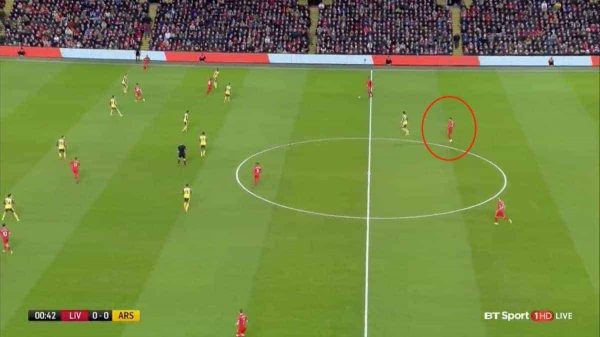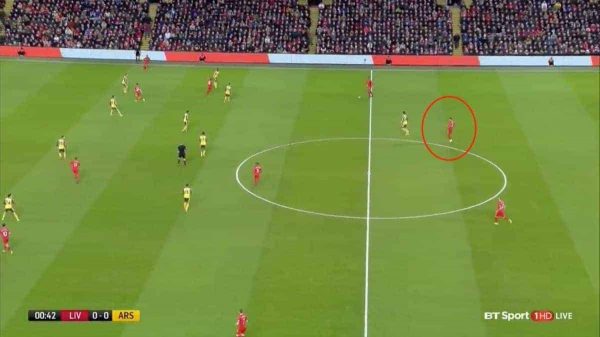 Forming a back three with Matip and Klavan off the ball, Can stayed diligent in his defensive duties, finding himself in the right place at the right time to snuff out dangerous attacks.
And crucially, too, the additional height he provided at the base of Klopp's midfield nullified Arsenal's direct approach, with Olivier Giroud particularly muted throughout the first half, failing to win a single header.
As with both Matip and Klavan, Can also provided Liverpool with a progressive outlet moving forward, with the midfielder constantly asking for the ball as he looked to push his side on.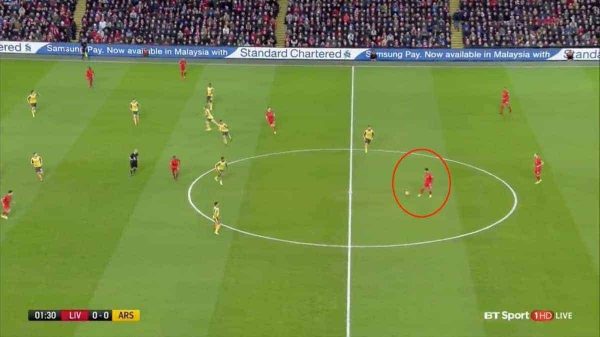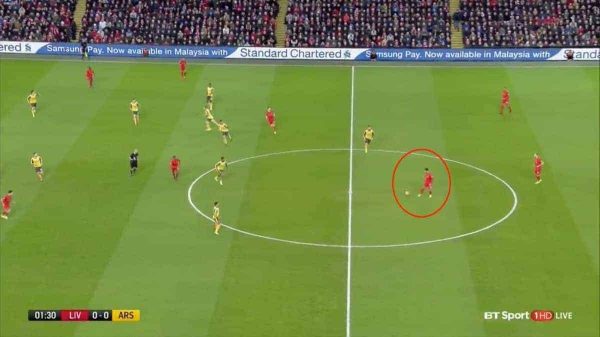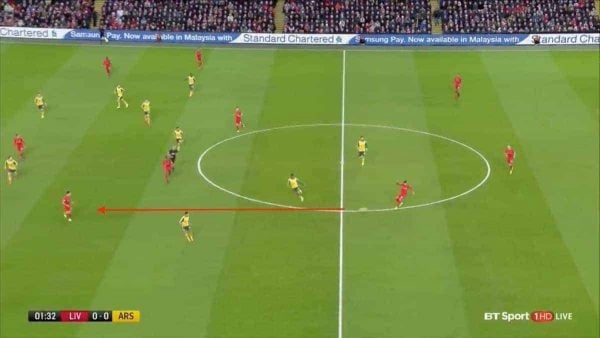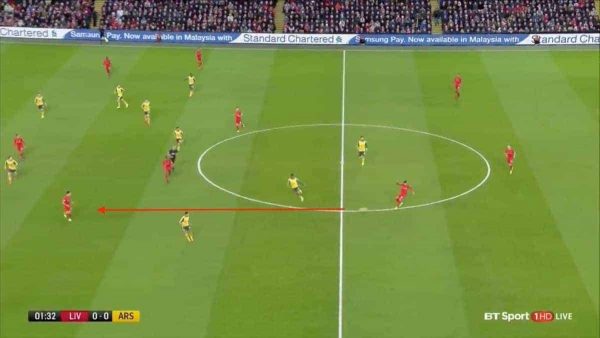 Can's confidence and intelligence in possession allowed him to switch play quickly, and his tendency to play vertical passes through the midfield gave Liverpool another dimension.
And in the wake of calls from ex-Reds midfielder Phil Thompson for Klopp to sign "a Graeme Souness" in the summer, Can's aggressive game management shone through.
The midfielder made two snide challenges to deny Alexis Sanchez a breakthrough in the second half at Anfield, while even his cynical efforts to avoid a red card following a strong tackle on Theo Walcott showed signs of the "nark" Thompson feels Liverpool need.
While perhaps not as colossal, Can's performance on Saturday was akin to that produced in Liverpool's 1-0 win over Villarreal in the Europa League semi-finals last season.
Once again, he was able to dominate the midfield battle, and this allowed Klopp's system to flourish—but whether he is able to maintain this week by week is very much the order of the day.
Finding Consistency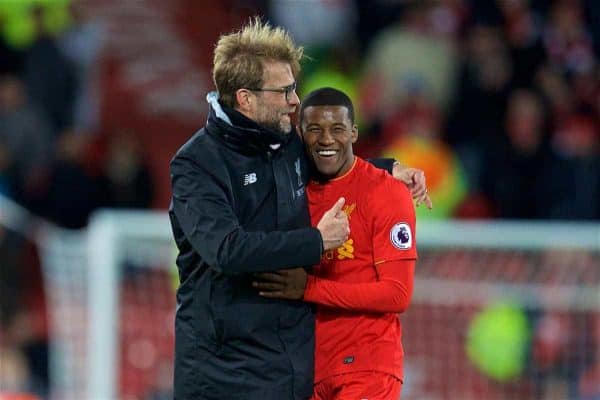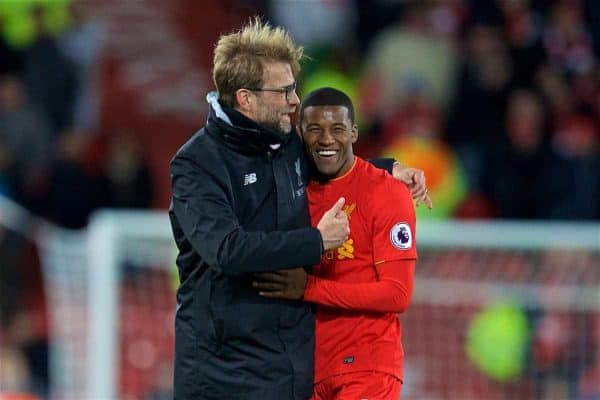 Liverpool's next test comes at home to Burnley next Sunday, and while the Clarets' dismal away record this season suggests it could be a simple exercise, this is unlikely to be the case.
Sean Dyche's side should set up in a similar way to Leicester, sitting back and soaking up pressure, before going quick and direct in attack—just as they did in the 2-0 loss at Turf Moor back in August.
The Reds have been consistently undone against smaller sides this season, losing to Burnley, Bournemouth, Swansea City, Southampton, Wolves, Hull City and Leicester.
And their attacking outlook could play into their opponent's hands once again, with this inconsistency between games undermining what has been a largely positive campaign.
But Sunday's clash with Burnley should not be different to the win against Arsenal, despite the differences in the tactical battle, as Liverpool should not allow sides the space to implement this.
Speaking after the victory over Arsene Wenger's side, Klopp hailed the impact of Lallana as his "trigger" in the pressing game, but also outlined the need to stay "compact" for this to be effective.
"It's really nice to have Adam, because he jumps out of a compact formation and triggers the pressure, or sets the tone," he said.
"The problem, and that's in a few games [this season], is when we're not compact and Adam does the same, and he opens a gap for the opponent—and it's a one-on-one in a big area."
Against Arsenal, Liverpool had the balance to take advantage of Lallana's intensity, and this is something that must remain against Burnley and moving into the closing months of the season.
The adjustments in system on Saturday evening, and in particular Can's key role, does suggest Klopp has struck upon an arrangement that could prompt an upturn in fortunes between now and May.
But while triumph over the Gunners was hugely impressive, whether Liverpool's lessons have truly been learned will only become clear at Anfield on March 12.