Philippe Coutinho's form since returning from injury has been well below that of the opening months of the season, culminating in his early withdrawal against Burnley on Sunday.
Coutinho produced one of his worst performances of the season against the Clarets and he paid the price for it when he was substituted in the 60th minute with the score still level at 1-1.
His replacement, 17-year-old Ben Woodburn, had just seven minutes of Premier League experience to his name but that did not stop Jurgen Klopp giving his star player the hook.
The 'Little Magician' was his brilliant self against Arsenal just eight days previous but that has been the anomaly in his 12 appearances (three as sub) since returning from injury in January.
Coutinho scored five goals and grabbed five assists in 13 Premier League appearances prior to the ankle injury he suffered in the 2-0 victory against Sunderland back in November.
Alongside Sadio Mane, Roberto Firmino and Adam Lallana, he contributed to the most deadly attack in the league and with him in the side, Liverpool won nine games and lost just once in the opening stages of the season.
However, his return from injury has been much less magical, and he has just one goal and one assist in those 12 appearances in all competitions.
It could be argued that Liverpool's hopes of qualifying for the Champions League could rest on whether the two-times Reds' player of the year can regain his level. Like his teammates, Coutinho's season so far has been inconsistent and that needs to change.
Why has his form dropped?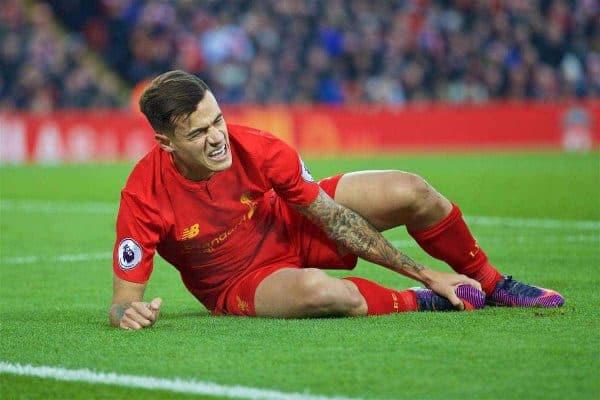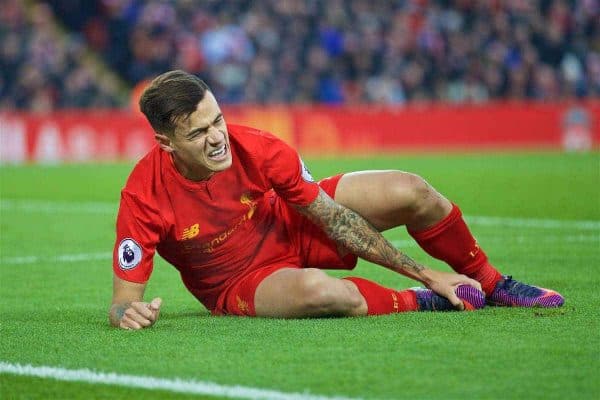 The embarrassing 4-3 defeat against Bournemouth at Vicarage Road just a week after Coutinho's injury proved to be a turning point for Liverpool. Since then, they have won just eight fixtures out of 20 and four of those were in December.
By the time Coutinho returned to the starting XI against Swansea in January, it had been five games since they last won in the Premier League. He was under immense pressure to lift the squad despite not featuring for two months.
The responsibility on Coutinho's shoulders grew in Sadio Mane's absence too as Liverpool needed to find goals from somewhere.
It wasn't the same team he left in November; Firmino was being played out of his preferred position and Liverpool were no longer winning with ease.
That must of thrown him off slightly and, after a relatively lengthy absence, it understandably took him some time to find his fitness again.
Perhaps Coutinho felt the pressure of expectation and he admitted confidence in the team was low following a hugely disappointing month, when Liverpool were knocked out of two cup competitions in the same week in January.
"We all left the dressing room feeling so disappointed because we lost again. It was very hard," he said following their FA Cup exit against Wolves.
"We have a few days to prepare everything and to go again and that is what we must do now."
Whether Coutinho's confidence is low or he is still trying to find his feet, the Brazilian has been back in action for two months now and he needs to re-find the form which earned him that contract extension in January.
What effects has it had on the rest of the team?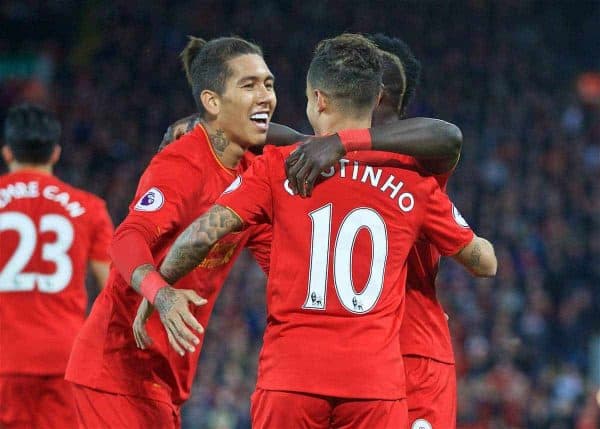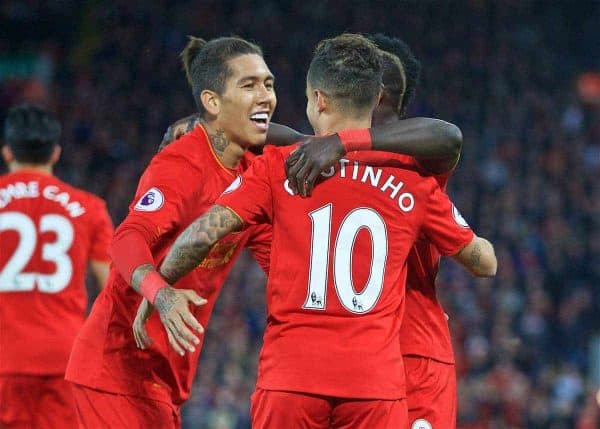 Not only has Coutinho's drop in form impacted Liverpool's ruthlessness in front of goal, it has had a negative impact on some of his teammates.
At the start of the season, Firmino and Coutinho were a dream pairing and their strong relationship off the pitch was mirrored on it.
When asked the importance of Coutinho's presence on Firmino's performance, Klopp explained:
"It helps the whole team when Phil is in and at his best but they like each other and everyone can benefit from Phil's skills.
"They are good friends but they are footballers and don't care [about friendship]. If Roberto is in the best position then Phil gives him the ball, and if not someone else gets it. That is a real partnership.
"Good understanding in the team helps a lot but they have a good understanding with all their team-mates and not just each other."
As well as improving Firmino's game, Coutinho is great at creating space for the other forwards when he draws defenders in with his slick dribbling skills.
Lallana and Mane can both benefit from this but in the last two months, Coutinho has struggled to get on the ball as often and has not been able to have the same effect on the side as he did in 2016.
Liverpool have just 10 games left in the Premier League campaign and they need their main man to step forward. A European spot is up for grabs but Coutinho will need to be at his old best if the Reds hope to secure a top four finish.