Bundesliga expert Keith Costigan finishes his three-part series by identifying a host of attacking talents Liverpool could pluck from the German top flight.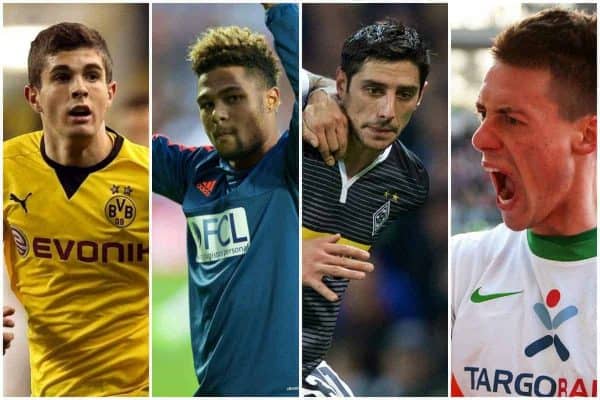 Casting his eye over the top defensive and midfield targets in the Bundesliga, Costigan suggested a host of names including Jonathan Tah, Andreas Christensen, Leon Goretzka and Hakan Calhanoglu.
But one of the key areas Jurgen Klopp will need to address this summer comes in attack, particularly with Sadio Mane's injury highlighting a lack of depth in the Liverpool squad.
Daniel Sturridge is set to leave the club at the end of the season, likely leaving Klopp in need of additions both out wide and up front.
So who could the Reds opt for in their manager's former battleground? Here's FOX Soccer's Bundesliga commentator with eight possible targets.
Ousmane Dembele – Forward – Borussia Dortmund
Ousmane Dembele was signed by Dortmund last summer as one of the most promising attacking players and has lived up to that billing after a superb first season in the Bundesliga.
Utilised mostly in a wide attacking role, Dembele has the ability to dominate defenders in one-on-one situations and has an incredible eye for a defence-splitting pass.
That he has double figures in assists this season is testament to that and he has worked up an almost telepathic understanding with Pierre-Emerick Aubameyang.
Dembele is still a work in progress with his own finishing ability, however, and needs to be a little more clinical when in goalscoring positions.
Liverpool tried to sign Dembele last summer but he chose to go to Germany, and there is no reason to suggest he would move on after one year at Klopp's old club.
But if the Reds are serious about becoming a European great again, players of his calibre are what they need.
Christian Pulisic – Forward – Borussia Dortmund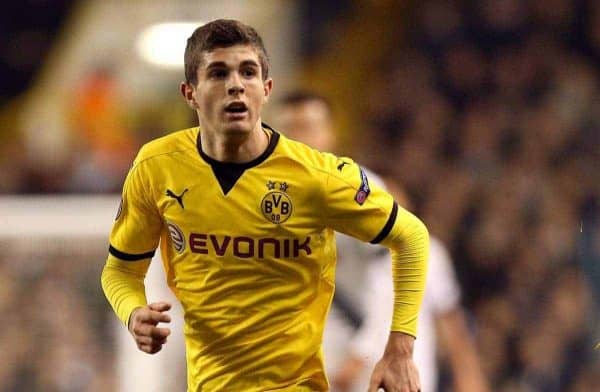 Like Dembele, I could have included Pulisic in my list of midfielders but as he is at his best as one of a front three I chose to put him with the striking group.
Liverpool's interest in Pulisic has been well documented over the last 12 months. with Klopp initially trying to move and sign the American international before his breakout campaign.
Pulisic has been played mostly on the right-hand side for Dortmund but can also play in a central role as we have seen for the US national team.
Whatever the position, Pulisic has the ability to beat a defender with his turn of pace and incredible balance when going at an opponent; his goalscoring record this season is average, but that is mainly because he stays wide in a creative role and opens up space for Aubameyang.
Pulisic is happy at Dortmund and they see him as a big part of their future, but that shouldn't stop Liverpool testing their resolve with a big bid over the summer.
Recent history has shown Dortmund do have a price, even for their biggest stars, and it may be a price worth meeting for someone with the talent that Pulisic has.
Serge Gnabry – Forward – Werder Bremen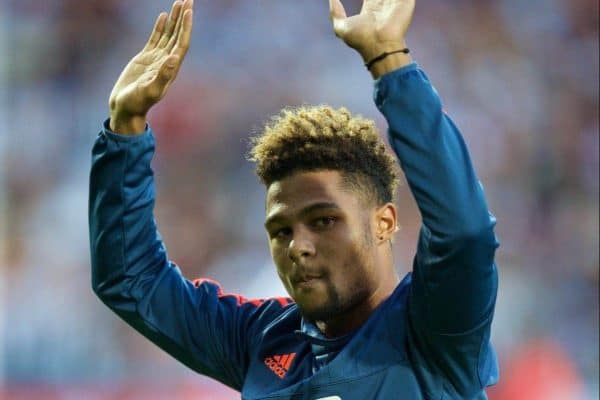 Signing a player cast off by Arsenal last summer may not exactly excite too many Liverpool fans but Gnabry has impressed since his arrival at Werder Bremen.
He is still a little raw technically but his explosive pace means he has the ability to stretch the opposition and create space for others in the attack.
Gnabry has scored 10 goals in 22 appearances and at just 21 years of age still has plenty of room to grow.
Having left Arsenal because he wanted first-team football it is highly unlikely he would want a move to a club that couldn't guarantee him a starring role—something he is not yet ready for at Anfield.
Gnabry is a player the club should continue to monitor as he continues his progression at Bremen.
Lars Stindl – Striker – Borussia Monchengladbach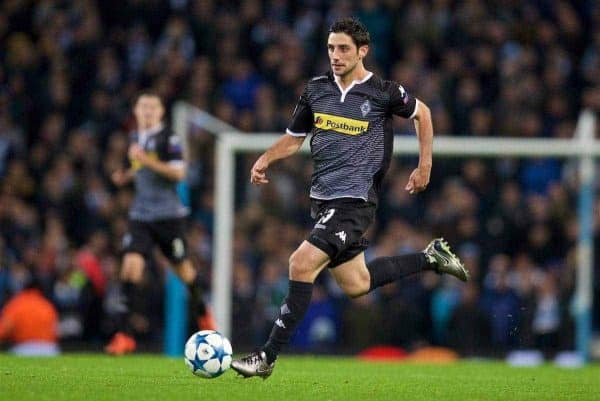 Borussia Monchengladbach have started to turn around their season after a dour first half to the campaign and the form of Stindl is a major reason why.
The versatile attacker reached double figures in goals with his strike against Dortmund on April 22 and has continued to be their brightest attacking threat in the absence of Raffael.
Stindl is a player who is most comfortable playing off another striker and finding spaces between midfield and attack; his clever movement and runs off the ball also open up space for his team-mates to exploit.
He has a strong work ethic and his versatility means he can also play wide and still be a big attacking threat.
Stindl will turn 29 this summer so is a player who offers immediate experience to a relatively young squad, and would probably be available for a price that wouldn't stretch Klopp's budget too much as he looks to bring in other reinforcements.
He may not be a long-term answer for some of our recent attacking issues but would offer excellent depth to a squad that, as we saw in the 2-1 loss to Crystal Palace, badly needs it.
Sandro Wagner – Striker – Hoffenheim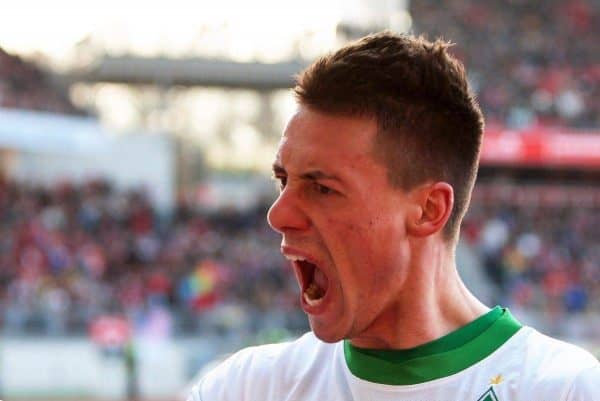 Wagner was once considered a top prospect as a youth-team player at Bayern Munich but he seemed destined to never live up to that early promise.
He moved on from Bayern after making only a handful of appearances and then became a bit of a journeyman of German football, with less-than-prolific stops at Duisburg, Werder Bermen, Kaiserslautern and Hertha Berlin.
When he arrived at Darmstadt in 2015 not much was expected of him or the newly promoted Bundesliga club, but he produced some excellent performances that led the team to a respectable 14th-placed finish.
A move to Hoffenheim followed and his form has not dropped as his new team have all but secured Champions League qualification.
Wagner is a physical attacker that has played in a pressing system under Julian Nagelsmann but unlike other strikers at Liverpool he offers a threat on crosses and set-pieces with his 6'4″ frame.
He is not simply a target man, though, and is very comfortable with the ball at his feet as a linkup outlet or going to goal.
At 30, he would represent a signing more for the now than the future but that could be exactly what the Liverpool squad needs.
Wagner is not shy on confidence either and recently stated he is the best German-born striker in the Bundesliga.
How big a turnaround has he had over the last two seasons? Wagner is now being linked with the club were he started…Bayern Munich.
Anthony Modeste – Striker – Koln
While everyone has focused on the goalscoring exploits of Aubameyang and Robert Lewandowski, the incredible season that Koln's top striker has put together has gone largely unnoticed.
Modeste has struck 23 times, only three fewer that Lewandowski at Bayern.
At 6'2″, Modeste is another forward that would offer a powerful presence in front of goal but he is not someone who relies solely on his aerial ability.
Only four of his goals have come from headers but he is at his best when deliveries come quickly from wide areas so he can attack the crosses, both on the ground and aerially.
Modeste once had a spell in English football on loan at Blackburn Rovers, but has matured as a player since then.
However, while Modeste is an obvious talent his inability to interchange and be as threatening from wide areas may mean that Klopp wouldn't see him as a good fit to add to Liverpool's attack.
Andrej Kramaric – Striker – Hoffenheim
Kramaric didn't exactly set the world alight in his spell at Leicester City, as he struggled to nail down a place in their attack, but since moving to Hoffenheim he has regained the form that saw several clubs register interest.
Kramaric has really hit form over the second half of the season and has been involved in 20 goals so far in Hoffenheim's hugely successful season—the superb winner against Bayern on April 4 being the biggest goal of all.
His ability to drop and create (eight assists) as well as get on the end of things himself (12 goals) makes him the kind of player that could fill a number of roles in Klopp's interchangeable attack.
Kramaric is at his best when allowed to roam and drift off the front line, though, and with Liverpool already having players who do that well, Klopp may see a need to add a more natural No. 9.
Timo Werner – Striker – RB Leipzig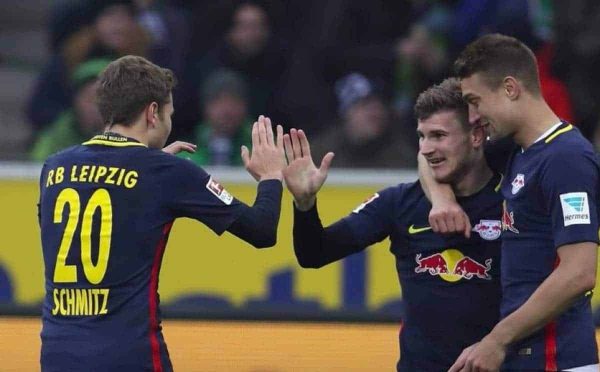 At 21 years of age, Werner has already made over 100 appearances at first-team level with German sides VFB Stuttgart and RB Leipzig.
Werner rose to prominence with Stuttgart as a pacy, powerful striker with the ability to stretch the opposition defensively.
He was a little erratic in front of goal at first but his efficiency has continued to improve, culminating in a superb first season with Leipzig this campaign; he is currently the top-scoring German in the Bundesliga.
Leipzig like to press high and trap the opposition and Werner seems to relish the work he does when his team do not have possession, so would be a perfect fit for the style of play Klopp wants at Liverpool.
Werner plays in a front two at Leipzig and while he is deadly in central areas he is equally threatening attacking from wide areas too, with a lot of his finishes coming from more difficult wide angles.
Furthermore, he is quick and is excellent at absorbing physical contact from defenders and riding challenges when in one-on-one situations.
Werner was signed by Leipzig for £8.5 million last year but his 17 league goals this season means Liverpool would have to pay a lot more than that to convince them to part with their young striker.