With Liverpool set to be without Jordan Henderson for the rest of 2016/17, Will Snyder asks whether they can avoid a similar collapse to 2013/14.
With Jurgen Klopp's recent admission that captain and perpetual-motion-machine Henderson may not play again this season, things are beginning to feel a little too similar to 2013/14.
Then, while Brendan Rodgers' machine tried to keep up momentum, Henderson's absence cost us a long-sought title.
Will Henderson's continued absence this time cost us our place at the top table of European football? Are we any better equipped in 2016/2017 to withstand the absence of our captain?
Here we take a look at the impact of Henderson's foot injury, and how Klopp can navigate this.
1 Challenge, 1 Ban, 5 Points Dropped, 1 Title Lost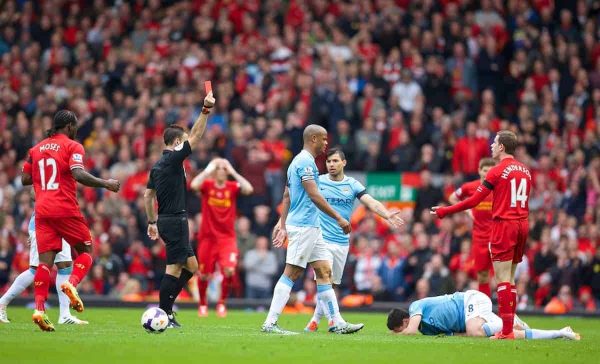 We all know the narrative from 2013/2014. That season, Liverpool's title-chasing fortunes changed in a horrible instant. And no, it was not that instant you are thinking of.
In the dying embers of a home fixture against Man City, with the Reds leading 3-2 in a hard-fought contest, Henderson chased down a heavy touch, mowing down Samir Nasri along the way.
A straight red card, administered by Mark Clattenburg, duly followed—so too did a three-match ban.
Anybody who doubted Henderson's importance to the team was soon provided damning evidence to the contrary: Liverpool had no adequate plan to replace the midfielder.
Brendan Rodgers slotted in Lucas Leiva in a perceived like-for-like switch; however, for all his talents, Lucas lacked Henderson's progressive passing and motor.
Henderson averaged 1.57 key passes per game in 2013/2014, showing how essential he was to Liverpool's tactical ball movement.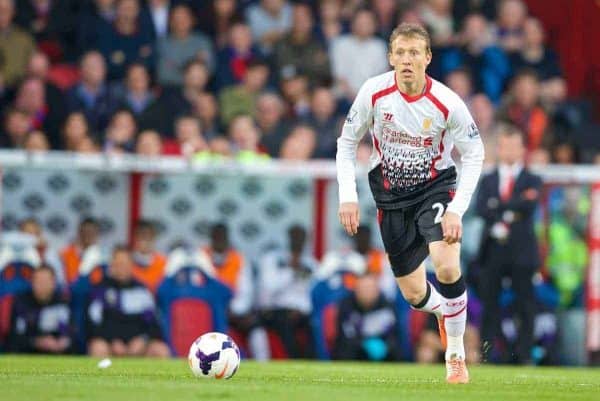 By contrast, Lucas averaged only 0.48; evidencing that, more often than not, Lucas tended to shuttle the ball backwards and to the side more often than advance it to Liverpool's tactical benefit.
This is borne out by the fact that Henderson averaged 1.77 chances created per game that season, while Lucas managed a mere 0.48 per game.
And, of course, Lucas could never match Henderson's capacity to run, as Henderson averaged nearly 11 kilometres covered each match, leaving him in the Premier League's top 10 that season.
Lucas was far less effective at shuttling back and forth to aid Liverpool's attack, as well as to bolster their patchwork defence.
As a consequence, while the Reds escaped with all three points in a thriller against Norwich in Henderson's first missed fixture, they were not to be so fortunate in their next two fixtures.
First came the home clash with Chelsea, when Jose Mourinho's delay tactics and Steven Gerrard's costly slip ultimately resulted in the Blues claiming all three points.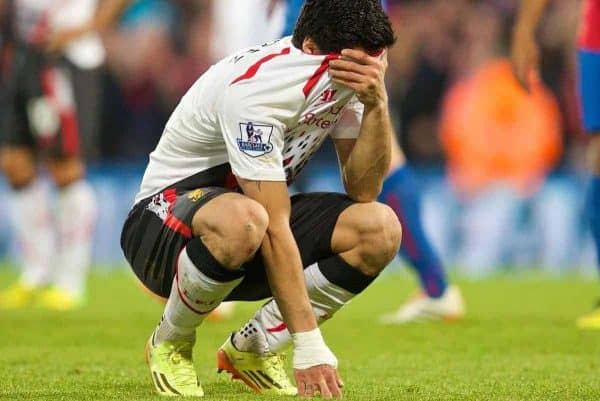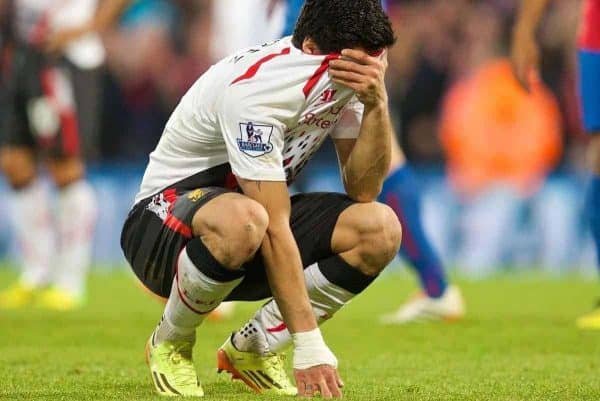 Second came the away fixture against Crystal Palace, when despite having a 3-0 lead going into the 79th minute, Liverpool were shellshocked by three goals and a final 3-3 draw.
The image of Luis Suarez struggling to hide his despair will not soon be forgotten by any Liverpool fan.
By the time Henderson returned for the final match of the season against Newcastle, helping Liverpool overcome an early Martin Skrtel own goal to seal all three points, Liverpool's title challenge was doomed.
With Liverpool finishing a mere two points behind Manchester City, it requires no great leap to imagine that Henderson's movement and passing alone would have prevented Crystal Palace from recovering three goals in an 11-minute span.
At least two points preserved then, and almost certainly at least one point earned against a Chelsea side constructed to rebuff advances rather than to lead an attack.
Now, with Henderson again on the shelf for the crucial denouement of yet another season, can Liverpool avoid similar disappointment?
2016/2017: Can is the Man?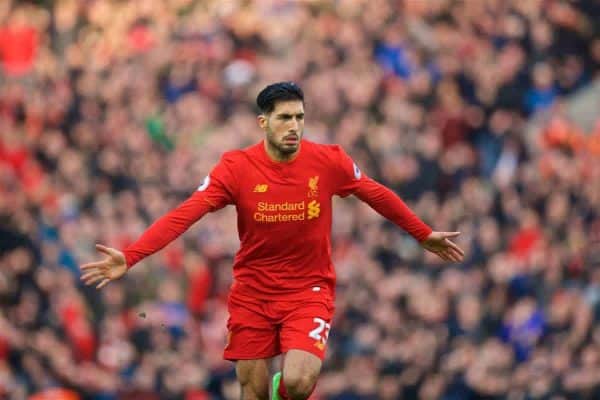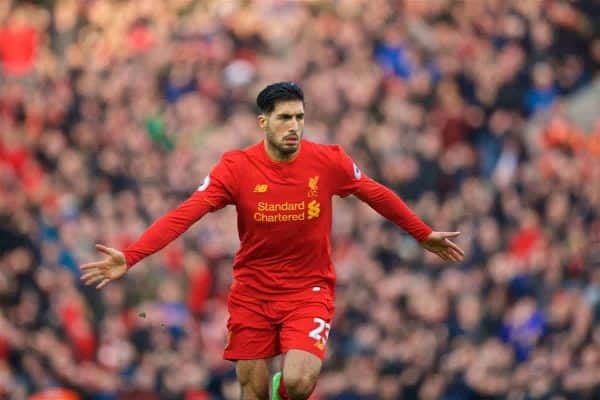 The numbers show that, this time around, we have a better option to ameliorate Henderson's absence.
Emre Can, signed in 2014, has been in excellent form since returning from his own injury, and he has demonstrated that while Henderson's absence is still significant, it need not be as catastrophic as it was in 2013/2014.
The numbers show that Can, compared to Lucas, does a much better job in Henderson's absence.
For example, although Can cannot match Henderson's 2016/2017 key pass rate of 1.13 per game, he comes close at 0.96 per game.
In comparison, Lucas, the man chosen to slot in for Henderson, has a key pass rate of 0.11 per game.
Likewise, Henderson's average of 1.29 chances per game in the 2016/2017 season cannot be matched. However, Can (1.04 per game) comes close; Lucas (0.21 per game), again, not so much.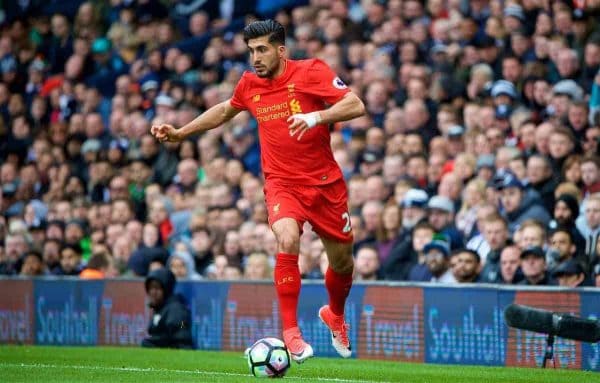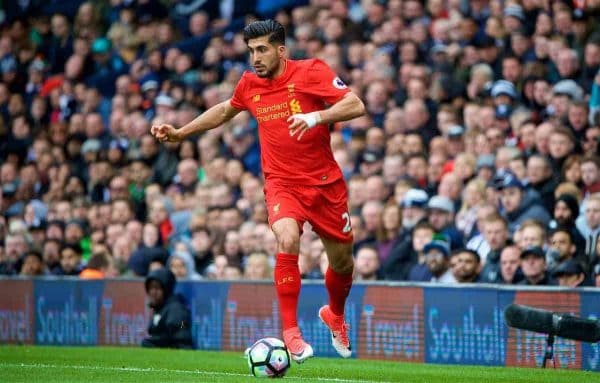 Furthermore, Can's improved vibrancy and energy off the ball, allowing him to cover ground more quickly and frequently, sets him apart from the Brazilian.
In a team like Liverpool, which is reliant on the pressing demanded by Klopp along with the quick movement of the ball from one playmaker to another, these differences between Can and Lucas cannot be overstated.
Liverpool fans can also draw some comfort from Liverpool's recent success in Henderson's absence.
Henderson last played in Liverpool's 2-0 defeat of Spurs on February 11, and since that time, they have played nine games with 27 points at stake.
Despite a loss to Leicester in the first fixture after Henderson's absence, Liverpool's form has not seemingly suffered as it did in 2013/2014. Since then, Liverpool's form has been W-W-D-W-D-W-W-L, including impressive wins against Arsenal, City and Everton.
Part of the explanation for the upturn in Liverpool's results? Only in four of those games—Everton, Bournemouth, West Brom and Crystal Palace—was Lucas asked to start in Henderson's place.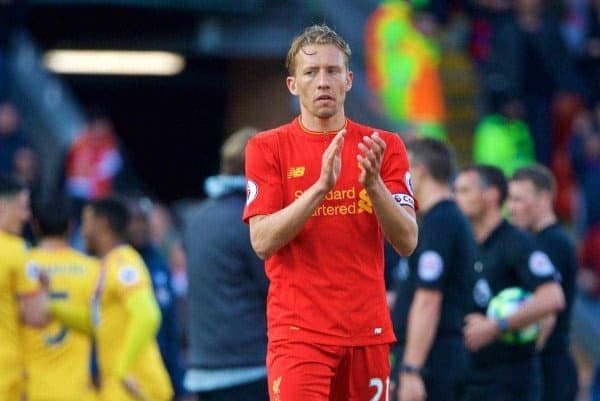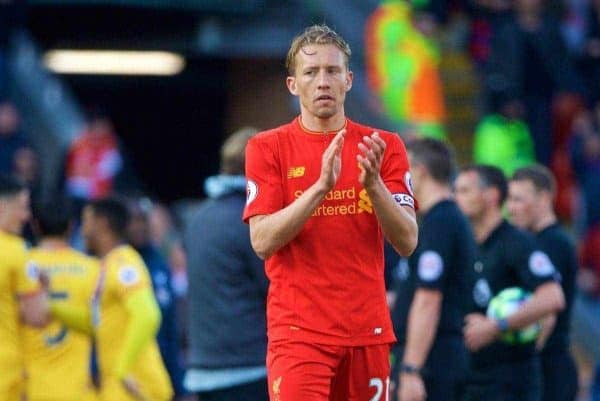 Indeed, the most disappointing results in the Reds' recent run have come when Lucas has played as the No. 6.
In each game where the Reds failed to gain all three points (Bournemouth, West Brom, and Crystal Palace), Lucas has played Henderson's position, with Can serving a box-to-box duty to accommodate.
Although Klopp may have intended Lucas to provide defensive solidity, what has been lost in positive ball movement and pressing has proven costly.
Although a results-oriented analysis (particularly one based on a small sample size such as the Reds' last eight league games) can be problematic, here it is anything but.
Lucas, while still an able player, cannot fill in for Henderson without the Reds suffering a downturn.
Hopeful Rays of a New Dawn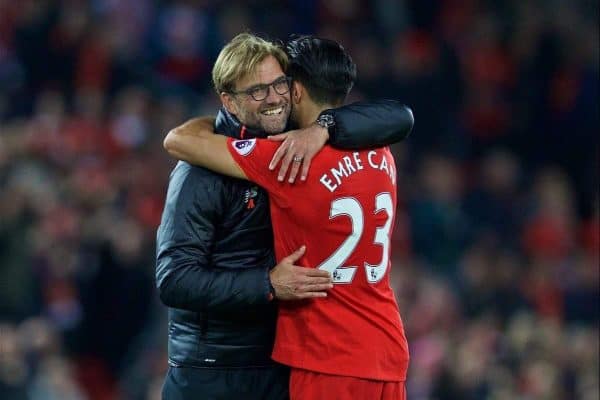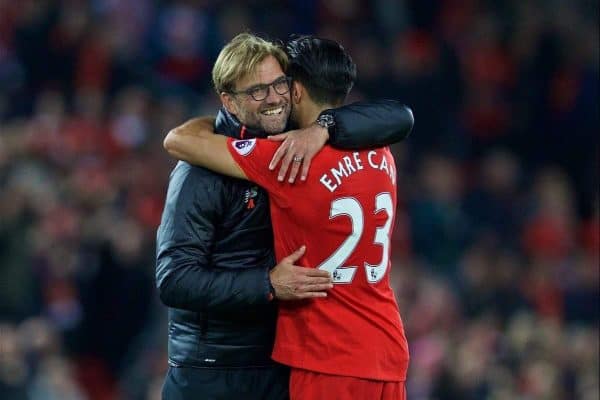 What does all of this mean? Despite Henderson's potential season-long loss, Liverpool need not suffer the same disappointment as 2013/2014.
Then, the difference between Henderson and Lucas (among other reasons) played a part in the title slipping from our grasp; this season, though, the difference between Henderson and Can is not so substantial that Liverpool cannot survive.
Certainly, having a healthy Adam Lallana back in the starting lineup will help the cause. His industry, intelligence, and tactical nous will go some way towards masking the difference between whomever is chosen to replace Henderson.
But the numbers are clear that that person cannot be Lucas, despite his years of exceptional service.
No, it must be Can. He is not Henderson, but he does a better impression than anyone else in the squad.
We need his best impression now, as this time around we cannot have our success depend on whether Henderson is on the pitch.
Anfield's Champions League hopes depend on it.
* This is a guest article for This Is Anfield. If you'd like to contribute a piece for consideration please see this page. Statistics via Squawka.