Liverpool manager Jurgen Klopp hailed a "massive" victory at Stoke after his tired and injured Brazilians rescued three points.
Trailing to Jon Walters' goal just before half-time, the German sent on Philippe Coutinho, ill for the last three days, and Roberto Firmino, rested after a punishing schedule, and they turned the game around with a goal apiece.
However, were it not for the heroics of goalkeeper Simon Mignolet making two brilliant close-range saves, Liverpool's top-four hopes would have taken a severe dent.
The way the players and manager, hugging both his Brazilians before heading straight to his goalkeeper, celebrated at the end suggested the victory felt like more than three points and Klopp agreed.
"It is absolutely massive. We have won a few games this year but this was really special," he said.
"You could feel it immediately in the dressing room, everyone was like 'that's very important', but we have to prove it next week and [the] next week.
"It feels outstandingly good in this moment. We all worked really hard for the three points and we are happy for today."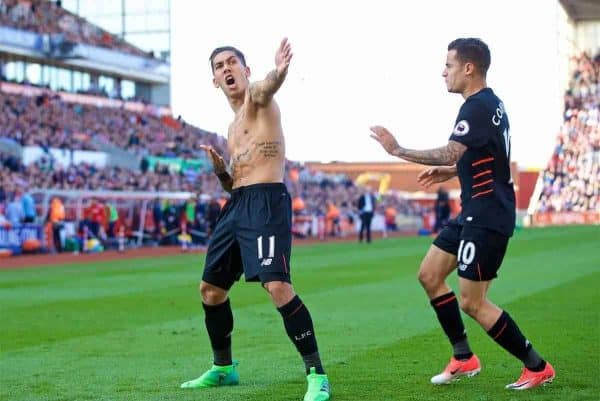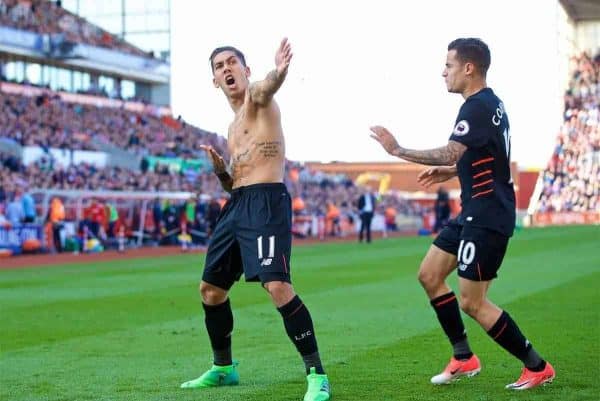 Klopp paid tribute to the class and determination of Coutinho, whose 30th career Premier League goal made him the top-flight's leading Brazilian scorer—and Firmino and the improvements Mignolet has made in his game.
Between them the trio dug their manager out of a hole after he had gambled on an experimental and untested 3-5-2 formation which failed to work as Stoke dominated in the first half.
"Half-time there was a decision to make as it was not clear that Roberto and Phil would be ready for 45 minutes," added Klopp.
"Roberto never says anything about how he feels but he said after the last game 'I'm really done'.
"He was at a point where it was clear if we tried to bring him through 90 minutes it would cause us real problems.
"Phil lost three kilograms in three days—for most of us that would be good news but for a professional footballer it is not that good.
"He came to the hotel this morning and said 'I'm fine' but we knew he would have not a lot of energy levels.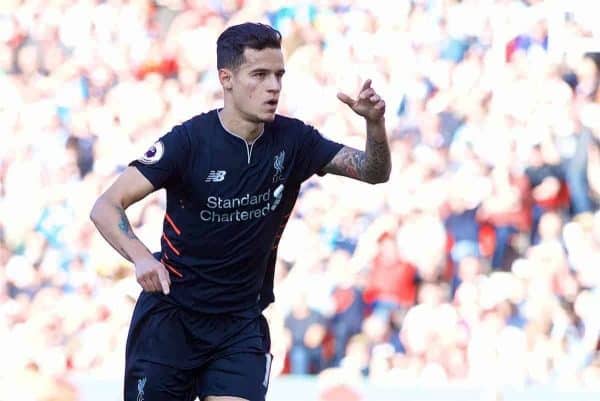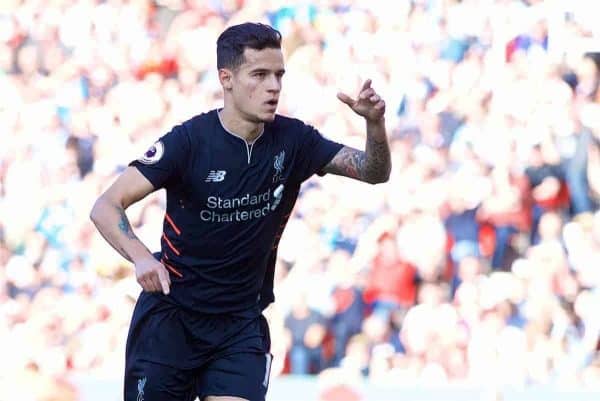 "As we understood it the possibility was pretty high we would have had to change after 30 minutes [if either started].
"We get a lot of numbers from sports science and this was the minute when all our alarm clocks were ringing.
"And we needed Simon Mignolet with two outstanding saves, the second one was the best I have ever seen—the save of the year.
"It was well deserved for him because he got a lot of criticism in his Liverpool career and sometimes these are the moments you need as a player, and for us as a team we need a goalkeeper like this."