Liverpool were bailed out by an impressive Brazilian double-act as their top-four challenge continued away to Stoke City.
Stoke City 1-2 Liverpool
Premier League, Britannia Stadium
April 8, 2017
Goals: Walters 44′; Coutinho 71′, Firmino 72′
---
Klopp's Crazy Team Selection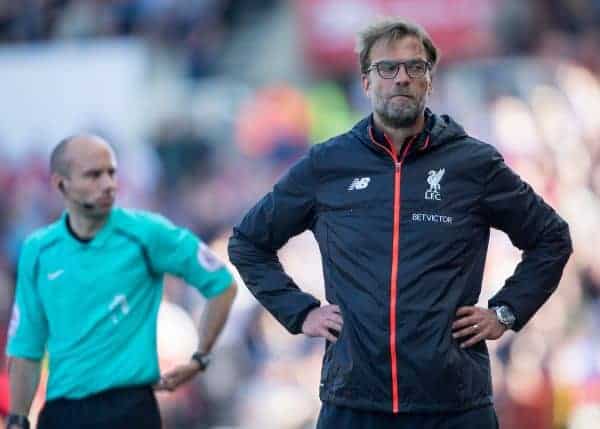 The manager's hand was forced somewhat, but his team selection was more radical than may have been expected.
With Philippe Coutinho missing training due to illness, Sadio Mane out for the rest of the season and Roberto Firmino fatigued after a run of games for Liverpool and Brazil, Klopp went with an untested lineup.
In attack the shape was 3-5-2 with Ben Woodburn just off Divock Origi up top, and Georginio Wijnaldum and James Milner either side of Emre Can in the middle.
Nathaniel Clyne played at left wing-back, Trent Alexander-Arnold on the right and Joel Matip in between Dejan Lovren and Ragnar Klavan in a back three.
It was the formation which was derided in the home draw with Bournemouth last time out, but Klopp wasn't afraid to give it another go.
The shape was clear but the players occasionally forgot their duties, especially in defence.
It improved in the second half with the introduction of Firmino, Coutinho and later Sturridge, whose presence gave Stoke plenty to worry about.
It's looking likely that this will be the formation Klopp goes to in the absence of Mane, and one which will have to see Liverpool retain their place in the top four.
Alexander-Arnold and Woodburn Give Their All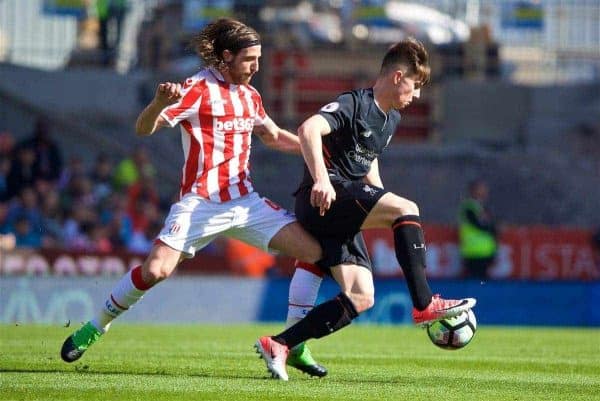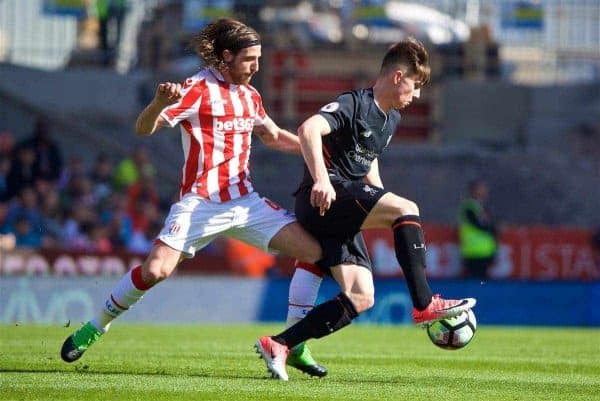 It was a tough ask for Alexander-Arnold and Woodburn.
Away at Stoke, of all places, they were required to come into a depleted side and perform, as Liverpool looked to secure an important three points in their quest for Champions League football next season.
Their first-half performances weren't any worse than those around them. If Alexander-Arnold was considered to be having a bad game on the right, then Clyne was having a worse one on the left.
Woodburn looked like the only player with a willingness or ability to make things happen in attack.
He had a reasonable shout for a penalty shortly before the Stoke goal, and on one occasion he took on the entire Stoke team, only to be felled by Bruno Martins Indi at the last.
Regardless of their efforts, the young duo were replaced at half-time when the Coutinho and Firmino double-act entered the fray…
Brazilian Double-Act to the Rescue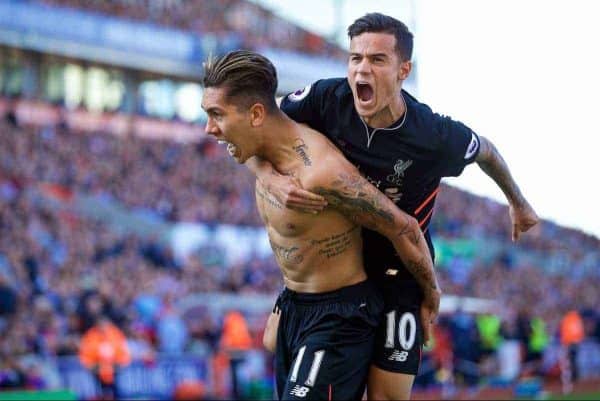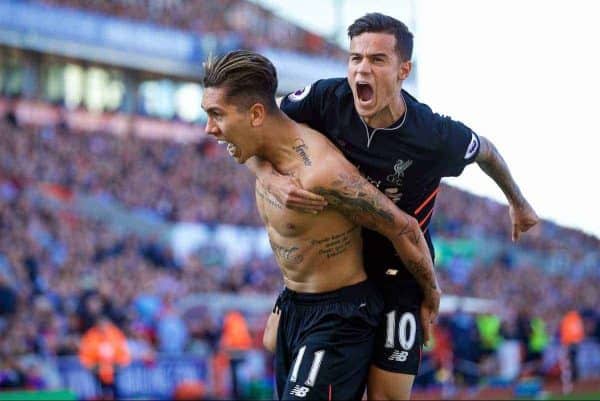 They might not have been fit enough to start, but their talents still won their side the game.
The half-time switch was perhaps an admission from Klopp that he got his initial team selection wrong, or maybe this was the plan all along.
Stoke, having already played 45 minutes of football, were now subjected to the attacking talents of two of Liverpool's best.
Coutinho immediately upped the level of skill on display, and if Firmino was fatigued prior to the game then he didn't show it here.
It took 25 minutes for this extra firepower to show on the scoresheet, but when it finally did the turnaround was swift and comprehensive.
Coutinho, lurking on the edge of the area, was the thankful recipient of Glenn Whelan's failed clearance after Can had tried to find Daniel Sturridge.
The No. 10 blasted the ball into the bottom corner, retrieved it from the net and jogged back to his own half ready for the next act, starring Wijnaldum and Firmino.
The Dutchman sent a ball over the top of the Stoke defence which was so good that Firmino didn't even have to control it before lashing it into the net on the half volley.
Two subs, two goals, two minutes and three vital points.
More Defensive Gifts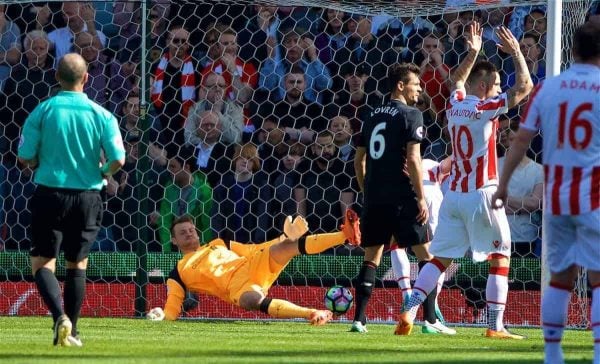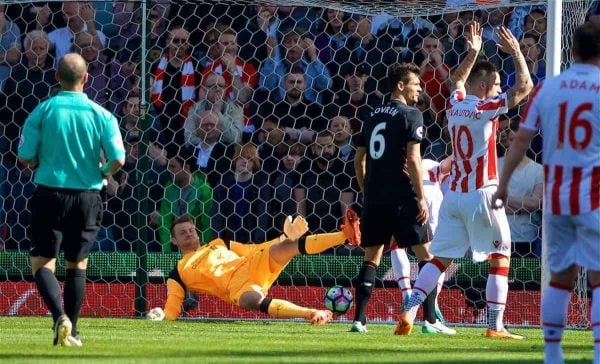 Even with three centre-backs and two wing-backs who often formed a back five, Liverpool still couldn't sort themselves out defensively.
They've developed a habit of gifting goals in recent years, and it showed no signs of abating as Stoke were on the receiving end of a few generous handouts.
Luckily for the reds, not all of them were taken.
A shanked clearance from Lovren left Marko Arnautovic with the goal at his mercy, but the Austrian made just as much of a mess of his shot, only finding the side netting.
Then in the second half, Wijnaldum almost repeated his trick from the game against Bournemouth where he inadvertently played Benik Afobe in on goal. This time the midfielder headed a ball back onto the danger area from a corner, but Charlie Adam was thwarted by Simon Mignolet.
Later, a cross from Arnautovic made it past a line of defenders to find Saido Berahino at the far post, but luckily Mignolet was excellently positioned to make another close-range block.
All of this without mentioning the goal, which came as Xherdan Shaqiri breezed past Clyne and Klavan before crossing to Jonathan Walters who lost Lovren with ease to head home.
It's an issue which will have to be minimised for the run-in, seeing as eradicating it completely looks all but impossible with this group of defenders.
Where Next?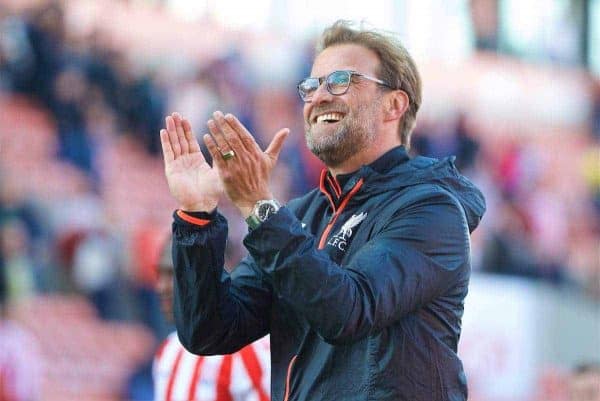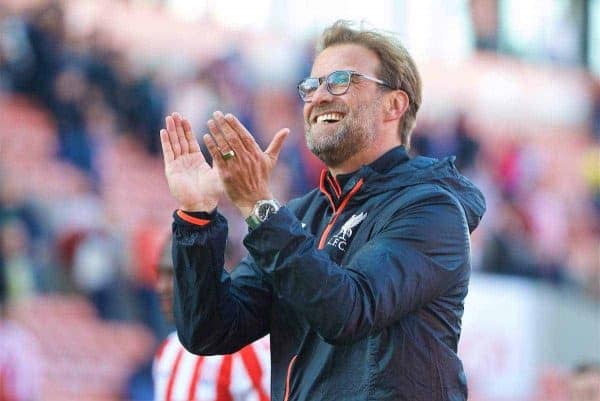 Liverpool's next match is another big test of their mettle, and could provide an even tougher one.
They travel to Tony Pulis' West Brom where they'll look to overcome another stubborn, physical side.
Will they stick with the current system of three at the back, or return to the more familiar 4-3-3?
At least by this time Coutinho should be fully recovered and ready to start, while Firmino will now also get a full seven days without a competitive game of football.
With Mane out the three centre-back system could remain. The second half against Stoke showed promise for this approach despite the defensive lapses which now seem part of Liverpool's makeup, whatever the setup.
Three massive points were won against Stoke, and three huge points are now needed against West Brom.